The first ordinance Dannen Merrill and John McBride voted on as members of the City Council was a contract to demolish vacant homes on 912 East Fifth St. and 401 South Buchanan St.
City Council also approved the purchase of a 2021 Ford Police Interceptor SUV for the Maryville Police Department and implemented changes to the 2021 Asphalt Mill and Overlay Project. 
But before any of these actions took place, former councilmen Jason McDowell and Matt Johnson had two final voting responsibilities. At the beginning of Monday's meeting, City Manager Greg McDanel and the rest of City Council thanked Johnson and McDowell for their community service. Johnson hugged Councilwoman Rachael Martin before he took his seat for the last time.
"They have been instrumental over the last six and three years respectively, involved in about every single large-scale project and community opportunity that we've had," McDanel said on behalf of city staff Monday. "We want to sincerely say thank you for your time … we hope that you are going to be a part of the community going forward … but we also want to thank your families for the sacrifices in time that we've taken from them with you."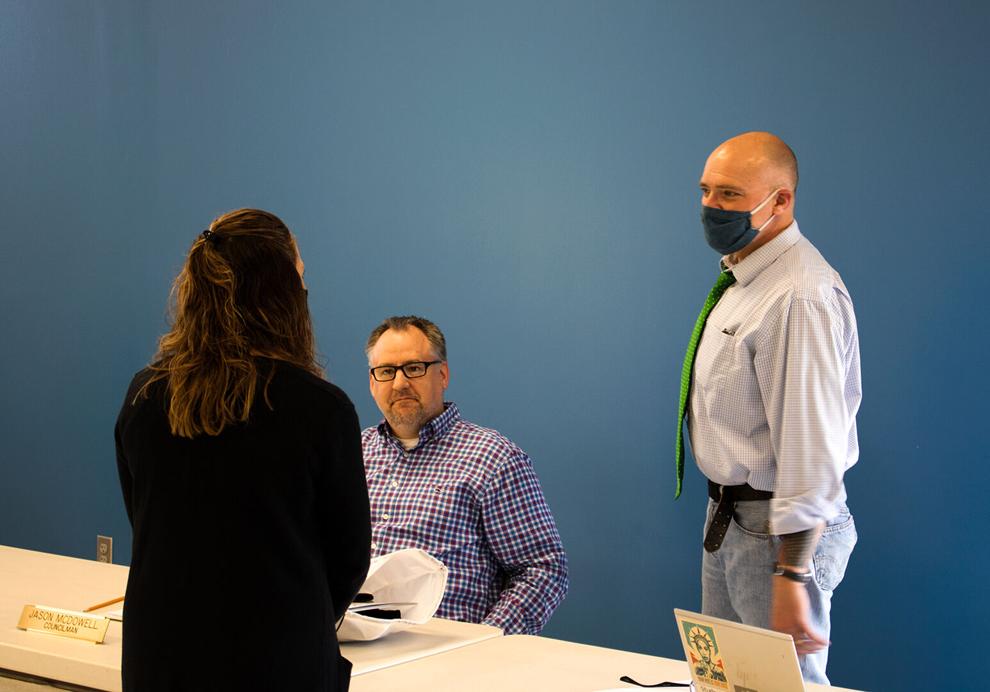 After approving Maryville's payment vendor schedule and findings of the April 6 municipal election, Johnson and McDowell promptly left the community center meeting room April 12. They handed over the reigns to McBride, who focused his campaign on infrastructure, and Merrill, who received the most votes of any City Council candidate since 1999, according to the Maryville Forum.
Police interceptor
City Council approved the purchase of a 2021 Ford Police Interceptor SUV from Tri-State Ford Lincoln for $38,878.64. This vehicle will replace another interceptor that was totaled in a crash following a suspect chase in January.
About $13,000 was paid to the city in an insurance settlement from the January crash. McDanel said salary savings and adjustments to the general fund would cover the other $25,000.
In February, the City Council approved the purchase of two new patrol vehicles to replace ones with high mileage, but Police Chief Ron Christian said those vehicles have not arrived yet because of supply chain issues at the dealership.
The Police Department's fleet of interceptors has been shorthanded due to this issue. Since Monday's approved vehicle was already on the lot at Tri-State, Christian recommended making the purchase as soon as possible.
Road repairs
McBride and Merrill, almost in unison, leaned forward in their seats when McDanel began discussing additions to the city's Asphalt Mill and Overlay Project. The project is made up of milling and hot-mix asphalt overlay of several streets in poor condition.
City Council approved a contract with Keller Construction company at its last meeting in an amount not to exceed $252,013.75. At the April 12 meeting, Council approved an additional $28,550 in road repairs for this project.