A month and three days after Northwest President John Jasinski announced the Board of Regents decided to not renew his contract via an "All that Jazz" email, people are still asking why. 
At the May 4 Board of Regents meeting, there was a section designated for public comment. Some familiar faces, who also appeared at the first public comment session April 12. 
Patrick Harr, a Board of Regents member from 2013 to 2019 and who served as the chair during the last four years of his term, spoke about his time on the Board and how they had to make some difficult decisions. 
He said that Regent Jason Klindt had made statements that Jasinski had been at the University for 10 years, and that was long enough. Klindt did not respond or verify Harr's statement. 
"I just wonder if you were on the Board at the time when Coach T (Mel Tjeerdsma) finished his 10 years, if you would've said the same thing, because then he wouldn't have been around to go to Florence five years in a row playing the national championship," Harr said. "Or if at 10 years, Coach Mac (Ben McCollum) 'that was long enough, he needs to be out of here,' he would have only won two of the four national championships, because he never explained where that came from." 
"My theory is, the only place we can go is down, if we don't have the kind of leadership it takes to consistently move us in the right direction, and that's been vocalized by many people on social media," Harr said. 
He said the feeling that people have of having no confidence in the Board and not trusting its decisions will not go away until people's questions are answered. 
"I know we're supposed to all love this place, I just wonder if we love it enough, based on the decision making," he said. 
The next speaker was associate professor David Shadinger who attended the last public comment session saying the Board had 'created a mess' and that they 'must fix it.' 
Shadinger was the former president of the Faculty Senate at Northwest, and was the president of the Missouri Association of Faculty Senates. He is currently the president of the American Association of University Professors Northwest chapter. 
Before the comments on April 12, he emailed a copy of a personal statement to the Board. During this meeting, he came back to express concerns the public has about the Board's dedication to the University. 
"At numerous colleges and universities across the country, there is turmoil, confusion, disruption and damage caused when governing boards behaved as you have recently," Shadinger said. "The University community is waiting to see exactly how you will proceed, and you do have a choice. You can continue your secret, behind closed door, personal agenda-driven, politically distorted efforts to dismantle a very successful higher-education operation, or you can honestly, fairly and publicly work for a better future for Northwest Missouri State." 
He then asked the Board a few questions about what the plans are for the future of the University. 
"What exactly does the Board of Regents stand for, support and want to achieve? What is your strategic plan? What are your, hoped for, institutional outcomes?" Shadinger said. "If you're following your chairman's public retort, that you want to turn the chapter, what would that look like and how is that different than what the most successful and financially stable higher education institution in the state has been doing? And why?" 
Nina Dewhirst also spoke at the April 12 meeting asking the Board about their political affiliations, after no response during the first public comment session when Regents were on "listen-only mode," she came back to ask about political parties within the Regents. 
She also said there are a lot of people who want the Regents to reverse their decision to not renew Jasinski's contract, and while she said she knows that it would be difficult, it would be possible. 
"What you have done, can be undone," she said. "A wrong can be righted. Although I'm not sure I expect that to happen."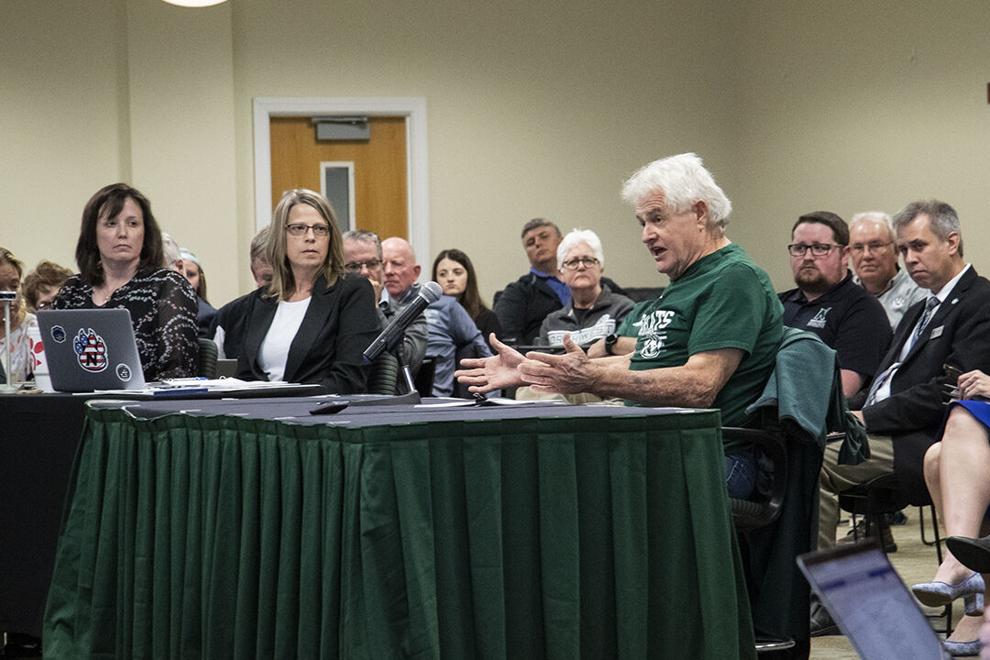 She then said there is a letter of no confidence that is being distributed for people to sign, and currently has 110 signatures in around 36 hours. She said that after more signatures are obtained, it will be presented to Missouri Gov. Mike Parson. 
Herb VanVactor, who obtained two degrees from Northwest and has two sons who also attended Northwest, said that though he loves this institution, he is not proud of the situation that has occurred because of the Board's decision. 
"The first thing I said about this on Facebook was, why?" he said. "That has never been answered to my satisfaction or anyone else's. I think the man for the job is Dr. J, I think he should be given a chance to do the job he started."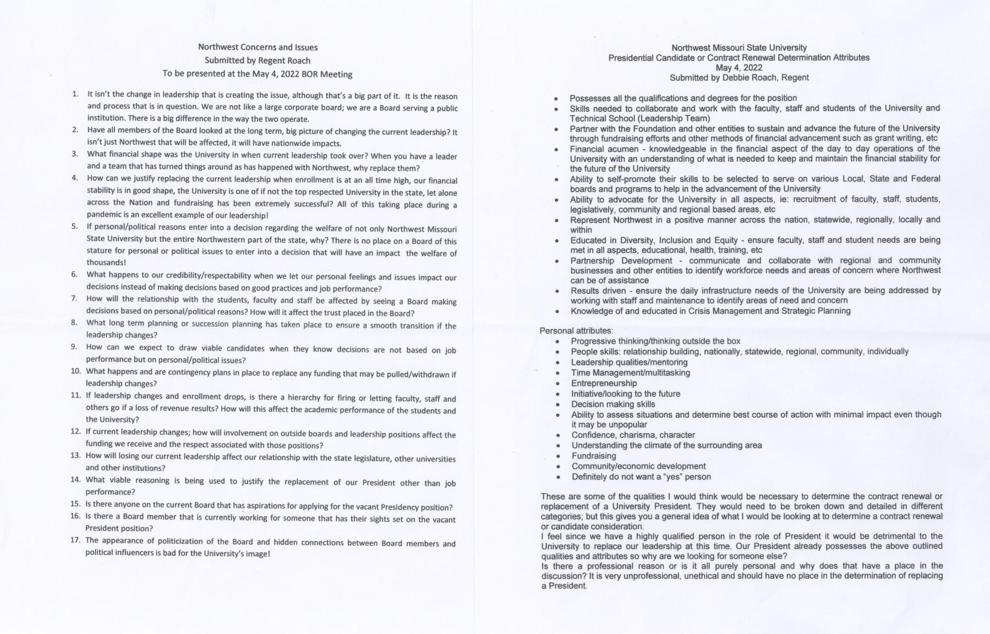 Regent Deborah Roach walked from her regular seat beside the other Regents, to the opposite side of the table to ask them questions that she still had herself. Roach and Regent Roxanna Swaney handed out two pieces of paper to every Regent, the first addressing 17 concerns and issues she heard about the decision and the second being a list full of attributes for a candidate for President. 
"I would very much appreciate you taking a look at these and telling me what is on here that we don't already have," she said. "Why are we looking for a new one when we've got all of this right here? Give me one example of what we need that is not on this list." 
She paused waiting for comment from the Regents. "Can it be done?" she said. 
Chairman John Moore responded. "Sure," he said. "I'm not gonna do it. Not in this group." 
"I just wanted to bring this out in front of everybody so that they were aware of it and I'll be looking forward to hearing your response to this in closed session, if that's where it needs to take place," Roach said. 
Moore said the Board will be releasing what qualifications it is looking for in a candidate for President in an open meeting session at a later date. 
"That's a step in the right direction," Roach said. 
The final comment came from Ken Scribner, 1987 Northwest graduate, who has remained active in the University as a Founding 50 donor, a contributor to the Agricultural Learning Center and has a scholarship endowment for first-generation students. He spoke at the first public comment section, but still had some concerns to express to the Board from a business perspective. 
"The direction scares me, where do we go?" Scribner said. 
He mentioned how he works for a large company who has many people on fundraising boards, but he raised concern about a company who has three people on governing boards between Northwest and Missouri Western State University. 
"Why does a much smaller company have three people in governing positions, and none, that I'm aware of, on foundation boards?" he said. "They're interested in running the schools, but not fundraising or supporting the schools." 
"I say it's something that makes you ponder," he said. "...Northwest is a community that is one unit. I hope whatever is being thought about considers what we are and values that. I don't know where we're headed. I hope we get transparency there."