The University's Show-Me Gold Program, Student Veterans Association and the Missouri Army National Guard held a come-and-go celebration to celebrate Veteran's Day 7-10 a.m. Nov. 11 in the Carl and Cheryl Hughes Fieldhouse. 
The Hughes Fieldhouse parking lot had some military vehicles on display, including joint light tactical vehicles such as Humvees and larger transportation trucks. A M777 howitzer artillery cannon was also on display. The 15 mm cannon was first used by the military in 2005, and it has a range of up to 25 miles and weighs 7,500 pounds. The military first used the cannon in the Afghanistan War, and the model is currently being used in Ukraine.
Thomas Merlot is the University's International Involvement Center director. Merlot is an active duty reserve in the Army and has been at Northwest for six months. Merlot said the best parts about the Army is the brotherhood and the opportunity for different jobs during your service. 
"(Veterans Day) means every day, supporting the people that have done it before you, and ultimately wherever we wear the uniform, we wear it for the right reason — people that have worn it before, and the people that have not had the chance to return," Merlot said. "I think it's super important to be here. It's important to be here for the younger guys. It's important to be here for the older guys. It's important to be here in general."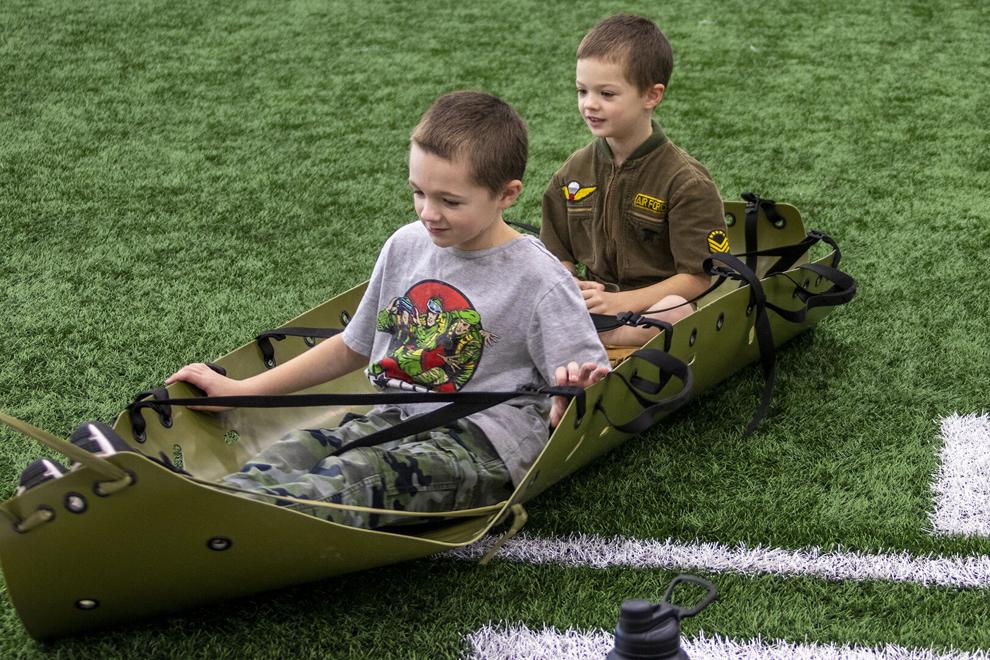 The VFW had a stand-up at the event, and packets were ready for veterans to sign up and join the organization. A couple of stands were also on display from the library, telling the University's military history. This included how the University was affected by World War I, World War II and the Korean War. The stand also had a timeline of the Show-Me Gold Program from when Lt. Jack Ptizer visited Northwest and opened the discussion for National Guard programs in 1966 up until Northwest partnered with the Missouri National Guard in 2016, officially greeting the Show-Me Gold Program.
Members of the Show-Me Gold Program were there to help with the stations set up. There were sled relays, a pull-up bar, temporary tattoos for the kids and army helmets, body armor and backpacks on display. Show-Me Gold member Teng Akoi chose to go to Northwest specifically for the Show-Me Gold Program and said that Veterans Day is about coming together.
"It helps us all come together — civilians and people like us in the Army, or Marines, or Navy or Air Force. It's all about coming together. They're giving us respect, and we're giving them respect," Akoi said.
Veteran Joe Furlong, originally from St. Joseph, Missouri, graduated from Northwest and went into the service through officer candidate school. Furlong was stationed in Vietnam by the coast in Quinn Yan from 1968-1969 and said it's wonderful to see the community pay respect to those who served.
"Back in my day, veterans weren't very well received home. It's nice to see it's going on now," Furlong said.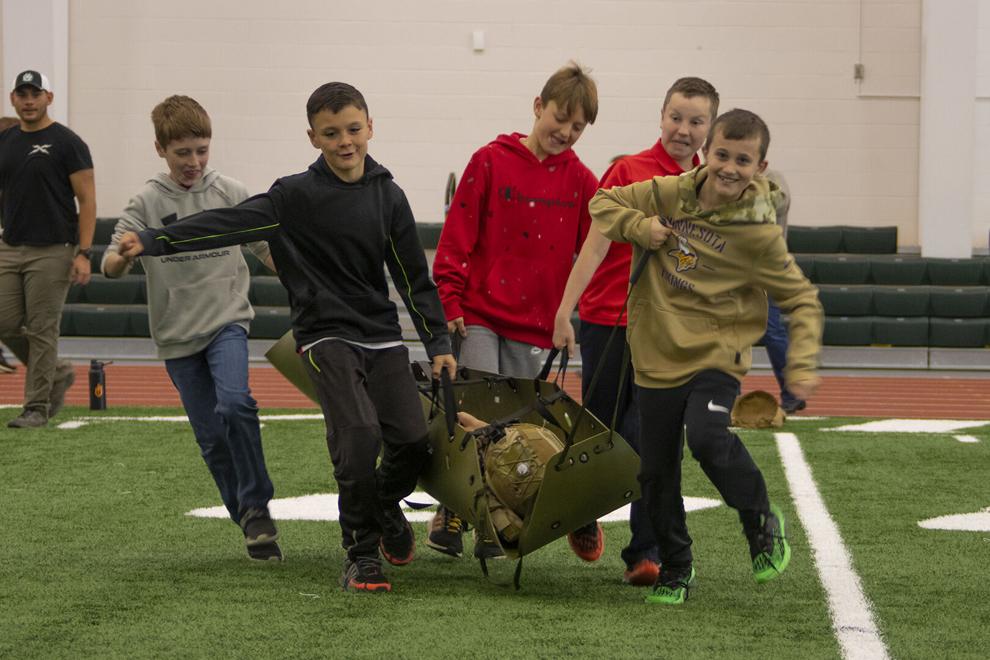 Another veteran was Kristina Martinez, a University Police Department patrol officer. Martinez served in the National Guard from 1995-2001. Her father was involved in the military for over 20 years, including service in both the Korean and Vietnam war. Martinez said the military and police have a special relationship.
"We kind of understand what they go through, they kind of understand what we go through. It's very different, and I've seen both sides," Martinez said. "I was a (Maryville) city police officer when I was in the National Guard, and it was hard to switch back and forth because we have two different missions. However, they're both critical, but it's a different mindset. You're in one or the other."
Interim President Clarence Green was also in attendance. Green said it was an honor to have an event to celebrate Veterans Day and the veterans themselves.
"I know that veterans are very important in our community and helping keep us safe and all that they've done," Green said. "(I have) a tremendous amount of respect for what our veterans have done, the sacrifices that they've made being away from their families to make sure that we're all safe and sound here in the states."
Toward the last hour of the celebration, students and staff from the St. Gregory Barbarigo Catholic School came in to pay respects. Fifty-one students from the school ranging from fifth through eighth grade were there along with their staff. Tech teacher Jamie Casteel said that they were there last year, and the students really enjoyed it. 
"I think it helped them to kind of get a better understanding of what it takes to be in the military and the different aspects of it, because they get to do the body carry and check out the ambulance outside and the Humvee," Casteel said. "It's a little bit of everything, plus they get to actually talk to real veterans and get a chance to say 'thank you,' which is important."