The Northwest Alumni Association presented seven awards to alumni, faculty and staff at the Alumni Awards Banquet Sept. 27 in the J.W. Jones Student Union Ballroom.
University President John Jasinski said grit, resilience and perseverance unified the seven honorees, and he said they exemplify the idea that Bearcats perform.
He said the Alumni Association has given around 190 awards since its first awards banquet in 1970.
Dean of the School of Education Tim Wall, the master of ceremonies, said throughout the evening, themes he saw recurring in each recipient included perseverance, the value of family and gratitude for living their dreams.
Randell Moore, the recipient of the Distinguished Alumni Award, teared up as he thanked his 91-year-old mother, who was present at the banquet, for inspiring him to go to college.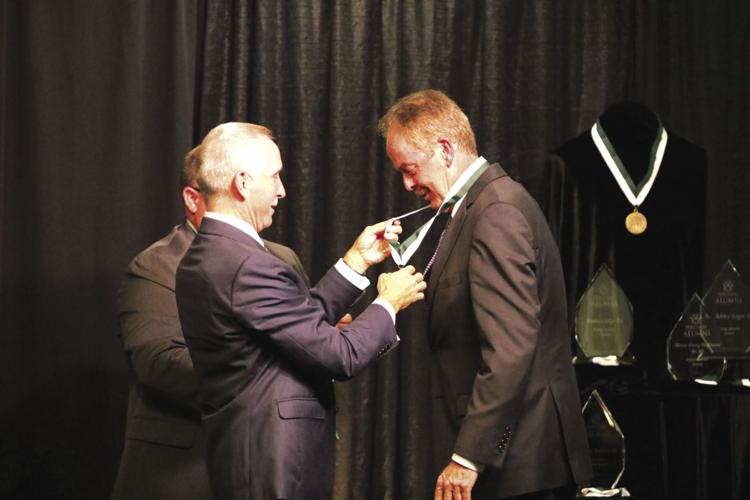 "When knowledge is combined with inspiration, lives are changed, as was mine here at Northwest," Moore said. "I would like to thank my mother for giving me that forceful and insistent shove out the door and off to college in the fall of 1968."
Moore, an economist, graduated from Northwest in 1975 and has spent the last 32 years as executive editor of Blue Chip Economic Indicators and Blue Chip Financial Forecasts.
Distinguished Faculty Emeritus Award recipient Richard Fulton said he also owed his success to his family, especially his wife.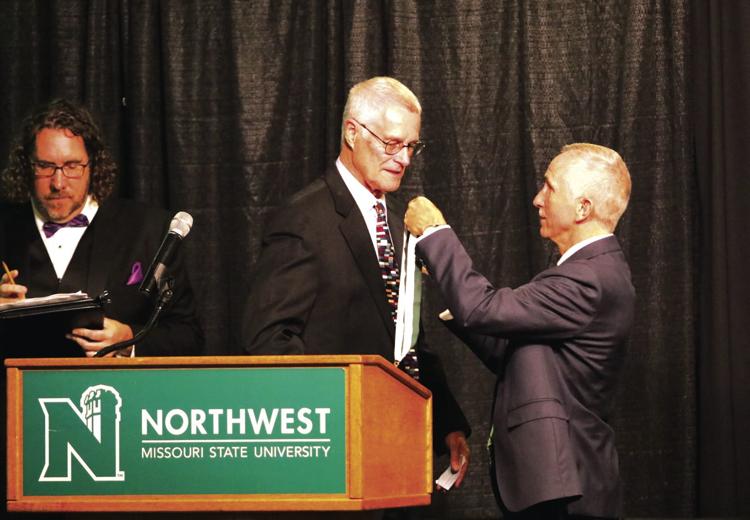 "There isn't much to say except to thank my wife and my family," Fulton said. "My wife has been, for over 50 years, the bedrock of my life as well as the love of my life."
Fulton worked at Northwest from 1973 to 2013 and served as the chair of the political science department for several of his last years at the University.
Director of Student Academic Success and Retention and Northwest alumna — classes of 2001 and 2003 — Allison Hoffmann received the Turret Service Award, which recognizes graduates or former students who have made significant contributions to bettering Northwest and its community.
Hoffmann said her family has a strong place in the community, but she was determined to be the one Maryville High School alumna who did not go to Northwest. However, she said she heeded the advice of her grandparents and father, who received the Turret award 15 years ago, and found a family and a support system at Northwest.
"I remember being a student and having such wonderful faculty to help and make a difference in my life, and some of those I've been honored to be my colleagues now," Hoffmann said. "I think I have some good friends who are over/under on whether I'm going to cry here in a little bit or not."
Hoffmann said she was grateful that Northwest brought her and her husband, Assistant Vice President of Student Affairs Kori Hoffmann, together.
"My son said, 'Mom, are you going to remember me in the speech?'" Hoffmann said. "Honey, I won't forget you today or any other time. No matter how much time I give to Northwest or everything I do, my husband and my son will always be the most important."
Several honorees expressed amazement at being recognized for work they said they enjoy so much it doesn't feel like it should be a job.
Computer Science Associate Professor Micheal Rogers, cracking a joke about being limited to a two-minute speech, but it not being specified whether those were Earth minutes or not, said it would take two Jupiterian minutes to express everything he wanted to say.
Rogers said his job is just playing with toys and telling others about them, from electronics to software to drones.
"In the long term, (I'm teaching) how to develop virtual reality games," Rogers said. "Which will necessitate of course playing a massive number of those games to make sure I'm completely up and familiar with all of them. I get paid to do this."
Young Alumni Award recipient Ashley Leger, class of 2009, expressed a similar sentiment in her love of geology.
Leger focuses on paleontology, and she worked as a front end supervisor, tour guide, fossil preparer and excavator at the Mammoth Site while earning her doctorate degree at the South Dakota School of Mines and Technology.
"I get paid to play in the dirt. I did something right somewhere," Leger said. "Northwest wasn't just school for me, it was family, and it always will be. … We used to chant, 'All my life, I wanna be a Bearcat.' It's not quite right; all my life, I'm gonna be a Bearcat."
Bradley Jackson III, executive chef for Northwest Campus Dining and recipient of the Honorary Alumni Award, said he thought he would only spend a year at the University and go back to the "real world," but like many recipients, said he found a family at Northwest and has stayed for 10 years.
Retired U.S. Army Col. Rodney Edge, class of 1984 and recipient of the Public Service Award, stole the show with his speech about mentorship and leadership
"It is not about the coach or someone else that the mentor wants the person to be," Edge said. "Rather than just helping that person just be someone else, guys like me are trying to help people become the best that they can be. Money helps, but there is nothing more essential than the giving of someone's time. The seeds of time are priceless."