With no official projections or timeline in place to tackle concerns with contact of Mozingo Lake, the city council and other city staff toured the Maryville Water Treatment Plant Feb. 10 to get a gauge on the best plan of action for longer-term solutions.
Water facility employees informed city staff of details they are looking to perfect on their end of the issue, like using a stronger microscope for more accurate testing at the plant. Since the lake is recording varying numbers in cell counts of the bacteria produced from recent algae blooms, the facility is required to meet standards provided by the Missouri Department of Natural Resources for two consecutive weeks, which is what has been delaying the removal of warning signage at Mozingo Lake.
City Manager Greg McDanel helped guide the tour with water facility employees who operate through PeopleService Inc., a water and wastewater management company out of Omaha, Nebraska.
McDanel said there is a misconception that the overuse of membranes has caused the discoloration and odor in the water. For city staff, he asked water facility employee George Hulett to explain the membranes further.
"(The filtration system) basically pulls the organics out of the water," Hulett said. "What's in there could pass through… so basically the best way to combat that is with carbon. The GAC, granular activated carbon."
These are the same type of membranes Public Works Director C.E. Goodall presented to city council at its Jan. 13 meeting, which a 25% down payment was approved for. The overall cost of the membranes approved is $1.8 million, which Goodall said is sounding like a more long-term goal for the city.
An activated carbon system, which would be an upgrade from the current system, would cost the city an additional $6.6 million, which has been discussed as an option for sustainability.
However, Hulett said the carbon solution is out of reach for the time being, and that facility employees are looking at other routes to take.
"It's not really an option here," Hulett said in reference to one aspect of the filtration process. "But that's your best way to combat it."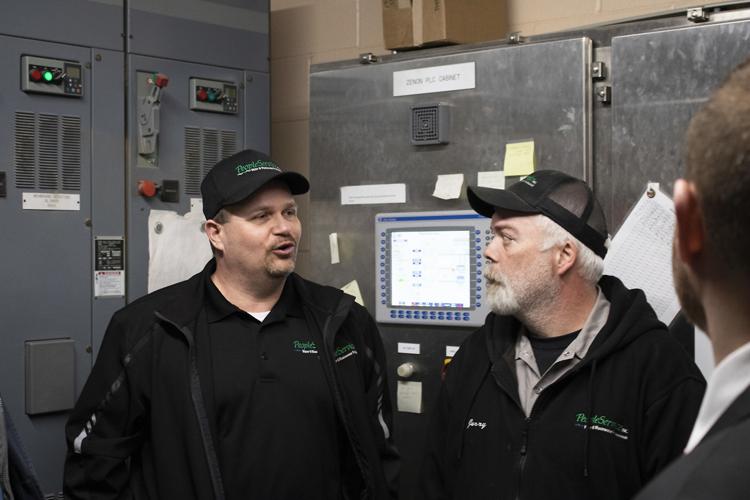 Hulett said working with a stronger oxidant could also help in their job of filtering 5 million gallons of water per day.
The facility is made up of one building built in 1959, which has undergone several renovations, as well as a newer building housing filtration and intake from the local water source, Mozingo Lake.
The facility houses two water towers and uses a combination of sodium permanganate, chlorine dioxide, and a Kruger flocculator to remove manganese, taste and odors.
The Kruger flocculator is the filtration system, which is what the $6.6 million carbon system would replace.
There are also industrial contributors who aid with pretreatment of the water to test for quality and that levels are up to standards and state regulation.
The 61-year-old building is where certain testing is conducted for water quality, including every two hours for chlorine levels, field tests on other chemicals in the filtration process, and field testing for mycobacteria and cyanobacteria that is sent to a lab as frequently as four times a day.
The concern for these bacterias, which can pose potential harm to humans and animals, rose after the detection of potentially harmful algae blooms in Mozingo Lake.
No harmful chemicals or bacteria are present in the city's drinking water, which is meeting Missouri DNR and EPA standards.
To be further knowledgeable on this issue of algae blooms, Assistant City Manager Ryan Heiland, Goodall and Hulett attended the Great Plains and Midwest Harmful Algae Blooms workshop Feb. 4 and 5, where more than 200 attended from 20 different states.
The conference showed that algae blooms are not unique to Maryville or Mozingo, but rather a wide-spread issue that several communities and municipalities are learning to combat and monitor in regards to local water supplies.
"(The conference) discussed best practices, both in identifying issues and challenges with nutrients forming harmful algae blooms," McDanel said. "It is a wide-scale issue."
The algae bloom workshop was presented by the U.S. EPA, which reported that the midwest region (Minnesota, Iowa, Kansas and Missouri) reported that 78% of its lakes monitored by state or federal government are suffering from blue-green algae blooms.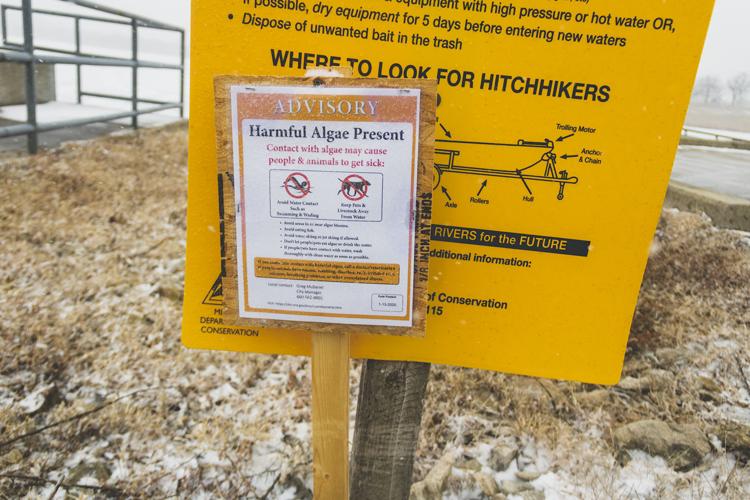 The midwest region additionally has 470 labor projects focused on agricultural runoff and controlling chemicals in the water.
"It was a really informative conference," Heiland said at the Feb. 10 council meeting. "I'm glad we went."
Throughout the tour of the water facility, members of the council and those who attended the EPA conference expressed concerns and asked the tour leaders several questions to better understand the water plant.
Hulett said a problem citizens don't generally understand is that when changes are made at the water facility, it takes time, sometimes days, to see that change in the public supply in town.
"When it's people in more rural areas, they can see an even greater wait time for that change," Hulett said.
As city staff continues to look at what changes are more immediate necessities and which ones are longer-term solutions, the warning signage remains at Mozingo Lake advising against contact with the potentially harmful water.