Northwest's new agriculture building is scheduled to be finished in early June.
The 29,000 square-foot building will hold two classrooms, five laboratories, a processing kitchen, offices and an exposition. 
Director of the School of Agricultural Sciences Rod Barr said the facility will be called the "Agricultural Learning Center," but the laboratories have been named after donors of the project.
Barr said getting to this point has been a bit of a long journey. The original idea for the facility was made over 30 years ago. Thirteen years ago, the University started looking at other facilities, such as the Litton Center in Chillicothe, Missouri, for inspiration. 
Just a few years after that, Barr said decision-makers at Northwest's School of Agriculture were asked by the Northwest provost at that time, Kichoon Yang, what their biggest need was and the answer was "academic space at the farm."
Last spring, the University officially broke ground on the project. Now, construction for the center is well underway, and in just over five months, it will be completed.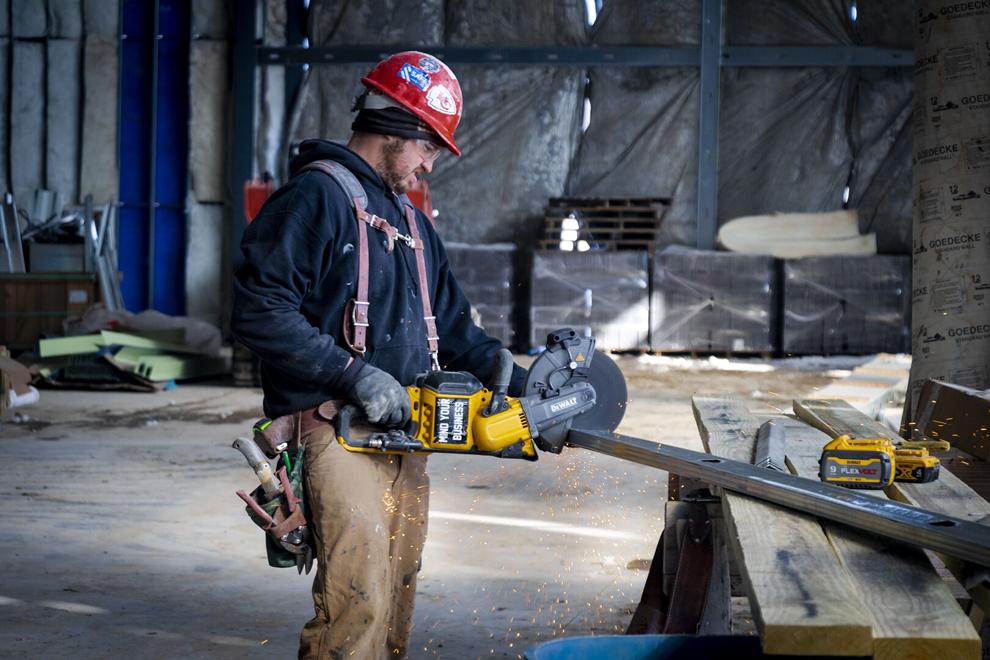 The building cost $11.4 million to construct, but thanks to funding from the University, Missouri state legislature and funding from the Northwest Foundation, including a $500,000 donation from Northwest Foundation Board of Directors member John Cline, it will be covered.
Barr said the day Northwest received its final donation from Cline is one he'll never forget.
"It means so much for a former Bearcat to help current Bearcats," Barr said. 
Barr took former faculty out to the facility and said it was really special to be able to show them where they're at right now.
"They're the ones who laid the foundation for the department of agriculture sciences and for the facility," Barr said.
Ryan Talkington, agriculture admissions representative, said that the building being completely funded just shows how much work the people in charge of the fundraisers did.
"They're good at their jobs, and having the building completely funded is huge," Talkington said.
Ryan Shurvington, a junior agriculture department ambassador, said he is excited, and he knows students and professors alike are too.
From an admissions standpoint, Talkington said he's thrilled about it and that the potential for the building is huge.
For a campus the size of Northwest, there aren't many facilities like it, and Talkington said it will be a great opportunity for incoming students and students already on campus. He said he thinks they will be able to bring in more students not just because of the facility, but also because of the state-of-the-art technology it will have.
Shurvington said he thinks it will increase Northwest's enrollment, and not just for the agricultural department.
"...I know having a facility like that and being able to show people that it's not something a lot of universities have," Shurvington said.
Shurvington thinks it will show students they have opportunities to get involved and even further solidify Northwest as being known for its "hands-on" learning.
Shurvington said he thinks the facility will give the agriculture side of campus a better identity. 
"With that brand new sign they have there, it creates a better known environment for the farm," Shurvington said. "Unless you knew before that it was the University farm, you would have never known that it was part of the University, and now you can definitely see it is part of campus."
Barr agreed with Shurvington and said the facility will bridge the gap between that side of campus and the rest.
The facility is designed to not only be a benefit for the agricultural sciences classes, but for the whole University. The exposition center is 8,500 square feet and can seat 350 people, which can be used for other departments on campus as well for meetings or any other large event. That space can also be used for community events.
Talkington said as far as a banquet setting, it's going to seat more than most other places in this area. He also said that there are talks of interactive screens in the hallways about the facility and what happens in there, which would create an opportunity to work with design and art majors to design how they look and work.
"With that exposition space, it's going to allow us to do things with the University that we haven't been able to yet," Barr said. "Just because it is the Ag center doesn't mean the communication and media department can't find a way to use it."
Barr said he believes that's where the imagination soars, and he hopes that the facility will be a benefit to everybody.
As of right now, Barr said they aren't planning on events for when the facility does open besides internal ones, and that it's really about making sure it's ready for August when school starts up.
It's been 50 years this year since Northwest obtained the farm, and Barr said he believes opening the new facility will be the perfect celebration.