Nodaway County Sheriff Randy Strong walked on stage at the Ron Houston Center for the Performing Arts to give a presentation about former Sigma Sigma Sigma sorority member Karen Hawkins' sexual assault and death.
After giving this presentation for roughly eight years, Strong still gets choked up about Hawkins, having known her family personally.
"A lot of these cases, not just Karen's, really gets me," Strong said.
Hawkins, a former Northwest student, was assaulted and killed in April 1995 by Dennis Lee Jones, someone she had known in high school. Jones killed himself before he could stand trial.
The sorority has held an annual memorial to honor Hawkins and raise awareness about sexual assault, which included Strong coming to campus and talking about the case on Monday March 15.
Strong's breathing was shaky as he talked about the case. He said that he refrained from using any disturbing pictures from the crime as not to dishonor Hawkins' life and instead showed pictures provided by Hawkins' family and friends.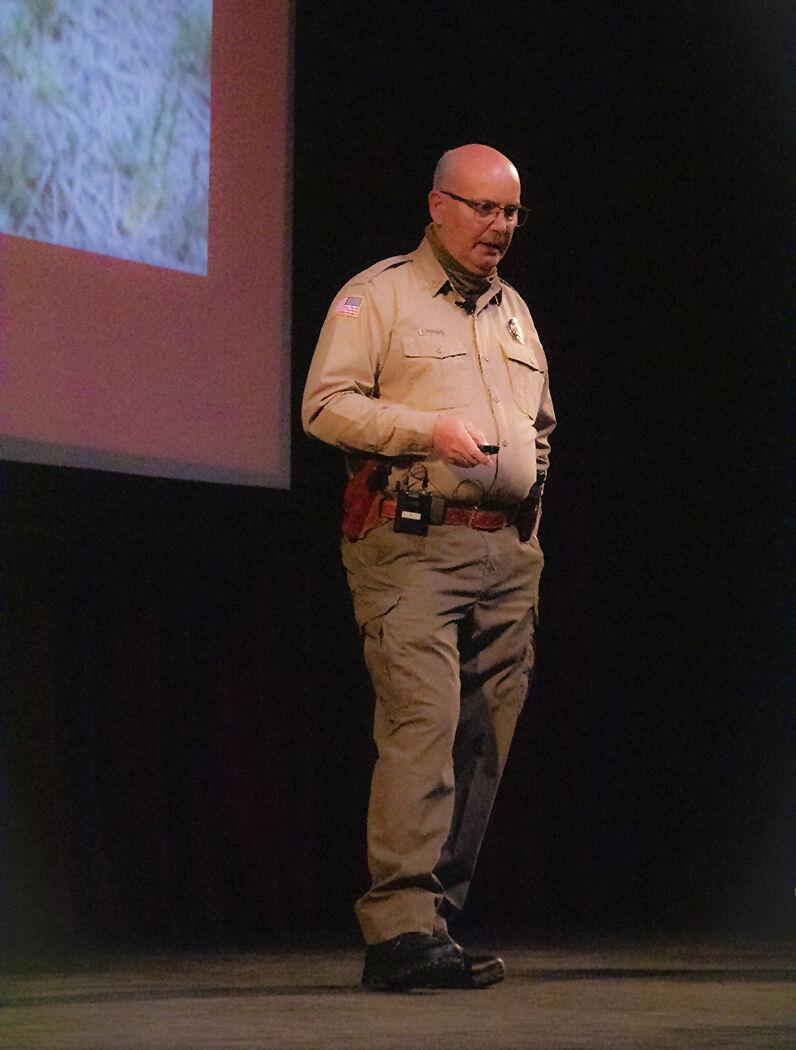 Karen Hawkins Memorial Week usually takes place in the middle of March, this year taking place from March 15-18. Other memorial events hosted by the sorority will include a silent memorial walk at 7:30 p.m. Thursday at the bell tower.
Member of the Karen Hawkins Memorial Committee in the Sigma Sigma Sigma sorority and sophomore Makenzie Page Thiessen said that despite COVID-19, they have been able to successfully host events, even if they have had to limit the number of participants to help mitigation.
After the presentation, Strong opened up about how being in law enforcement for 40 years and witnessing many different crimes was not only hard on the victims and their families, but on him as well.
"The ripple effect of this is tremendous," Strong said. "We see our soldiers come back with PTSD, and now we're noticing that in law enforcement and first responders."
Strong also admitted that he had talked to a professional about the situations he's investigated.
Junior and Sigma Sigma Sigma member Anna Bright has attended the presentation in the past and said that it has been a good way to bring awareness to sexual assault in the community.
"It's important we continue to honor Karen's memory and bring awareness to what happened to her," Bright said.
Strong made sure to emphasize the sobering reality of sexual assault in his presentation and reminded the audience that situations like Hawkins' can and do happen in the Maryville community.
He went on to tell the audience, mostly Sigma Sigma Sigma members and women, to take care of themselves and their friends in any unsafe situations.
"You've got to be careful," Strong said. "Not everybody's nice."
There are free local and national resources for victims of sexual assault and violence. The Children and Family Center of Nodaway County has a 24-hour hotline at 660-562-2320, and the national hotline for sexual assault is 1-800-656-4673.