The annual Student Organization Fair brought an array of new and returning Bearcats to the Memorial Bell Tower Aug. 26. 
More than 70 organizations had booths set up at the four-hour event, promoting their respective meeting times, events and missions. In light of the ongoing COVID-19 pandemic, proper distancing and mask-wearing were abundant as students navigated the sidewalks lined with information tables and merchandise. 
---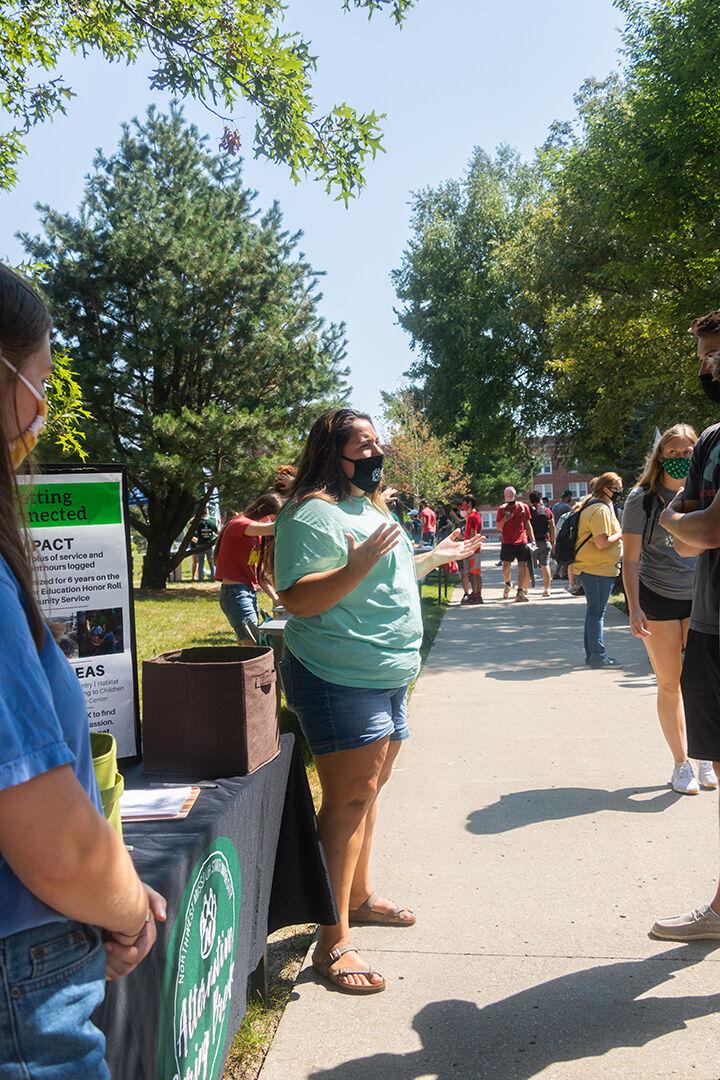 ---
Groups of all types were represented, including several religious entities and Greek Life. Special-interest organizations like Geo Club, the Bearcat Winter Guard and Active Minds also made appearances.
Michaelene Mays, a senior from Jacksonville, Illinois, headed the CommCats table at the fair. Even with COVID-19 mitigation in place, Mays said not much differed from the way the fair's been done in years past.
"Obviously, we are spread out. I mean, everyone needs to be at least 6 feet apart," Mays said. "There are signs everywhere … but other than that, it's pretty much the same. Same interaction."
Although things may have looked a bit different in terms of distancing, Mays reiterated the goal is the same, no matter the entity.
"I would say (it's) both getting people engaged, getting to know them and getting them to join us (and) our organization, and getting that professional experience with us," Mays said.
Bearcats Going Green was also prominently featured at the fair. A spokesperson for the group said they want to see more students recycling on campus.
"(We) educate students on what to recycle on campus and where they can recycle on campus," he said.
The spokesperson mentioned the group's biggest event comes in the spring. Recycle Mania, a multi-institutional effort piloted by the National Wildlife Federation, is typically their biggest draw in terms of participants and publicity.
"It's an eight-week competition with other universities from around the world," he said. "[Northwest] has been in the top 100 since 2013 when it started."
---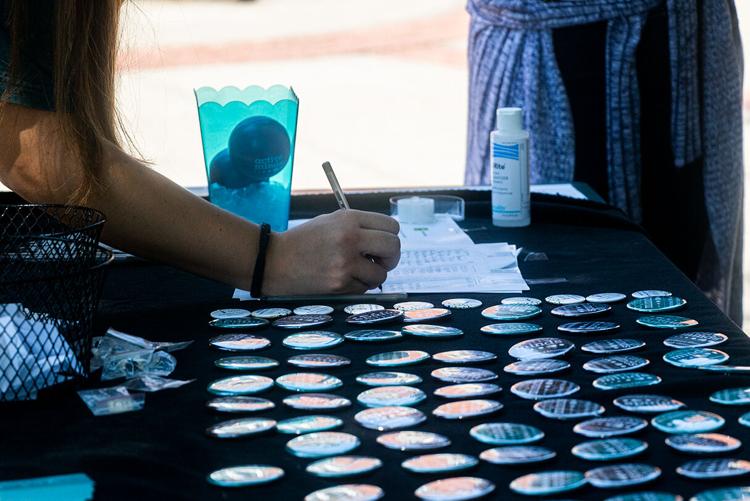 ---
Although freshmen were required to attend this event, the spokesman stressed the fair is about more than just checking off a box.
"I mean, a lot of people, this is the first time they've had the ability to participate in a club," he said. "This allows you to find out what you're interested in, whether it's Bee Club or Geo Club. There are so many options — you can do professional, you can do social, any interest, and it allows you to find other like-minded people to be able to go out and explore and find community on campus. Once a Bearcat, always a Bearcat."
For those unable to attend, the updated BearcatLink portal gives access to most of Northwest's clubs and organizations, their meeting times, bylaws and contact information. The portal can be accessed through Northwest's Bearcat Login landing page.