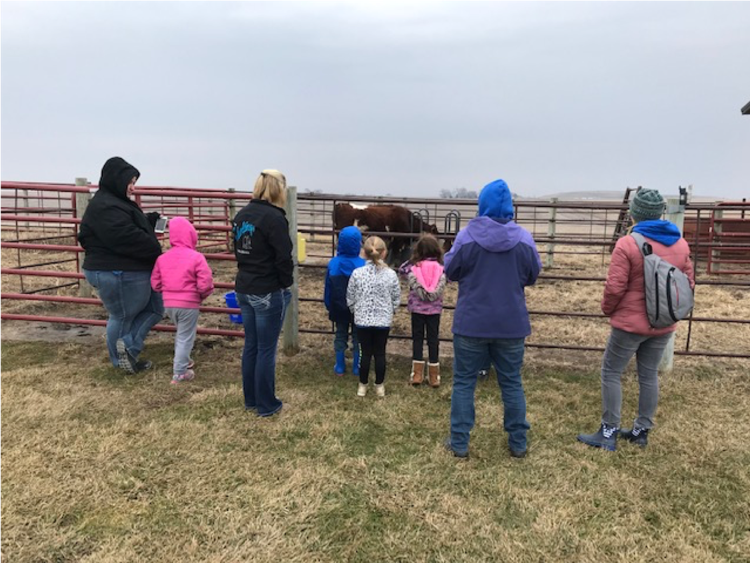 "This is heartbreaking. I don't know how I can help when I'm stuck here in Maryville," Courtney Scholting, sophomore at NWMSU says while looking at the homes of her neighbors in Nebraska.
An unusually harsh Midwest winter, including record low temperatures reaching -33 degrees and 26 inches of snow in Nebraska this year alone, has worried farming communities. The sudden temperature changes of early March brought disaster rather than relief.
Though warming weather has finally broken the bitter cold, the 20-foot mounds of snow that lined the streets of most Midwestern states have melted rapidly with the spring rain, causing severe flooding across the plains. States like Nebraska and Iowa, with their flat terrains, could not direct the water quickly enough before flooding spread across county line.
Areas Effected by Midwestern Flooding (2019)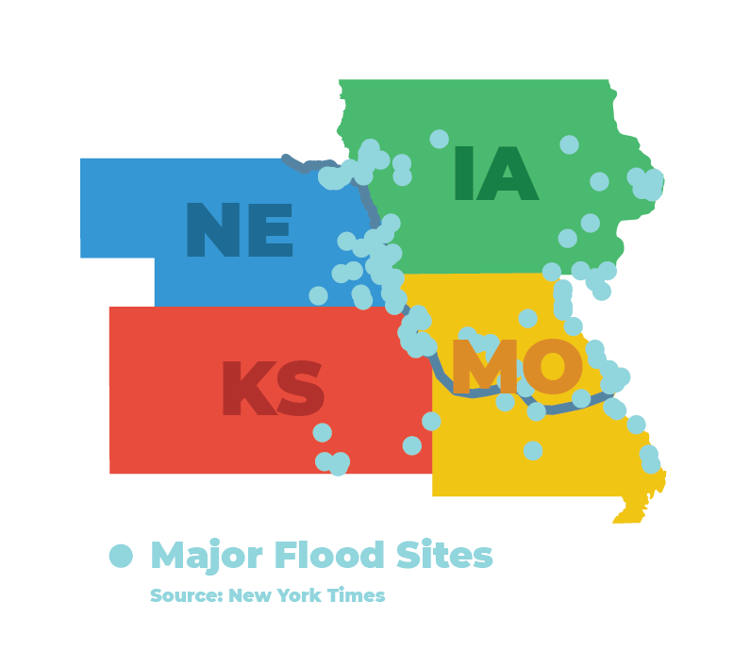 ---
Icy water poured into small streams and lakes, now indistinguishable to the rest of the standing water. The dams once holding back the Platte River have broken, washing its banks away and raising the shorelines well past the roots of sparse and beaten trees. Bridges from major highways across the state of Nebraska have been lifted with ease, and now travel down the river along with broken homes and fallen farm animals.
I-29, the most direct route from Kansas City to Omaha, is littered with detour signs, traffic cones, and MoDot employees redirecting traffic. Those who wish to travel north instead are encouraged to take Highway 71, passing through Maryville.
Scholting, along with her father, own a farm outside of Gretna, Nebraska,where they raise cattle.
"The family farm has been grown and passed down for generations. The first plot of land was purchased by my great-great grandmother, making my sisters and I the fifth generation to run it," C. Scholting says.
Though their farm has been left somewhat unaffected by the floods, the passion they have for their farm and its surrounding community has encouraged Scholting to give back.
"Ag Day actually started as a piece of an advocacy project for FCCLA my junior year of high school. I was batting the administration of my high school, trying to convince them to host an FFA and some agriculture classes. I was completely overlooked, so I decided to become and advocate for the importance of agriculture education," C. Scholting said.
Scholting has created a program known as, "Putting the 'Agri' Back in Our Culture," which opens her farm up to kindergarten students for a day in the early spring. The students can learn the importance of farming while rotating through stations set up in the barn and, "the shop."
"I planned Ag Day for the first time and the kindergarten classes in the district were more than happy to attend. I won the Nebraska state FCCLA competition with my project, followed with a gold medal at the national competition in San Diego. I knew then, if a panel of judges from the city could see how important this project was, I had to continue my efforts to educate people about the agriculture industry," C. Scholting continued.
The program is in its fourth year and was created by Scholting her junior year of high school.
The first class of kindergarteners arrived at 9 a.m. Tuesday, March 26, in a traditional yellow school bus from Westmont Elementary. Each student had a small bus cut from construction paper with their name printed neatly and fastened to their shirts with safety pins. Twenty-eight smiling kindergarteners filed into the shop with the help of their chaperones.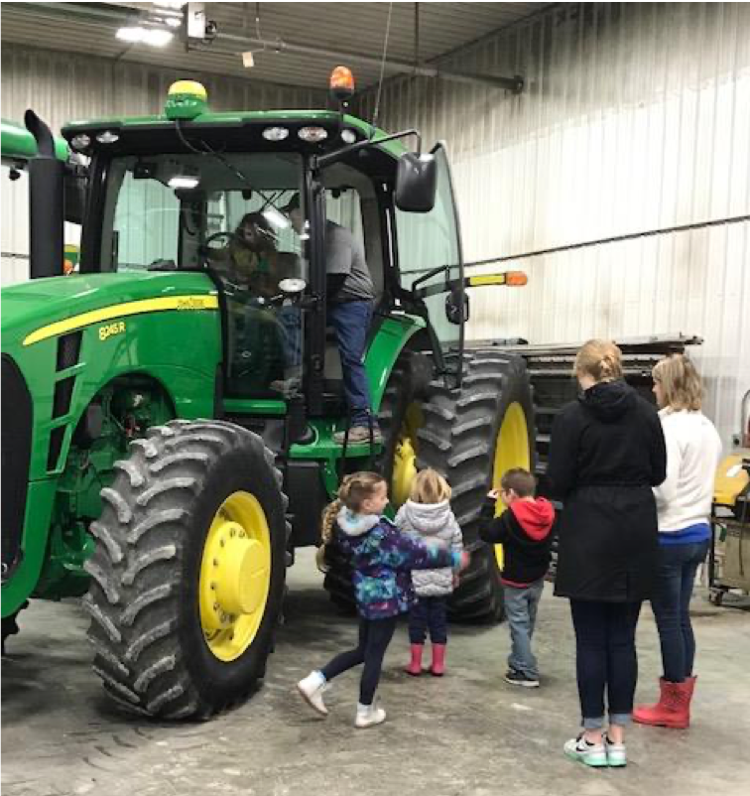 They were excited to learn about the farm animals and see a, "real life tractor," freshly washed and standing before them.
One student, Garrett, who is five and three-quarter years old, yelled, "I can fit my whole body in the tire," while then attempting to sit inside the yellow hubcaps of the John Deere tractor.
The students were grouped based on the color of their buses while Scholting and teachers directed them to their first station.
Westmont kindergarteners had the chance to speak with volunteers, family and friends of Scholting, about farm equipment, farm animals, and farm industry information like where their food comes from.
The stations were Henrietta and Henry (the cow and calf) ran by Rachel Scholting, an area with one sheep, one lamb, and a very plump black goat ran by Tracy Jones, Jack Jones and Louis Smith helped the kindergartners make construction paper pig snouts while they learned about Michelle the pig, Rachel
Putting the 'Agri' Back in Our Culture Event
Keys taught students about where their food comes from while students decorated sugar cookies and made sprouting soybean necklaces, Don Scholting talked about the importance of farming equipment and maintenance then let the students tour the inside of both the tractor and combine, and making butter from heavy whipping cream and salt was run by Alexis Lichtas. Courtney Scholting frequently checked on volunteers throughout the day.
Once the Westmont class had finished their stations, a class picture was taken and they left on the same bus they had arrived in.
Rachel Scholting, C. Scholting's older sister, was speaking to some new volunteers after the first group of students left.
"What we are doing today may seem insignificant, but for a lot of these kids this is the first time they have ever seen livestock or tractors in person. If we didn't host this field trip for them they may never visit a real farm or have the opportunity to ask producers questions about their food and how it is produced," R. Scholting explained.
The volunteers met inside the Scholting house and ate lunch before the second round of students arrived at 12:30 p.m.
Most of the volunteers were new to the program and got to know each other over pulled pork sandwiches, baked beans, pasta salad, a variety of chips, brownies, cookies, and RiceCrispy treats.
Over lunch, Scholting was asked how she thought to help with the floods in Nebraska.
"Since I was stuck here in Maryville I didn't have a way to help out our friends and neighbors trying to evacuate and save their homes from the impending floods, and that really bothered me. Then I started seeing the pictures of the damages and knew I had to do something to help," C. Scholting said.
Putting the "Argi" Back in Our Culture is funded entirely by Scholting with the help of T-shirt sales.
"The Nebraska Farm Bureau's disaster relief fund is a pool of money that is distributed to Nebraska's farmers, ranchers, and rural communities that have been affected by the recent flooding," C. Scholting explained.
Scholting often sells the T-shirts to the public to help pay for equipment and volunteer shirts. This year she is going to donate 50% of the profits from T-shirt sales to the Farm Bureau's disaster relief.
Scholting often tries to find sponsors for the program and depending on the amount of support from them, the cost of Ag Day ranges from $100-$500.
"As we continue this program, we have gained the support of a couple incredible sponsors. This support allows us to improve the program and reach out to more schools to influence more kids," C. Scholting said.
During the lunch break for the volunteers, Don Scholting, C. Scholting's father, gives what is affectionately called, the, "Proud Dad speech."
The speech spoke on the importance of agriculture and being the future to farming. D. Scholting is "so proud," of the work his daughter has done in creating and running this program and cannot wait to see the great things she will accomplish in this field.
He continued by referencing Ag Day specifically and how incredibly proud he is that young children will get to experience farming on a more interactive level and learn more about where their food comes from. He hopes the program inspires young people, like his daughter, to pursue a career in agriculture and help rebuild the community that seems to be losing out.
"My dad is not a man that cries, but every year he gets teary-eyed when he talks about how much he loves helping with Ag Day," C. Scholting said later on.
After everyone had eaten their fill of sandwiches and sweets, each volunteer returned to their stations and awaited another group of eager kindergarteners.
The second group arrived from Springfield Elementary. Students wore white nametags with their names written in blue marker and had different colored circles drawn on their hands between the portion where their thumb meets their wrist.
Springfield students, though just has energetic, were more reserved than the first group and required fewer chaperones.
One group made its way through the stations without the help of any chaperones but decided that the best way to shake their butter up was by competing in a dance contest.
Leo, 6, won with his impressive use of, "the floss."
The students finished and met again in the shop in front of the tractor and combine where they took a class picture but had their pig noses strapped to their faces.
The class sang out, "Thank Miss Courtney," before lining up single filed and returning back to school.