For a lot of international students, the thought of Spring Break can be daunting. Many people assume that they go home like every other student, but the majority of them stay in the States.
Many international students cannot afford plane tickets to go home and come back within a week; especially if they are from long distance countries. This means that they have no choice but to stay on campus and pay an extra fee to remain in dorms.
Food & Nutrition dietetics junior Nayeon Lee from South Korea said going home for Spring Break is too expensive.
"It's too pricey for a week to spend $1,600 and take a 48-hour trip back and forth as it's not worth the time or money," Lee said.
Living on campus during the holidays is not a good experience for students; especially if they want to explore America and venture out to new cities. The whole idea of coming to a new country is to learn a new culture and seek opportunities whenever possible, exploring surroundings outside the classroom.
Malika Dahal, a 20-year-old psychology and human services sophomore from Nepal, finds it hard to plan what to do for Spring Break.
"I make plans to take road trips with friends, but something or the other always stops us from going, mainly not having enough money to travel and see new places," Dahal said.
When asked about plans for the upcoming Spring Break, Dahal said: "I will probably stay in Maryville because I don't drive and planning trips never work out for me, so I will most likely stay local, even though I would prefer to see new places."
In order to travel around the States, students need money. This is a major factor for students not wanting to travel as they have already spent a lot of money on tuition and living costs, meaning they are limited as they don't have sufficient funds. Budgeting is an important aspect of student life, so saving up from the start and keeping aside money for leisure costs can make a difference.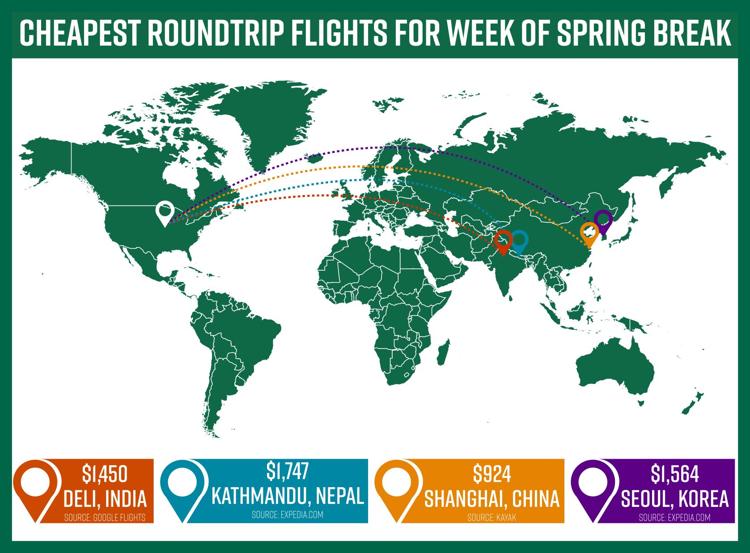 For instance, road trips are popular during Spring Break; especially among students as it's a great way to experience a different lifestyle and have fun with friends. It is beneficial to make friends with people who can drive, as they can offer rides to certain places rather than having to worry about transportation costs.
"If you don't have a car, you have to pay a lot just to get out of Maryville or find a ride. Northwest provides shuttles for international students, but the schedules don't really match up when people want to use them," Lee said.
However, there are ways in which you can use your time wisely during Spring Break to make it worthwhile.
Northwest offers a service called Friends of International Students. This is an organization where individuals are matched with families. The families can offer them to attend dinner at their house, go to events, take them to local towns and shops, etc. Their aim is to give support to the individuals and help them adjust to a new lifestyle comfortably. Taking opportunity of this service can be a great way for international students to venture out, without having to worry about spending lots of money.
Bio-medical science sophomore Simran Karki from Nepal, regularly stays in touch with her FIS family since she joined the service in 2017.
"We stay in contact through Facebook and often meet during breaks and festivals, and they have invited me for a few dinner parties at their house which I really enjoyed," Karki said.
Karki highly recommends other international students being part of FIS to gain the most out of university life.
"I've had a great experience so far, and this service does help students from new countries to adjust to a new community because the families do support students wherever possible; especially during breaks so they don't feel alone," Karki said.
If students don't want to travel outside of their local surroundings, there are other solutions, such as volunteering. This is a good way to give time to people who are in need. As international students are on an F or M student visa, they don't need government approval to give time to a community service organization. This can be a great opportunity as it can be added to resumes in order to boost employability.
When preparing for Spring Break, planning ahead is essential. Having friends who are reliable and knowing them for a while before planning trips with them is a good way to get out of Maryville.
"Plan ahead and go on trips with reliable friends that you've known for a while, but also don't forget to have fun, even Maryville can be fun if you make it exciting," Dahal said.
"If you don't have anything planned, I would say to just enjoy the relaxation and have a real break over the summer because Spring Break can really throw people off track," Lee said.