Only two hours from Maryville and 30 minutes from Kansas City sits the town of Excelsior Springs. History runs rich in the town much like its purported miracle mineral waters.
According to the Excelsior Springs Area Chamber of Commerce, the existence of the town is credited to a natural spring, known as Siloam Spring, which sits on the edge of the western border of what is now known as Fishing River Township.
The spring was first discovered by accident by a black farmer named Travis Mellion. According to historical records, the event happened in 1880 as Mellion's daughter was suffering from a form of tuberculosis, A jug of water was taken to Mellion's home, and his daughter drank and bathed in the water and within weeks she was completely cured.
Another farmer named Frederick Kugler is also said to have been cured by the healing waters after applying them to an old Civil War gunshot wound and recovering. Due to both of these recoveries, the city began to attract other ill people and put Excelsior Springs on the map as "America's Haven of Health."
Excelsior Springs historian Kevin Morgan said the town experienced its most prolific period from 1888 to 1929.
"We had built quite an infrastructure of clinics and hotels by the time the Great Depression came along," Morgan said. "So, Excelsior continued to be a vacation place and a place for people to come and get mineral baths and, and do those spa experiences."
Morgan said the popularity of Excelsior Springs began to plummet in the 1950s.
"The reason is primarily because of the advancement of medicine in the Second World War replaced natural healing as the nation's first choice for self-care," Morgan said.
Postdoctoral research fellow for the Archaeometry Laboratory at the University of Missouri Daniel Pierce has spent time digging into the history of Excelsior Springs. Pierce was first introduced to Excelsior Springs nearly seven years ago after working with the Missouri Archaeological Society in a public archaeology program in the town. After spending a week in Excelsior Springs, Pierce said he fell in love with the town.
"I was introduced to the amazing history there and realized there was so much to be discovered through archaeology, both in historic and prehistoric contexts," Pierce said. "I couldn't believe there was so much to be explored there, yet no one was conducting full excavations anywhere."
Pierce previously worked as an adjunct archaeology professor at the University of Missouri- St. Louis and after his initial visit he was inspired to start his own digs through the creation of a summer field school in 2015. He said the main purpose of their excavation was to identify the location of a specific spring, called Regent Springs as it used to be one of the largest and most popular springs.
"At one time, there was a large gazebo-like pavilion, and a beautiful park on the banks of the Fishing River near the Elms Hotel," Pierce said. "There are various photos from the era that show the area with hundreds of people relaxing and enjoying the day at the park. Ladies in big dresses, men in their full suits and hats."
However, over the past hundred years, Pierce said the location of the pavilion and other features were lost due to flooding.
"The pavilion, retaining walls, bridges over the river, and other features had crumbled over the years and had subsequently been buried over with decades of mud and silt due to river flooding," Pierce said. "In other cases, vegetation had completely consumed the features. So our main goal was to rediscover that park and learn the location of it."
Pierce said he and his students did achieve their goal of rediscovering the spring by the end of their trip to Excelsior Springs.
"Rediscovering this history really demonstrated the importance of archaeology," Pierce said. "There is an amazing history beneath our feet. If we don't work to rediscover it, it can be lost forever."
Pierce said the trip not only allowed students to gain job experience but also taught them more about the town as most had never heard of the town before they arrived.
"It was very interesting to learn about the importance of water and the many mineral springs in the area," Pierce said. "Who would have known that Excelsior Springs was one of the most popular tourist attractions in the entire Midwest at the turn of the century. A city that is seemingly a blip on a map today, was once well known nationwide."
In its heyday, the town saw an abundance of well known, now historical figures. The Elms Hotel became the place to stay with its various spas and pools utilizing the healing mineral water.  According to the Elms Hotel website, Al Capone, "Pretty Boy" Floyd and Bugsy Moran were common residents of the hotel and would reportedly host illegal gambling and bathtub gin parties during prohibition.
The hotel was also a common retreat for U.S. presidents. According to the eMissourian, President Harry S. Truman awaited to hear the election results in the 1948 election at the Elms Hotel and President Franklin D. Roosevelt frequented the hotel seeking a cure for his disability.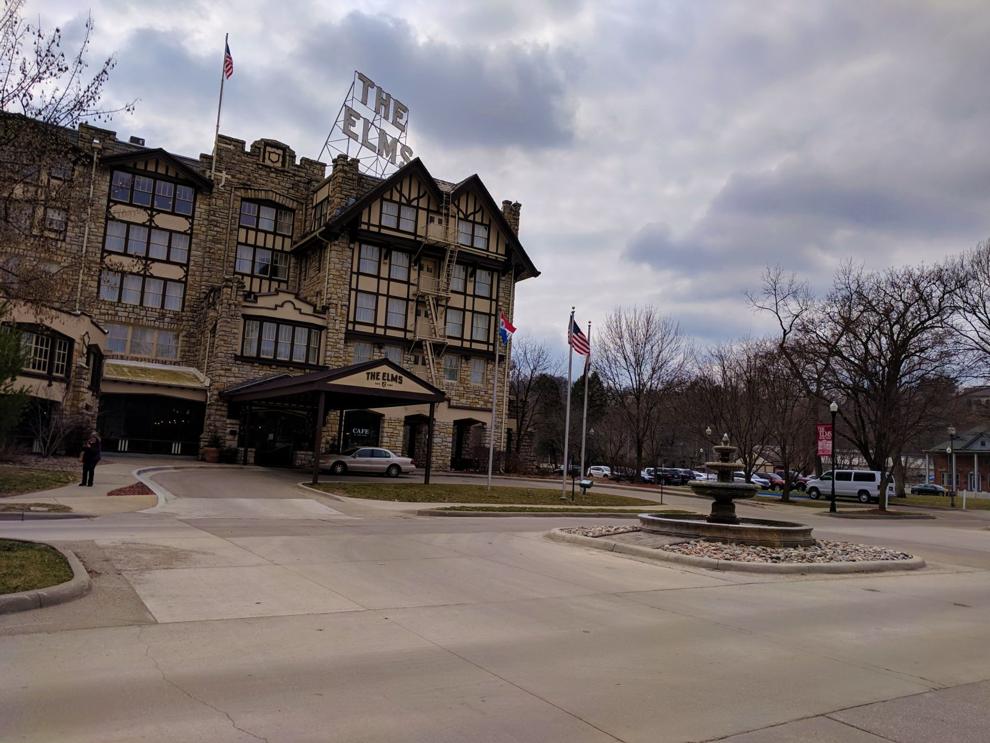 While there is no longer public access to the springs or any spa related treatments for the healing waters, Morgan said Excelsior Springs is in a resurgence. He also said the city was a good place to visit no matter a person's interest.
"If they were a photographer, I would tell them it was a good place to come and shoot photos because we have this eclectic mix of architecture downtown," Morgan said. "We have a historic preservation program that's been going on for a while. So, we have three different national registered districts in Excelsior Springs."
Morgan also said there is a lot of outdoor and historical things for people to experience.
"If the person is interested in nature Excelsior Springs is good because it is in a very natural setting," Morgan said. "There are lots of trees here and five minutes in any direction you're in the country. We have Watkins Mill state park, that is just minutes away and Jesse James Farm is about five minutes away plus we have festivals here all year long."
Pierce said he encourages everyone to visit the Excelsior Springs and experience it for themselves.
"There is so much amazing history in that city and so many people are more than excited to tell you anything you want to know about it," Pierce said. "This is definitely not just your average run-of-the-mill small city. There are some amazing things going on there that hardly anyone knows about."
Places to visit in Excelsior Springs 
Places to eat at in Excelsior Springs