Kansas City can seem like an overwhelming city at first. There are dozens of different things to see from parks, museums, shops it may seem almost impossible to do in a short amount of time.
To fix this issue, in 2016, Kansas City introduced the Streetcar. The Streetcar is a free transportation service that runs from the City Market to Union Station and back. It stops at several locations throughout Kansas City and has become a way for tourists and natives to get around Kansas City. Using the Streetcar to get around downtown Kansas City is an easy and accessible way to get through downtown Kansas City, with these being some of the highlights Kansas City has to offer:
City Market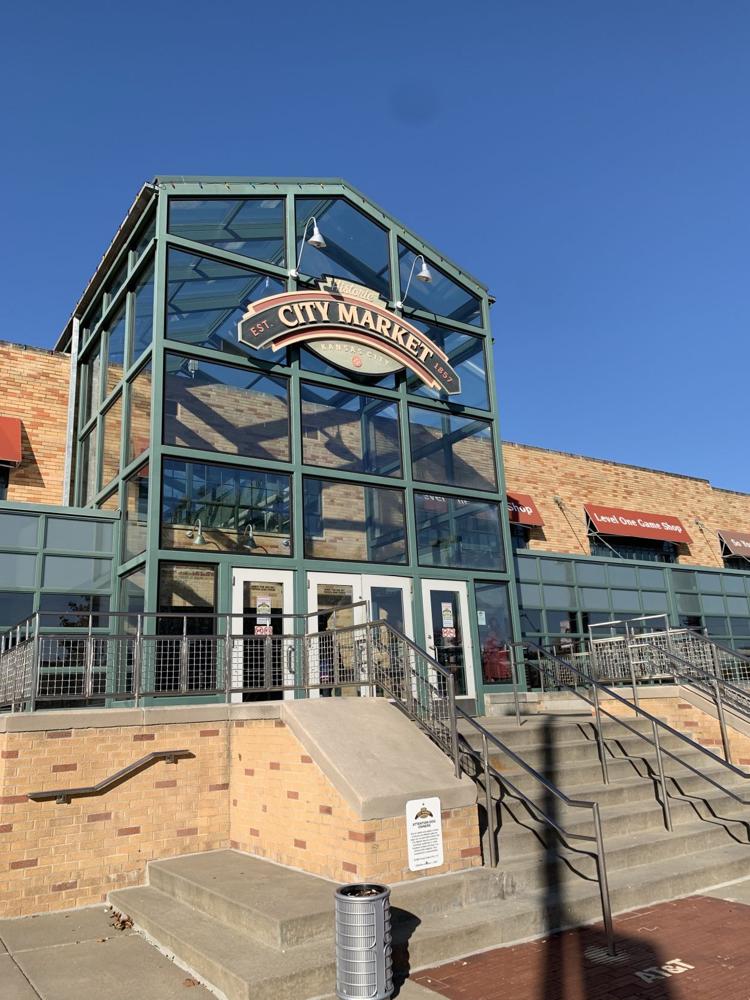 The first place you should start is the City Market. The City Market is a farmers' market that has been open since 1857. The market is open year-round with venders selling anything from produce, homemade goods and flower bouquets.
Along with these stalls, there are also shops and restaurants that line the outside of the market. Here, there are a lot of ethnic, authentic places to eat or buy food, including fresh-made naan and spices.
While you're here, you can get coffee from City Market Coffee in the corner of the market.
This place serves coffee drinks that they roast themselves, breakfast, and juices. You can also buy different souvenirs, like cups and mugs, or a bag of coffee. The store had a loose industrial theme with a very unique seating area.
Megan Dusanek, a Kansas City native, uses the Streetcar all the time to visit the City Market.
"The Streetcar makes it easier to find parking at the City Market, I can't normally find any," said Dusanek.
After you look through all the stalls and shops, it's time for your next stop – the Kansas City Library.
---
Kansas City Library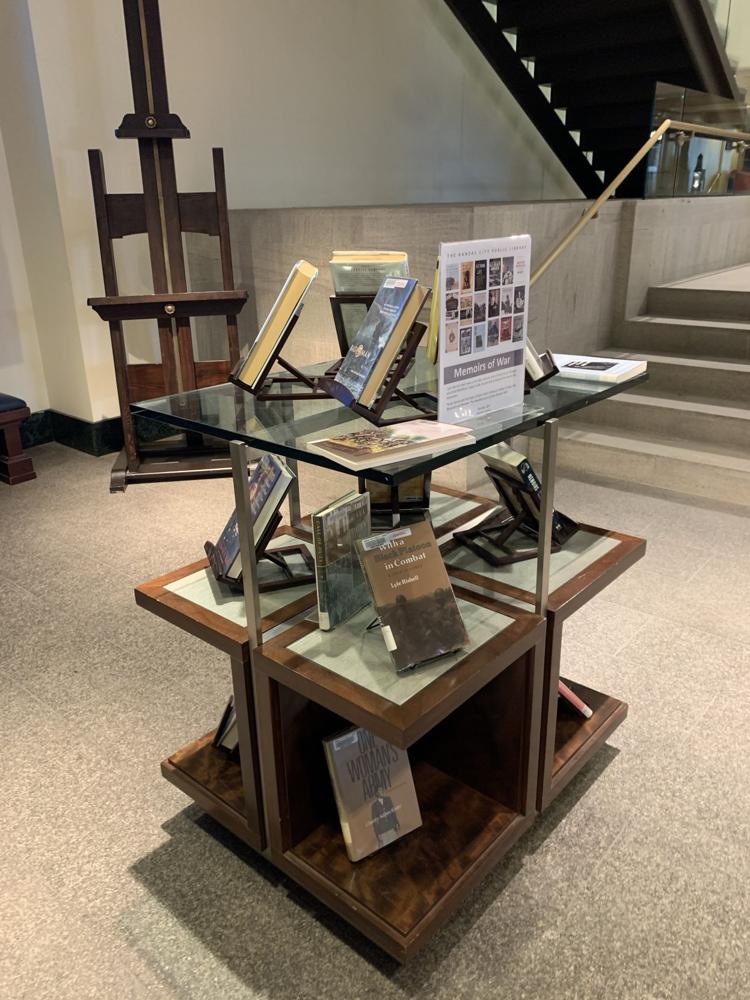 The Kansas City Library is basically a free museum in KC. There, they have all of the basic offerings of a library, like resources, books and Wi-Fi, but also have different exhibits and events that happen year around. While I was there, they had a photography exhibit about South African women. Along with the traveling exhibits, they also have a self-guided tour you can go through about the history of Kansas City and how It came to be.
Along with the historical elements, there is also an outdoor patio on the top
floor. Here, there are tables, a giant chessboard, and more informational panels about the views from the patio and how they have changed overtime.
Another thing worth checking out over by the library is the 25-foot wall mural of books on the side of the building, or the parking lot.
Here, you can take pictures of and in front of the iconic mural to remember your time at the Kansas City Library.
James Bates, who works downtown, likes to visit the library on warm days.
"I like to sit on the patio and eat my lunch in the springtime. It's good to get away from work sometimes," said Bates.
---
 Power & Light District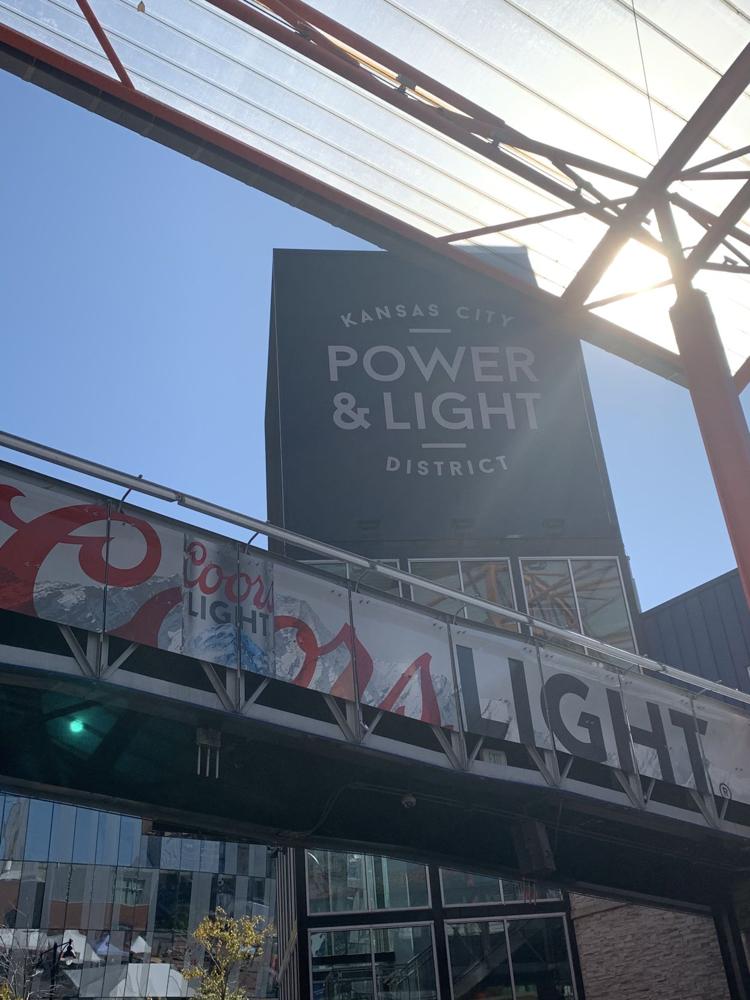 The next stop is the Power & Light District. Even if you aren't 21 years old, you can still experience other things Power & Light has to offer besides nightlife, one being The Garment District shops.
The Garment district includes eight shops in one and features locally made brands. This is a great place to shop for KC merchandise and other clothing items with lots of choices. Along with the clothes, they also have a bar in the middle of the district, along with an Instagram wall to take cute pictures.
Another place that is popular in the region is Insomnia Cookies. While it is not a Kansas City chain, this specific store is fairly new and a very popular place to get a quick sweet treat. Insomnia Cookies gets its name from its late hours (they are open from 9 a.m. to 3 a.m. most days) and they deliver that late too.
If you are over 21 and planning to stay the weekend in KC, Power & Light also has a huge bar scene with lots of interestingly themed bars for everyone including Shark Bar, which is summer themed, and Howl at the Moon, which is a dueling piano bar.
Kristen Edmisten, likes to visit Power & Light when she can.
"We've been to the piano bar there. We listened to music and had some drinks. It was expensive, but a good time," said Edmisten.
---
Crossroads Arts District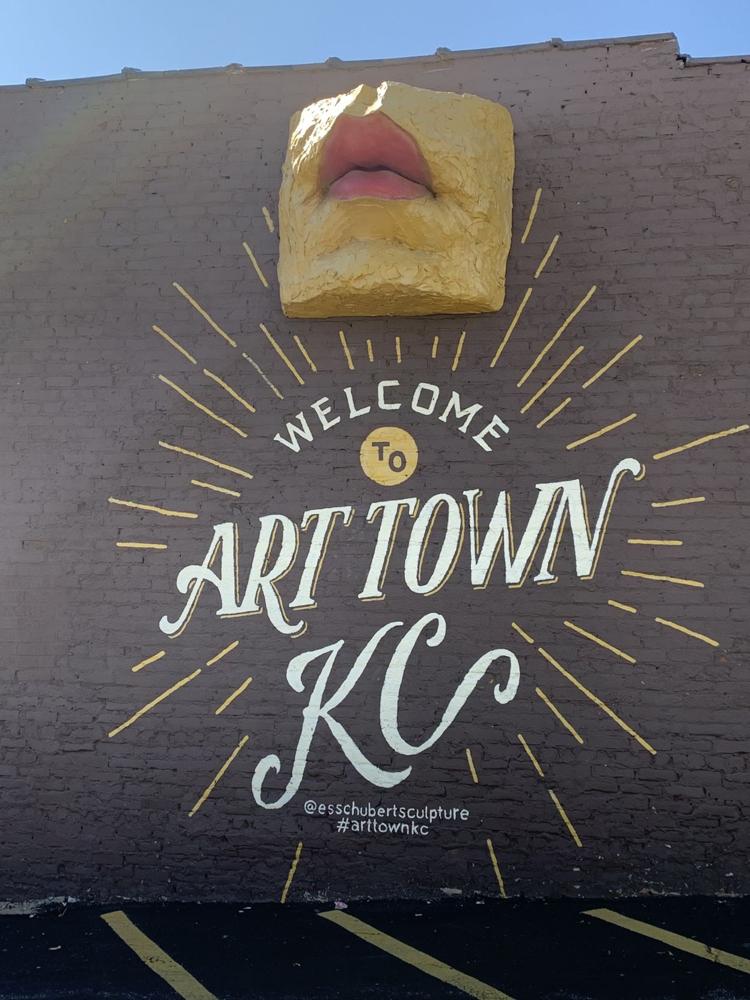 The Crossroads is known for its galleries, street art, restaurants and more. Just walking around the district, you can see all the street art that has been created.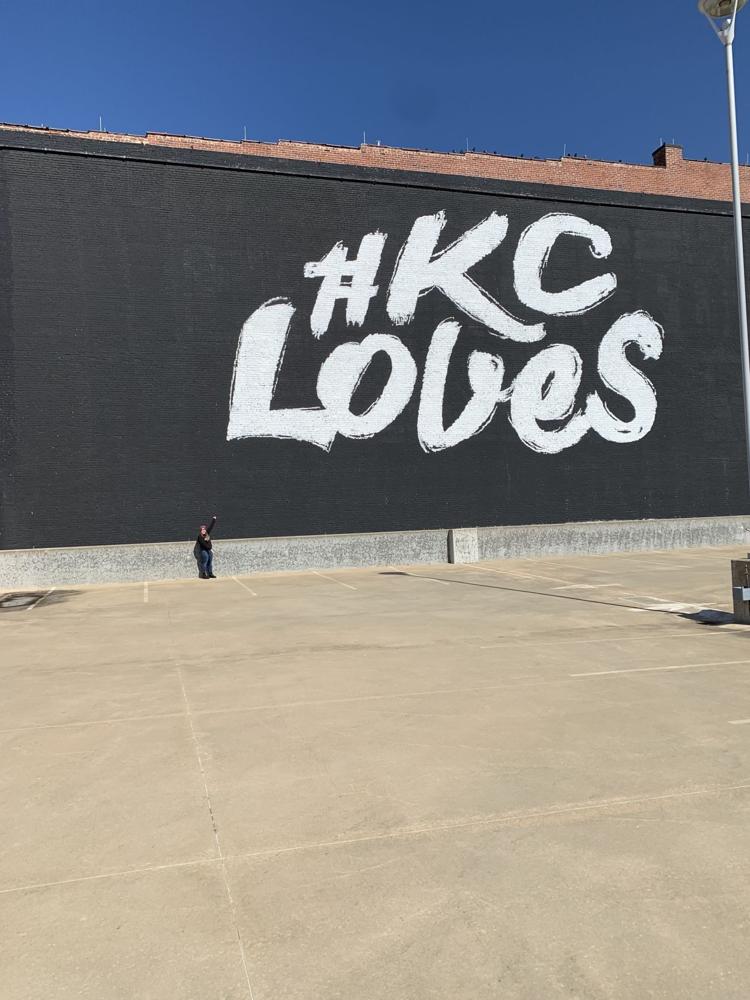 An iconic Instagram wall mural that can be hard to find is the #KCLoves Wall that is painted on the top floor of Barkley's parking garage. Barkley is an advertising agency based in KC.  Their offices have the TWA rocket on top of the building, who owned the building before Barkley. If you can find Barkley, the parking garage is close by.
Once you climb to the top of the garage, you will see the mural; it's hard to miss.
Since I was there on a Saturday, the parking lot was empty, and it made for a great picture with no cars in the shot.
Another great thing to do while in the Crossroads is visit Raygun, a KC and Midwest themed store. There, they have their iconic typographic T-shirts with different sayings that relate to anything from the Chiefs, pride week, teaching and Midwest culture. Along with shirts they also sell other tourist-y things like postcards, magnets, pins, etc.
At this point, it's probably close to lunch time. There are a lot of cool and famous places to eat in the Crossroads. A few popular ones include Jack Stack Barbecue, located in a converted freight house. It is a good place to eat, especially if you are a tourist, but it is pricey and may not be a viable choice for college students. Another choice is Town Topic Hamburgers, a hamburger joint that is open 24 hours 7 days a week. They are in a small building right in the center of the Crossroads and have been there since 1937. Another place to visit and eat is Grinder's. Grinder's is known for their food as well as their dining atmosphere. Inside the restaurant includes writing on the walls, interesting décor and even a few tables with airplane seats for chairs.
Crossroads Street Art and Grinders
---
 Union Station and Crown Center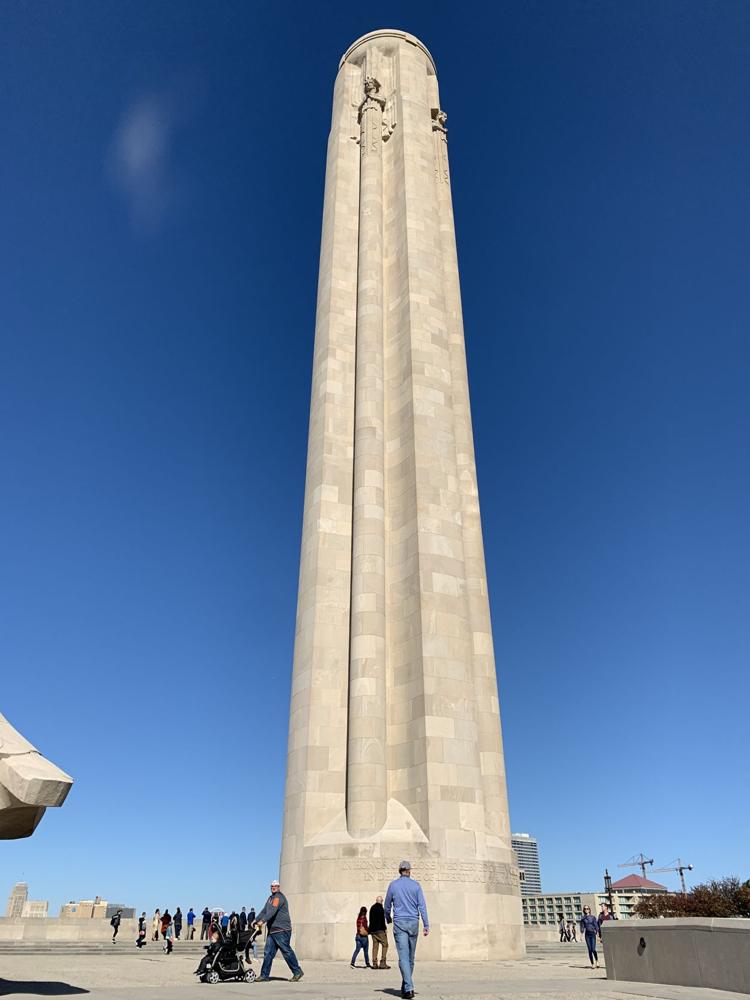 While this is the last stop for the Streetcar, it is also the busiest area, with tons of things to do in the building and around.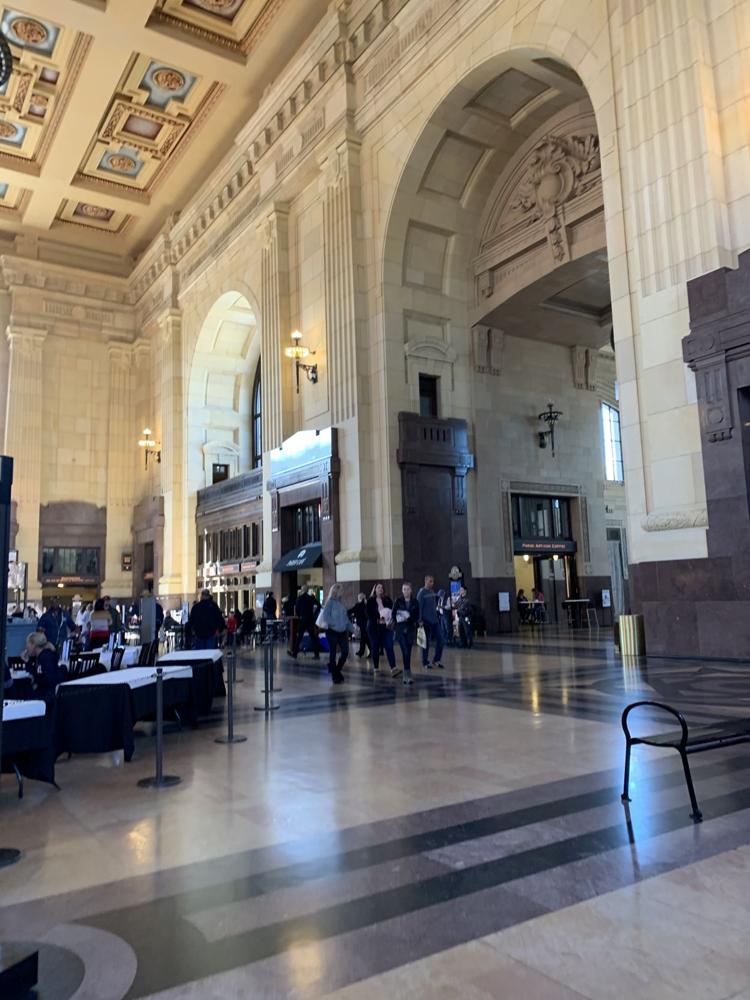 Union Station was built in 1914 and was a functioning train station until the 1980s. In 1990, it was renovated and reopened. To this day, it attracts people from all over the world to see its architecture. The building now hosts many restaurants, stores and exhibits. There is almost always some sort of traveling exhibit hosted in the building, so look ahead of time to see if this would interest you. Some permanent attractions include Science City, which is aimed more towards more kids, a planetarium, and a theater where you can see plays.
A walk across the parking lot of Union Station will lead you to Penn Valley Park, which is on the way to the Library Memorial and the National WWI museum. The WWI museum is the only museum in the US that is solely dedicated to preserving WWI artifacts. The museum is interesting to see and is recommended to anyone who likes museums or history. In the lobby, there is a tribute of over 5000 poppies to represent all of the fallen soldiers during the war. Even if history is not your thing, there is also the Liberty memorial, where you can go up into the tower and see the entire city from the top
Walking distance from the memorial and museum is Crown Center. Crown Center is a shopping center, including 60+ shops and restaurants, and is also Hallmark Cards' corporate headquarters. Inside Crown Center, there are stores like Crayola and Hallmark and that are worth looking around.
Across the street from Crown Center is SEA LIFE Aquarium and LEGOLAND Discovery Center. Both attractions are aimed towards kids, but the aquarium is something college students can still enjoy. During the winter months, there is the Ice Terrace, which is an outdoor skating rink which is fun to skate around with friends, family or a date night.
Sarah James like to reap the benefits of the Streetcar as often as she can.
"I like to use the Streetcar because then I don't have to pay for parking at Union Station," said James.
Now that you've made it to the end of the line, you can now take the Streetcar right back to the beginning. The Streetcar has given people an easier way to experience Kansas City, without having to drive around the whole town. It has helped revenue in these districts and neighborhoods, and there are plans to expand all the way to the Plaza and UMKC. With the new expansion, tourists and natives will be able to ride even further down the line and discover even more about Kansas City.