The Humane Society is a program that does animal control and adoptions for all of Nodaway County. Along with that, they also partner with Puppies for Parole to help train dogs for rehabilitation.
The Humane Society has a lot of responsibilities when it comes to animals in the area. "Intake to outtake we have around 600 to 700 animals a year", said Humane Society manager Wendy Combs.
The Humane Society is built and maintained from the community, and depends heavily on volunteers for a lot of their work. They are always looking for volunteers to put in time to help with the program. "If you can't have an animal volunteering is a huge thing, especially with students", said Combs. Most of the volunteers are students and anyone needing to get community service hours.
---
With COVID-19 shutting down so many different businesses, the Humane Society has had to make some changes. While following social distancing guidelines, they are only allowing adoption appointments as of right now. There is no volunteering or any type of visiting during these times.
So how would someone apply to get a dog in this current situation? You will need to fill out the adoption and provide any information needed with health related issues. Then you send the form in through email and you can set up an appointment to meet up with the animal.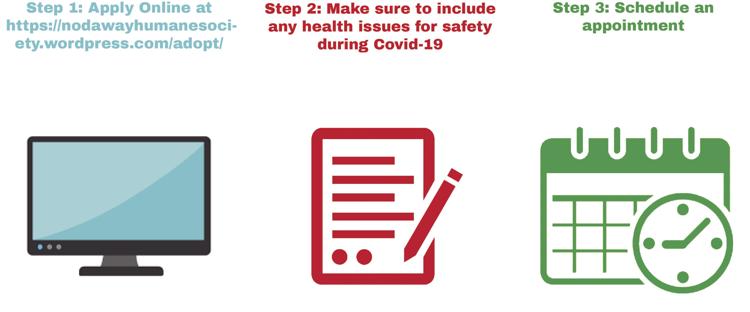 ---
The Humane Society also offers other great services from there facility. One of their biggest programs is Puppies for Parole. This allows former prison inmates the chance to rehabilitate dogs. "Puppies for Parole is an amazing program, we're partnered with the Maryville Treatment Center, and every eight weeks we select three to four dogs to go out", said Combs.
Puppies for Parole goes deeper than just rehabilitating dogs. Former inmates get a lot out of it also. "It helps the offenders because they are rehabilitating themselves and they are helping the dogs so it is a win win situation", said Combs. The training of the dogs has a lot of benefits for the inmates. "Some of the offenders fall in love with the dogs and have their families end up adopting. Sometimes they feel like they can't live without the dogs. Sometimes they will help them transition into the real world", said Combs.
For more information about adoption please visit https://nodawayhumanesociety.wordpress.com/adopt/