It's a long-held belief that on Halloween the veil between the human world and the spirit realm is at its thinnest, allowing ghosts to travel back to the human plane.
Though not everyone believes in ghosts and spirits, many locations near Maryville play home to strange occurrences. 
Just east of the J.W. Jones Student Union stands a haunted building where dozens of sorority girls live and prep for Bid Day. 
Roberta Hall wasn't always the building it is today. In the 1950s, the original women's dorm burned down.
Rumors say that the main casualty, Roberta Steel, died in the building. This isn't true. Steel died in her bed back home from an allergy to penicillin used to treat her pain.
Now women of all five sororities claim to have encountered the spirit of "Berta" in their rooms. Some report handprints appearing in their foggy mirrors. Others claim objects have been flung against the opposite wall. A few have even reported something touching them or moving parts of their body.
Some members of Alpha Delta Pi said they hired mediums to "cleanse their rooms" and were told Roberta wasn't the only spirit present.
The girls were told the malevolent spirit of a former janitor occupied their room. The mediums apparently cast a protection ritual to keep the spirit at bay. 
According to Pew Research, 18% of Americans said they believe they've encountered the supernatural. 
Senior Peyton Jobe once had a physical encounter when staying the night at a friend's room.
"I was sitting in my friend Cat's room," Jobe said. "I was just playing on my phone and all of a sudden it felt like someone was grabbing my leg. I looked up and my leg was in the air, but I didn't do it. Cat just looked and asked why I was lifting my leg. I told her I wasn't doing it; something had a hold of my leg. I never slept in that room again."
However, local ghost stories aren't just limited to the dorm.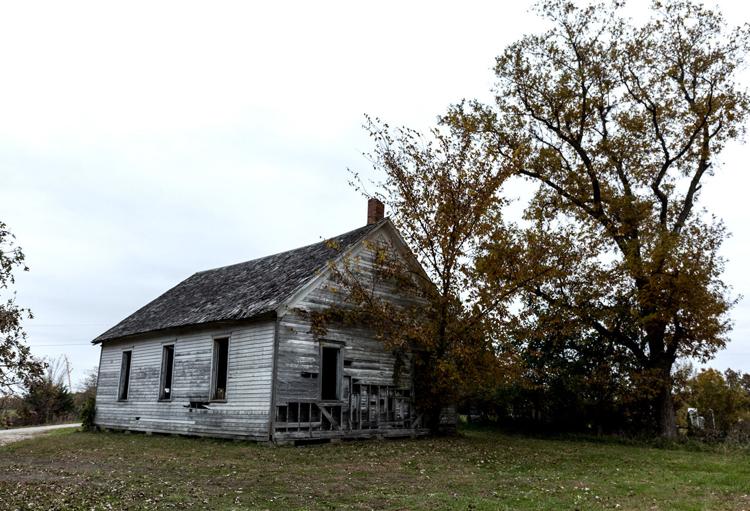 Workman's Chapel is arguably one of the most famous haunted "houses" around the Maryville area. Nestled in Burlington Junction, Missouri, the supposedly haunted church has been the center of rumors, makeshift documentaries and paranormal investigators to try their hand at speaking with ghosts. 
Rumors of stabbings, hangings, and one giant, murderous lumberjack linger around the one-roomed church. However, most of these rumors boil down to urban legends and kids trying to scare each other. 
Lester Workman, the caretaker and descendant of the original owner who died in 2011, said in interviews he couldn't recall any evidence of any of those things happening.
There was no woman stabbed to death. No one was hung from a gnarled tree. There is no murderous, lumberjack giant. 
However, two Civil War veterans were buried in the Workman Chapel cemetery and were supposedly part of a cavalry unit, according to Workman.These could explain why some people see ghostly soldiers or the sounds of invisible horses.
Senior Connor Beshears went out to the chapel his freshman year.
"I don't remember a lot from my trip there," Beshears said. "It was at a weird time of my life. Sure, it was creepy, but I didn't get anything supernatural from it." 
Another creepy place for paranormally invested students is the Glore Psychiatric Museum in St. Joseph, Missouri.
Just a short 45-minute ride away from campus, it sits next to the Western Reception Diagnostic Correctional Center. 
As one of the oldest "insane asylums" in Missouri, established in 1872, the museum has displays of lobotomy tools and former "treatments" for the mentally ill which resemble torture more than medicine.
Visitors have access to explore the basement, ground floor and upper floor of the former hospital and are allowed in rooms such as the morgue, a room full of dolls and hallways with grotesque, homemade farming tools.
Kathy Reno has been working at the museum for 35 years but said anything unusual could probably be explained by science.
"Golly, anything weird I've seen I've always assumed there is always a scientific way to explain it," Reno said. "But that's just me. I've heard of others who've felt or sensed something, but I never did. I guess it's really a mixed answer."
Back in May 2018, the museum hosted a ghost hunt, led by some professional ghost hunters, where participants were allowed in after dark and given access to parts of the building normally locked away from the public. 
Reno said the professional team found activity in an old tunnel. The tunnel was constructed in 1936 as a way to connect the older buildings on the property. 
"They swear they found something, but those are their findings," Reno said. "I'm still skeptical."
Like Reno, not everyone believes in ghosts, but many Americans do.
In a 2013 poll, 45% of Americans said they believe in ghosts or some form of spirit. 
Another ghost hunt is hosted just a few hours away in Jefferson City, Missouri.
Starting in 1836, the Missouri State Penitentiary housed criminals up until 2004. During the 168 years it was opened, the prison held executions, a riot in 1954 and enough blood thirsty inmates to earn the nickname "the bloodiest 47 acres in America" by Time Magazine. 
The public has quite a few options, nine to be exact, when it comes to ghost hunting at the State Penitentiary. Ranging from a two-hour ghost tour to overnight stays, guests learn about some of the more infamous inmates like Harry "King of the Ivories" Snodgrass, John B. "Firebug" Johnson and Katie Richards O'Hare while hoping to hear these ghosts. 
The State Penitentiary also displayed where executions were held, including the gas chamber. Guests can walk around and see what the condemned saw: a small window to a set of three bleachers where witnesses watched the execution.
The prison put 40 people to death between 1937 and 1989, when the State Penitentiary's death row ended and all capital punishment inmates were moved to the new prison at Potosi, Missouri. Thirty-nine were men, and one was a woman. 
Other close haunts include the Villisca, Iowa, Axe Murder House, where a family and their two guests were murdered in 1912. Adventurous tourists can pay to stay the night and explore the supposedly haunted home. 
Skidmore, Missouri, a spot more for the true crime community, is a town where mysterious disappearances, mob-led murder and stolen babies are more than just scary stories to tell in the dark.
Halloween is a time where ghosts can make their presence known, but students don't have to travel far to find one.