As Matt Baker sat in his office Jan. 7,  tucked near the far corner of Northwest's Student Engagement Center on the second floor of the J.W. Jones Student Union, the University's assistant vice president of Student Affairs described the events of the previous year in contradicting terms. 
For Baker, 2020 had been, at differing times and to varying degrees, both easy and hard.  
As Baker sat there in this office, sporting a gray face covering adorned with Northwest's logo, it had been nearly eight months since a video that appeared to depict an incoming Northwest freshman reenacting the May 25 event that killed George Floyd in Minneapolis was posted to Twitter last summer, less than a week after his death.
It had been 220 days since the University — facing a public relations nightmare and calls for the student's expulsion before her physical arrival on campus — issued a statement condemning the video, but confirming the student would be allowed to enroll in classes in the fall, prompting backlash from students, staff and alumni. 
And it had been 28 days since Northwest's Board of Regents approved an update to the University's Student Code of Conduct policy that ultimately couldn't erase or undo the events that took place over the summer, even if it had been in place when the video first went viral. 
"We don't just get to make whatever policy we think is right," Baker told The Missourian, reflecting on the months-long process that culminated in the December policy update. "We're guided by the state and the federal government."
"All of it is —," he added later, pausing for a moment between words. "It's very hard."
In some ways, the video and Northwest's response to it served as a watershed for the University, a turning point in conversations about race. 
When the video first surfaced, the country at large was engaged in a reckoning over race and racism, one that came in response to the killing of Floyd. The infamous video of the incoming freshman — as horrifying as it might have been — forced the University into its own period of reflection and evaluation, one that has given way to action. 
"What's changed is, the conversation (regarding racism) has happened more often, more robustly and more universally on campus since that day," Baker said, referring to May 29, the day the insensitive video surfaced. "I've been around for a lot of protests and a lot of moments, and this one is different."
Amid the backlash aimed toward the University's response to the video, dozens of students and alumni of all races shared personal and anecdotal experiences of racism and microaggressions on Twitter, marking their posts with hashtags like "#ICantBreatheAtNWMSU," "BlackAtNWMSU" and "#BlackInMaryville." And while the usage of the hashtags has been almost nonexistent since June, their existence seems to have played a substantive role in shaping the University's subsequent action. 
As Baker, a white man who has headed Northwest's Student Affairs unit for a decade, scrolled through the tweets and heard directly from underrepresented students in meetings throughout the summer and fall, he went through a sort of professional reckoning, one that mirrors the experience of the University as a whole, one that has led to change. 
"A lot of people (on Twitter) talked about their experiences at Northwest over the last 20 years, and said, 'I reported this to someone, and nothing happened,'" Baker said, his voice moving away from the light-hearted tone he tends to project. "I've been here for 27 years. I've been the VP for 10 years. Half the stuff that was commented happened within the sphere of Student Affairs, and I never heard 90% of it." 
"As a leader," he added, "that's terrifying." 
The policy update itself, which specifically altered Article III of Northwest's Student Code of Conduct, was largely the easy part for Baker and the University. Much of the amendment simply clarifies what speech can be punished by Northwest, a public University, by summarizing the protections and limitations of the First Amendment while consolidating a number of policies that were already written in the school's Title IX, Title VI and University Police Department handbooks.
The most substantive change, Baker said, relates to speech and conduct that "materially" disrupts the University's ability to function. More critically, though, the policy disallows conduct that purposefully disrupts any single student's involvement in University courses or activities. 
But while the update slightly broadens what might be considered a violation of the University's conduct policy in regards to speech, its phrasing still places strenuous requirements on proving any violation took place at all. 
When determining whether an action violates the new policy, the University must first determine if the conduct in question was "made with the purpose and effect of causing a material and disruption of an individual's participation in the University's educational program and activities" — a threshold Baker said could be hard to meet. 
"It's still a fairly high standard," Baker said. "But it is broader in terms of — 'It's not just what you said; this is now about how it impacted me.'" 
The updated policy also provides another key point of clarification in regard to when and where the University's Code of Conduct applies — which was an area of contention last summer as Northwest navigated its way through the circumstances regarding the insensitive video, circumstances that prompted University President John Jasinski to ask in a June 4 interview with the Missourian, "Where do you want us to draw the line?" 
It's been 5 days since @NWMOSTATE President John Jasinski released his statement on the racially-insensitive video of an incoming freshman, allowing her to enroll.

Jasinski wishes the circumstances were different. Black students wish his response was:https://t.co/ghLMh6ITa2

— Andrew Wegley (@andrewwegley) June 6, 2020
The line, now, has been clearly drawn in Article III, Section B of the Student Code of Conduct, which applies to conduct on Northwest's campus, at University sponsored activities "and to off-campus conduct that adversely affects a member of the University community," according to the policy. Additionally, the policy addresses when a prospective student officially enters the University's jurisdiction. 
"If you look at — based off everything that happened over the course of the summer — being able to have some expectations that are placed upon students the moment they're admitted into Northwest, I think is important," said Justin Mallett, Northwest's associate provost for Diversity and Inclusion. "That expectation as a Bearcat is gonna be expected from our current students and future students from here on out." 
In fact, students now submit to Northwest's conduct rules the moment they apply for admission, according to the written policy, and the rules stay in place until the students are physically awarded their degree or otherwise withdraw from the University. Mallett acknowledged that the change, at least in part, was due to the circumstances surrounding the insensitive video that loomed over Northwest throughout the summer months, which featured a student who had yet to attend summer orientation, much less an actual class. 
The amended conduct policy was one of the specific changes called for in the turbulent aftermath of Northwest's decision to admit the student involved in the video. Among a hoard of students and alumni who called on the University to specifically address hate speech in its Student Code of Conduct was Pamela Westbrooks-Hodge, Northwest's Black Alumni President who helped edit the University's initial statement, and who posted a statement to the chapter's Facebook group in June saying policy changes "MUST" be made. 
And while the University has framed the amended conduct policy as the answer to such calls, it doesn't go as far to protect students against hate speech as many activists had originally hoped — largely because it can't. 
"Hate speech and free speech are not antithetical," Baker said, echoing sentiments expressed by Jasinski over the summer, and by legal counsel in the University's process of changing the policy. "Hate speech is free speech. And so it's really hard to create a policy that does not infringe on anyone's rights." 
Both Baker and Daniel Harris, the former president of Northwest's Minority Men's Organization and a student representative who helped oversee the policy amendment, referred to the months-long process as a "learning journey." 
Baker and other University decision-makers, including Mallett, spent much of the fall working with the student panel — which included Harris, juniors Cayla Vertreese and Levi Bradley and sophomore Rhebe Fulbright — to draft the policy change introduced in December. Baker said the group spent its first two weekly Zoom meetings hearing from the four underrepresented students about their experiences at Northwest. 
Throughout the process, University leaders and the student panel learned from a third present party: attorneys from Husch Blackwell, who were on hand to articulate what policy ideas Northwest could and couldn't enact due to First Amendment constraints. 
"There's a lot of handicaps that the school has towards writing conduct and bylaws over issues of race and stuff like that, just because of — mainly it was the First Amendment," Harris said in a phone interview with The Missourian as he recalled a semester's worth of meetings with University officials. "So their hands are tied a lot of the time."
Baker pushed back against the notion that Northwest was handcuffed by the First Amendment in its initial response to the insensitive video or in its amendment of the Student Code of Conduct — though he said he understands frustrations surrounding speech limitations. 
"I want to be clear that free speech matters," Baker said. "And so, it is not a clean and easy topic. … Speech policies have to be applied universally. You can't just say, 'This group can't say that and that group can't say this.' It's bigger than that." 
It is here, at a crossroads between cancel culture and the U.S. constitution, where the heart of the issue as a whole lies for Northwest, as it tries to toe the line between its responsibility to support underrepresented students and its legal obligation to uphold the First Amendment. 
"The fact that she was still being allowed to come to Northwest was aggravating," Harris said, recalling how he felt after Northwest announced it would admit the student involved in the video. He often uses "we" to describe the school's Black community. "We're students here too. And we deserve to be comfortable while we get our education as well." 
The policy amendment is just one item on a still-growing list of changes the University has made since the racially-charged video first went viral. Notably, the University has adopted an inclusive framework that will make diversity and inclusion an institution-wide objective, said Mallett, who is in the process of finalizing a mid-year report detailing every action Northwest has taken to combat racism in the last eight months. 
Within the report will be at least a dozen steps Mallett and company have taken since May, including hiring an additional diversity and inclusion coordinator, requiring diversity awareness training for faculty members, providing additional training for Northwest's Leadership team and actively recruiting more diverse candidates for the University's hiring pool.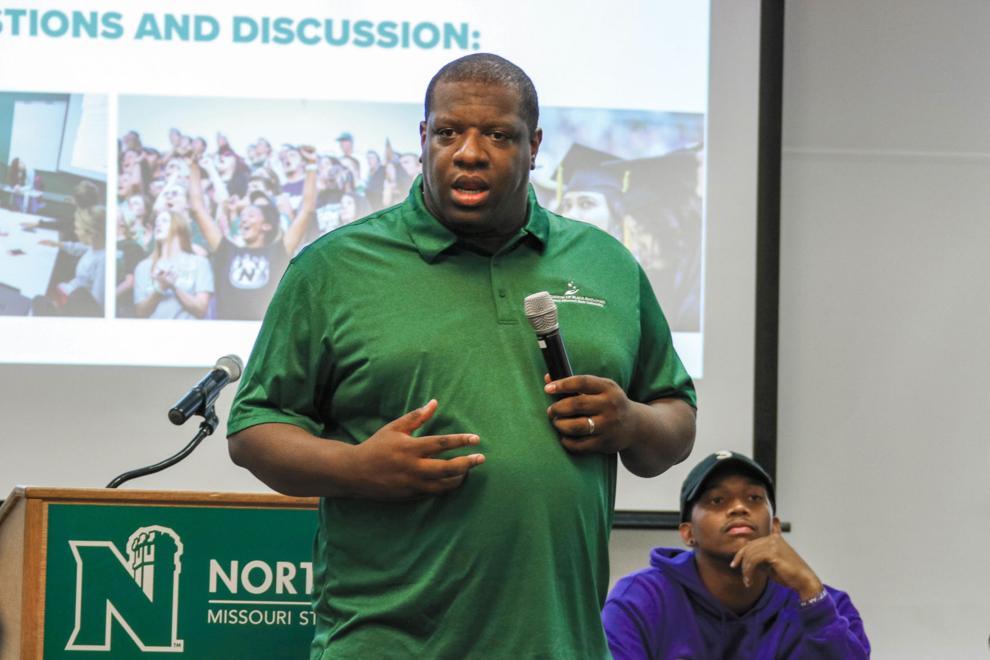 But these efforts, when compared to the video that garnered more than 700,000 views in one week over the summer, have largely flown under the radar, Mallett admitted. Students, like Harris, remember what they felt when they saw the video. And they remember Jasinski's statement — one that prompted a severe backlash that, Harris and Mallett both said, was at least in-part caused by a lack of communication between Northwest and its Black community. 
Sitting in his office within Northwest's Administration Building, Mallett did not hesitate as he considered whether or not most University students are aware of all the changes that have been made, all the programs that have been rolled out. He is sure the answer is no. But he's OK with that.
It's not Black students' job, Mallett said, to worry about issues of race on campus. It is his, and now, as the University has adopted diversity as an institution-wide objective, it is everyone's.  
"We're not gonna stop," Mallett said. "Our work is not gonna end. I think what a lot of people tend to think happens when you have these things is that … we've done all this stuff and we've done, and now it's gonna stop. It's gonna come to a standstill. And while I'm here in this position as the associate provost, we won't stop." 
Mallett hasn't declared victory in the fight against racism. He knows he cannot change the hearts and minds of millions of Americans, nor hundreds of Northwest students. But he feels better than he did in early June, when he was ridiculed by students, alumni and staff after penning a letter to Facebook defending the University's decision to admit the student involved in the video. 
Eight months removed from his role as a lightning rod for accusations that Northwest was failing its Black students, Mallett has grown, and the University has grown with him. He saw in June that Northwest's decision to admit the student was largely the only legal option on the table. He hopes students see that now. 
"From what happened over the course of the summer, I think what you would start to see (from students) is, 'Well, maybe Northwest Missouri State — maybe the University did handle this the right way,'" he said.