Students were given a rare opportunity to kayak and canoe on Colden Pond Sept. 27.
Campus Recreation and Mozingo Outdoor Education Recreation Area joined together to bring four canoes and seven kayaks to campus, where students were able to paddle around Colden Pond for the first time since the restructuring of Campus Recreation.
All students had to do was sign a waiver, grab a lifejacket and make the decision of which water transportation they wanted to use.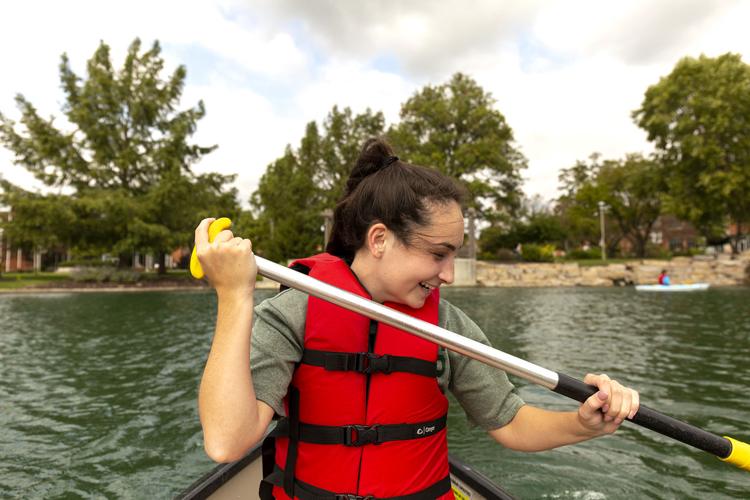 Associate Director of Outdoor Services Chase Hall recommended canoes for beginners because it provided more stability on the water and the likelihood of it tipping was slim to none.
Hall has been director for about four months and has been active in these sports since he was in college.
"This is a great program," Hall said. "This is just advertisement for what we (at MOERA) do every day."
Assistant Vice President of Student Affairs and Campus Recreation Greg Hansen said he plans to make this an annual event as it's a great way to raise awareness for MOERA.
"One of my initial goals (as vice president of Campus Recreation) was connect various elements in campus recreation," Hansen said. "One of those was MOERA, and sometimes we struggle or we find it difficult to get people out to MOERA, so this was one way we could bring awareness."
Hansen said the event had a successful turnout and was more than they had expected to participate. It garnered more than 125 students and even led them to remain on campus longer than the 3 p.m. end time they originally set. They officially stopped taking waivers at 3:30 p.m.
Senior Dominique Pearson said she happened to see the signs as she was walking by. Pearson had some time to spare and said she needed to relax after her bio/psych test.
"It was actually really fun," Pearson said. "Although it's in Colden Pond and the water fountain is a little annoying, it was kind of relaxing."
Pearson said kayaking brought back memories of summer camp from when she was about 10 years old. For her, she said it was kind of like riding a bike, once she learned it, she didn't forget it even 14 years later.
Even though she wasn't new to kayaking, Pearson said that for beginners, Colden Pond was the best spot to learn at since it's smaller and not that deep. So if someone did flip a kayak, it wouldn't be that bad.
"I wouldn't be surprised if somebody does (flip) it on accident," Pearson said. "At least it's not too deep."
Freshman Jacob Astraya was one of those students who flipped over his kayak and plunged into the depths of Colden Pond which is about eight to ten feet. He was headed towards the edge of the pond when he suddenly lost balance.
"I've always wanted to go into the pond anyways, so it's honestly not that bad of a thing," Astraya said. "I was prepared for it. It was great and felt really nice. It was a bit chilly at first. My heart's still racing, but it's fine."
Despite getting soaked through, Astraya was all smiles and laughs when he emerged from the pond. He said his biggest concern when he fell over was finding his glasses, which he had no problem finding. None of his personal belongings like his phone were on him when the accident occured.
While many students enjoyed their time on the pond, there were many safety precautions put in place. At all times, there were at least four CPR certified people on duty, three on land and one out on the pond. With this emergency disaster plan in place, the event was able to proceed smoothly throughout the day.
"I'm sure you'll see in the future us being back here with what we call bigger showcase events like if it's Family Weekend, Homecoming or Advantage Week," Hansen said.