Nearly every night her freshman year was spent practicing within the Olive DeLuce Fine Arts Building until midnight. March 1, she stood in the same building clothed in a beaded gown about to perform her senior recital.
When Jaymie Argotsinger started at Northwest back in 2016, she had never taken a formal voice lesson and never intended to study music. Yet, here she was completing a 45-minute recital to top her musical career at Northwest before preparing to student teach and finish her degree in vocal music education fall 2020.
"This is like the most important day of her life. Her wedding will probably be her second most — sorry to whoever she's with; she's already had her best day," one of Argotsinger's closest friends, sophomore Eleanor Georgi said.
Georgi, junior Julia Swanson and senior Anna Horn nearly tackled Argotsinger, embracing her tightly and congratulating her, following the end of the performance. Since then, the trio couldn't stop singing her praises. The word the group said best described her: "Perfect."
"I've never met somebody who is amazing at everything she does. It doesn't matter what genre of music she's doing or whether she's leading a sectional or just being a friend. She excels at it," Horn said. "And there really is no other person like her."
There's bound to be countless other individuals who had been equally impressed by Argostinger over the course of her more than 30 performances on Northwest's campus over the past four years.
Despite those numerous performances, she still gets "really, very, very nervous" every time she goes on stage. Her senior recital, however, was different.
"That was the first performance that I have gone out on stage and have not been super nervous for; I just felt really prepared," Argotsinger said. "That was a great way to end it because I just felt really comfortable on stage, and that can be really hard to get sometimes. ... I was just excited to show what I've been working for."
Throughout her time at Northwest, Argotsinger has had the opportunity to get involved in many different choirs, musicals, shows, open mic nights, and even as a SOAR leader representing the fine arts department. The turnout at the recital spoke volumes about her involvement and impact.
---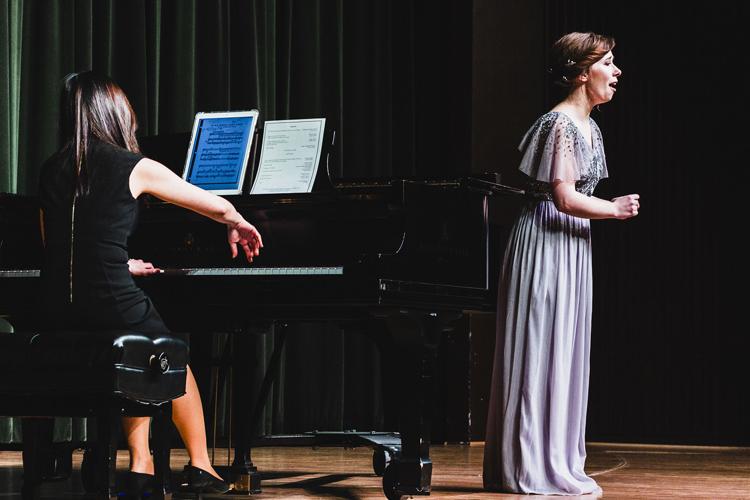 ---
"My senior recital really showed me how amazing this community is and how involved I've gotten to be in it, and it just made me so happy to feel so supported from all different aspects of the campus area," Argotsinger said.
Argotsinger is also one of the section leaders for Tower Choir and Madraliers and Celebration, as well as a choral assistant for University Chorale. Helping has provided her with more hands-on experience than even her observations for teaching. Before starting as a section leader her sophomore year, she had never even taken a conducting class and "just knew nothing," so her growth has been evident, aiding her in leadership and in her own musical abilities.
"It's challenged my ears because I have learned what to hear. And it's been the most beneficial because the whole point of being there is not just to run through pieces, but it's to correct things. So it's made me a more active and engaged musician," Argotsinger said. "So that's been very challenging, but also very rewarding."
Swanson said Argotsinger's talent and example has earned the respect of those in the choir.
"Because she's such a good performer, like on her own, I think that speaks to us wanting to follow her and follow her example and stuff, because she takes her music very seriously," Swanson said. "And she never like half does anything. She's always 100% in."
Music is everything to her. It's her baby, Georgi said. Jaymie said when she came to college, music became her thing, and she's gotten a lot of confidence from that.
I don't know what happened in college, but I got to college and I decided I wasn't gonna be as shy anymore. And
"To be able to devote all my time to that in college has allowed for me to just be myself because I'm always just doing things that I really, really enjoy," Argotsinger said. "I am in love with practicing — It's like my hobby, and when I feel truly prepared, I no longer have to be this character necessarily, I just get to be myself and really enjoy performing, and that's just because the work all the time and all the stress of performing, it's put in before the performance."
The recital featured 15 song of classical or opera style, with a mix of Italian, French, German and English. Before coming to school, she had never even considered singing that style of music. But during her first voice lesson, her teacher gave her a few pieces, and since then, she hasn't stopped, Argotsinger said.
"With the help of my voice teacher, Dr. town, and voice lessons and singing literature that I never thought I'd be interested in, like opera and things I didn't know anything about — I didn't think I would be good at it," Argotsinger said. "So getting to do that has challenged me to take music that I didn't understand initially, and to, through expression and musicality, to be able to create interesting and engaging performances."
All the new genres and opportunities Argotsinger was presented in college enabled her to evolve as a musician.
"I would say through all of the different genres and opportunities, I've gotten to sing different music. I've kind of been able to identify who I am as a musician and an artist like who I am on stage, who that person is," Argotsinger said. "That's been really valuable."
For Argotsinger, senior recital, and all the prep that went into it, was just one sign that all the hard work paid off, climaxing with a bittersweet end.
"It was really taxing, but when I got on stage, when I was done, I was really sad that it was over," Argotsinger said. "So, it was a lot of work and exciting. But also makes me really sad that it that part of my life is over, at least for right now, because I dedicated four years to this big senior recital thing.
Her friends shared in her pride.
"This is something that's even more important to her than it is to most people. This event — she's been looking forward to for like years and years and years, whereas that's not the case for everyone," Swanson said. "And I think that watching her do that and do it so well just makes our hearts full for her."
Jaymie said it's not her talent that got her to this point; it was her hard work.
"Talent just really has nothing to do with where you end up," Argotsinger said. "So I'm really proud that I came to Northwest without much musical experience at all. And just because I decided this was what I was going to do, and I was going to give it my all — that's what got me to this point. And that makes me way more proud than if I had all this natural talent or something."
One of Argotsinger's favorite musical memories from her time at Northwest was being a part of "Footloose" in 2018, playing Rusty, and she will be a part of "Into the Woods" later in the spring. Her senior recital was scheduled so early in the semester to allow her to allocate time for rehearsals and focus on preparations for the show later in the semester.