The roars from the crowd inside Bearcat Stadium seemingly got louder with each passing second. Washburn sophomore quarterback Kellen Simoncic just got acquainted with the turf on Mel Tjeerdsma Field and the culprit was Northwest football senior defensive tackle Zach Howard.
Howard blew through the Ichabod offensive line to wrap up Simoncic for his first sack of the game during the second quarter of the Bearcats' 32-30 win over Washburn Oct. 15. The senior jumped onto his feet and did what many Bearcat fans have come to expect over his five years in green and white. He grabbed his belly and shook it in celebration of his sack. The celebration nicknamed the "Truffle Shuffle" has become a mainstay for the experience at Bearcat Stadium since Howard's first year.
"I do it because it's fun," Howard said. "Like, literally just keep doing it because it's fun to do. Kind of just gets the team going and brings football back to its original roots."
The journey for Howard and his signature celebration began years before ever stepping foot inside Bearcat Stadium to play Washburn. Although, his celebration's journey is much shorter.
Just over 30 miles north of Springfield, Missouri, and nearly 230 miles south of Maryville, sits a town with a population of 10,749 people: Bolivar, Missouri. For Howard, this town is more than just where Southwest Baptist University is and is more than just the county seat of Polk County, but it's home. This is where Howard grew up, and where he found love for the sport he still plays.
Howard said he got Chiefs jerseys as a kid, and his grandpa used to coach the middle and high school football team, so he always hung around him.
"I would just ride the bus over, hang out with him for the afternoon," Howard said. "I would set up the dummies, tackle them and jump over them."
Through his years of helping his grandpa at practice and tackling the dummies, Howard's dream of playing football at one of the highest levels grew. Even now, Howard said he remembers what drove him to want to continue his love for football.
"I think Vince Young — I was like five or six years old when he was at Texas — and just seeing how cool it was — to obviously be Vince Young — but honestly just to play college football," Howard said.
First stop on the path to collegiate football was high school. Before Howard ever donned green and white, he wore royal blue, gold and white for Bolivar High School.
In his time with the Liberators between 2014-18, Howard started all four years along the offensive and defensive line. On the defensive side, he earned three all-conference honors in the Ozark Conference, two all-district honors, two first-team all region honors in the Missouri Ozarks Region and one all-state selection in Missouri Class 4.
Football was not the only sport Howard played in high school, as he also played basketball in his freshman year, wrestled in his sophomore year and played baseball all through high school, and even earned one all-district selection for baseball.
"(It was) a lot of fun, and a lot of memories made," Howard said. "Got to play with my brother my first year, which was really fun. Got to grow and make some friendships through football. I still have those friends today. You remember the memories more than the win-loss record."
While Howard played all four years, he said he felt like he could take his game to the next level in his freshman year of high school. According to Howard, he beat a senior who had received offers from Division I teams during practice, which made Howard believe he could be good if he worked at it.
Coincidentally, his mom, Erin Howard, said that was around the same time she also thought Zach Howard could play college football. She said her son's former coach, Glenn Johnson, never started a freshman until Zach Howard came on the team.
"Kind of thought there was something special about him and his work ethic, IQ and just drive to want to work harder, learn more and be better," Erin Howard said. "And just being a great teammate, too."
Zach Howard said he received multiple offers from different schools. He was able to drop a few schools off his list because they wanted him to play on the offensive line, but he wanted to be on the defensive line. However, one fateful visit not only brought him to Maryville for one of the first times but ultimately decided his future.
Erin Howard said people told her son multiple times that he would know when he found the right school. He found it watching the team he eventually played for.
"We were sitting in the stands at a game in Maryville, and he turned to me and he said, 'I'm going to commit here. This is it,'" Erin Howard said.
"No greater place than Northwest," Zach Howard said. "Pretty, pretty easy decision on that one. Also, Northwest for teaching — for physical education — had a 98% job placement rate after graduation, so just hard to say no."
For some players, entering into a program with six national titles can be a daunting task and create pressure to be good. Sometimes, it can be too much for a player. Zach Howard said it can be stressful for younger players and said players usually fall into two routes., The first one being players who think they have to be as good as those national championship teams and the second route being players who think they're too good since they're in a program with six titles. Neither of those assumptions are true, he said, and that while players don't have to live up to an expectation, they should never think they're good enough already.
"The expectations shouldn't be to win a national championship, but it should be doing the little things right and playing a brand of football worthy of being 1-0 every week," Zach Howard said.
Since he joined the Bearcats, Zach Howard has done his best to play his brand of football. Going into Week 8 of the 2022 season, he has made 155 total career tackles, recorded 40 career tackles-for-loss and totaled 24 career sacks. He is top 10 in program history for career tackles-for-loss and career sacks. He sits at No. 9 on the tackles-for-loss list and is tied for No. 4 on the sacks list with Ryan Waters (2003-06). He earned second-team all-MIAA in 2019, first-team all-MIAA in 2021 and two second-team Academic All-American selections. He also entered the 2022 season on D2Football's first-team Elite 100 Watch List.
For him, though, the past awards and achievements are great, but he said he wants to continue to focus on how to get better. He said he appreciates it all, but he wants to focus on being the best player for his team.
"It feels good, but, at the same time, Babe Ruth had a quote, he said, 'Yesterday's home runs don't win today's games,'" Zach Howard said.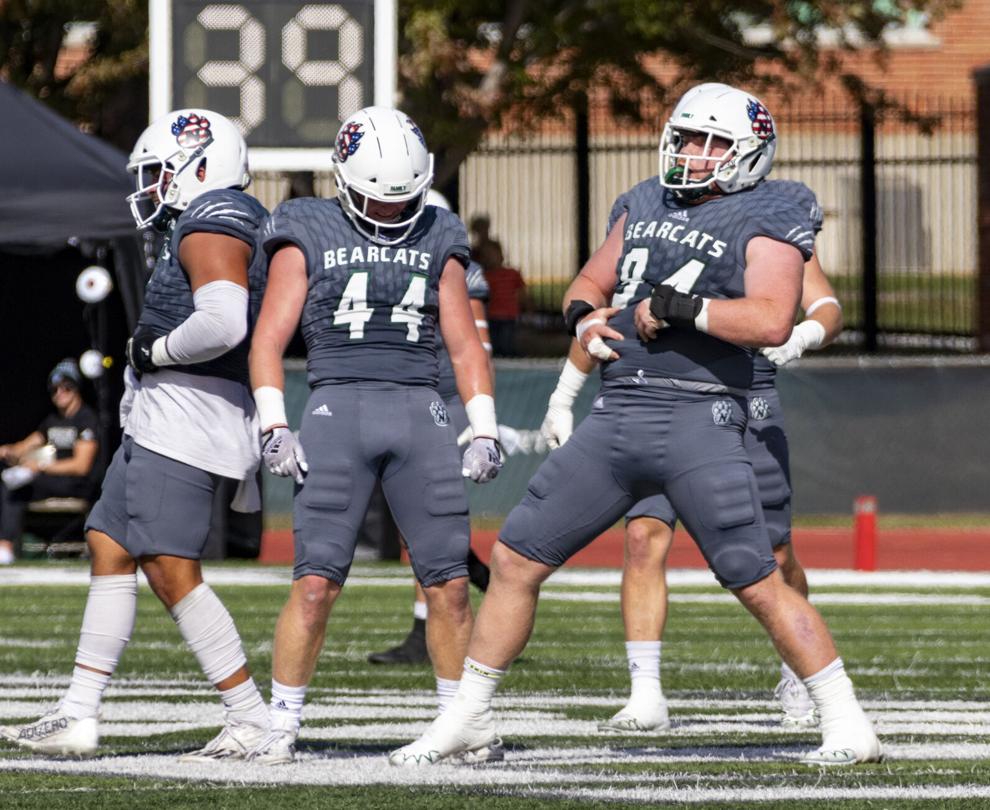 As for his celebration, Zach Howard first introduced it his freshman year, during Northwest's Week 8 game against Lindenwood Oct. 20, 2018. In the fourth quarter of the Bearcats' 38-17 win over the Lions, Lindenwood had a third-and-10 from its own 47-yard line, before Zach Howard burst through the offensive line for the sack on then-freshman quarterback Cade Brister to make it fourth-and-18 for the Lions.
Zach Howard got up and did the same thing he did against Washburn Oct. 15 and shook his belly in front of the 3,609 fans at Hunter Stadium in St. Charles, Missouri. That moment not only kickstarted the defensive tackle's signature celebration, but was also his first career sack as a Bearcat. Even though he debuted it against the Lions, Zach Howard said he was planning his celebration the night before in the hotel.
"Literally right before the game started, like the night before, we were all playing Marco Polo and hanging out — the O-Line and D-Line — and someone said, 'What are you gonna do if you get a sack?'" Zach Howard said. "And I was like, 'I have no idea. Never thought of it,' and they were like, 'Well you should do the Truffle Shuffle.' I was like, 'OK, sure," kind of as a joke. I get the first sack the next day at Lindenwood, run up to the sideline and I'm thinking, 'What am I gonna do? I don't have enough time to do the Truffle Shuffle,' so I just shook the belly."
He said he thought it was fun so he decided to continue with it. Of course, now it is seemingly expected every time the Bolivar native makes a play, and, every time he does, the crowd loves it.
However, he never expected it to get as much love as it does now.
"That was not the intent," Zach Howard said with a laugh. "I mean, thankful for the fans being there enjoying it, but I never thought it was gonna be like this."
"I love it," Erin Howard said, also with a laugh. "It's his personality, he's just a fun-loving guy. I'm hoping to see some more of it."
She and the rest of Bearcat fans will have at least four more chances to see a belly shake from Zach Howard before the end of the regular season, with two of the games in Maryville, including the next game on the schedule — Northwest's Homecoming against Northeastern State Oct. 22.
The Bearcats will enter the game with a record of 5-2 after a thriller, 32-30 win over Washburn Oct. 15. Zach Howard will come into the game with 34 total tackles, 10.5 tackles-for-loss and six sacks on the season. However, win or lose, he said there's something that keeps him motivated, even for his life outside of football.
"I think realizing football isn't the end-all-be-all and understanding and glorifying God in this life is the most important thing," Zach Howard said. "I mean, you can definitely get wrapped up in football pretty quickly and like the importance of it. I'm not saying there's no importance in it, and there's no place for it, but, at the same, the most important thing is who Christ says he is … that's always my 'North Star.'"