It had been at least a month since Heather Simon last saw the sun. After a long string of bad air days, ash and smoke-filled skies, on Sept. 15 from her home in Valley Springs, California, she had a bit of relief. 
Wildfires old and new have burned through over 3.6 million of California's 101 million acres. The fires have pummeled over 7,183 structures and taken the lives of 26 people in a series of 7,982 wildfires, according to Cal Fire. Valley Springs, California, had a few scares but never an active fire. Much like the rest of the state, Simon's town was enveloped in looming smoke from surrounding wildfires. But last Tuesday, the smoke lifted and gave way to blue skies.
As the fires blazed on in California, they burned their way into the mind of Northwest sophomore Stephanie Boyd who was thinking about her mom, Simon, and the rest of her family in California. 
Boyd's dad, Ryan, occasionally sends her photo updates of the sky from his home in Elk Grove, California. He's not in a wildfire-prone zone like Simon, but the air quality from encompassing fires still affects his everyday life. 
"When this stuff is going on, it's hard because I'm always worried and wondering if my family is going to have to evacuate," Boyd said. "It's a normal thing, but it shouldn't be a normal thing."
Boyd moved 1,678 miles away — a 25-hour drive or a six-hour flight including layovers — from home to go to college. She was drawn to Maryville by the renowned agriculture program and stayed for the small-town feel and breathtaking campus.
The last time Boyd saw her mom and 10-year-old sister was back in June after they road-tripped with her from the foothills of California to Boyd's off-campus rental house that she would share with three other girls for the upcoming school year. 
Before Boyd left Valley Springs, the fire department had a controlled burn less than 5 miles from Simon's house. The wind picked up and the controlled burn wasn't controlled anymore. The fire's orange glow was visible from the family's house, and Boyd decided it was time to leave before it was too late. She didn't want to risk driving through a wildfire or getting stuck in California.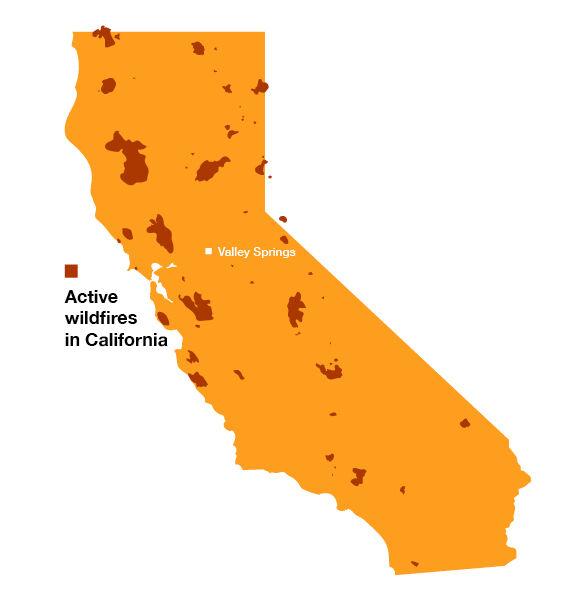 "It's like night and day from where she is in Missouri to California," Simon said about the two realities of Boyd's life.
Back in California, there were weeks that were worse than Simon imagined were possible. On the worst days, the smoke was so thick Simon couldn't see the red barn that sits on the top of a hill near the edge of her acre-and-a-half of property. 
Simon has sold real estate for Coldwell Banker Real Estate for two years now. Her office is in Elk Grove, California, where she used to live before gradually moving 56 minutes away to Valley Springs four years ago after a divorce with Boyd's dad.
Some days, there was ash — remnants of trees, houses, livestock, belongings — from surrounding wildfires piling on Simon's car before leaving for work in the morning and then again when returning to her car to go home. Sometimes she would get ash on her shirt when walking into her office. 
"You have to worry about 'Are you going to be the next one?' because we live in a fire zone and we've had big fires up here before," Simon said. 
In the midst of California's climate crisis, it has another crisis: skyrocketing insurance rates for houses in fire-prone zones. Simon's fire insurance more than doubled this year but she was able to get the rate back down. Others in her town haven't been as lucky, being pushed out by high insurance rates, Simon said. 
Yet, Simon said the housing market in California is "on fire." She hasn't seen this kind of activity in the market before.
California is enduring one of its worst wildfire seasons ever. According to the New York Times live wildfire updates, five out of the 10 largest fires since 1932 scorched California this year. 
An average wildfire season in California burns 3 million acres. California has already surpassed that, and the flames are still spreading. The August Complex Fire alone has burned through 846,989 acres and has been deemed the largest fire in the state's history. August Complex Fire started Aug. 16 after a series of lightning strikes. The fire is 43% contained with 2,180 total fire personnel from 47 different crews assigned to combat the fire.
While California is trying to extinguish blazing wildfires, it's also trying to contain the surge of COVID-19 cases that started spiking in the summer months. 
On March 20, California Gov. Gavin Newsom ordered a statewide lockdown after 19 people died from the coronavirus and more than 900 had tested positive. Meanwhile on March 20, the coronavirus had yet to reach Nodaway County and wouldn't for 13 more days. 
California became the first state to go on lockdown, and it hasn't left lockdown since. Simon said all they had was the outdoors. Indoor gyms, sit-down restaurants, bars and other social gathering spaces were still closed for COVID-19 precautions. But, even going outside wasn't an option for a while. The smoke and air quality made it unbearable. 
"There's a whole lot of different layers to having these fires that are a lot bigger than what people actually realize," Simon said. "Everybody deals with it differently. We're just trying to push through."
Simon hopes the blue skies and sunshine last in California. It's the best weather she's seen in over a month. The outdoors are what got her and the rest of California through a seven-month lockdown. Boyd says she's surprised her mom hasn't had to evacuate yet like some of her extended family has. But Simon is hopeful she won't have to leave her home.
"Hopefully we're almost through fire season. We started early this year," Simon said. "We just have to wait and see."