Last year, at a Northwest football game, then-junior Nick Verwers had an idea to get onto the jumbotron — buy one of the blazers covered in Northwest logos at Walmart and wear it to the game. Little did he know, he set in motion the creation of the Bearcats in Blazers.
"My roommate Jackson Weddle and I were in Walmart," Verwers said. "We started laughing at the blazers, and we decided to get them because we went to a football game. We stood in the front row for one of them and we're like, getting up on the jumbotron. Then, we're like we have to wear these blazers on the jumbotron all the time."
At first, it was just Weddle and Verwers going to games and having fun, but then a couple of their roommates joined in which led to friends like junior Connor Stone joining in on the fun.
After gaining new members, Verwers and his friends began to bring Big Macs and 'Big Mac sack' signs to games. Verwers said this helped gain more attention and eventually led to what the Bearcats in Blazers are to this day.
"Coach (Rich) Wright and his wife kind of picked up on it, and then we really blew up when coach Wright brought us on to his radio talk show," Verwers said. "From there, we just kind of started adding more people to the group and made more signs."
There are 20 people in Bearcats in Blazers. Stone said not everyone can go to every game so having 20 people helps the group have somebody at games.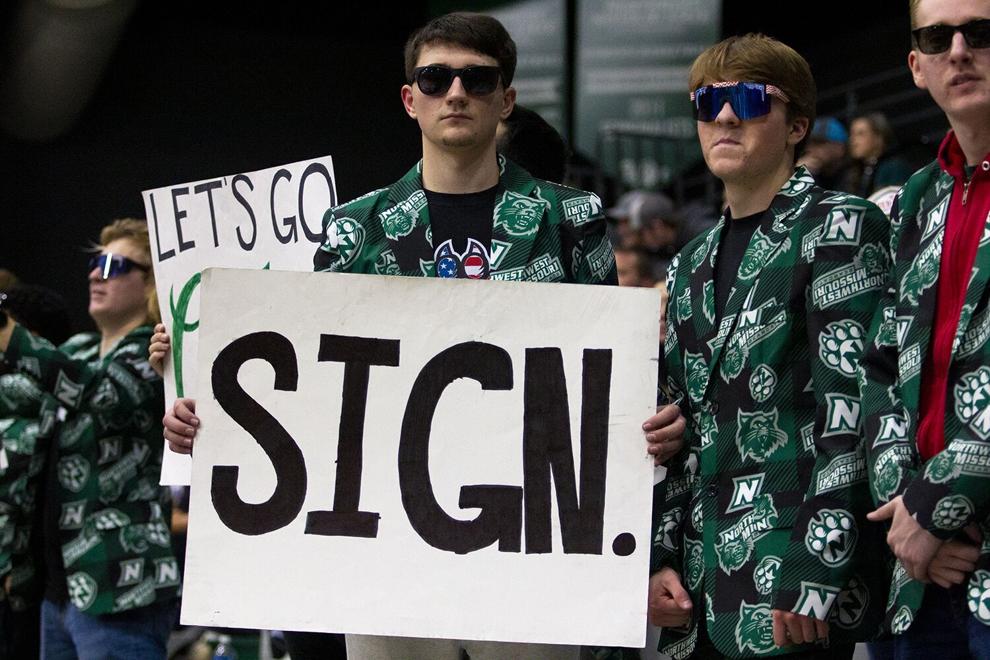 Stone and Verwers said there are a lot of highlights from last semester and are looking forward to making more memories this semester.
"Football is a lot of fun," Stone said. "I had fun at the volleyball game we went to. That was a good time. I thought that was pretty neat. Football — just the environment in general — was super fun. The Michigan game was fun to see even people from Michigan reacting to us."
"Coach Wright even came up to us after games and ate a Big Mac in the stands with us, arms around each other singing the alma mater," Verwers said. "He invited us on the field a couple of times. He was super cool."
The Bearcats in Blazers are all about having fun and hanging out with people in the stands while supporting Northwest. The group never expected to gain so much attention and fandom so when it happened the group was surprised.
Now, members get recognized around campus and Maryville and have gotten to interact with people like Interim President Clarence Green.
"It's weird man, I'm not even going to lie," Stone said. "At the end of the day, we all just bought $30 blazers at Walmart and made some signs. It's weird to get recognized for something like that, but it's fun. I really enjoy it. It's cool that it's become something like that rather than just friends hanging out at the game."
"Even being willing to take a picture with us, it's just super cool that people are taking their time to actually interact with us and talk to us," Verwers said.
Last semester, the Bearcats in Blazers got to make their way to the Northwest football games and make their presence known in different states. Verwers said the trips were fun and worth the 3,000 miles he put on his car to go to the football playoffs and the MIAA Volleyball Tournament.
In order to go to both football playoff games, some of the members drove a total of 35 hours. Stone said going to the playoff games was an amazing experience to share with his friends.
"Easily one of the best experiences I've had in my college career," Stone said. "I didn't get to go to Arkansas, but I got to go to Michigan and just have fun with the other guys, getting to hang out and go to a football game. It was such a cool time, cool environment and a great game."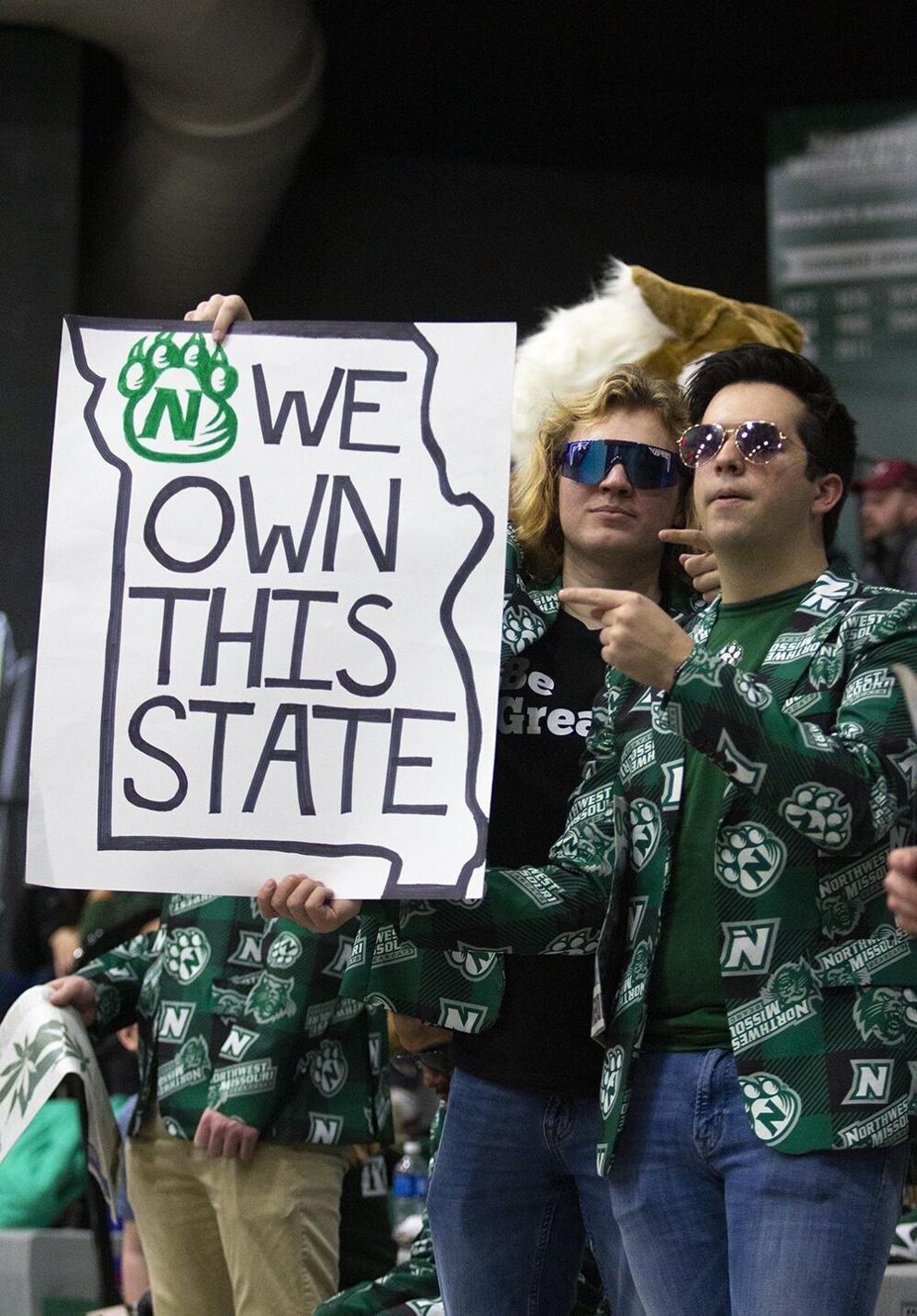 The Bearcats in Blazers try to have fun with new signs at every game and new gimmicks while wearing the signature outfits. Verwers said coming up with new bits and sign ideas is a terrifying experience.
During a Northwest men's basketball game Dec. 10 against Nebraska-Kearney, a new idea was brought into the mix. For every 3-pointer made, Verwers had to eat a hotdog. The final number was 11. He ate 11 hotdogs during the game.
"Everyone will see our ideas in full force," Verwers said. "I have prepped some ideas. I have no idea how well they're going to go over."
Lots of the ideas the group comes up with relate to the opposing teams, while others are made up on the spot.
Verwers and a few of the other members are seniors, but the Bearcat in Blazers plan to stay strong and go to events next year.
"I know for sure the guys who are going to be here will go because we love it," Stone said. "There's no way we'd want to give this up. We have a couple of younger guys who come around so hopefully, we can see it keep going even after we leave, but I know for sure I'll be there."
This year the Bearcats in Blazers have gained 425 followers on Twitter and are well-known around campus. Stone said the entire experience has been rewarding and fun to make connections and do things he hasn't before.
Verwer said the whole experience was something he never expected and is very grateful for the opportunity to be a part of the Bearcats in Blazers. He also said there's plenty of room for more members.
"Anybody is welcome to join us if you're willing to just put on a blazer," Verwers said. "Even DM us on Instagram or Twitter with an idea of what we should do for a sign or a distraction for free throws in basketball. We just want to make it a big community kind of feel rather than just an exclusive group."
"We're definitely just thankful that everyone has been super about it and that everybody enjoys it," Stone said. "It's been fun to make people laugh, make people smile and it's fun to see the reaction that people on campus have."