"Oh Christmas tree, oh Christmas tree," the Horace Mann choir sang loudly as a crowd gathered around the Memorial Bell Tower. At its center stood a tree covered in multicolored lights.
Student Senate President Asma Hassan turned on the string of lights, initiating a round of applause from the crowd as President John Jasinski walked to the podium.
"Mrs. Jasinski and I changed the location of the tree," Jasinski said. "We went from having it outside our home, to here, at the Bell Tower, because the center of Northwest is the Memorial Bell Tower. Just like how the tree is the center of the holidays."
As the University's president wrapped up his speech, he introduced Hassan. Hassan explained that this year's tree lighting ceremony would be different than the last 10 years.
"This year we represent different religions here on campus," Hassan said. "We represent Christianity, Hinduism, Juddaism and Islam."
As representatives of the various religions came up, they presented an ornament to hang on the tree and explained why they chose that symbol.
Sophomore Levi Bradley represented his religion of Judaism. 
"I was pretty excited to have Judaism represented at the University and event like this," Bradley said. "Since I know only two other Jews beside myself, I was happy to have involvement in a celebration like this."
Bradley chose the Star of David, a predominant symbol of the Jewish faith. 
"It's probably one of the most iconic symbols of my religion," Bradley said. "The Star of David is often used by Jews to signal our identity. It's a sort of an official symbol for us by this point and has adopted a lot of history behind it. I like to approach it as a symbol of connecting us as a people."
Bradley also explained a misconception about the Jewish holiday, Hanukkah.
"Most people believe Hanukkah is the Jewish equivalent to Christmas, when it really isn't. Most of our major holidays happened earlier in October of this year, " Bradley said.
At the end of the ceremony, Hassan took the stage again and spoke about her faith as a Muslim woman.
"I chose the crescent moon," Hassan said, holding up her wooden ornament. "I chose it to represent the lunar calendar that we follow."
She turned to place the ornament on the tree.
With closing remarks from Jasinski, thanking the maintenance crew who helped arrange the location change from the Jasinski's house to the Bell Tower, community members and students joined the Horace Mann Choir as they sang "Santa Claus is Coming to Town."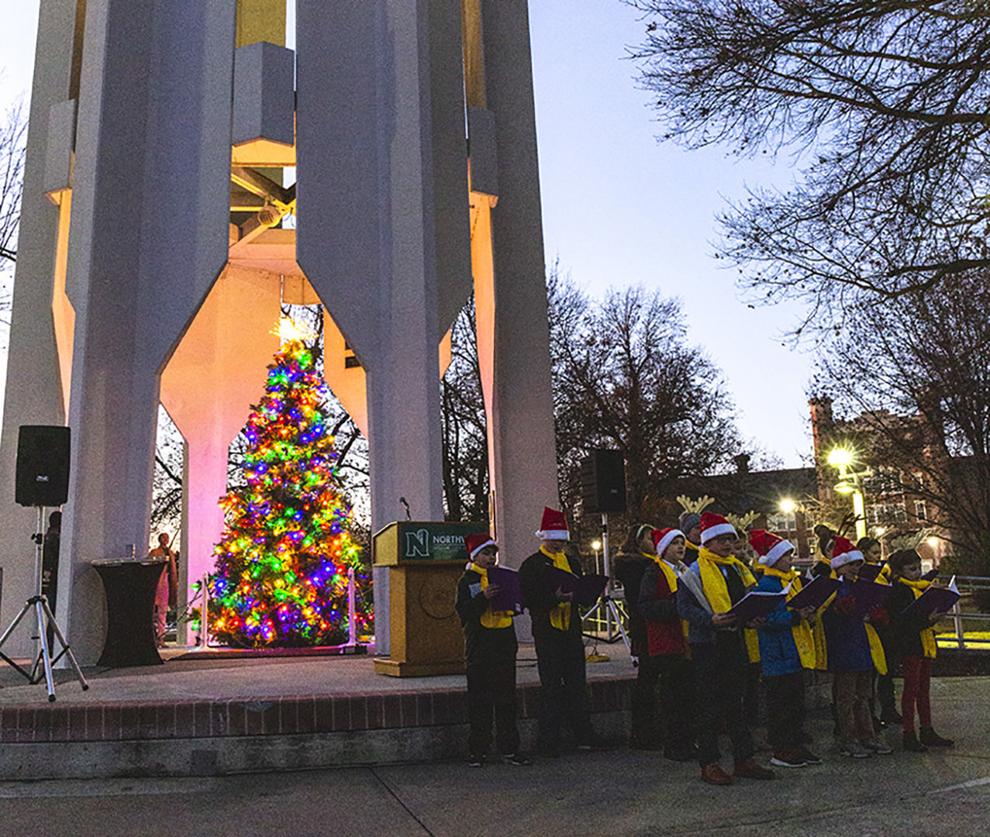 Afterwards everyone was ushered inside where the second floor of the J.W. Jones Student Union held coffee, hot chocolate and desserts. 
As students crowded around cocktail tables, children surrounded a Santa Bobby Bearcat while holiday music played in the background.
There were also donation boxes for the five charities Jasinski picked for this year: Bearcat Pantry, Ben's Stockings of Hope, Career Closet, Pay-It-Forward and WeGothya!