There is a question that floats around Maryville every six months or so, it seems. It has never dominated the town's discourse, like the city's water issue has. It has never prompted rallies or even major journalistic investigations. It's unclear if it's ever even been mentioned in this newspaper or The Maryville Forum — the city's publication of record for more than 150 years. The Forum's website suggests it hasn't. 
But it has always lingered here, in this semi-urbanized, 6.4 square mile-sized space amid a rural county, where more than 10,000 residents have made their home, and where 7,000 Northwest students cycle through in four- or five- or six-year patterns, passing through this city in a routine as consistent as time itself. 
And each year, as graduates partake in the annual exodus of former students from this community, all bound for elsewhere, the question undoubtedly travels with them, though its roots are firmly here. 
The question leaves, and still, it lingers. It is posed in lecture halls and common spaces across Northwest's campus, largely by people who have never sought the answer. It routinely surfaces on Twitter and likely appeared in social media sites of old, like Yik Yak and MySpace — sites where the question has gone asked but unanswered, as it has everywhere. Until now. 
"Am I the only one who wonders how a lamp store in Maryville, Missouri, that constantly has at least 50+ lights on, stays in business????" Veronica Maere asked on Twitter in September 2018 in a tweet that netted nearly 700 likes. The question has appeared on the platform at least four times since then, garnering more than 130 likes each time. "There is no way there's that many people buying lamps." 
The answer, like the light that shines from a single bulb illuminating an entire room, is both prevalent and fleeting, both simple and complex. 
It is true that there is no way a city of 11,000-something people could or does support Personal Touch Lighting, the outlet along Main Street commonly referred to by many, if not most, Northwest students as "the lamp store." But it is also true that the lamp store — a branch of Coenen Enterprises, Inc., which operates D.B.A Coenen Electric, based in the same Maryville building — has installed lighting fixtures in buildings and rooms that every Northwest student has set foot in. 
"Oh, my God," said Gary Coenen, the founder and co-owner of Coenen Enterprises as he and his wife and co-owner, Becky Coenen, attempted to recall a list of structures their electricians, bulbs and fixtures have helped light. "It's almost hard to remember anymore."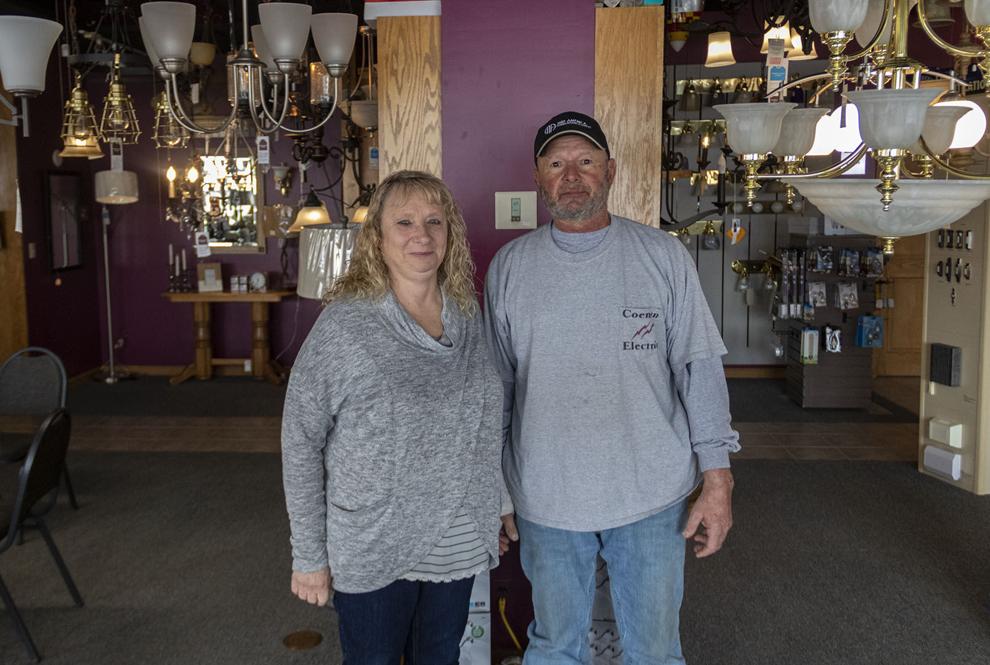 Sitting at a round, glass table in the middle of their businesses's bright, 3,000-square-foot showroom floor on a recent Wednesday morning, the couple agonized as they tried to synopsize their life's work into a short list of notable buildings in northwest Missouri and beyond.
Coenen Electric has done work in what seems to amount to half the city's defining dwellings. There's the Nodaway County Administration Building, which watches over Maryville's downtown square. There are the additions to Eugene Field Elementary and Maryville High School, which each host scores of students each day. There are several fraternity houses, including that of Tau Kappa Epsilon, positioned just off the east end of Northwest's campus. There are a half-dozen buildings on the University's campus itself, like the Lamkin Activity Center, where Gary Coenen and his crew have logged countless hours installing fixtures and wiring fire alarm systems, ensuring Northwest remains safe, and, most often, lit. 
And there are places nowhere near here, of course, where Gary and Becky Coenen have ventured in their 23 years of business. Sometimes out of necessity, the company will bid on contracts for installations in other parts of the region or country. And sometimes — as was the case when they designed crystal chandeliers for the Hollywood Palladium on Sunset Boulevard, which is a particular point of pride for the Coenens — the couple and their reliable crew venture elsewhere because they can. 
Perhaps that helps explain why, even amid a global pandemic that has ravaged the global economy and forced more than one Maryville business to close permanently, the lamp store is doing just fine. Even late last spring, when COVID-19 first upended daily life and forced much of the country, including Maryville, into temporary lockdowns, Gary Coenen was not worried about the city's most fabled business. 
Much of Coenen Enterprises is built on contracted work. Gary Coenen and a team of five electricians are hired, largely by developers of multifamily residential dwellings, to install wiring and lighting fixtures — a facet that helps the corporation's retail branch remain feasible. The Coenen's do not pay their bills by making one-off lamp sales to Maryville residents. Instead, the business survives as a team of electricians, sometimes lucky enough to install hoards of lighting fixtures sold en masse in their own showroom. 
And so, in some ways, Personal Touch Lighting is a front — but not the kind that countless Northwest students have theorized about. It's simply the public-facing showroom of a successful electrical business. 
"The two work together," said Gary Coenen, 63, who bought the lot his business sits on in 1996 before partially opening the store in 1997. "If you would drive by and say, 'How can this lighting showroom pay your bills by itself?' It'd probably be tough."
"His electrical business is 75% of this," said Becky Coenen, 60, who runs the showroom floor at Personal Touch and has since the couple opened up shop together in what used to be an Arctic Circle restaurant. 
"The other — ," Becky Coenen said, before her husband of nearly 31 years interrupted, finishing her thought before it had really started. 
"They enhance each other," Gary Coenen said. "They help each other out."
While the Coenens are co-owners of the seemingly niche corporation, and even though Becky Coenen spends her days repairing lamps and greeting customers in the brick and mortar showroom, Gary Coenen is undoubtedly the face of Coenen Enterprises. 
A native of Harlan, Iowa, Gary Coenen is older than he looks, even if it's only by a few years. His beard is long past graying and there doesn't seem to be much hair underneath the black Mid America ball cap he wore as he told stories about the last 30 years of his life and work. But his energy is distinctly youthful, even as he enters his mid-60s and recovers from hand surgery prompted by carpal tunnel syndrome — undoubtedly a side effect of years as an electrician. 
Gary Coenen's surgery was just five days before his interview with The Missourian, but it hasn't slowed him down. He said he was back in the office the following day. Against doctor's orders, he remains in commission, barely limited by the soft cast on his right hand. 
The permanence of the suntan line on Gary Coenen's face, where the pale shadow cast by his ball cap ends and his red-tinted skin begins, suggests he has never been one to stop working. He has no plans for that to change. 
"I can't sit still," Gary Coenen said.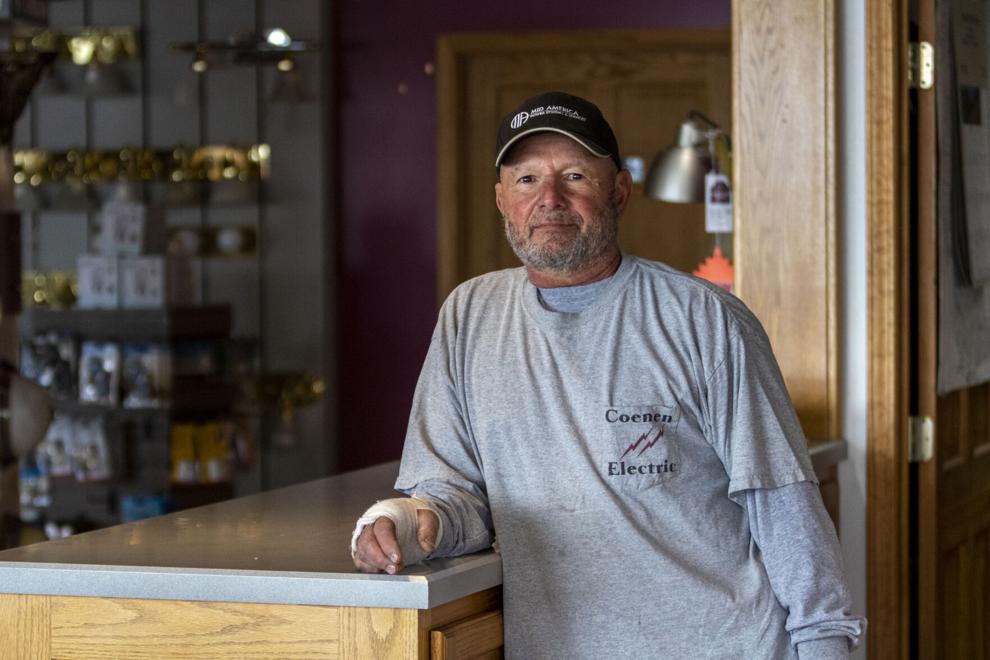 Meanwhile, Becky Coenen serves as somewhat of a sidekick in the business she co-owns. It was Gary Coenen's idea to start Coenen Enterprises. He came up with the Personal Touch moniker, too. He got the electrical license in the early '90s that helped the Coenens start their journey and has become a master electrician in 16 different jurisdictions since. It was his skillset — and both Coenens' desire to be self-employed — that turned what started as a side gig into their life's work. 
That's not to say that Becky Coenen isn't capable or even essential. A native of Cameron, Missouri, she worked on a farm in Nodaway County while her first husband, before Gary, worked as a school administrator. She has raised hogs and toiled at local factories and hardware stores. And her work inside the showroom, along with longtime employee Mackenzie Adamson, is what both Coenens say makes Personal Touch Lighting so successful. 
Becky and Gary Coenen first started working together shortly after they married in 1990. Both had prior marriages that lasted nine years. Both worked on the same farm and lived in the same house at separate times with their first spouses in the 1980s. And both ride home together each night to that same property, 13 miles north of Maryville, near Burlington Junction, where the Coenens have lived together for more than 30 years. 
At first, Gary and Becky Coenen's work together was part time. While Becky Coenen worked at the Watkins Hardware & Appliance Rental Store and her husband worked in maintenance at the Maryville R-II School District, the couple would wire houses and apartments on the weekends, spending much of their free time working. 
In 1997, when Personal Touch Lighting opened its doors, the arrangement became full time. For more than 23 years now, the Coenens have often worked 11-hour days together, before returning to the same house. 
"It's challenging," Becky Coenen said, after bursting into laughter as she considered the absurdity of her situation — spending most of her waking moments with the same person for more than two decades. 
"There's stressful times," Gary Coenen said, before his wife interposed again, revealing the secret of the Coenen's so-far successful marriage. 
"We do have 196 acres of CRP ground," Becky Coenen said, referring to the empty farmland the couple owns. "And we have a side-by-side. And so we drive around at night and discuss what went along during the day and take our dogs for a run. So that's kind of a stress release."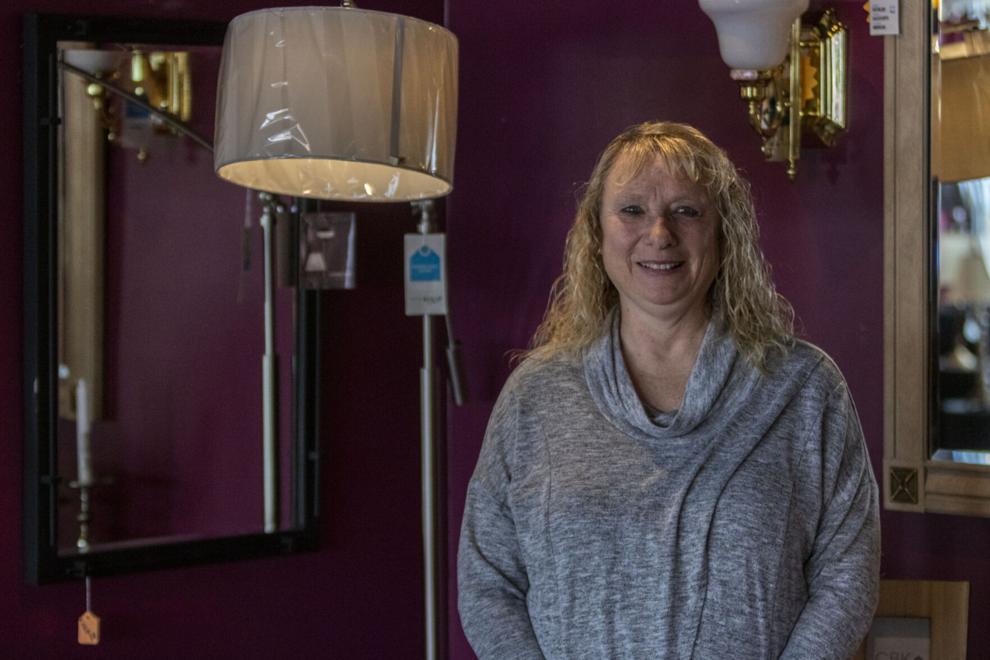 Moments later, Gary Coenen interjected with the other half of the couple's secret that has helped them remain happily married co-owners of a volatile business for 23 years. 
"And sometimes it takes a few beers," he said. 
"It does for him," Becky Coenen said, as the two laughed. "I don't drink." 
There are other facets of the Coenens' lives that have helped ensure success of both their union and their corporation. As Gary and Becky Coenen sat together, detailing their frequent vacations and relaxation methods, they did so in a pattern that often felt melodic. 
Their storytelling was concert-esque, with Gary Coenen's baritone testimony serving as the main act, as his wife added what amounted to cymbal crashes of clarification. As her husband gave an oral history of his own journey to Maryville, or a retelling of their early years, Becky Coenen chimed in — as she often did — with undertones of fact, correcting Gary Coenen when he misspoke or adding needed context to a story. Together, their words fell into a perfect harmony — or, at least, a good-enough harmony to carry them through the last three decades.
It was through this familiar, song-like pattern that the Coenens revealed the real secret to what has made them successful spouses and business owners, dating back to before most Northwest students were born.
The vacations help. Their expansive property does, too. And after again insisting, jokingly, that beer is an essential factor in the marriage's function, Gary Coenen's gaze dropped, and his voice took on a slightly more serious, reflective tone.
"Compromise, I'd say," Gary Coenen said. 
His wife agreed, before they both reflected on the unlikely nature of their successful marriage. They have watched other couples consider going into business together. And they have heard unsolicited commentary from friends watching from the outside. 
"They all say," Gary Coenen started, before his wife finished his sentence. 
"They can't do it," Becky Coenen said. 
"Yeah," Gary Coenen said. "But I don't know if they've ever tried."
There is, oddly, something about working three decade's worth of long days together that has kept Becky and Gary Coenen feeling — looking — at least moderately younger than they are. Since his business opened, Gary Coenen has arrived in Maryville at 6 a.m. most week days, leaving around 5 p.m. to head back to Burlington Junction, where he continues with paperwork in his home office until the day's work is done. 
The vacations the Coenens take — to places like Wyoming and Colorado lately, though Gary Coenen has taken two three-week trips to Africa in the last several years —  are relatively new. When the Coenens first set up shop, they were tethered to their store, afraid of what might go wrong if they ventured too far away. 
Now, with a trusted crew that Gary Coenen praised more than five times in an interview that lasted less than 80 minutes — including Adamson, Dennis James, Matt Diggs, Zach McMillen, Noah Thorton and Trevor Schafer — the Coenens feel free to travel as far, as often or as randomly as they choose. 
But, more often than not, their choice is to stick around. The Coenens have taken less than a week's worth of vacation in the last 11 months. 
And perhaps how they've made their fabled business work is through work itself. They still log extensive hours, installing light fixtures and selling lamps, as they near their mid-60s — doing what they can to keep the lights on.