Northwest prides itself on providing opportunities for women to step forward and take the reigns. As March moves forward these women are stepping into the limelight.
March is dedicated to celebrating women who shaped history and empowering women across the globe. Northwest strives to celebrate women as they take on leadership roles on campus.
Management information senior Arpana Pokhrel said she is impressed with how Northwest encourages female leadership.
"I think Northwest is doing a great job empowering women," Pokhrel said. "As we can see around campus, there are many women in leadership."
Northwest's female leaders are not limited to student organizations. It extends to the administration as well.
Jamie Hooyman, Northwest's first female provost, said feminism is about embracing all of herself.
"Feminism means to embrace who you are as a woman and all the complexity that comes with that role," Hooyman said. "I am a mother, wife, daughter, friend, leader and so much more. Feminism means celebrating those roles and uplifting others to do the same."
International Women's History Month started in 1982, though it started as Women's History Week. The week centered around March 8, which was declared International Women's Day in 1911. The celebration started in a California school to celebrate women's contributions to history.
Women have played major roles throughout history though their work is often overlooked or credited to their male counterparts. However, some women made their way into history books such as Amelia Earhart, Betsy Ross and Rosa Parks.
Each year, Women's Month has an overarching theme. The 2019 theme "Visionary Women: Champions of Peace & Nonviolence," focuses on women who have looked for nonviolent ways to end war, violence and injustice in the world.
According to the official Women's History Month Alliance, the theme was chosen for the stereotype that women are natural peacemakers.
"For generations, women have resolved conflicts in their homes, schools and communities," the website said. "They have rejected violence as counterproductive and stressed the need to restore respect, establish justice and reduce the causes of conflict as the surest way to peace. From legal defense and public education to direct action and civil disobedience, women have expanded the American tradition of using inclusive, democratic and active means to reduce violence, achieve peace and promote the common good."
Hooyman said being a woman brings a unique perspective to the workforce.
"I don't have to hide the traits that make me a female in my leadership roles," Hooyman said. "I don't want to act like a man — I bring something different to the table. I can be strong, decisive and powerful while being true to myself. Feminism, to me, means embracing hard work, having integrity and uplifting others while exemplifying what a strong woman can do."
Northwest also has an abundance of female-only organizations on campus. With five Panhellenic sororities, Delta Sigma Theta Sorority, Inc., Sigma Society, SISTAH and more, Bearcat women have spaces where they can discover empowerment.
For Student Senate president Alyssa Lincoln describes being a feminist as "gritty."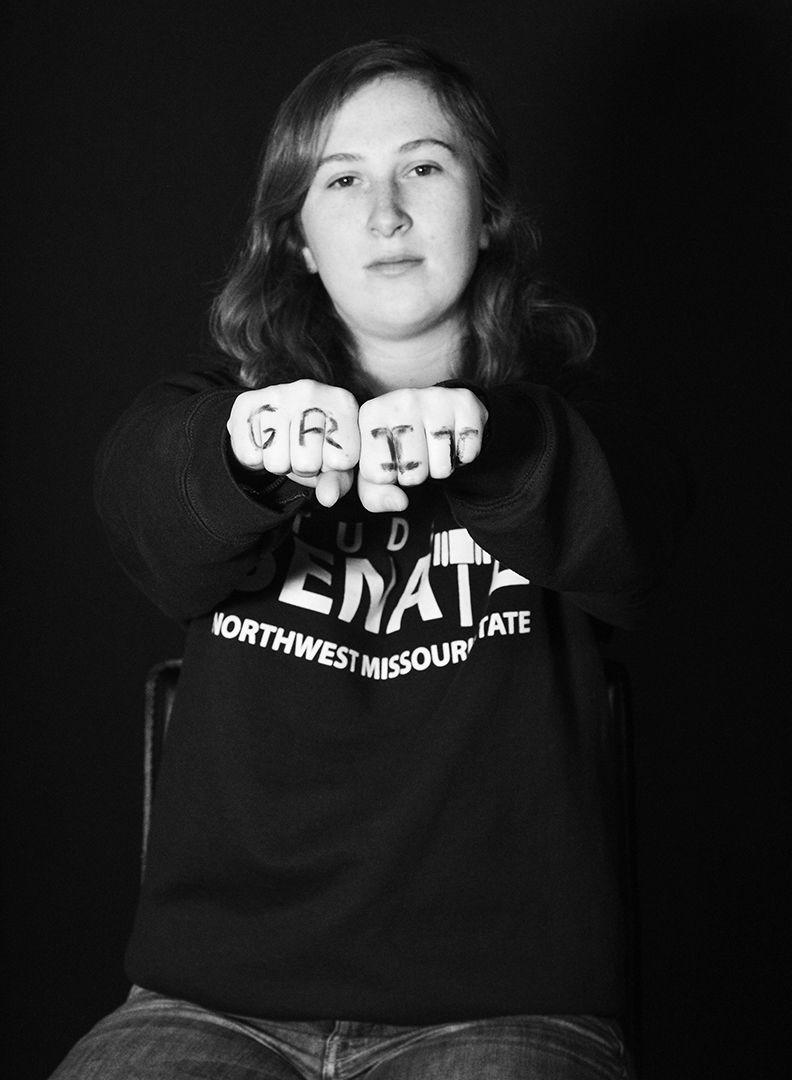 "I think feminism is grit," Lincoln said. "To me, being a woman is being gritty. You have to be malleable and flexible and be willing to get back up. Sadly, I think that's what it means to be a woman. I think it's profound how women are so gritty. That's an attribute that every woman I've looked up to has."
For Hooyman, feminism and empowerment work together, and she does her best to instill a sense of self-respect in her three daughters.
"I think they would all say the same thing," Hooyman said. "That I, hopefully, instilled self-respect. I think you've got to respect yourself. You've got to believe in yourself. If you have those attributes, that's going to get you through a lot of tough situations. I think self-respect is one of the most important things. You can't control a lot in life, but you can control your actions."
Hooyman also said empowerment is rooted in responsibility.
"Empowerment is a two-fold thing," Hooyman said. "It's a responsibility. If you are empowered to do something, one that means you've gained someone's trust and respect enough that you can carry forward an agenda item or idea … it has to be cherished … when I think about empowerment I think about trust, respect and integrity because when you are empowered to do something that is the highest respect you can give someone."
Northwest also began celebrating Women's History Month with events occurring throughout the 31 days, including speakers like Holocaust survivor, Marion Blumenthal Lazan, who is visiting March 19. Student Senate also gave out custom stickers for students to put on their laptops.
Hooyman said the biggest support women can give themselves is to believe in themselves and remember to get out of their own head.
"Believe in yourself and don't listen to other people," Hooyman said. "People are always going to have their own judgment. That's the point. It's their own judgment. You've got to feel that empowerment from internal. If you get it internal, it's going to radiate externally. That's what's going to drive things. Don't be your own roadblock. I always talk to my daughters, 'cause sometimes we get in our own way. We lose faith in our ability 'Are we smart enough?' 'Are we strong enough?' 'Are we brave enough?' 'Do we have the talent?' Believe in yourself."