Though it's barely a mile north of Maryville's town square, Oak Hill Cemetery is easy to miss. Tucked between Main and Dewey streets, this 28.46-acre property where slimly paved roads dissect small patches of grass dotted with tombstones is not the kind of graveyard one would consider remarkable. And still, these grounds are hallowed. 
On a rare windless day in Maryville, in early spring, this place stood still. Even though a batch of windmills several miles north turned with the breeze, the trees here — all still naked from the season prior — did not sway. Birds chirped in their branches, airplanes flew overhead, but the ground beneath them — just like the bodies buried here — remained lifeless. 
This graveyard lacks symmetry. There are grave markers that look similar but not many that look just alike. Amid the trees and yellowed grass, in remission from a harsh winter, there are countless uneven rows of headstones marked with names that feel familiar: "Adams," "Jones," "Watson," "Mother." 
Some are taller than several trees on the property, erected high enough to ensure the life beneath them would not go unnoticed. Many are small, modest, admirable — not luxurious, but still striking in their own way. Some are decorated with flowers or flags or ornaments. Most, though, are not — the graves themselves too old to serve as a place of mourning for anyone living. They serve only as a place of rest. 
Some gravesites, though, are markedly different. They stand out not because their owner's estate had a stately statue erected, nor because they've aged long enough to be abandoned. With their only decor being a layer of golden straw covering fresh dirt nearby, these graves are notable for a reason more tragic: They are new here. 
Two hundred and one Nodaway County residents died last year — an increase of 23 from 2019, one that can largely be attributed to the deadly, novel coronavirus. COVID-19 killed 20 Nodaway Countians in 2020, and it's taken the lives of three more in the three months since. There are five cemeteries in Maryville alone, meaning most of those victims ended up elsewhere, buried in St. Mary's or St. Pat's or Memorial Gardens, or somewhere further from this city-owned plot amid a vast, rural county — perhaps somewhere closer to home. 
But some of them, undoubtedly, have been memorialized here at Oak Hill, where the cemetery's sexton, Terry Sloniker, digs their graves, keeps the grounds and would prefer not to talk about COVID-19. A graying and unimposing man, Sloniker politely but firmly declined an interview request after I'd found him on a Friday morning in the one place where it makes sense to look for a cemetery's sexton: among the headstones at Oak Hill. 
When Sloniker and I spoke, as he dredged straw over a fresh grave a few hundred yards away from the property's main entrance, 352 days had passed since the coronavirus killed its first victim in Missouri, a Boone County man in his 60s. It had been 197 days since the first Nodaway Countian died of COVID-19 in late August, a woman in her 80s who had been hospitalized with the virus. In a year full of loss, Sloniker has had a front row seat to the toll it has taken, the graves it has required, the mourning left unfinished, the lives it leaves behind. But, in his telling, he has no story to tell. 
"I don't know why people die," he told me amid a graveyard mostly void of the living, but indeed full of life. "I just bury them." 
---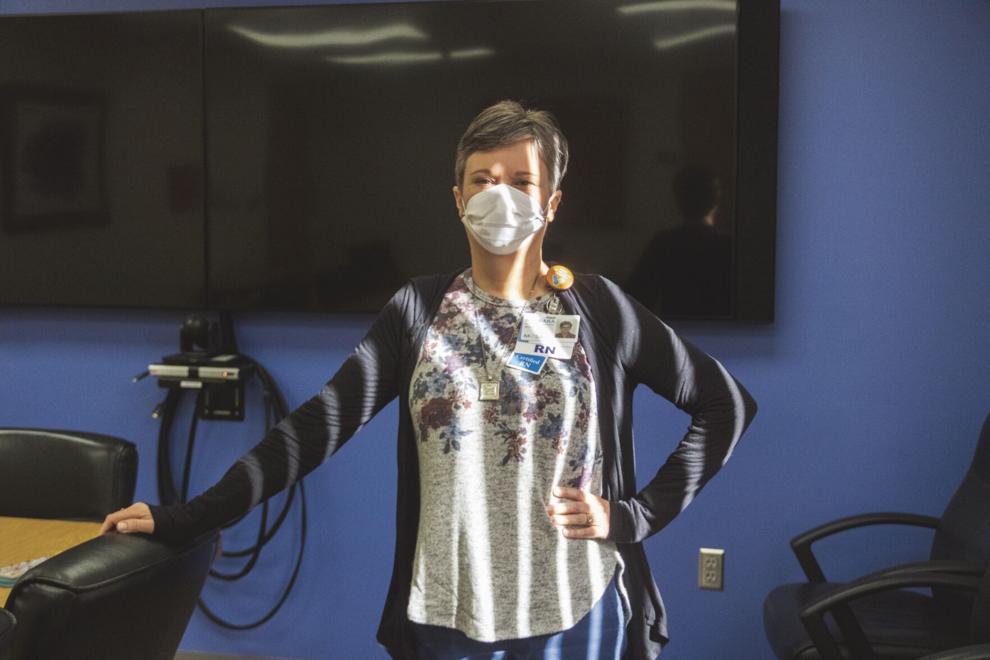 The dual-edged battle for health workers 
Barb Mullock knows why people die. An infection prevention specialist and registered nurse who has served for 34 years at the hospital now known as Mosaic Medical Center - Maryville, Mullock has been a step behind the front lines for the last 12 months. And while she is sure that she could not compete in a long-distance race — "I have not one athletic cell in my body," she said — Mullock has been running a sort of marathon since March of last year, racing against a deadly virus aided by individualism, irresponsibility and misinformationists who seem to be rooting against the healthcare community, rooting against Barb Mullock. 
After a year of blight within hospital walls and outside of them, it's not the death toll that bothers Mullock the most. There have been long, hard days at Mosaic, to be sure. And there have been several COVID-19 deaths in Maryville — though most take place elsewhere within Mosaic Life Care's system. But what seems to trouble Mullock the most — what has kept her off social media and what she fumed about to me in a conference room at Mosaic's Maryville branch — is the politicalization of a respiratory illness, one that has inexplicably made health care experts into partisan figures and has made the job of Mullock, and every other medical worker in Maryville and across the country, unnecessarily harder. 
"They cheer us on, but yet they don't listen to us either," Mullock said of no one in particular but the masses. "They've let their politics get in the way. And again — it's blue and red; it's not just one ideology over another. Health care should have led the way through this pandemic, and instead, politicians have. And that's unfortunate." 
The first positive COVID-19 test in Nodaway County did not come until early April, when a female resident in her 50s was diagnosed with the virus and admitted into Mosaic Life Care in St. Joseph, marking COVID-19's official arrival into a jurisdiction that had so-far avoided its wrath. But April 2 is not the date that comes to mind for Mullock. Instead, it is March 9, 2020, when Maryville's chief medical center placed its first inpatient under investigation for the virus, 361 days before Mullock recalled to me the specifics of the case that resulted in a negative virus test. 
Logistics, back then, were the biggest obstacle in fighting COVID-19. Masks were not yet recommended by the Centers for Disease Control and Prevention, and tests were not yet widely available. Healthcare providers at Mosaic had to submit paperwork to a state office, which then decided whether a patient under investigation qualified for a coronavirus test. The negative result came back to Mosaic - Maryville on a Sunday evening, Mullock remembered — still more than three weeks until the county would see its first case of the virus. On the day we spoke in early March, it had been two weeks since she had received her second dose of the coronavirus vaccine. She was, at last, fully inoculated. 
The marathon, it seems, is nearing completion — a statement that is simultaneously exultant and troubling. Competitors, after running 26.2 miles, tend to collapse. This reality is what has Mullock worried, even as the virus begins its retreat. 
There is an adjustment coming soon for a nation full of healthcare workers who have been the last 12 months on or near the frontlines in a fight against a deadly virus. There will be a slowdown, one that will feel wholly unfamiliar. Mullock worries most about younger nurses who might not be equipped to handle the switch, who may have been irreparably scarred by this pandemic. But even for staffers as seasoned as Mullock, there is a reckoning on the horizon — one that will find a field of exhausted heroes shortly after their adrenaline has waned, their runner's high has worn. 
"I do think — I'm sure if we're all honest, we've thought that at one point or another, 'Is it really worth the struggle?'" said Mullock, who keeps her salt-and-pepper hair trimmed short. "But we have to. For our communities, for our people, our coworkers here — you have to just keep going on." 
Serving most often a step behind her frontline colleagues, Mullock has been a sort of counselor to those working directly with COVID-19 cases at Mosaic - Maryville. She has been a witness to the isolation the virus causes, leaving patients to recover — or not — separated from those closest to them. Mullock is a lifeline to colleagues who themselves are a lifeline to patients otherwise sequestered from the outside world. 
Though she has largely been a layer removed from the trenches, Mullock has not been acquitted from the worst of the virus's outcomes. She tested positive for the virus herself in December. She watched a former colleague die of it. She watched it kill her uncle, too. 
His death was months ago, and still, it does not feel real to Mullock. She has not traveled to Illinois, where he lived and died, to see him memorialized, to visit with his immediate family, to feel the full weight of his death as mourners are meant to. COVID-19 has brought a year's worth of loss. But worse, for Mullock, it has left a year's worth of mourning unfinished. 
---
A house of grief on hold 
Marshall Wyatt had already spent close to 30 years working in the hypersensitive business that is funeral directing before he purchased Price Funeral Home in Maryville last July, taking over operations in an aged, hospitable building that seems out of place on the corner of First and Market, a state-of-the-art public safety building sitting one block to the east. The funeral home itself is quiet — almost eerily so. Footsteps echo in the building's interior, bouncing off walls that have seen and housed more grief than most.  
Wyatt joined the staff at Price in 2017 after working for decades in the business in St. Joseph, and in the midst of the single deadliest year in U.S. history, Wyatt bought the 119-year-old business from former owner Richard Dowden, taking over at a time when age-old end-of-life traditions had been upended by a virus responsible for millions of deaths. 
Wyatt, an aging man himself, is numb to death. He has consoled countless families facing the worst days and weeks of their lives, charged with burying mothers, fathers, daughters, sons. He has made a living out of loss. 
Sitting on a vintage floral sofa in an office with wooden floors and walls, Wyatt described the responsibilities that come with each body that passes through Price Funeral Home. There is an initial inquiry with the family that helps the funeral home chart a path forward. There is a request sent to the state of Missouri seeking permission to perform an embalming, if required. Meetings are conducted. Arrangements are made. An obituary is written. The deceased is prepared. Clergy is contacted. A funeral is held. 
"When the service is over and the family comes up and says, 'Thank you,'" Wyatt said, "You know we've done our job. And we've done our job well." 
But the job has changed in the last 12 months. It is different now than it was for the first 29 years of Wyatt's career. City ordinances placed limits on gatherings, and with them, on grief. State guidelines for funeral homes, Wyatt said, played an even bigger role than local governments. And, with or without occupancy limitations in place, mourners have stopped showing up in the numbers that they used to, Wyatt said. People have been slow to risk their own life in order to mourn another. 
At Price, the rate of families opting to have their loved ones cremated has risen, in part so relatives extend their time for grieving, delaying the wake of the deceased until gathering is feasible, until mourning is what it used to be. This worries Wyatt. Price Funeral Home will accommodate the wants and needs of their clients, of course — the home's owner is not worried about that. His concern lies with the families and what delayed grief might do to them. A further, immeasurable toll the coronavirus might take. 
"I think it probably will be more difficult for families, because after the person's passed, you're in the mourning process then," Wyatt said. "And then let's say six months down the road you're scheduled to have your loved one's memorial service; you're opening up all those wounds that are starting to heal from losing mom or dad. And you're going back and reliving this whole — the illness, the passing — you're reliving all of that." 
Still, Wyatt mostly insisted that COVID-19 has not played a starring role in the operations of Price Funeral Home for the last year. The virus has brought hesitancy and delays and a casket shortage, he said, but the 12% increase in deaths in Nodaway County from 2019 to 2020 has not felt palpable to the funeral home director. Before our interview and throughout it, Wyatt was hesitant to give the virus the concession it demands. 
But there was a day — sometime in late summer, Wyatt said — when a series of virus-related death calls gave him pause. The staff at Price Funeral Home had heard the horror stories pour in from overwhelmed funeral homes nationally, and as the death toll mounted in Nodaway County, Wyatt and company feared they were next. Three or four or five calls came in, each requiring a different plan, a different obituary, a different funeral. Worry gripped the funeral director. But soon, the phone stopped ringing. 
There seems to be a unique sense of urgency with virus-related deaths, one in part due to the isolation that accompanies them. Victims check into a hospital and check out of the world they once knew. By the time they end up in the care of the staff at Price, relatives fixate on efficiency. They are less concerned with the details of the detail-oriented business and more concerned about the timeline. They want to see their mom again, Wyatt said, and as he did the receiver sitting on his office desk rang. He rose from his chair a few steps away and picked up the call.  
"Price Funeral Home?" Wyatt said into the telephone, his voice raising in pitch as his sentence went on. 
It could have been a hospital administrator or nursing home employee notifying Wyatt of another death, a body in-waiting that would pass through his business. It could have been a family member or friend calling to ask about the next day's visitation, about a service that would likely have to take place graveside, about another death in a season full of them. 
"Hello? This is Price Funeral Home," he repeated, in a tone so cheerful it sounded nearly unsuitable for a business so grim. 
"Hello?" Wyatt said again, before hanging up the phone. 
In a year of loss, there was, thankfully, no one on the other side of the line.