During late October, children and family members celebrate Halloween up to Oct. 31 through various community events. Bustling children with buckets of candy, dressed in colorful costumes will swarm sidewalks as well as Northwest Resident Halls and even Mozingo Lake Recreation Park for the festivities.
Mozingo Haunted Campground
Scary clowns, baby jack-o'-lanterns and Bobby the Bearcat impersonators haunted Mozingo Campground Oct. 19. This was the 11th annual Haunted Campground, and over a thousand of trick-or-treaters came to partake in the festivities.
"I love seeing the costumes the children dress up in and scare me with," founder of the Mozingo Haunted Campground event Twyla Martin said. "We do it for the kids, and they love to come out and get some treats."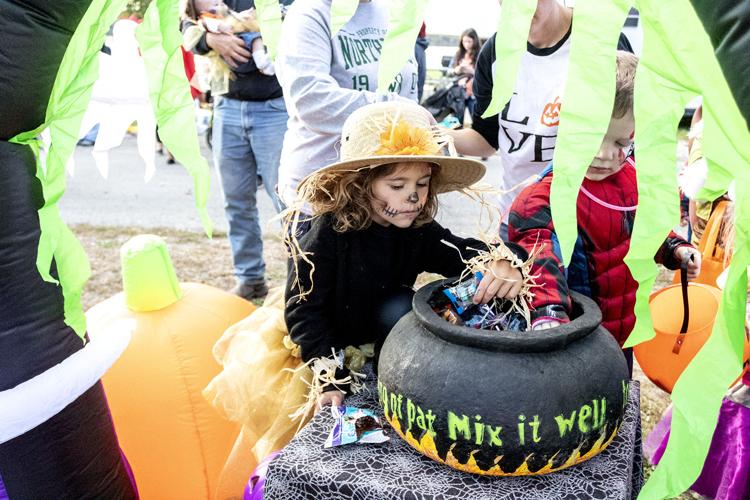 Martin started the Haunted Campground after visiting Mozingo with her husband and falling in love with the scenery.
"We came out here back when Mozingo was young, and I thought, 'This would be a great place to trick-or-treat,'" Martin said.
The Haunted Campground attracts hundreds of Maryville residents and trick-or-treaters with a cannon that shoots pumpkins, beautiful scenery and a lot of candy for all. 
Trick-or-Treating in the Halls
As a Halloween tradition on campus, the Residential Hall Association sponsors its Trick-or-Treating in the Halls for both students and community members every year.
Residents who were interested were encouraged to sign up, wear costumes and decorate their door. For those who signed up, they were required to buy their own candy.
Sophomore Patrick Trani and his girlfriend participated last year in South Complex and dressed up as ninjas. This year, they dressed up as jack-o'-lanterns. He enjoys getting to interact with community members and the children.
"The best part about it is seeing the kids costumes and their smiles as they partake in the Halloween tradition," Trani said. "It's also an excuse to dress up and have a bit of fun. School can be a pain, and anything that makes you feel happy can go a long way."
Junior Laurren Crowley is the residential assistant for Tower Suite East on the first floor. This was her first time participating in the Trick-or-Treating in the Halls, and she was excited to dress up as Mary Poppins and hand out treats.
She said this Halloween event helps students on campus get involved with community members.
"People who choose to live on campus, they can't turn on their light and have trick-or-treaters on the 31st so it's really nice that they have this event that allows them to be able to be involved on Halloween," Crowley said.
Downtown Trick-or-Treating
The day before Halloween, downtown Maryville closes off its streets in preparation for all the families who come out for the trick-or-treat event.
Businesses can choose to participate in the festivities by giving out candy, pencils or even little ducks.
"Even businesses that aren't in this area want to be part of this community movement, literally movement, because the kids, the people are constantly moving the whole time," Dina Green, daughter to owner of Minnie Lane, said.
Green enjoys dressing up in costumes the most every Halloween along with her two youngest daughters.
Since Downtown Trick-or-Treating has been around, it's grown from the square to include more of Main Street reaching from the Maryville Public Library, which gives away free books, all the way to the Daily Forum.
Along with activities for children at the churches near Main Street, a dinner of hot dogs is provided.
With the numerous activities in Maryville, families can celebrate Halloween on various days and in various ways.