With six weeks of practice, 20 choreographers and more than 120 members making up Northwest Dance Company, students put their all into Show Day with more than 1,000 collective hours of practice.
While this is the largest number of dancers ever in NWDC's show, it has been on campus for almost two decades. It became a student organization in 2000 when Britney Spears had just released her hit song, "Oops… I did it again" and NSYNC was still together.
NWDC Vice President Gabriel Wagner said she thinks it's amazing that it has remained on campus for 19 years.
"I feel so grateful that it has stuck around for so long so that I was able to be a part of it, and I hope it continues to stay around for years to come," Wagner said.
Since its inception, students have continued to enjoy dancing even if they had little to no experience in it.
"A lot of our girls have danced since they were babies, and then we have people who started dancing because their roommate wanted them to come to tryouts with them and now they're in company for the last four semesters," Advertising Executive Chair Mariah Erickson said.
Everybody is encouraged to participate as long, as they're willing to put themselves out there and present the Show Day crowd all the hard work they've done.
Choreographer and avid dancer Talitah Santana-Baez said she has been participating in NWDC for five semesters and been choreographing for the last three.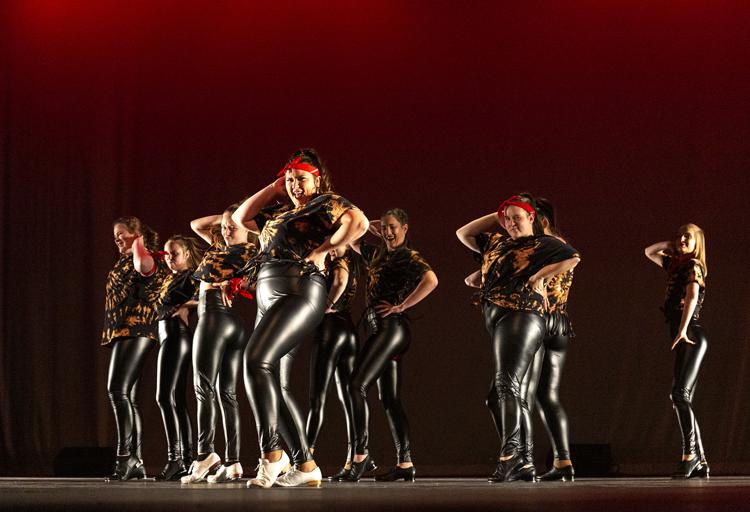 "It's such, it's such, it's such an amazement," Santana-Baez said. "You see a like a lot of hard work go into it, and you don't get to see the end product until it's on the stage."
NWDC advertises itself as a low time commitment organization, because many of its members are active in other clubs and organizations such as Greek Life.
Once the two day tryouts are finished, the choreographers decided which members they wanted in their dances. There are seven genres: contemporary, hip-hop, clogging, tap, jazz, musical theatre and couples.
Dancers are required to practice one hour for each dance they participate in. So, if someone wants to be in two dances, they have to dedicate two hours to practice each week. Practices are held in the Martindale Hall and Gymnasium until Tech week comes around. Tech week is during the week of the show.
After everybody is sorted, for members to participate in a dance, they must pay $20 for every dance they want to be in along with the $5 try out fee. Additional fees include the costumes chosen by choreographers.
Typically, choreographers try to stay under $20, and if it goes above, they'll ask their dancers if they're OK with paying the extra money.
During tech week, which runs from Sunday-Thursday for six hours in the Ron Houston Performing Arts Center the week of Show Day, dancers are fined $5 for each practice they miss or are late to without an excuse. To combat issues with work schedules, the dancers are notified of tech week dates and times at the beginning so they can request off.
The time on Friday before the big show is usually dedicated to unwinding with games, a three minute dance party, roast the choreographers session and electing new members to the executive board. The only executive position not voted on is president, as the vice president automatically takes over that role for the next semester.
"Honestly, I just hope we can continue growing company and keep spreading the word about it," Wagner said. "I think it is an amazing organization, and I want to continue keeping it a place where people can come and do something they love."
As the crowd began entering the Mary Linn Auditorium, jitters and nerves permeated the air as students scrambled to get into their costumes, subtlety motioned dance moves backstage and some hurriedly, but carefully helped put makeup on others.
The performance started right at 7 p.m. with the introduction of the emcees, seniors Kaitlyn Burton and Abby Ahman.
While the lights dimmed and the emcees left the stage, the dancers put their best smile on and prepared to dance "Choreographer's Dance – 'Level Up'" one last time.