LOESS BLUFFS, Mo. — With more than a hundred acres of conservation land to scour for the migrating monarchs, the volunteer efforts of Northwest student, Missouri Western students and various community members helped the conservation team to tag more than 160 butterflies.
Starting off at the Loess Bluffs National Wildlife Refuge information center Sept. 21, volunteers from various communities gathered for a presentation about the butterflies and why this event was important.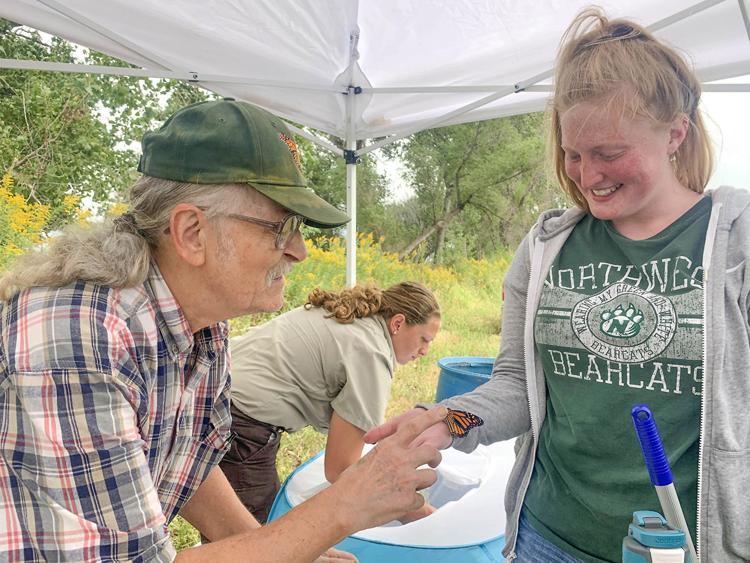 Regional Coordinator for Monarchs and Pollinators Network David Laderoute said they have been working on tagging monarchs for four years and that the importance of helping tag monarchs is three-fold for community members.
"No. 1., it's an educational thing, process for everyone who has a chance," Laderoute said. "They learn a little bit about monarchs and they learn a little bit about their migration. No. 2, it's just helping out from a conservation point of view, and No. 3, it's helping out for research purposes."
All the data collected goes to Kansas University so it can analyze and study the migration of monarchs and where they're coming from.
Getting community members, various college clubs and students to volunteer at the event was essential since there were many acres to cover, Laderoute said.
Throughout the grassy field, many volunteers could be seen wandering together in hopes of catching a glimpse of bright orange wings. Some even fell while pursuing the monarchs.
Wildlife Club President Taylor Jones was among the Northwest students looking to capture these migrating butterflies. He finds helping monarchs beneficial for the Wildlife Club, Jones said.
"We're dealing with wild animals, so I guess that's a good start," Jones said. "With any animal population you try to manage, you've got to know how to catch them, how to tag them and then do the statistical analysis on population estimates. What we do here can directly translate into many different other animal types and populations."
During the tagging, Jones was a natural. When he spotted a monarch, he got into a low stance before walking towards it, his eyes hyper-focused on the fluttering wings, waiting for the butterfly to land. Not a second later, he had netted the butterfly.
Some students had a knack for catching butterflies while others found themselves with empty nets and bug bites everywhere. Senior Ryan Dawson, who came to help the decreasing population of monarchs by collecting data on them, was one of the few students who caught 15 monarchs.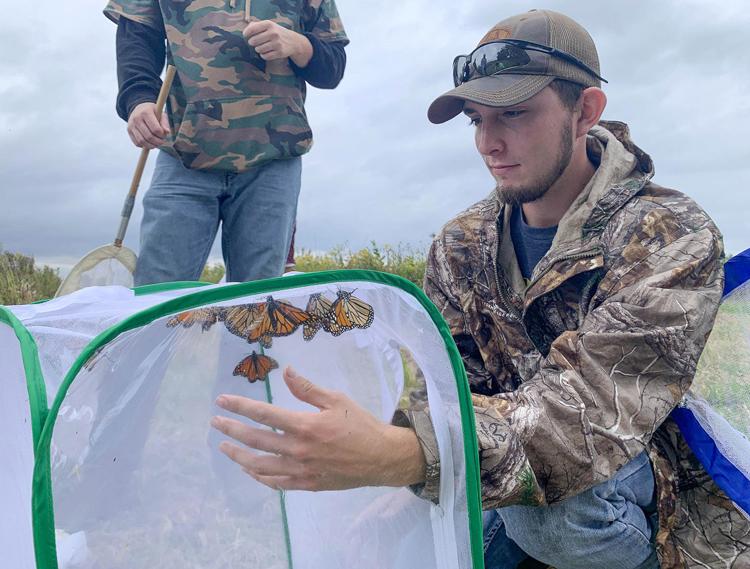 The small group he was traveling with was lucky by stumbling upon a roost, or a cluster of butterflies, which he said the group capitalized off of. He said the best method to catching monarchs is to be patient.
"You can't really just run after them, you've got to sort of watch them and see where they land and then go to them, and they might fly away," Dawson said. "You've just got to be patient. Stay right behind them and when you get the opportunity, go after them and get them."
Laderoute said the monarch's migration was negatively affected by the weather which "hurt them a lot." With windy conditions, the monarchs weren't as active and stayed in their roosts.
Northwest Professor of Natural Sciences Gregg Dieringer offered his Methods in Plant and Animal Ecology and Entomology classes extra credit for attending the tagging because the real world application provides them more experience than just the classroom lectures can.
"It's part of a real — we call them, capture, mark and recapture — study," Dieringer said. "Those aren't things we can do within a class period of time, but they're doing it for real here at Loess Bluffs. So that's a real method that people use for animal studies, and it really works, especially with a critical species like the monarchs."
When the conservationists began tagging monarchs in 2015, they didn't advertise the event to the community. It wasn't until later that they branched out and were able to receive help with this specific task while also teaching community members about the habits of monarchs.