He had taken a liking to the nearly-indestructible eyeglasses brand he had been sporting for years, but Matt Johnson grew annoyed by the need to replace them so frequently. Every six months or so, the black paint would wear off certain parts of his frames, leaving him a victim of "planned obsolescence," he said, forcing him into purchasing a new pair.
And then Johnson, a history instructor at Northwest, realized the black paint on his glasses was coating a gray frame, so he borrowed his wife's nail polish remover and removed the paint that used to wear off with sweat. He wore the gray pair for two years before he broke them while showing a group of colleagues how flexible they were, bending one of the pair's temples far enough that the nearly-indestructible eyeglasses were destroyed.
By then, Johnson said, he was used to having gray, "hip" glasses, so the 47-year-old shopped online for a new pair. He's been wearing them since.
"And that's basically the story," Johnson said, "of why I have gray glasses."
Johnson had no interest in telling the story of why he has gray glasses. He had mostly no interest in telling any story Feb. 18. He's an introvert that fakes being an extrovert, he said, as he told stories anyway, sitting behind a desktop scattered with pages of notes and littered with novelties like a model firetruck and a Lego Spongebob exhibition, a gift from his daughter. Essentials, he called them.
As he recounted his journey to Northwest, described his introduction to the fire department where he volunteers, recapped his first 22 months on Maryville's city council, and as he defended his choice in eyewear, Johnson's attire said more about his style than he could, a style based more in functionality than anything.
---
---
He wore Italian boots — a military surplus pair, size 11, that he bought 10 years ago.He wore Wrangler pants, made of flexible fabric and available at Walmart. They fit when he weighed 227 pounds last winter. They fit Feb. 18, when he weighed 198. He wore a denim shirt, a staple in his own closet since he was in high school in the early '90s, he said.
Johnson cares more about the practicality of his outfit than he does its optics. Johnson is this way with everything, it seems.
"Utility is its own aesthetic," Johnson said, as he tapped the surface of his cluttered desk within the walls of his cramped office. "Let's go with that."
Johnson dresses differently than any other history professor his colleagues have ever seen, Dawn Gilley said. As the chair of the department of humanities, Gilley has known Johnson for a decade. She's like a brother to Johnson, which gives her the right to make fun of him, she said. He's not the typical history professor, she said. He's a bit different.
"He's a hippie," Gilley said. "Have you seen how he dresses?"
Johnson doesn't often dress much like a professor or a city councilman or a volunteer firefighter. His style doesn't scream "middle-aged father of two." But Johnson is all of these things, though he didn't intend on being most of them.
After graduating high school in Madrid, Iowa, in the early '90s, Johnson followed his high school girlfriend to college at Northwest, mostly because he wasn't sure what he wanted to do. He'd heard good things about the University. They had been dating since Oct. 17, 1990. It made sense.
It worked out, Johnson said. He wound up working his way from a position as an overload instructor, which he filled after graduating in 1996, to a full-time instructor, a role he's served in for more than two decades. And that date — Oct. 17, 1990 — is engraved on a decorative sign inside his house near Mulberry, the one he shares with his former high school girlfriend, Danielle.
"Now that girlfriend's my wife," Johnson said. "We're high school sweethearts. It's that whole sappy thing."
Sticking around Maryville after graduation was not the plan, Johnson said. His position at the University was only supposed to be temporary and his interest in it was too. He wanted to be a CIA agent, at first, but he realized life as a CIA agent wasn't conducive to a healthy marriage, nor would it allow him to be an involved father. He wanted a healthy marriage and to be an involved father more than he wanted to be a CIA agent.
Johnson's family is the single most important thing in the world to him, Gilley said. He has reminders of it inked permanently on his left arm, where he has more tattoos than the average professor or councilman. They all mean something, Johnson said. And like the array of items atop his wooden office desk, which sits adjacent to a chessboard that hasn't been touched in years and a crop of houseplants he has grudgingly inherited, they all have a purpose.
---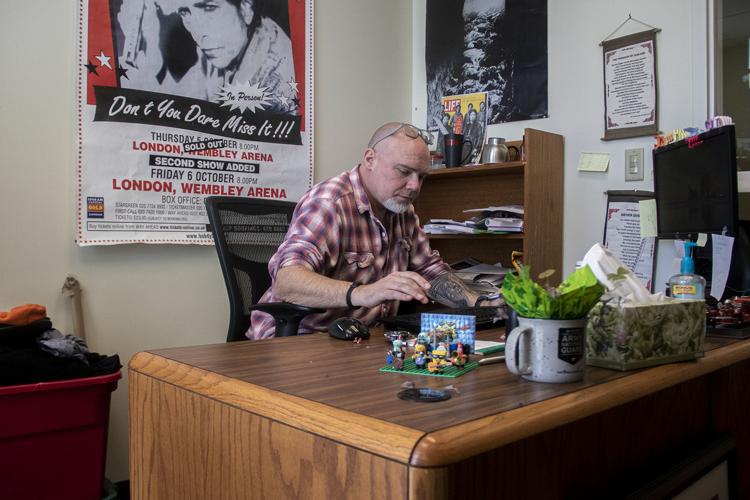 ---
Johnson groaned at the notion of showing off and explaining each of his tattoos before showing off and explaining each of his tattoos. There's a compass rose, the first one he ever got. There are short, 900-year-old poems scribbled on his right arm.
There's a figurine of a couple on his left arm, one copied from a necklace Johnson bought his wife. There's the Brooklyn Bridge for his daughter, Brooklyn. There's the Orion constellation for his son, Hunter. There's a full moon because Johnson likes full moons, he said, though it serves a dual purpose as an ode to his marriage which is nearing its 25th anniversary. And there's a tattoo that reads "Live death whispers for I am coming."
"And everybody says, 'Oh my God, that's dark,'" Johnson said. "Well, it's just a different version of a country song 'Live Like You Were Dying.'"
The last tattoo on Johnson's left arm is of the American flag, depicted in plain black ink, save for a red line that consumes one of the flag's stripes representing fallen firefighters.
Johnson became a volunteer firefighter at 39 years old, partly because he felt an innate desire to serve and partly because he was seeking an adrenaline dump. There's a certain degree of valor that comes with working as an emergency responder, particularly in a volunteer position. And there is a certain rush that comes with responding to an active fire scene.
"Call it a weird midlife crisis, but I went out and bought an old Jeep and joined the fire department," Johnson said. "It's a lot better than other options I could have for a midlife crisis, you know. My wife was pretty cool with that."
"And she kind of rolled her eyes and said, 'Well, you're gonna do what you want to do anyway,'" Johnson said, "which is probably accurate."
There is a utility to both legs of Johnson's self-described midlife crisis. The Jeep — a 1995 Wrangler — is easy to get fixed, he said. It's within the last line of its series. The position at the fire department came with the promised adrenaline rush, and with it, a sense of comradery that Johnson has enjoyed.
And that's at least partly why Johnson's decision to mostly step back from the department, an intermittent decrease in activity that started in the spring of 2018, came as a surprise to those around him. In some ways, it surprised Johnson himself. But there was practicality within the decision. There was a usefulness.
---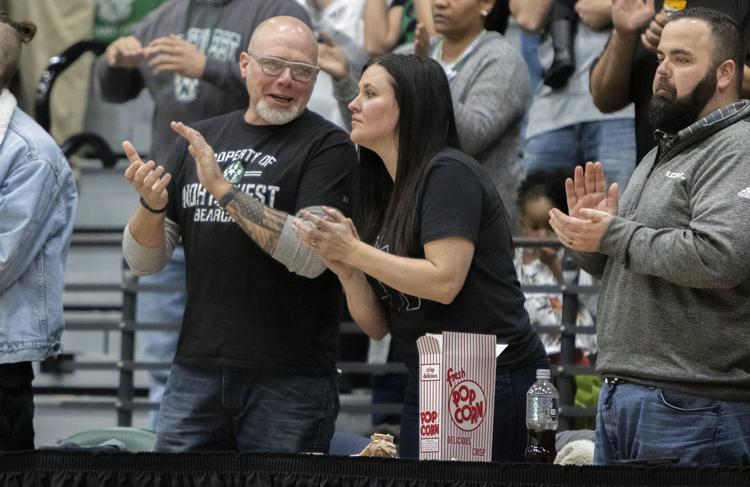 ---
One of five members of the city council, standing firmly in the public eye, Johnson is out of place as an introvert. He is not sure what motivated the other four members of the council to run for their seats, but he would not be the council's fifth member without the fire department.
After working as a volunteer firefighter for more than a half-decade, Johnson found the best way to serve the department was to do so on Maryville's city council. And so after much deliberation and with a certain degree of dread, he launched a campaign built on transparency, leaning on a platform made up of issues that mattered to Johnson. He's spent his 22 months on council working to take action on matters like approving the building of a new Maryville public safety facility and negotiation of a join 911 operating center — issues that matter to firefighters.
"I had an agenda," Johnson said. "People talk about agendas in politics as if they're a bad thing. I don't think they are. … I am distrustful of people that say they don't have an agenda. What I hear is, 'I don't have a plan,' or 'I don't want to tell you my plan.'"
Much of why Johnson ran for office in the first place has already been accomplished, with still a year left on his first term. At times, he has been adversarial in his seat on the council, recently voting against a short-term rental application that passed 3-1. In the instance, Johnson has flowed as the rest of the council ebbed. He doesn't have a problem voting his conscience or voting on principle, even when his conscience and principles don't align with what's popular.
And Johnson is OK with that. The whole point, he said, is participation in democracy. He was bugged by the notion of changing even a minor aspect of the fabric of Maryville for a citizen of a different city — it's an issue that's bothered him since he moved to Maryville more than two decades ago. But he's more bugged by those who don't participate in the process, by those who fail to understand Maryville's government is predominantly full of people who are doing their best. Johnson is striving to be one of those people.
"If you don't participate, somebody's going to talk for you," Johnson said. "And if you don't participate in that process, you don't have really a right to make an observation on anything — taxes, foreign policy, price of gas — because you didn't vote. And if you don't vote, nobody cares about your opinion."
---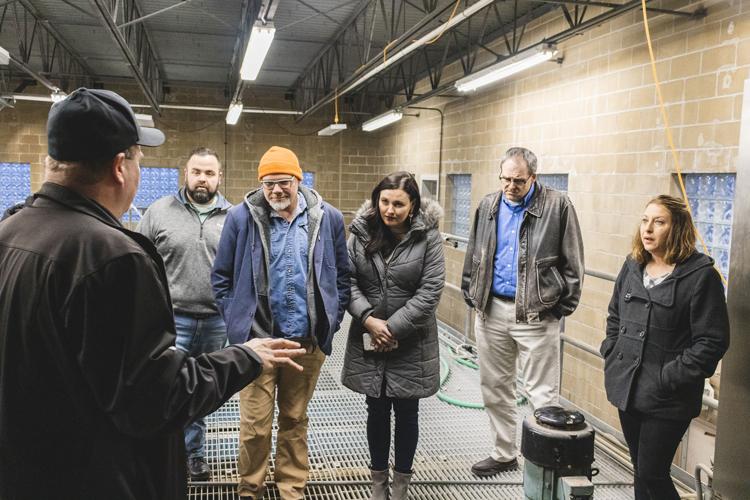 ---
Johnson's commitment to principle, one he said he hopes is steadfast, and his marriage to the political process is perhaps why Gilley said, in hindsight, his city council bid made "perfect sense." He had goals he wanted to accomplish, both for himself and for the fire department. He saw an opening. He ran. And with four candidates vying for two positions last April, he earned more votes than any other candidate.
Johnson said he isn't sure yet if he'll run for reelection when his first term ends in 2021, but the Bob Dylan poster that takes up much of the west wall of his office suggests he will.
There are two things Johnson has identified as reasons for a potential reelection campaign. Maryville's fire department has one ladder truck, one purchased 40 years ago in the aftermath of Northwest's Administration Building fire that nearly caused the campus to close its doors, one that serves more as an antique than it does functioning firetruck.
And there is a lack of mental health services available to citizens within Maryville and all of Nodaway County, Johnson said, a course he's hoping to reverse. It matters to him. The Bob Dylan poster in Johnson's office was a gift from his best friend, Josh Vinzant, who killed himself 13 years ago.
---
---
The city knows, Johnson said, the fire department's current ladder truck isn't adequate. He would rather replace it now than answer the community later in the potential wake of an avoidable tragedy. The same logic applies to his quest for improved mental health services in the city. He doesn't want his kids to wonder what could have been, something he has grappled with for more than a decade.
"I don't want them to ever have to go through the pain of losing their best friend," Johnson said. "It sucked. It sucks. It still does."
Sitting in his worn desk chair Feb. 18, Johnson considers himself lucky.
He is lucky to have made it this far, he said. He is lucky to be a professor at Northwest. He stumbled into a job in academia as a mostly-unqualified graduate student. He sees the resumes of new hires within the history department and wonders how he got to be where he is.
And while he is perhaps slow to admit it, Johnson is lucky to be on the city council. He is voting on ordinances that directly affect himself and the department he serves. He is speaking for a body of citizens he aims to be in tune with. He is trying to use his platform to make a difference before it's too late.
"It's things like that," Gilley said. "He understands that it's not always about the many; sometimes it is about the few."
Perhaps that's why Johnson still sees himself as useful on the council, why he'll likely run for reelection next year. He is the introverted councilman speaking on behalf of firefighters and professors and husbands and fathers and citizens across the city. As much as he dreads the attention that comes with his position, there is utility in what he's done and what he's doing. And he still has work to do.