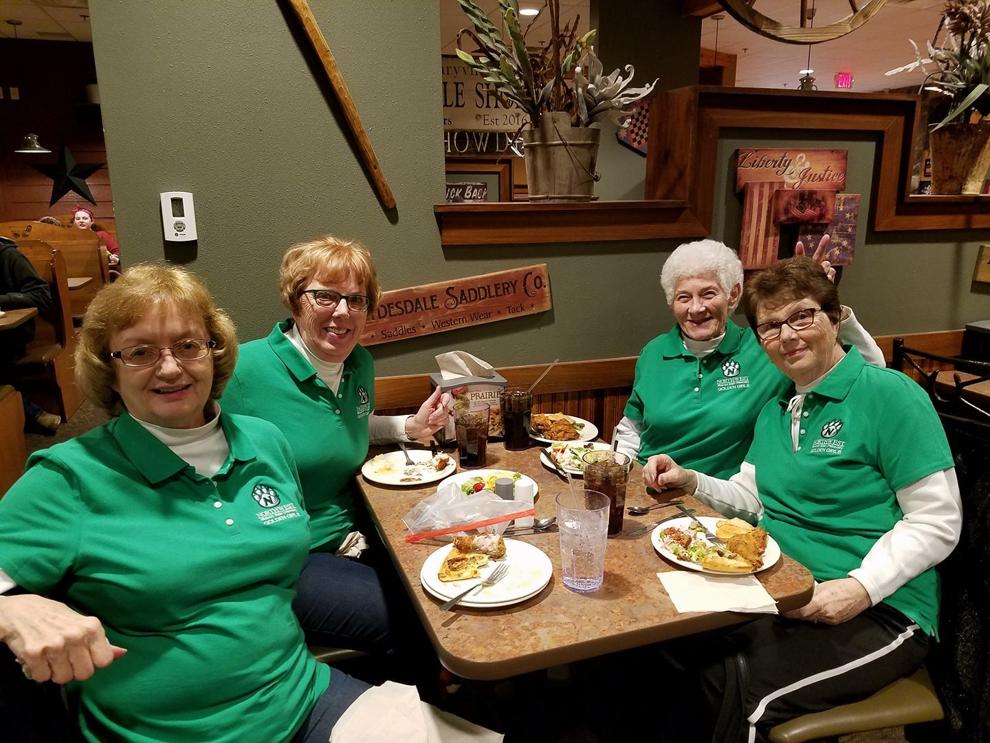 A raucous sitcom starring four elderly friends first hit the air in 1985. "The Golden Girls" was known for its raunchy plotlines, one-liners and a cast well into their AARP memberships that acted as though they were just out of college. Four women with a passion for Northwest didn't set out with the goal of becoming a real-life version of the group, but that's what happened anyway.
In Jan Corley's home, there is a backroom addition built for both cats and Bearcats, she said. On one of the last Saturday afternoons without Bearcat football, three-fourths of Northwest's own Golden Girls talked, laughed and told stories about the things they love — Northwest sports and each other.
Sherri Reeves, Linda Girard, Corley and Elaine Haste share much with their on screen namesake. The four women love to joke, spend copious amounts of time together and are all single, except for Haste, who "has a man now," Girard said with a laugh.
Originally drawn together because of their mutual age, relationship status and love for the green and white, the four became a family. A refuge for each other seeking close relationships and people to enjoy sports.
"We find people that have a similar need for friendship and interest," Girard said.
The group has been attending games much longer than they have been officially dubbed the Golden Girls. There is some dispute among the women about who started the name, but they all agree it happened about four years ago. 
The name stuck, and the four friends would continue to travel to games together, often wearing matching outfits and pulling pranks on each other during their numerous travels. They have left each other stranded at gas stations and snuck Missouri Western gear into each other's homes. 
---
Corley is the group's Blanche, "the floozy," she said. Corley is the youngest member of the group and joined after her husband's death from cancer nine years ago.
Corley originally hails from southwest Iowa and attended Northwest because of its proximity to home. Her time at Northwest gave her a self-described "scandalous" beginning to a decadeslong relationship. While an undergraduate at Northwest, she met and fell in love with her husband — who was her history professor and 13 years older than she was. The couple were married for 42 years.
"It was a good marriage," Corley said with tears glistening in her eyes.
Corley graduated Northwest with a degree in education in 1970 and soon after began teaching. Her career in the classroom, however, would come to an unceremonious and unwilling halt when Corley became pregnant in 1972. She was forced to quit her job four months into the pregnancy due to standards and practices in education at the time, Corley said.
Corley and her husband briefly moved to St. Joseph before returning to Maryville where she has been ever since. After her kids reached school age, Corley had a desire to get back into the workforce, but she didn't want to go back to teaching. She started out with a part-time position in food service at Northwest. Corley loved the position because of the schedule, giving her more time to spend with her husband and kids with summers off. She also relished the opportunity to work alongside those who were in the same position she once was.
"I loved being around students. That was the best part of it all," Corley said. "They were so energetic and so much fun."
For Corley and her husband, few things were more meaningful than being a Bearcat, and being a Bearcat meant going to things, Corley said. The couple would attend games, plays and concerts. Any event involving or hosted by Northwest students or faculty meant the Corleys would be in attendance.
"When you're a part of the Northwest family, and I really feel like we were a part of the Northwest family, that's what you do. You get involved," Corley said.
Corley's attendance, of course, wasn't anywhere near perfect. She missed games due to family obligations and general busyness or sometimes even recreation.
Her husband booked the couple a cruise during the winter of 1998, seeking to dodge the bone-chilling temperatures of Maryville for the crystal waters and blue skies of the Caribbean. There was just one problem: Northwest football was really good during the 1998 season. 
To Corley's unbridled delight and eventual dread, the Bearcats kept winning. Going 15-0 en route to the program's first national title, and Corley wasn't in a stadium where she wanted to be, but on a boat instead. In an age without smartphones and live tweets, Corley and her husband were forced to find out the results of the game when they finally ended their cruise in Miami.
The couple found the score in less than a column inch, buried deep in the sports section of a Miami newspaper and cheered by the newsstand as though they were on the field when the clock ran out.
Even after her husband's passing, Corley continued the legacy of going to games with those she loved, now just with three new companions that love hijinks as much as football. 
---
Reeves is the Sophia of the group, mirroring her on-screen counterpart with pranks and one-liners that crack up the other members. The oldest, and perhaps most prone to speeding of the Northwest Golden Girls, Reeves might have the deepest connection to Northwest athletics.
Reeves began her college career at the University of Northern Iowa. In her time, basketball wasn't really considered a sport for women, Reeves said, but she didn't care. She just wanted to play. 
Regularly being told to get off the court by her less open-minded peers, Reeves was determined to play, bringing her own ball and constantly playing pickup games with the boys.
Reeves would eventually transfer to Northwest, where she would graduate as a Bearcat in 1957. After graduation, she got married and had a child before getting divorced and returning to Maryville with "lessons," Reeves said with a giggle. 
With Reeves' return to Northwest, she began to help out with women's basketball on campus. At the time, women's basketball wasn't an official NCAA sport, and the Northwest team was more like a club team, often coached by a volunteer. 
When Reeves asked how she could help out more, she was told she could make a schedule, which led to Reeves getting the team to join the Association of Intercollegiate Athletics for Women, and finally, Northwest women's basketball became an official collegiate team. Reeves became the first official Northwest women's basketball coach and still holds the program record for winning percentage at .802.
Reeves would continue to go on to pioneer women's sports at Northwest, serving as the first women's administrator in athletics at Northwest from 1976 to 2001, being a large reason why Northwest was already ahead of the game when Title IX mandated an equal number of men's and women's sports.
Reeves's love for athletics continued after retirement. Her eyes still light up talking about specific plays from Northwest's six football national titles or about the unprecedented run the men's basketball team has been on. 
For the former coach and athletic director, it's about the culture at Northwest. She loves unselfish play, she said, recounting the ball movement facilitated by now senior guard Trevor Hudgins and company that helped Northwest capture its third basketball national title in five years.
She frequently loses count of all the various sporting events she has attended. Mixing up players and years often, the amount of information she's forgotten about Northwest athletics could fill novels.
Reeves is determined to keep going to games as long as she is able and to find joy in everything she does. She said she's going to keep pranking and cracking jokes until the day she dies.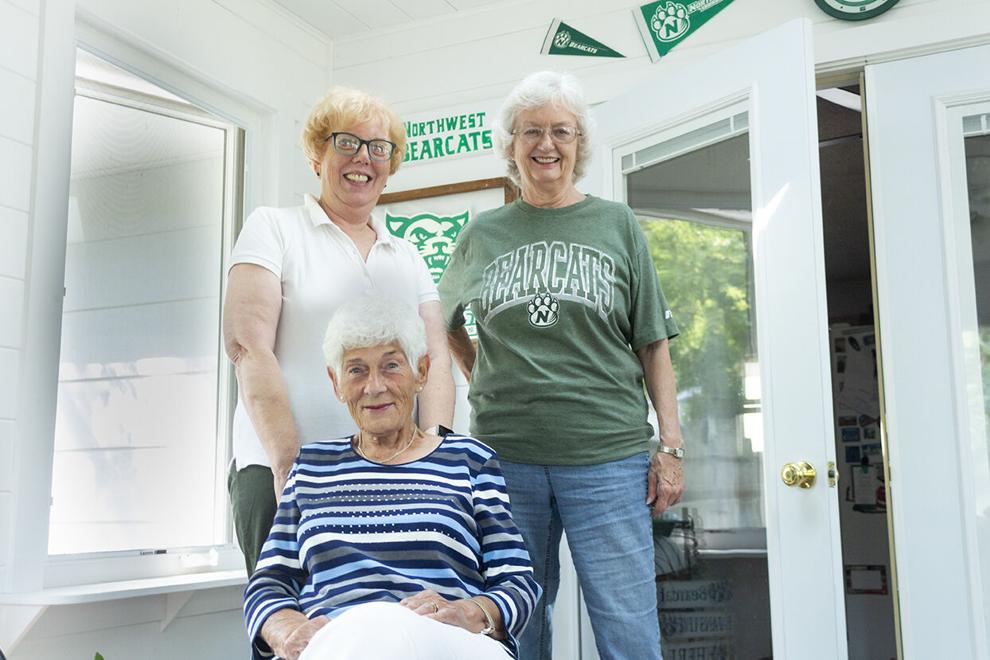 "I hope I've got such a big smile on my face that the undertaker can't even get it wiped off," Reeves said with a large grin. 
---
Girard is the group's Dorothy, mostly because of her tall frame and formerly blonde hair — she has since reverted to her now natural gray color.
Girard first moved to Maryville in sixth grade and graduated as a Spoofhound in 1960 before going to Northwest for college where she graduated in 1964.
"I had a good time and enjoyed college a lot," Girard said with a wry smile.
She briefly moved to Chicago after college, and in a path that mirrors Reeves, met her soon-to-be ex-husband and had a child before returning to northwest Missouri after some time. Once back, Girard got in contact with a person at Northwest she used to work for and got a job on campus. Girard worked at Northwest for 36 and a half years, serving as the registrar for 28 years. 
Now, Girard stays busy. Of course, she's always attending games and events at Northwest, but she also maintains positions on many boards. She's the current president of the Bearcat Booster Board, serves on the board for the Nodaway County Senior Center and just recently came off the board at the Nodaway County Historical Society.
When the Bearcat football team was in Alabama playing for the national title in 1998, Girard was one of the people that helped make sure the seniors on the team who were supposed to be graduating got the chance to do so. She helped organize sending caps and gowns to the team, a tradition that would carry on in Northwest's future title games.
Girard's trademark dry sense of humor and quick wit often make her the ideal "straight woman" role for the group, always ready to throw deadpan observations.
She echoes the same passion for Northwest that the other members of the Golden Girls feel. She bleeds green and becomes joyous seeing people succeed during and after their times at Northwest, she said.
---
Haste is the Rose of the group because of her farm girl background and love of animals.
Haste's connection to Northwest is through her children, with two of her three children continuing their education as Bearcats. She's also a lover of sports, mainly football and basketball, the latter of which she played in her high school days.
Living on farms in both Barnard, Missouri, and Maryville, Haste moved back to the center of Nodaway County in 2012 with her husband and first met Girard at the senior center.
Two years after the couple moved to Maryville, her husband passed. After that, Haste was adopted into the Golden Girl family and began attending games and birthday celebrations with the group.
For Haste, sports are about excitement, preferring to see Northwest win in a thrilling comeback than to win in a blowout.
"It's more exciting than a runaway game," Haste said with a chuckle.
The group's Rose has become a little more distant as of late because of her aforementioned new man. When asked whether it was true she left because of a man, Haste just laughed in response. 
She is engaged, and her new relationship has left her with less time to spend with the girls, but she still stays in touch. Haste still eats lunch with Girard and still plans to attend numerous Northwest sporting events, depending on weather.
Even if she attends less games with the other three, Haste will always have the birthday celebrations and come-from-behind wins to look back on, and she will always be a Northwest Golden Girl 
---
The pandemic was not easy for the Golden Girls. Each one recounted how crushed they were when the Division II tournament was first canceled in March. Reeves has bad heart valves, and the rest said they fell firmly in the at-risk category. The group was forced to take a hiatus from attending Northwest sporting events, giving up their season tickets for the most recent basketball season.
The women stayed in touch throughout the pandemic, though, often buying lunch and going to a park to sit and gossip, Corley said. The MIAA Network was their refuge, now forced to watch their beloved Bearcats on the screen rather than in person.
The group was vaccinated as soon as they were able, and Girard and Corley made the trek to Evansville, Indiana, to watch the men's basketball team win a championship.
Now, with sports beginning to resume with fans, the group will begin to make the journeys once again, from as close as campus to as far as South Dakota if needed to cheer on Northwest. 
"If there's some football player out there that needs a grandma-type lady to bring them cookies after the football games, they need to contact me," Corley said.
The cancellation of Northwest's home football opener against Lincoln dealt a small blow to those plans, but the Golden Girls will persevere. Reeves and Corley will make the trip to Warrensburg, Missouri, to watch their team take on the University of Central Missouri.
Even on off days, the Golden Girls will be with their favorite football team, having sponsored their own locker in the new locker room. Reeves joked she would like to commission a "sexy drawing" of the Golden Girls to hang above the locker.
For the games they can't attend, the group will gather to watch online as they did for the volleyball team's thrilling topple of No. 5 Tampa Bay over a week ago. 
It doesn't matter the sport, if Northwest is suiting up, the Golden Girls will be there cheering them on, in person or in spirit. And they'll also always be rooting against Missouri Western, which they have affectionately dubbed "Mo Worst."