The vibrant pink walls of the Mary Lynn Auditorium seem just a little less lively this semester. Every other row of the 1,000-seat theater is clothed in black cloth, as if mourning the loss of the crowds it used to hold. As mitigation efforts drastically limit audiences, the Northwest Department of Fine and Performing Arts must adapt to this new view and the myriad of new social-distancing practices.
Despite the unorthodox conditions, students and faculty are committed to making the best of the semester, Northwest Fine and Performing Arts Department Chair Kathryn Strickland said.
"We're all working hard to help our students and ourselves to shift our frame of mind, where we try to think less about what something is not and more about what it can and where we would be without it completely, because that is the only other option," Strickland said. "Make the best of the opportunity to sing together and play together. Yes, we miss the audience, of course, desperately, but in this day and age, there's a whole lot to be gained from what we can do."
In the spring 2020 semester, after weeks of preparation and expectation, all shows were suddenly halted. Choral director and vocal music professor Brian Lanier said it was a heartbreaking reality.
"All of our choral performances were cancelled in the spring.  It was very disappointing for everyone: students, conductors, audiences, families," Lanier said. "We were really making terrific progress toward the performances, and to have that taken away was very difficult."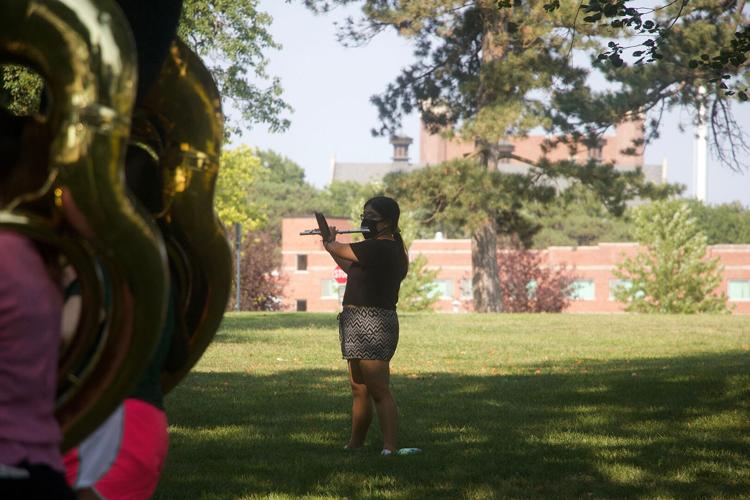 Faculty and staff met almost weekly over the summer to discuss mitigation efforts for the fall. They consulted research specific to the arts, met with officials from Northwest and other institutions and considered all the World Health Organization and Centers for Disease Control and Prevention recommendations.
While all academic departments must adjust to the circumstances of a pandemic, there are some challenges specific to fine and performing arts. Strickland outlined the primary concerns. For one, art often uses shared spaces, tools and equipment. Secondly, the arts are typically intended for an audience, and audiences are currently pretty "complicated," Strickland said. Lastly, singing, playing an instrument and enunciating in a theater production, all involve a lot of exhaling, something deemed particularly hazardous as the coronavirus spreads through respiratory droplets.
For starters, the department addressed the standard spacing, supplies and sanitation issues. All classes needed to social distance. Many groups and classes are divided into two separate rooms to be used simultaneously or one after the other. 
Fortunately, there's not a lot of competition for auditoriums right now with so few large gatherings. The Charles Johnson Theater is an asset, and the department began offering classes in the Ron Houston Center for Performing Arts Center as well. Large classes like Theater Appreciation were divided and moved into the Mary Lynn Auditorium, and even the PAC's lofted mezzanine is now equipped with desks and chairs.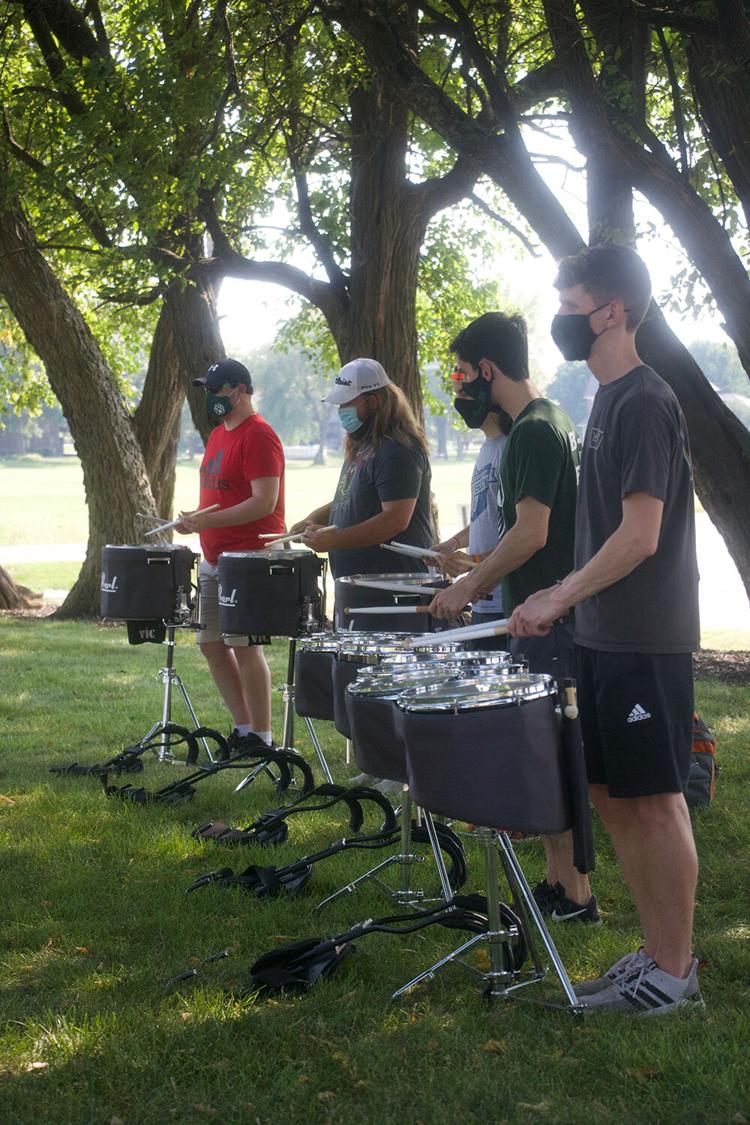 The heating, ventilation and air conditioning system was updated to increase the frequency of air turnover, as air is more quickly saturated when exhaling more intensely, such as when singing. Choir practices have been shortened to 30 minutes to ensure there's no oversaturation and to allow proper ventilation between groups. Air purifiers were installed in any room where singing or playing is done.
Northwest purchased more individual supply kits, so artists need not share. A generous use of Bearcat Thunder was implemented, except in areas where absolutely impossible. At 75% alcohol, Bearcat Thunder is highly flammable, so the Fire Arts Building, where pottery kilns and welding classes are located, found safe alternatives.
Next was the issue of masks, which pose a challenge when activities revolve around the use of the mouth. All choir singers now have what are informally called "duck masks." The masks resemble bills and protrude a couple inches out from the face, to allow for more jaw movement. The band uses masks with small slits in the center, where instruments can be inserted.
The theater department uses standard masks during all rehearsals, which theater professor Joe Kreizinger said is teaching them to display reactions and emotions in new ways. Clear-fronted masks are being considered for major performances. However, all scenes in the first play where actors may have been within 6 feet of one another were rewritten, so masks may not be necessary.
For the most part, there will be no live audiences at musical performances. Exceptions can be made for performances taking place outside, so potential outdoor concerts, pep rallies and festivals are in the planning stages. Theater will only allow a 10-person, invite-only audience. All performances will be livestreamed.
After months without performing alongside their classmates, senior music major and choral assistant Nicolas Zittritsch said students are simply ecstatic to be back, with or without an audience.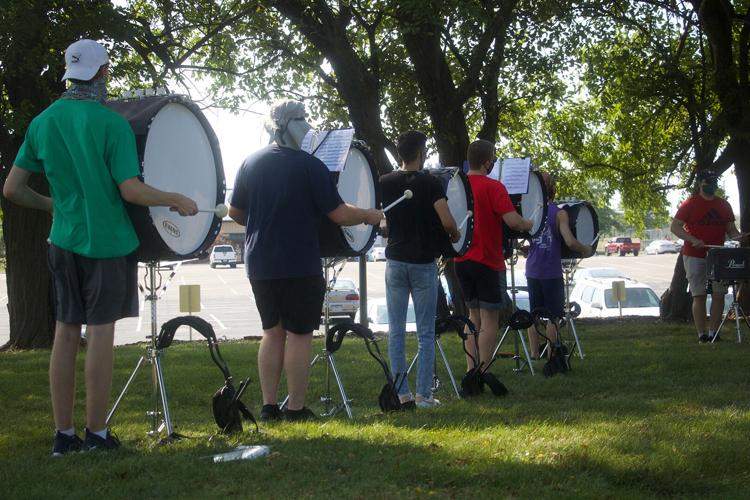 "The very first day we sang, everybody was just so relieved to be able to get together," Zittritsch said. "We might not be right next to each other, but we're all in the same room singing, and it brings a lot of joy, I think, to us and the directors."
Even with limited opportunities to see live productions, community members were grateful for the return of the arts students as well.
"We've had numerous … conversations with people who have said, 'I heard the band. I heard the drumline from my house, and it's never seemed more important than it does right now.' 'I heard the band lofting across campus, and I didn't realize how much I missed this, and it made me tear up,'" Strickland said. "We had a woman who stopped one of our tuba players and said, 'This is the first time I've heard live music since March, and it was just so wonderful.' So I think I encourage people to tune in, because it'll do their hearts some good."