As Jasper Logan described his views on the state of national politics from the basement of the Valk Center, the building that serves as the home to Northwest's political science department, the senior political science major was interrupted. 
Logan, one of the most visible conservative students on campus, was in the middle of his fourth semester as the president of Northwest College Republicans and in the middle of lamenting the loss of room for intellectual diversity within both major political parties when a passerby interjected. 
"So I don't think it's a good thing that some people are so scared of their own reelection that they change their view overnight, but I don't know what the solution to that is," Logan was saying, before Spencer Owens, the former president of the Northwest Missouri College Democrats, yelled across the entrance hall in the basement of Valk as he waited for the elevator to carry him one floor up. 
"Jasper," Owens said, turning away from the elevator and cuffing his hands around his mouth to project his voice through the nearly empty commonspace. "You talking about how you're voting for Biden?" 
"Nope," Logan said plainly, as the two broke into laughter. 
"Have a good one, Jasper," Owens said, stepping onto the elevator.
"You too," Logan said, before turning his attention back toward the issues gripping the country and campus with less than two weeks until voters will head to the polls and choose between President Donald Trump and former Vice President Joe Biden in one of the most contentious presidential elections in modern history. 
Logan, of course, was not talking about how he plans to vote for Biden. The card-carrying type of Republican who has worked for the Missouri Republican Party and was the campaign manager for Missouri House of Representatives candidate Tina Goodrick, Logan, 21, is voting for Trump. And Missouri Gov. Mike Parson. And he's voting "yes" on Missouri's Amendment 3. In fact, Northwest Missouri Conservatives, the political action committee Logan co-founded with Goodrick after she lost her primary bid for Missouri's District 9 Statehouse seat, is the largest financial giver to the "Yes on 3" cause in the state, he said. 
While he considers himself somewhere between conservative and libertarian on the political scale, Logan tends to vote a straight-Republican ticket. He said he believes the country's founders laid out the framework for a mostly libertarian society, but Libertarians don't win elections, he admitted. A native of Raytown, Missouri, and a registered voter in Jackson County, Logan could only recall voting for a Democrat once. 
"I voted for Frank White for county commissioner 'cause it was just him and a Green Party (candidate)," Logan said. "So I guess Democrat is better than Green." 
Logan's reluctance to cross the aisle isn't uncommon in the increasingly polarized political sphere surrounding the country. The divisive attitudes in American politics have been on display throughout 2020 in the form of presidential debates and political sign theft and vandalism, something Logan has experienced himself on Northwest's campus. The Trump sticker attached to his bumper and the campaign signs taped to his car's side doors are routinely ripped off, Logan said. Last year, someone stabbed his front tire on the driver's side.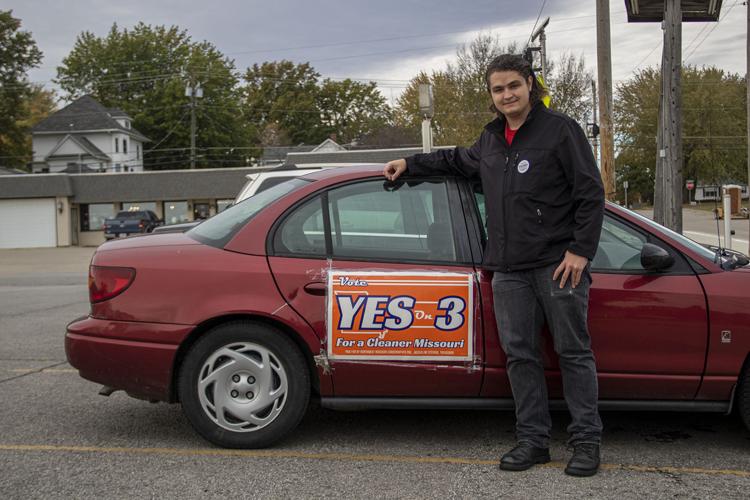 Still, as both party lines seem to be moving further away from the center, Logan hopes that course changes. The moment shared between him and Owens in Valk served as a microcosm for what Logan hopes both the country and campus could be: a place where political differences are celebrated and where political rivals can maintain a civil discourse. That's the America Logan hopes his generation leaves behind. It will not be the one it inherits. 
"It's more divided now than it has been in a long time," Logan said. 
Logan is leading a Republican group of students on what he described as an open-minded campus. He thinks there are more liberal students at Northwest than there are conservatives, but the gap isn't as wide as it is at schools like the University of Missouri, where right-winged friends of his seem to face some kind of protest every time they gather for a meeting, he said. 
But Logan is still among a minority in his age group and education demographic. A Pew Research Center examination of the 2016 election found that 58% of respondents in the 18-29 age range reported voting for Hilary Clinton, while only 28% said they cast their vote for Trump. The splits were similar among college-educated voters, 57% of whom voted for Clinton. 
It isn't exactly clear how Logan wound up believing in the ideals he believes in and voting for the candidates he votes for. As he sat in a red armchair in the basement of Valk, Logan wore a blue bandana as a face covering that often dipped below his nose as he spoke. The covering was tied around his gelled-back hair that tends to curl into a sort-of afro when he leaves it unkempt. He sported a red College Republicans T-shirt underneath a button-up flannel, itself buried beneath a heavy, black jacket that matched Logan's unbranded shoes: heavy and black. 
He never stopped to fiddle with the watch he purchased via eBay that was draped around his left wrist as he recalled the events that might have led him to the Republican Party in a low voice and deliberate cadence. 
Logan grew up in a mostly Democratic household amid a mostly Democratic suburb of a mostly Democratic city in one of the state's only Democratic counties. Logan's parents aren't very political, he said, but they tend to vote liberally. He guesses his draw to conservative ideals came from his love of history and reading at a young age, he said. As his elementary school classmates read from the "Captain Underpants" series, Logan remembers checking out heavier literature, namely the U.S. Constitution. 
Logan, of course, was a part of an intellectual minority then, as he combed through America's founding documents as an 8-year-old. And he's a part of a minority group again now, as a 21-year-old, college-educated voter who plans to cast a ballot this November for Trump. Logan maintains that the president has a "good shot" of winning the election, even as he trails by close to 10 points nationally. 
The longtime president of Northwest College Republicans doesn't necessarily buy into the idea that he's in the minority now, though. He's not convinced there are actually less young Republicans than there are young Democrats, attributing the common perception instead to a gap in enthusiasm, one he seems bent on erasing by himself. 
"People our age who are conservatives don't really want to talk about it, so then it makes us look like a smaller minority than we are," Logan said. "Everything in pop culture and the media is kind of making us look like the bad guys." 
Logan does not consider himself to be the bad guy. Even as members of both parties continue to radicalize, he seems to be on a mission to civilize. He recognizes wrong-doing on both sides of the aisle, and he pointed to Trump, who told a far-right political group to "stand by" at a recent presidential debate, as a symptom of polarization, rather than a catalyst. 
"You had, like, (Mitt) Romney and (John) McCain before him who were very civil, and they lost big, and they were still villainized by the opposing side, you know? Tried to call them racist and sexist and all this," Logan said. "Trump is the first one to push back against that, and he won. I think that it's kind of a symptom of the problem that was already there, but it's also exacerbating it." 
Set to graduate in May of an off-year, he has planned the first years of his adult life around election cycles with the intent to help people. Logan has done campaign work and field organizing for more than a half-dozen Republican candidates since 2018. He's on the executive board for the Missouri Federation of College Republicans. His political resume is 2 years old but already two pages long. 
As he tries to find ways to mobilize and energize conservative voters throughout much of this side of the state, Logan is doing the same within the confines of Northwest's campus, where the College Republicans gathered in the Valk Center Oct. 19 — 15 days before the presidential election — for the group's weekly meeting.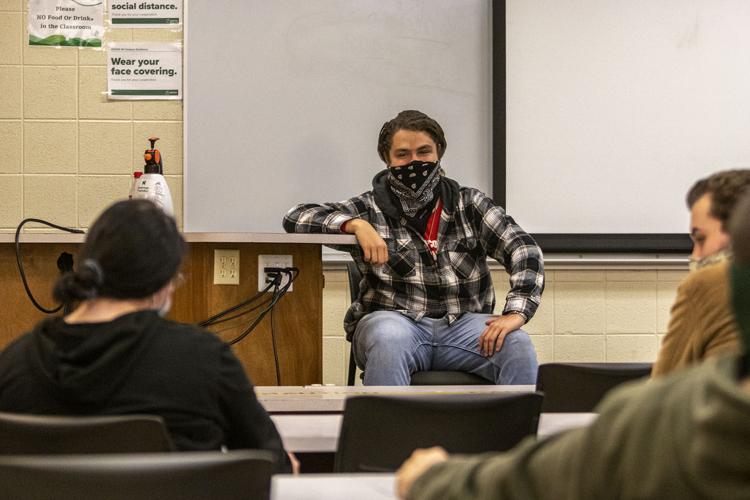 The group has grown since Logan took over the spring semester of his sophomore year, when there were 50 students on the organization's roster and only a handful showing up to weekly meetings. Now, Logan said, the roster sits near 300, with 20 to 30 students attending regularly. There were 11 at the group's Valk meeting Oct. 19, not including Logan, and they all seemed to lean in and listen as he softly spouted announcements from a pseudo-stage at the front of the classroom. But he seemed to listen, too, as much as or more than he talked. 
Logan listened quietly from the stage as a few of the group's members grumbled about the ridiculousness of microaggressions before the meeting formally started. He listened as a representative from Students for Life, Northwest's pro-life organization, made a pitch to those in attendance. Logan didn't insert himself often, and never did so loudly, though he was compelled to speak up after a member said there was "seriously something wrong with the motherf*****s" wanting to vote for Joe Biden. 
"You can't say that," Logan said, refusing to contribute to the incivility he would later lament.
The moment served as a depiction of the polarization that dominates the political landscape Logan is set to enter. Combined with another moment from the group's meeting, it reminded the departing president about what he's getting set to leave behind. He has worked for four semesters to build the largest chapter of College Republicans in Missouri, one, though, that seems dependent on his even-keeled presidency. 
More than 20 minutes into the largely informal meeting, one member in the front row half-jokingly wondered aloud what the group might do once Logan graduates next May. Abigail Shepherd, the only member of the College Republicans' executive board who isn't a senior, repeated the question, taking a more serious tone than the student before her. 
"Yeah, what are we gonna do when you graduate?" Shepherd said. "You're a senior, aren't you?" 
"Yeah," Logan replied slowly, as if drawing out the one-syllable word would soften the blow to Shepherd, who looked first around at a few of her peers, then back towards Logan, who sipped from a plastic Coke bottle, as if she was expecting him to provide an answer. 
"You're in charge," she said.