Warm light flickered across the face of Señor Burrito co-owner Eric Dickey as he took a long-awaited break in a booth across from the entrance of his business. The restaurant was quiet, only filled with the low hum of music and the chatter of three customers as they ate burritos prepared by Dickey's wife and fellow co-owner, Mónica. Though the business was still in the moment, it was probably the first time Eric was able to sit since the day started at 11 a.m.
This is a normal day at Señor Burrito, and it's been like this since the business' establishment in 2014.
"We're busy. We were swamped today," Eric said. "It's usually busy, but not like today."
Señor Burrito's lines are similar to those seen in popular amusement parks on a summer day: expansive. Maryville residents file out of the glass double doors with the goal of munching on homemade Colombian cuisine with a Maryville twist.
Of the food places in Maryville, five of them serve food inspired by or loosely related to Hispanic culture. However, Señor Burrito is the only one of those which finds its inspiration from the nation of Colombia. It's completely authentic and backed each time Mrs. Dickey speaks.
The Dickey matriarch was born in Colombia and has been in the United States for 14 years. She decided to come to America after meeting Eric and has stuck by his side since then. When she came to America, she brought her culinary skills and turned them into her main method of financial support.
"I learned all my life and worked in restaurants," Mónica said. "All the time, I was looking at the cookbook trying to memorize the recipes and everything. However, everything we have here, they don't have in Colombia, so I improvise."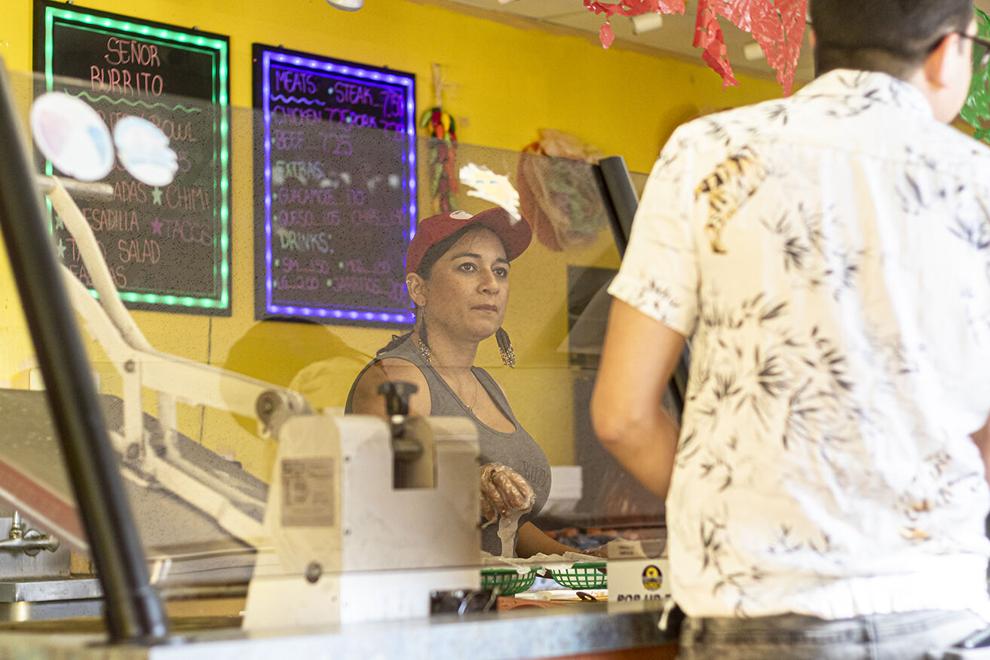 Both owners emphasized the fact that all food cooked is made in the back of the restaurant; every meat, head of lettuce, tomato slice or chopped onion. Everything that's served to the customers is prepared the day of, and they're very proud to admit that.
"Everything we have is cooked here," Eric said. "Nothing comes prepackaged or anything, we get our supplies from Restaurant Depot in Kansas City. I take pride in it. I mean, we buy quality meat, cook everything here and we have, I think, we have good food."
One of the things Señor Burrito is most known for might not be on the menu, but it's offered each time a customer enters the building. It isn't a special burrito or extra dip, but the service provided by Eric and Mónica Dickey.
"I'm proud of ourselves, I'm proud to say that we work very hard," Eric said. "You don't see a lot of places where the owners are the ones who are doing all the work. I take pride in the fact that we're the owners and we're here most of the time and we work hard for our business."
"I would like to think that they respect it and admire that," Eric said about his dedication to their business. "I don't know if people see that or not. I don't know if they care or not; I'd like to think they do."
Normally, you won't see owners of a restaurant on the frontlines working and providing directly for their customers. As for the Dickeys, though, it's common practice and their favorite part of operating Señor Burrito. They know the ins and outs of the food preparation and recipes because they practice it daily. Amidst a decline in workers, both have had to fill in the hours to make sure the business can survive.
Neither of them has an idea why workers have been avoiding working at one of the busiest local businesses in Maryville. Despite the workload stress the couple now bears, it alleviates a portion of the financial stress. With only his wife working beside him, Dickey has no worries finding a way to pay his employees.
Another strategy the Dickeys apply to save money can be seen in the business' unorthodox schedule.
McDonald's and Taco Bell are Maryville's premier late night meal locations. After midnight, lines wrap around both brick-and-mortars, especially during the weekend. Although McDonald's is open 24/7, its cross-street rival Taco Bell only keeps its drive-thru open until 1 a.m. For those who can't make it in time or don't want a Big Mac, there's little to none to choose from. This is when Señor Burrito capitalizes.
Señor Burrito's daytime hours are rather standard. From Monday to Thursday, the restaurant is open from 11 a.m. to 7:30 p.m. From Friday to Sunday, a second shift opens, one from midnight to 2 a.m. in order to account for the crowd who would unhappily order a Happy Meal.
"It wouldn't be cost effective for me to just stay open. I don't think we would be busy," Eric said. "I don't want to be paying anyone — I don't think I would find anybody to work those shifts either. If we had more business after 7 o'clock, I might consider staying open until 8 or a little later. But, we also have a family, and we need to spend time with them."
Family is important to the pair, and having two teenage daughters means a work-life balance is a necessity. Mónica and Eric like to do as much as they can to finish work so they can take care of them, and it's partially reflected in Señor Burrito's hours of operation. Although the two are constantly busy, Eric said he believes the hard work he puts in is making life better for his daughters.
"If you work hard in life, good things happen, and I think if you work hard, you can give your family a good life," Eric said. "We do a lot of things with our daughters. The good thing about owning a business is that we can close whenever to go on vacation. We can take them places, and we do that over Thanksgiving, a few days for Christmas and then again for the summer."
For Mónica, having to work helps support her daughters, but she often misses out on things she doesn't want to.
"It's not easy because I need more time to stay with them," Mónica said about her daughters. "Sometimes they have activities, go to the church — go everywhere. I have to say, 'I can't, I can't. I'm working.' It's not easy, but we try to spend some days with them."
For the Dickeys, traveling is their favorite way to come together as a family. Eric enjoys taking time off to travel and show his family various attractions across the country. After all, traveling brought him and his wife together in 2004, when he took a trip to simply visit some friends but found love instead.
Various memories are scattered throughout the photo section of Mónica's Facebook page. From Caesar's Palace Hotel in Las Vegas to drinks by the lake, the two have always found peace in the familiar unfamiliarity of new adventures.
Eric said the restaurant has experienced one of its best semesters ever, especially since the COVID-19 pandemic crippled many local businesses in Maryville. Much like the rest of the world, chaos engulfed the business as the pandemic cozied into the northwestern pocket of Missouri. However, the owners were steadfast to their craft and made the most of the customers they still attracted.
"During the pandemic, again, it was just the two of us," Eric said. "It hit us, and we just busted our tails. It was hard work for sure."
Having a schedule as busy as Eric's requires dedication. Not only does he have to spread his time between family and business, he also has to work around teaching Spanish at Northwest.
Eric explained that his business is marketed by word-of-mouth, but in the classroom, he separates his duties as a teacher and as a business owner. When he has class, he chooses not to say anything to promote his business. However, if it were to be brought up, he wouldn't shy away from the fact that Señor Burrito is owned by him.
"I certainly don't start class every day announcing the lunch specialty," Eric said. "When I'm not teaching or in office hours, I'm here. Sometimes people might expect something to be handed over in a silver plate, but you've got to work for it. Certainly by the end of the week, I'm tired."
Another tiresome week is closing in for the Dickeys, but there's no end in sight. With Homecoming approaching Oct. 29-31, a notoriously busy weekend for Señor Burrito, the business will continue to boom.
The influx of friends, family and late night activity will generate a line that could, quite possibly, wrap around Señor Burrito. A limited staff will be the main challenge, but Eric is optimistic about the upcoming expected overhaul.
"I'm scared right now, but we'll make it through," Eric said. "I mean, hard work. We have to get through it. Next Friday and Saturday are not going to be easy or fun, but we'll get through it."
The yellow building with a newly painted blue awning awaits the inevitable Homecoming horde but invites the challenge. Despite being one of the busiest semesters he's witnessed, the Dickeys wouldn't change things about Señor Burrito.
"I'm happy with the business," Eric said. "This is a family business. We're hard workers and everything is cooked here, it's authentic. I'm just proud."