The two men stood at the center of Bearcat Arena Feb. 8 in front of a crowd of close to 2,000 people, clad in dark green ceremonial gowns. They were perhaps overdressed for the pair of basketball games the arena hosted that day, but their outfits were appropriate for the commencement in between.
One man had spent more than four decades looking after the Northwest community, its well-being and development. He'd overseen a number of changes in the 2010s as a high-ranking official at the University. He'd dedicated his life to the realm of higher education and the students who occupied it. The other man was President John Jasinski.
Standing alongside Jasinski was Patrick Harr, who worked as a full-time physician in Maryville from 1974-2012, who had been a volunteer athletic trainer for Northwest Athletics and who had been vital to the Northwest community for most of his adult life.
But at this moment, in the middle of the court at Bearcat Arena Feb. 8, Jasinki's job seemed harder. While awarding Harr with an honorary doctorate of humane letters, only the second honorary degree handed out in Jaskinski's tenure as president, he had to put into words the reach of Harr's impact, one that Athletic Director Andy Peterson said couldn't be calculated.
Jasinski listed Harr's accomplishments in front of 1,712 fans at the arena, in front of Harr's family, coaches he's worked alongside, athletes he's cared for and fans who've cheered them on. Jasinski listed a number of awards Harr had won over the last few decades, within the medical field and outside of it. He listed a group of organizations Harr had worked with, a few that he served as the president of. And he eulogized Harr's time on Northwest's Board of Regents, where Harr served for seven years, five of which as the board's chair.
Under Harr's leadership, Jaskinski said, there was reduced debt and strengthened enrollment. There was the birth of several offices and professional schools. There were important campaigns launched and new facilities built — two of which bore Harr's last name.
"I think you get the point," Jasinski said.
After everything Harr had done for Northwest over the last four decades, the ceremony was Northwest's gift to him. It was a bucket-list item for the 75-year-old who had crossed everything else off. It was recognition of a job well done. The ceremony gave Harr, who had spent much of his life on Northwest's campus, a degree from the school that he dedicated much of his life to.
"Ladies and gentlemen," Jasinski said, "he now has a degree from Northwest Missouri State University."
Jasinski presented Harr with the honorary degree to the cadence of a standing ovation from the crowd at Bearcat Arena, an ovation that lasted for more than 30 seconds. Harr posed for pictures with his family at center court. And then he stayed for the men's basketball game that followed his own commencement because that's what Harr has done for the last 46 years.
"The thing that bothers me most is how fast it went by," Harr said.
---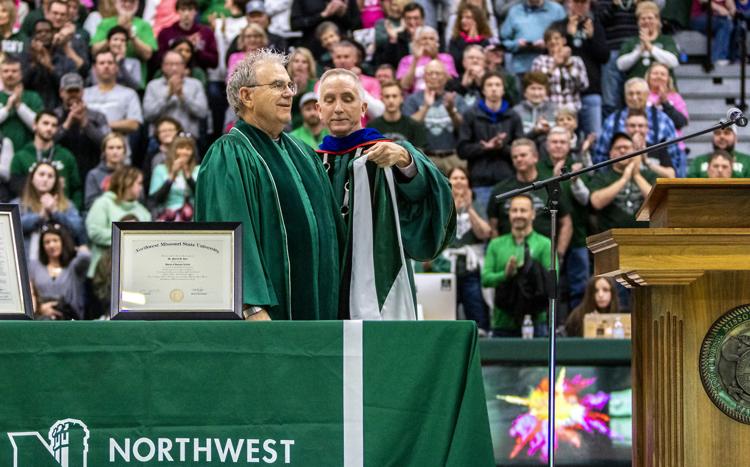 ---
Perhaps Harr was never officially a Bearcat until Feb. 8, but he'd been embedded into the fabric of the campus and community since he could talk. He spent more time on the campus than most graduates do by the time he'd finished junior high back when it was still called junior high. There was no such thing as middle school back then, Harr said.
Harr was born in Maryville in the mid-1940s and has left only intermittently since. The son of a former history professor, Harr started attending Horace Mann Laboratory School when he was 4 years old and didn't stop until after his sophomore year of high school when the University decided to close Horace Mann, forcing Harr and his classmates to transfer to Maryville High School.
"I never forgave the Board of Regents for that," Harr said.
And so Harr enrolled at Maryville High School, where he took a crop of classes that his dad wanted him to take, where he learned more about writing and English than he did anywhere else. He got so good at writing, he said, the former publisher of the Maryville Forum wanted him to combine his newfound talent with his lifelong interest, to be a medicinal reporter of some sort. Harr, though, didn't see a fit.
After graduating from Maryville in 1962, Harr enrolled at Northwest and studied on a pre-med track before transferring to the University of Missouri-Columbia after two years to pursue his medical degree, one he earned in 1969 before starting a three-year residency in Rochester, New York.
Harr's residency in New York led him to a two-year stint in the Air Force, stationed at a base in Florida. As a physician on a military base, Harr cared for legions of troops and their families. And as a physician in Florida, he was the primary care provider for thousands of retirees. Between the two demographics, there wasn't much he hadn't seen by the time he left Florida. His stint there, though, prepared him for what lied ahead, for professional life in Maryville, where he always knew he'd return.
There were athletes and families and plenty of retirees in Maryville when Harr returned in 1974 and joined a practice with the same physician who had cared for Harr's family growing up. And though his professors at Mizzou advised against it, he didn't have much interest in practicing medicine elsewhere.
"They always told us in med school, 'You can't go back to your hometown,'" Harr said. "And I was gonna prove 'em wrong."
In his 38 years as a full-time practicing physician, Harr experienced the highs and lows that come with being a practicing physician for 38 years. He delivered babies. He helped deliver miracles. And, at times, he had to deliver the worst news a waiting room full of loved ones could hear from a doctor who had done all he could.
There isn't much about being a physician that is easy, but for Harr, losing patients was the most difficult part of a demanding job. Doctors can't save everyone, Harr said, a fact he knew going in. But it took him a long time to come to terms with it. And perhaps he never fully did.
"It's like the antithesis of why you practice in the first place," Harr said. "And it took years and years and years to really not carry that — to (not) take the loss of a patient so personally. And you have to learn to let it go or it just consumes you and you end up leaving medicine. That's still — it's the most difficult thing to deal with."
At 75 years old, the worst of it is behind Harr. Though he still works weekly volunteer shifts at the walk-in clinic at Mosaic Life Care-Maryville, Harr stopped working as a full-time physician in 2012, focusing much of his professional life on his work with Northwest and Maryville High School Athletics, on what, for Harr, is the best of medicine.
For a retired man, Harr works a lot. He started in his role as the de facto team physician for every team in Maryville on Day 1 in 1974. He hasn't stopped working since.
Things, of course, are different now. They are easier. Harr is no longer logging 12 or 14 hours days like he did in the 70s and 80s and 90s and 2000s. He's no longer working around the clock to ensure the best care for his patients and for the city's athletes. But he is working nonetheless, usually driving to Maryville from his new permanent address at Table Rock Lake nearly every weekend during football and basketball season. He can't stand the thought of not being here.
This is what Harr has done for close to five decades. He doesn't miss games, or at least, he tries hard not to. He's been to more than 1,000 football and basketball games since he started working as the teams' doctor in the 70s. He hasn't missed many.
Even in retirement, even as a volunteer, Harr is constantly present. He treks to Maryville for the weekends in which the basketball teams play at home or he drives to wherever the Bearcats might be playing on the road.
He was on hand for Northwest football's first NCAA National Championship in 1998. He was there in Evansville, Indiana, when the men's basketball team won its second title last March. He has been present for each one of Northwest Athletics' eight national title victories, and he has the rings to prove it, though he only wears the most recent.
"My grandkids want me to wear all of them," Harr said. "But I don't think I could lift them."
Harr wore the ring from last year's championship along with a watch on each wrist as he recounted his life story in a tucked-away exam room beneath Bearcat Arena. He wore a collared black shirt commemorating the 2019 national title and a pair of green Adidas sneakers. He proudly repped the University that he'd just finally received a degree from.
For Harr, the setting was fitting. The exam room was hidden in the corner of the training room where he'd spent so much of his career. He'd logged countless hours there. He'd cared for thousands of athletes there. He'd counseled several trainers there. Everyone knew his name, though to most he is not Patrick, he is simply called "Doc Harr."
And after nearly a half-century of service, the work has still yet to fully catch up with the physician. At 75, he's mostly as energized at work as he's ever been, he said. Working with 18-to-22-year-olds has served as a fountain of youth, as a constant source of energy from a demographic that rarely lacks it.
"It's like medicine," Harr said.
Things, of course, have changed since Harr first started working with Northwest and Maryville athletes in the 70s. They have been changed for a while. Harr said he was caught off guard by the constant stream of rap music from the men's basketball team in the 90s. He preferred the Beach Boys, which seemed ancient to the players in the 90s, Harr said. He still prefers the Beach Boys.
Music has grown. Medicine has evolved. Technology has transformed. Coaching staffs have departed and new staffs have replaced them. A fresh crop of athletes cycle in every four years. So much has changed, Harr said, but some things haven't.
"Relationships with athletes stay the same," Harr said.
Harr's drive to provide care for athletes in northwest Missouri hasn't changed, but his physical wherewithal has. He doesn't feel the effects while he's working, he said, but they're evident when he goes home. He has slowed down in the last decade, retreating from the daily grind of a full-time physician, but has no plans to stop working, he said, in what, on the surface, seems like an ironic sentiment coming from a retiree.
Harr's logic, though, is two-fold lies beneath the surface. A part of his insistence on working, his perpetual presence on the sidelines of Northwest sporting events, is the joy and energy he derives from doing his job and watching athletes compete.
Another part of it comes from what Harr has lived through, what he probably shouldn't have. Harr survived a bout with colon cancer a decade ago, one that left him on life support for a full week after surgery, he said.
The close call left Harr, then still in his mid-60s, with a renewed outlook. It left him reenergized. At a moment when others may have chosen to step away from work, Harr attacked his volunteer position with more rigor than he had before.
"God wasn't finished with me," Harr said. "I must be here for a reason."
Harr said he wasn't sure what the reason might be, though the reason seemed evident in Bearcat Arena Feb. 8 as the physician stood next to those whose lives he had changed near the outskirts of the campus that he'd spent close to five decades helping fix.
---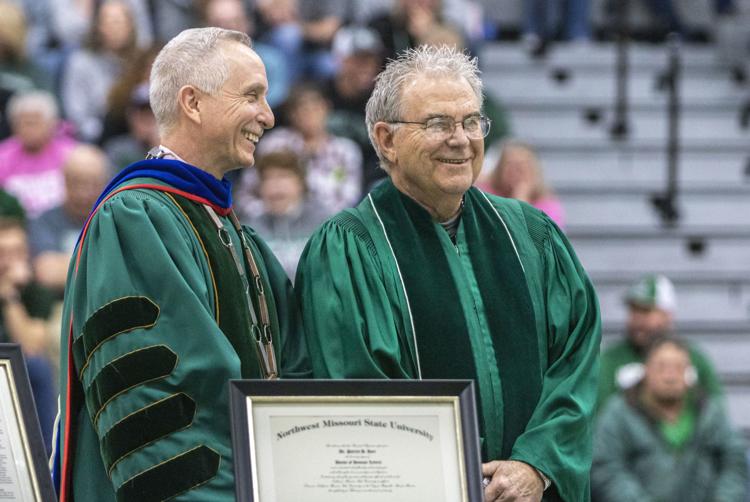 ---
There was Peterson, the athletic director who was a student-athlete in the 2000s. There was Head Athletic Trainer Kelly Quinlin, who Harr had mentored and whose mother worked as a nurse in Harr's private practice. There was former Head Athletic Trainer David Colt, who worked alongside Harr for close to three decades.
Separately, the three tried to orate the effect Harr has had on Northwest and its inhabitants. Collectively, they depicted it.
"No one in the history of Bearcat Athletics and this institution has had a larger impact on the lives of our athletes and our athletic department than Dr. Patrick B. Harr," Peterson said.
"We are forever grateful," Quinlin said. "And on a personal note, I'd just like to say how much you've touched my life and my family's lives and so many people that are here in this gym."
"When you have someone like Dr. Harr caring for the student-athlete, that student-athlete always wins," Colt said. "All I can say is thank you for being the best friend an athletic trainer could have."
In some ways, the ceremony served as a nod to Harr's service, a celebration of a job well done, though one not done yet. After 46 years of caring for and embedding himself into the lives of thousands of student-athletes, Harr is focused on Year 47.
Harr doesn't have any regrets, he said. He wishes that more people could live a professional life like the one he has lived. If he had a do-over, it would be to do it over. He is content and yet yearnful, pouring himself into Athletics, giving back to a community that he has not stopped looking after since 1974.
"If I could do for another 46 years, I would," Harr said.