Most people haven't seen the small scar that sits beneath Joel Osborn's left clavicle, the one he's worn beneath his collarbone for almost a decade now. When they look at his narrow face and overtired green eyes, they don't see the blemish that occupies the space a catheter once did. They don't grapple with the realities of life before and after cancer. They don't face the reminder that Osborn does each morning when he gets out of bed.
Osborn, who serves as the running backs and tight ends coach for Northwest's football program, sees it every day. He was 24 years old when he was first diagnosed with testicular cancer and when he had a tumor removed just weeks before Northwest's 2009 National semifinal game. He was on his honeymoon with his wife, Audrey, when his doctor left a voicemail telling him he had to start chemotherapy. He looks at the scar and remembers.
He remembers the first round of treatment, the one that required a trip to St. Joseph, Missouri, and six consecutive hours of intra-arterial chemotherapy that left the permanent scar in its wake. He remembers having to use the restroom every 15 minutes or so. He remembers spending the day reading books and watching movies with Ben McCollum, Northwest's men's basketball's head coach and Osborn's friend who went with to his first round of treatment.
"I could tell that there were people in there that were defeated," Osborn said. "But that wasn't me. I wasn't gonna let that happen."
Osborn remembers the gloom of the treatment facility that day, the sense of despair that consumed everyone else in the room. There is something depressing about a room full of people connected only by their dire situation, brought together only by their separate fights for life.
McCollum remembers something different.
"From that day, it seemed like there wasn't a thought that this wasn't gonna — he was gonna make it through it and be stronger for it," McCollum said. "It didn't feel like one of those depressing settings for him. Just feeling bad for everybody else was probably more what he felt, would be my guess."
Osborn's last bout with chemo came leading up to Northwest's rivalry matchup with Missouri Western in the midst of the 2010 season. He hadn't let his cancer or its treatment cause him to miss a single game. He'd only been sidelined for a few practices. But that all seemed at stake as he sat in his living room 20 minutes before kick-off, weak and fatigued. He didn't know if he was going to make it.
Osborn's wife helped him to his car and into the stadium. He found his seat in the coach's box as the national anthem came to a close. Northwest rolled to a 42-0 victory over the Griffons Oct. 2, 2010, a win the Bearcats still would have claimed had Osborn stayed home on his 25th birthday. He wasn't going to let his cancer dictate how he spent his Saturday.
"Why?" Osborn said, before answering his own question. "Because I had a goal of coaching every game."
---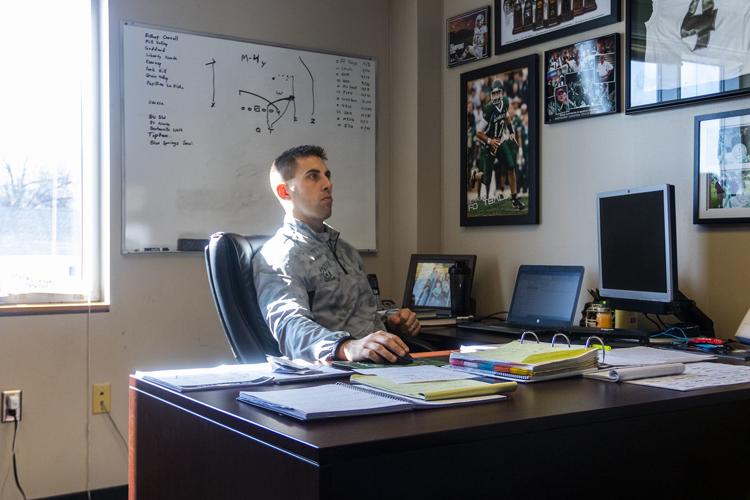 ---
Osborn recounted his fight with cancer from within his top-floor office at the Lamkin Activity Center, sitting near the southern edge of the campus he has called home for more than a decade. But the anecdote tells as much of Osborn as he does of it, the account of his struggle with the disease helping to depict the coach's place in the world he helps occupy.
Sitting at his well-kept desk in his spacious office, Osborn is surrounded by reminders. There are four commemorative footballs on a shelf across from his desk, each celebrating a national championship he was a part of. There's the 2008 Don Black award, the one Osborn earned for his performance in a homecoming win as Northwest's senior quarterback that year. There's a framed jersey from one championship, a framed photo from another. They are reminders of success.
But beyond his own office walls, there are more. There's Rich Wright's office, the last one in a row of them down the main corridor at Lamkin reserved for the team's head coach. And a few stops before Osborn's workspace, there's the office door of Todd Sturdy, who was hired to replace former co-offensive coordinator Charlie Flohr and who will take over the playcalling duties from Osborn next season.
---
---
At 32 years old, Osborn was the wide receivers coach and offensive play-caller for Northwest, a rising star at the helm of the offense of a storied program. Now, at 34 years old, Osborn has been effectively demoted. In his office chair, he sits firmly in adversity. He is steps away from the office he hopes one day to assume — that of a Division II head coach. And he is steps away from the duties he once held, grappling with the fact that he is no longer the co-offensive coordinator, his career-arc stunted in the only program he has ever known.
"It's very tough," Osborn said. "Yeah, absolutely, it's tough to — you have your ups and your downs."
At 8 a.m. Feb. 21, both neighboring offices sat empty while Osborn scoured over recruitment tapes early on a Friday morning, though he insisted he wasn't trying to outwork anyone. In the face of a professional hardship unlike one he's ever dealt with, he is trying to get better, he said. He's controlling what he can control, he said.
Osborn isn't new to charting a path through misfortune. He has been here before.
Born in the hospital his mother worked at in Atlantic, Iowa, Osborn spent much of his childhood growing up in Elk Horn, a smaller town 20 minutes north of his birthplace where his dad, Mitch, got his first coaching job as a 21-year-old graduate from Northwest.
After building a state championship-caliber basketball program in Elk Horn, Osborn's dad was offered a job at Pomeroy-Palmer High School to coach a consolidated team in northwest Iowa, where Osborn first met McCollum, who played for one of Pomeroy-Palmer's rivals in Storm Lake.
"His dad used to coach me — in camps, not coach coach," McCollum said. "Used to yell at me all the time. In the camp that I paid for."
After seven years of success at Pomeroy-Palmer, which included six trips to the state title game, the Osborns were uprooted again, this time by a job offer at Harlan High School, where Osborn's dad always wanted to coach and where he still coaches now.
Each move in Osborn's life, it seems, has been one based in sports. He was a passenger in his dad's career arc growing up, moving twice to greener pastures and better programs before he was 13 years old. Entering middle school in the wake of his family's move to Harlan, Osborn was briefly unconvinced. He didn't understand why they'd left the comfort of a powerhouse basketball school into the unknown.
But it was Harlan, Osborn said, that opened the door for his own success in athletics. It was Harlan where he decided football would become his livelihood. It was Harlan where he won three championships between his junior and senior years in each sport he played, bringing home trophies as a shortstop and a quarterback and a point guard on his dad's team. It was Harlan where he turned a double-play to seal the state title as a junior, where he led a last-minute two-score comeback on the gridiron in the title game and where he helped lead Harlan on a 19-0 scoring run to close out another state championship for his dad.
"I was hooked on Harlan sports," Osborn said.
But it was in Harlan, first, where Osborn learned about the heartbreak of sports, about how to lose and walk in humility.
Harlan's baseball team fell short in the state tournament the year before its championship run, losing a "tough game," Osborn said. As a sophomore, he threw an interception on the 10-yard line to end his team's season. All they needed was a field goal, he said. As a junior, Harlan was upset in the playoffs by Atlantic, a team the Cyclones hadn't lost to in 20 years, Osborn said. They lost the state basketball title game in Osborn's junior season after failing to get there the year before.
"We were right there," Osborn said.
---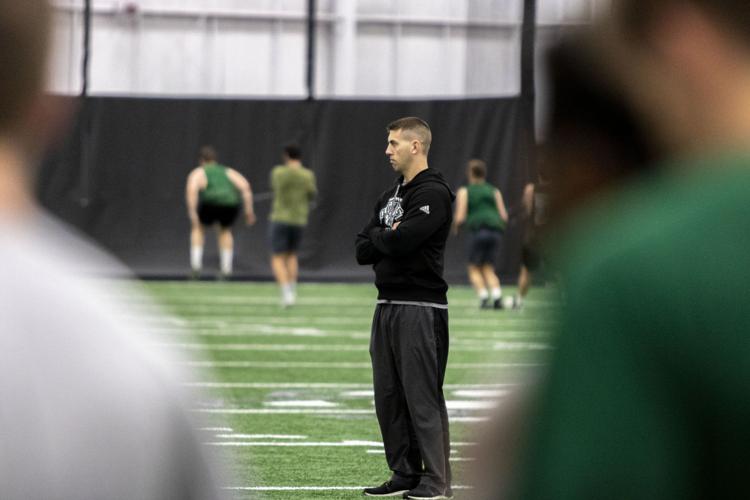 ---
Throughout Osborn's four years of high school, no team within a four-hour radius had won as many games as the Cyclones had across the three major sports, he said. And no team within a four-hour radius had suffered through as many near-misses, forcing down the realities of heartbreak in high school athletics and moving forward, swallowing the hard-to-swallow.
In some ways, the pain was and is the cost of admittance, opening the gates for something more. There isn't success without sacrifice. There isn't sacrifice without loss. Osborn failed in more gutwrenching playoff games than he won state championships. In heartache and introspection and long offseasons of work, Osborn paid the cost.
But was it worth it? Was the sensation that came with hoisting championship trophies worth the hours logged and games lost, worth the tears shed and the bus rides home after a season ended prematurely?
"Oh yeah," Osborn said. "Oh yeah. There's no doubt."
Graduating from Harlan in 2004 with offers from close to a dozen universities across two sports, Osborn mulled the opportunities at hand. There was North Dakota State, which offered the exposure of a Division I program making the transition to the FCS. But the school's five-year transition period, which barred it from competing for a championship, ruled it out. Osborn had won a lot in high school. He wanted to keep winning.
There was Nebraska-Kearney, too, which gave Osborn the best shot at playing on a championship-caliber basketball team, he said. But he wasn't sure he could play both football and basketball there. And he wasn't sure if he could win if he did.
And there was Northwest, his dad's alma mater. There was Mel Tjeersdma, the national champion coach leading the football program. There was Steve Tappmeyer, the Hall of Famer at the helm of the basketball team. There was a real opportunity, Osborn said, to play both sports at Northwest and win a championship in one of them. For him, the choice was easy.
"There wasn't a school that had done anything remotely close to what I did in high school," Osborn said. "Except for this football program."
The wins didn't come as easy in college. They came, of course. But they came at a higher cost.
The four seasons Osborn played after his redshirt year, from 2005 to 2008, the team made four consecutive appearances in the Division II National Championship game. Osborn watched from the sidelines as the Bearcats lost by less than a touchdown in both '05 and '06 to Grand Valley State before he saw the field in a championship matchup.
In his first year as a starter, Osborn led Northwest to a 12-2 record and a 5-point loss in the title game in 2007, a gutwrenching ending to a near-perfect season.
For Osborn, it was Harlan all over again. It was misery and heartache packaged together for a third consecutive year, this time amplified by his role as the starting quarterback. It was the dreaded end to a months-long season, one that came without a parade or a ring or an on-field celebration. It was the start to a long offseason, one he hoped would lead Northwest back to the title game. It was the cost he'd agreed to pay, one that had always been worth it with.
Osborn is the only quarterback in the program's history to start in two national championship games. And he's the only quarterback in the program's history to lose them both.
For a moment, Osborn said, it seemed like the 2008 National Championship might resolve the same way those kinds of games did at Harlan, with some miracle extending from the right arm of Joel Osborn. The Bearcats scored as the game neared its expiration to cut Minnesota-Duluth's lead to 7. They even converted a successful onside kick, Osborn said. There seemed to be a chance.
But the officiating crew mishandled the onside kick, Osborn said, or at least, they didn't see what the Bearcats saw — a player in Northwest green emerging with the ball in his hands. And so Duluth kept possession and milked the clock as the Bearcats watched another season, another shot at a national title, tick away. Osborn ended his collegiate career with a 7-point loss to a team Northwest was favored to beat. He'd paid the cost for four seasons. It had not been worth it.
"The one thing you're gonna find out, that we always tell our kids that you're gonna find out about life is — it's not always gonna go your way," Osborn said. "So are you gonna sit there and pout about it or are you gonna move on and learn from it? And I think if you do that, then there's nothing to be ashamed of."
Osborn moved on without moving anywhere. He stayed in Maryville, where he's been since. He became a graduate assistant and helped coach receivers. He helped coach a locker room full of his former teammates to a championship in 2009, finding the same success that eluded him for four years.
Osborn said he doesn't know if the championship win felt different than it would have as a player. He has no frame of reference for what it feels like as a player. And he hasn't given it much thought, either. He does not dwell. He deals with hardship and defeat with positivity and hustle. Both then and now, his answer to adversity has been to keep working.
"I think sometimes you can become a victim to things that are going on, and they can break you," McCollum said. "With him, that's not something that he's done. … Sometimes adversity can kind of be the ticket that you need to accomplish things that are a lot greater. And so I think that's one thing, that he's taken that approach."
---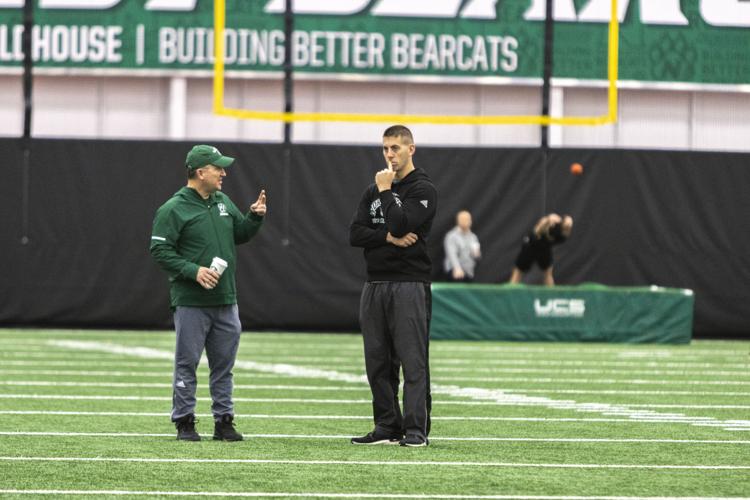 ---
And perhaps that's why Osborn was at work in his office at 8 a.m. Feb. 21, not trying to outwork anyone other than his own circumstance. With next season's schedule penned on a whiteboard behind his desk, he studied the film of various NFL games. He referenced one-off plays he called from months ago. He read offensive schemes like books, pulling phrases from the 11 assorted X's and O's, crafting play designs based solely on offensive formations, sipping on water infused with a pre-workout mixture.
Books about life and football line a stack of shelves in the corner of his office. There are self-help books by Jon Gordon, a motivational guru. There's the autobiography by legendary coach Bob Knight. There is the memoir from Super Bowl-winning quarterback Drew Brees, "Coming Back Stronger: Unleashing the Hidden Power of Adversity."
At a crossroads in the program where he has spent his whole career, Osborn appears to be doing that, a source of positivity in the wake of his own demotion. He greeted every person he walked by at Lamkin Activity Center Feb. 21, most of them by name. He asked how they were doing. He went out of his way to stop by the custodial office on the outskirts of Bearcat Arena, just to check in.
"They'll take care of you," Osborn said. "If you ever need something, they'll take care of you."
Osborn is charting his path forward by returning to his purpose. He's not hung up on the politics of coaching, on things he can't control. He has been here before. Facing adversity again, he is refusing to be victimized. He is making the best of it, he said.
Osborn is paying the cost. He's sure it will be worth it.