Award-winning poet Patrick Roche planned to be a teacher until he stumbled upon slam poetry. Now he can be found performing on college campuses to influence the impressionable minds of students in a positive way.
Students Activities Council invited students to interact with Roche at 7 p.m. Dec. 2 in the J.W. Jones Student Union Living Room. 
Roche writes many poems about his experiences with mental illness, poor body image, shame and other personal struggles and often performs on college campuses because he knows students are under a lot of stress and can be easily overwhelmed. He said educational environments are the best places to discuss these topics with students.
"Academic communities are extremely supportive and welcome, but they also have so much desire and possibility for progress and change," Roche said. "The same communities are so well equipped for moving forward and shifting the conversation and shifting social change around a whole range of issues."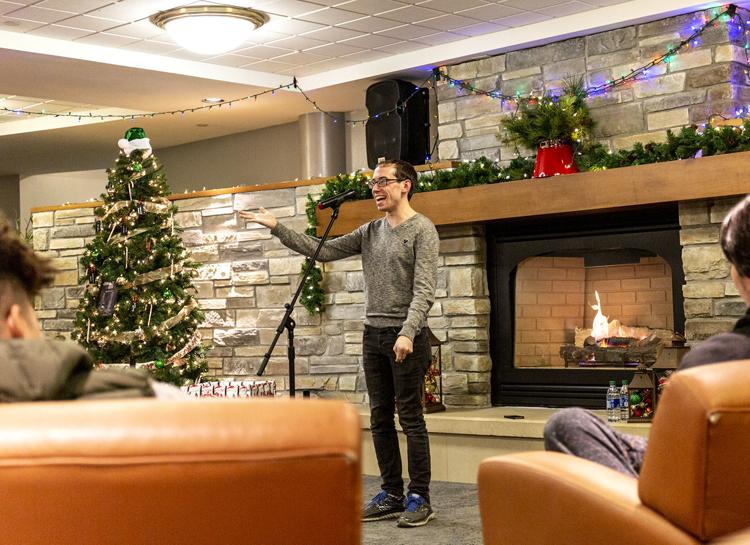 SAC Director of Special Events Programming sophomore Britney Poage wanted to have Roche on campus the week before finals to remind students it's normal to be stressed, and it's OK to talk about it. 
She chose to host the performance in the living room to create a more personal, intimate setting so attendees would feel more comfortable listening to taboo topics. 
"I definitely think (mental health) needs to be talked about a little more," Poage said. "I hope students gain either ways to cope or ways to deal with anxiety or stress or just have fun. … It might seem overwhelming, but this can be, whether it's just an hour here, a place where they can unleash that and know that they're not alone."
Some of Roche's poems addressed shame. He talked about how students statistically don't seek help for their mental health issues because they feel ashamed. One goal he has for his work is to start a dialogue about taboo topics and discuss them openly, which he said is one of the most effective ways to combat that shame.
"If I can help spark that (conversation) and rip that band-aid off by presenting some of these issues through my experiences, my work and my performance, then I feel like I've done my job and I've contributed and hopefully helped kickstart some positive change in how some people understand and discuss some of these issues," Roche said. 
Roche encouraged the audience members to embrace vulnerability and be honest with themselves and with people around them, whether it be through their writing or everyday conversations, because it allows them to have a better understanding of themselves. 
"When there's a lack of vulnerability, there's often a lack of genuine human emotion and connection there," Roche said. "It's a challenge I pose to everyone just because it leads to a lot of personal growth, and it strengthens all of your relationships, and it creates genuine human connection where otherwise there might be something holding you back because you're not being truthful about how you're feeling or who you are."
Roche seeks to make connections with his audience when he shares his work. One of the things he likes most about performing spoken word is how interactive it is. He encouraged students to talk to him after his performance.
"I really like to make this full-circle. I mentioned that I really like to use my work as a way of starting conversations, and that only becomes a complete two way street when I'm able to talk to everyone after. I really feel like I gained a lot from all of my interactions," Roche said.
Freshman Hunter Gerriets spoke to Roche afterward to thank him for his performance. He said it's important to show poets that he was listening and cares about the art they shared. Gerriets is a slam poet and likes to see live poetry to find techniques to incorporate into his own poetry.
"I definitely enjoyed his personality, the way he interacted with the audience and how he was just not afraid to be himself, and you got a connection there," Gerriets said. "I think he really pulled you in with his poems and the poems spoke for themselves."