In 1979, Chris Hughes was a senior in Red Oak, Iowa, and had applied for only one college.
Between the two options of Iowa State or Northwest, he chose Northwest because of one man.
"I was pushing a grocery cart and all of a sudden, the Blue Angels come flying over the water tower in formation — all six of them," Hughes said. "Just scared the bejesus out of me and then they started putting on an air show over Red Oak, and I'm standing in the parking lot like, 'What the hell's going on?'"
Hughes, 58, leaned forward in his chair as he recounted his story with a wide smile.
"And someone goes like, 'Oh, that's Denny Sapp,'" Hughes said. "And I go, 'Who the heck is Denny Sapp?' I mean I had only lived there for a couple months."
"Then I met people who knew him, and he's a Bearcat," Hughes said.
Hughes later ran into Sapp at a function where Sapp asked him, "Where you going to go to school?"
"Well, I'm thinking about Iowa State or Maryville," Hughes said. "He goes, 'Don't waste your time at Iowa State. … You got to go to Northwest."
Hughes said he only applied at one place and drove down to Northwest once before officially deciding he was going to be a Bearcat. As for joining his fraternity, Sapp also influenced that decision.
"I'm over at the Phi Sig house, and he comes walking up and he goes, 'Well, you thinking about pledging?'" Hughes said. "And I said, 'Well, I'm thinking about this or Delta Chi,' and he goes, 'Don't be an idiot. Pledge here. This is the best fraternity on campus.' And I go, 'Yes, sir,' and I pledged to that fraternity."
The same story could be said for the reason he got into the military. After being asked if he knew what he was going to do with his life, Sapp told him to "join ROTC, be an officer, what are you, an idiot?"
And Hughes once again replied with, "Yes, sir," and promptly joined the ROTC.
For Hughes, Sapp was the man he looked up to when it came to making some of his major life decisions.
"I'm really humbled, I will say that," Sapp said. "I feel like I've had some input on other kids. He's probably the closest that I've ever known that I've had an impact to."
While Hughes remembers Sapp from the first time they met, the same could not be said for Sapp. With the near 20 year age difference, Sapp said the first time he recalled Hughes' name was when he was working on Delta Airlines, and he happened to read an article about Hughes in USA Today.
After graduating from Northwest in 1983, Hughes wouldn't find himself back for another 36 years.
It wasn't until many years after college, when Hughes was a Grand Marshall at a parade on Junctions Day in Red Oak, which is at the end of June every year, that Sapp recalls meeting him for the first time.
"He was walking around the parade, leading the parade with his uniform on and everything, and I'm standing on the side there and I hollered at him," Sapp said. "He was aware of me, I guess, and he said, 'We need to talk.'"
Through this small interaction, they were able to meet the next day at Stanton, Iowa, for lunch, where their friendship began.
While college life helped shape Hughes, it wasn't until he joined the Army that he began developing the skill sets he uses to this day in both his work life and his daily life.
Hughes said he had very average grades in both high school and college. He wasn't a straight A, 4.0 GPA kind of person. He just couldn't wrap his mind around the purpose of an outline. He said he used to take hours staring at a piece of paper, waiting for some unknown, eye-catching quote to start it off.
In one of his early Army schools, he was tested and told what his weaknesses were. 
"My weakness was writing, and my weakness was my analytics," Hughes said. "So they took me to these advanced classes where I learned the 'Five Whys' and where I learned how to mind map. As soon as I started mind mapping, the world just went, 'Hey, that makes perfect sense to me.'"
Mind maps are simply diagrams used to organize information in a visual manner showing all parts of a whole and the relationship between each piece. It typically focuses on one concept.
For Hughes, mind mapping was "life changing" and is one of his favorite visual concepts to share with his students.
After graduating from Northwest and officially retiring from the Army, Hughes said he never thought, "in a million years," he would be working at his alma mater.
It was through his work as the first provost at the Army University in Fort Leavenworth, Kansas, that he began on his path back to Northwest.
"While I was there, of course, being so close to home for the first time, I got thrilled thinking, 'Wow, we'll be working with universities and relationships,'" Hughes said.
Hughes looked into various universities that were around the area such as Kansas State University, the University of Kansas and the University of Missouri. Each of the higher education institutions he looked into had a relationship with the Army University, except for Northwest, his alma mater, which was a mere 62 miles north. 
Thus he began reaching out to President John Jasinski. This began his connection with Northwest on an administrative level.  Through his connections with the school and after he had retired from the Army, Hughes took his position as executive-in-residence.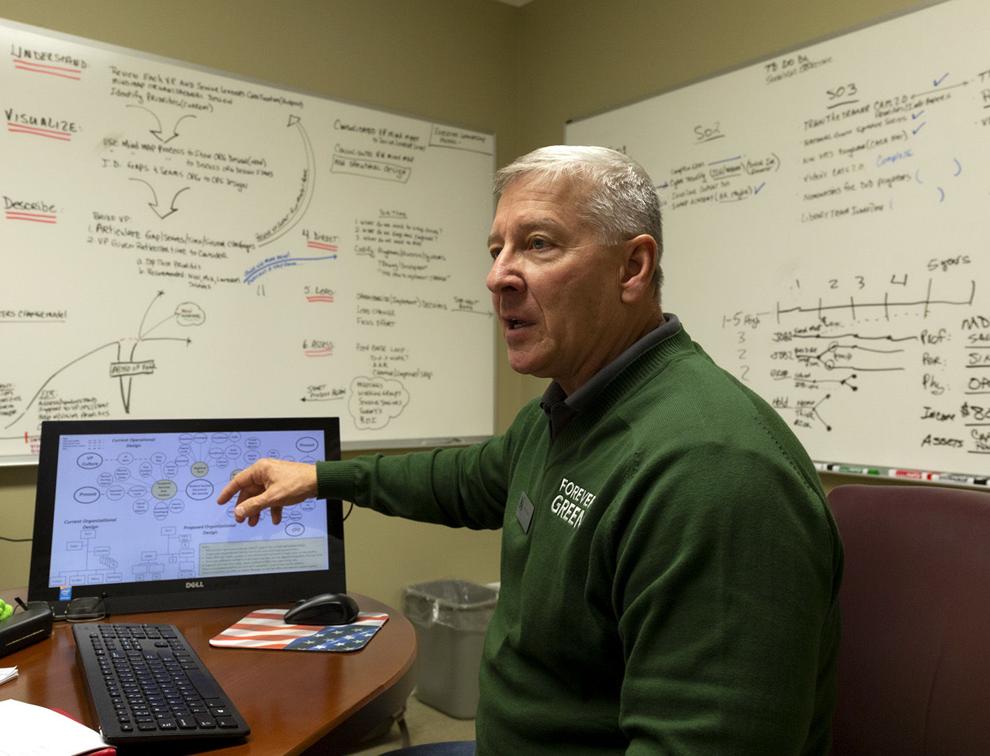 "During those years of discussion, Dr. Jasinki and I started talking about how I can give back, how I can help," Hughes said. "And you know soldiers don't make a lot of money, so I don't have big pockets to give you guys. But if it was helpful, I would be happy to come back and spend a year or two and see if I can make a positive influence on my alma mater."
Even though Hughes works about an hour and 22 minutes from his home outside Red Oak, Iowa, he doesn't mind the long drive as long as his wife, Marguerite, is happy.
"It's Marguerite's 37th home since leaving Northwest," Hughes said. "Military life is hard on a family. I have no problem driving everyday so Marguerite gets her dream home."
Hughes office, which is nestled in the President's Office of the Administration Building, has four large dry erase boards decorating his walls with the addition of a smaller rollaway board.
"I love dry erase boards, obviously," Hughes said.
With each day, new ideas and plans accumulate on the pristine white boards, depicting mind maps, topics on emotional intelligence, operational organization design and "cutting the corner" concepts.
As executive-in-residence, Hughes enjoys helping students plan their career paths after college along with planning leadership lessons.
"They seek professional mentorship with me, and I keep them in the queue, and we come in here on a routine basis," Hughes said. "I've put a couple in medical school, a couple in dental school, one kid in pharmacy school. It's what I do. It's fun. I enjoy being around you guys because I used to be you."
Senior Zachary Waterbury is one such student Hughes has helped.
Waterbury, who is from Ogden, Iowa, said he feels connected with Hughes since they both come from small towns, have attended Northwest, are in the same fraternity and even have strong roots within the military, since Waterbury grew up in a military family.
While Waterbury was intimidated at first by Hughes, once he got to know him more, he seemed more down to Earth. With aspirations to be a dentist, Waterbury sought advice from Hughes about his interview for dental school.
Waterbury said he is grateful for Hughes since he did not have to help Waterbury with the interview at all. Instead of dismissing him, Hughes took it upon himself to meet up with Waterbury at least once every week to discuss interview etiquette, general topics such as morality and how to get organized better.
"He is probably one of the most caring and selfless people I've ever met. He took me out to dinner and paid for fillet mignon," Waterbury said. "Like dude, I'm OK with a ribeye or something cheap. … He could have just went home and retired, but he decided to help everyone here out."
Through the weekly meetings about interview questions, taking notes, asking questions after the interview and sending out thank you letters, Waterbury soaked it all in. The day of his interview came Sept. 25, and he felt prepared and confident in himself and his ability to relay his story thanks to Hughes.
"I have to wait till December, but he's been asking me for updates like, 'How did it go?' He was mad I didn't call him right away," Waterbury said. "I was calling my parents first, but yeah. He's been trying to hook me up with a dentist in Red Oak to see if I want to take over. … He believes in me more than I do. He's more confident than I was so it felt good when he said, 'Oh, you're going to do good.'"