When students first arrive on campus, they are often in need of some direction. The 29th Annual Freshman/Transfer Showcase, "Directions," provided that to any freshman or transfer student eager to get their foot in the door at Theatre Northwest Sept. 26-29.
"For many of our newest performers and technicians, their participation in this show might just give them a necessary, but gentle 'push' in their own personal 'right directions,' one that will lead them to be successful theatre professionals," director and fine and performing arts professor Joe Kreizinger said in the show's program.
Just because this is the performers' first show at Northwest, it doesn't mean they are inexperienced. Many, like freshman actor Elizabeth Palmer, used the show simply as a first opportunity to return to the familiarity of the stage since high school. 
"I liked jumping straight back into it, because when I'm not doing theater-related things, it's kind of weird at this point because I've just been in so many," Palmer said.
The freshmen and transfer students, including freshman theater performance major Lydia Baum, demonstrated a passion and drive for theater through their committed portrayals. Baum said her goal is to be "as true as possible to the character and experience" in every role, including this first role at Northwest.
"I'm a theater performance major, so I want to perform, basically, for the rest of my life," Baum said. "So when I found out their theater department was so strong, I was really excited to participate." 
The audience's laughter, sighs and one audible "what the f---" revealed their immersion into the vivid scenes created by the writers' visions and the actors' dedicated performances.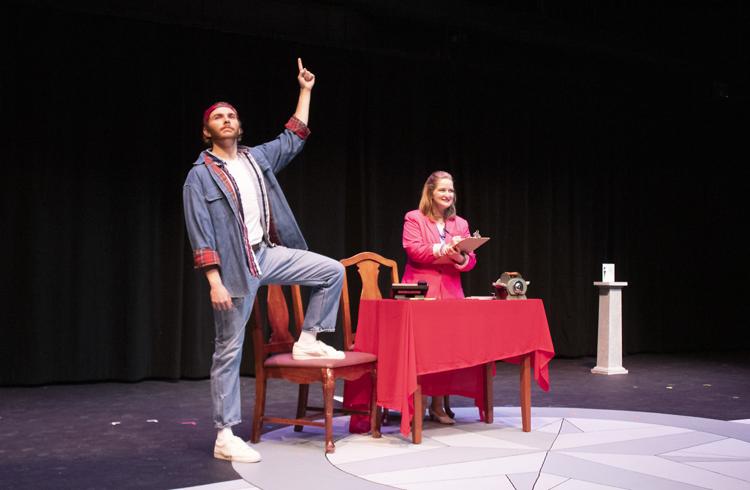 The show consisted of nine individual scenes, each written by upperclassmen students in fine and performing arts professor Theophil Ross' spring 2019 play writing course. It was only the third time the showcase utilized student-written plays in its nearly 30-year history. 
Kreizinger said it was an easy decision to feature the student's work, but a difficult decision to determine which plays would be used. 
"I saw how challenging and rich they were and felt it would provide an excellent experience for not just those involved in the freshman/transfer show but for the playwrights themselves," Kreizinger said. "The plays I chose were from a larger set of plays and monologues written by that play writing class. One of the first difficult steps for me as director was to decide which of the excellent plays to use."
These students got to see their creation come to life, and some actors got to work alongside their playwrights, a rare treat for the actors and writers. With the pleasure of interacting with playwrights, also came added pressure.
"It kind of made me a little nervous, because I was like, 'OK, hopefully I can portray this character the way the writer was thinking,'" Palmer said. "It's completely different having them actually sitting there watching it — a lot more pressure."
The scenes, consisting of four monologues and five dialogues, were entwined by the shared focus on the character's choice or change of direction in their lives. Scenes depicted everything from comical wedding toasts and failed attempts at matchmaking to heart-wrenching tales of past relationship trauma and overcoming the loss of a loved one. 
Subtle elements, such as interlude music and small set details, brought the pieces together. Over the course of the show, a small pillar moved around the eight points of a  large compass painted on the center of the stage. With each scene, a single prop related the scene was placed on top of the short pillar, such as a brick, bottle of champagne or vinyl record.   
The characters' choices of direction paralleled how the play pushed the students in the direction of their theatrical futures. 
"The theme (directions) also, I believe, reflects the significance of the freshman/transfer show to to 'direction' our students will pursue," Kreizinger said. "Our theatre program focuses on performance-based learning, and each student involved served in multiple capacities, met students with a variety of specializations, and I hope started to ponder opportunities they would have in internships, and soon, the work force."