Two people. 80 minutes. Nonstop dialogue and an emotional rollercoaster. Theatre Northwest's Feb. 14-15 production of "Glass" by Michael Aman was a true feat for many reasons.
The play revolved around the fictional encounter between Tennessee Williams, the playwright of "The Glass Menagerie," and Laurette Taylor, the play's original lead, on the opening night of "The Glass Menagerie" in 1944. The conversation is both progressively intense and emotionally intimate as the two delve into their respective fears: Taylor's fear of being unknown and Williams' fear of failure, by his own doing or her's.
With only one act, two actors and a dressing-room set no larger than a dorm room in Hudson-Perrin Residence Halls, the play seems simplistic. The actors, however, attested that it was anything but. Both actors memorized more lines than they had ever done for any other production. They also did so in about three weeks.
Junior Wyatt Cooper, who played Williams, laughed uncontrollably at the idea of even trying to summarize the difficulties and complications of a two-person show.
"Oh, boy, let me tell you," Cooper said. "Being a two-person show means that each person has about half the lines. ... Learning that in a short amount of time is hard. And when it's only the two of you, that means you can only have each other to count on during the show."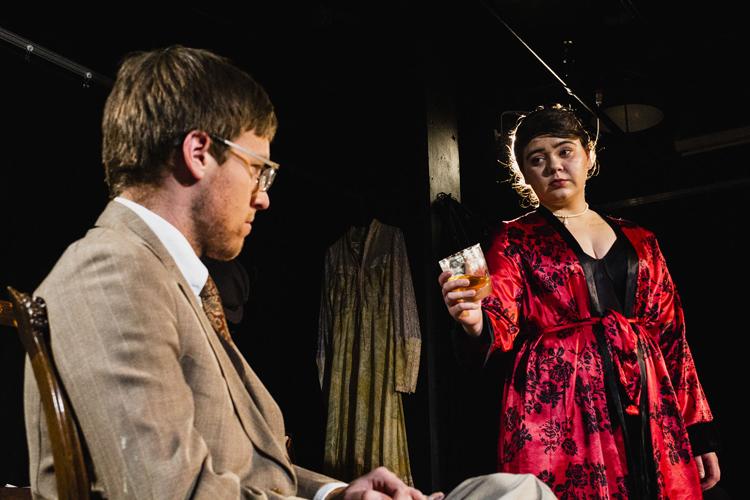 The pair had a shorter time table than normal for a show of this size. The first week of rehearsals was canceled due to the Kennedy Center American College Theater Festival and the University Resident Theater Association, which stole four members of the cast and crew.
Fortunately, the two had some preexisting chemistry from acting together in a previous production, senior Sydney Martin, who played Taylor, said.
"We've done a show together before too, so it's a little bit easier for us because we're comfortable with each other's acting styles/abilities, so we know kind of how to catch each other," Martin said.
The cast had to overcome the additional challenge of low attendance, which director, senior Hannah Jahal attributed to the show's unfortunate timing on Valentine's Day weekend. On opening night, Feb. 14, there were eight audience members sitting in the Black Box Theater in the Ron Houston Center for Performing Arts. The following night drew about ten.
"I knew we were going to have a small audience; I think at the beginning it kind of threw me off with how few people were here," Cooper said. "Playing off the energy of the audience is always a pretty important part of acting, I would say. It's really hard when there's an audience that's so small and self-conscious of themselves that I don't think that even they know when to laugh."
The location was a change resulting from unanticipated circumstances as well. The show was also originally meant to be another play altogether, but it was changed to account for casting constraints, with many of the usual assets participating in the 30-person play scheduled for Feb. 21-23.
An obstacle with the chosen play itself, "Glass," is its deep-seeded connection to "The Glass Menagerie." The first 20 minutes, and many other allusions throughout, rely on an assumption of the audience's familiarity with "The Glass Menagerie," Jahal said.