Kirayle Jones stood before the distanced roundtables in an Oregon sweatshirt, black shorts and a mask. He was talking not only to the senators loosely clustered around the tables but to a laptop sitting on a chair that was the vessel to the online patrons of the meeting. It wasn't the presidential experience Jones envisioned, but he is determined to make the most of it.
The president of the most powerful student organization on campus decided to attend Northwest because of early hands-on experience and a chicken sandwich with curly fries. 
"It was kind of a last-minute decision actually," Jones said of deciding to become a Bearcat.
He first became interested in Northwest because some friends from his high school —  Skutt Catholic High School in Omaha, Nebraska —  were interested in possibly joining the football team. So, after a positive experience on the first floor of the Union on a campus tour, where he learned that as an education major he would be able to get in the classroom early on in his freshman year, Jones's fate was sealed. 
Jones seemingly made a practice run at his current position as student ambassador before officially becoming a Bearcat by convincing his high school friend and golf teammate Ryley Schumacher to follow him to Maryville. Schumacher and Jones have been roommates since their first semester where the two resided in Hudson 423.
A person with Jones's resume has to love Northwest. He is an ambassador, member of of Student Senate at Northwest, involved in Greek Life and Homecoming royalty. The love for Northwest didn't come automatically, however.
Jones first moved in as a part of the TRIO program, meaning he arrived about a week before most other students. He described the campus and his experience in that first week as bland and boring. He didn't quite feel at home yet, but that eventually changed when other Bearcats began populating Northwest.
"Then that's when I was like, 'Wow, college is amazing,'" Jones said.
Jones, like many freshmen, was determined to get involved and dove headlong into activities. He came in with the notion that he wanted to be in Greek Life and had already had a connection to Sigma Tau Gamma. Schumacher's sister's boyfriend was the president of the fraternity at the time, so Jones and Schumacher were determined to check it out but wanted to keep their options open.
"We wanted to see which (fraternity) would be more inviting," Jones said. "It was kinda like a real family-like and brotherhood feeling. I can say that I felt something like that at the other fraternities, but it was different at Sig Tau."
With one part of his Northwest career already cemented, another was beginning to set as well.
Jones was involved with the student government at Skutt Catholic and wanted to continue that at Northwest. He attended a Senate meeting shortly before the first round of elections of that semester, and he was enthralled.
"You could see everybody giving their reports and everybody was so invested in their organization and college life, per se," Jones said.. "This is something I wanted to do." 
Jones ran for a freshman representative position, and as is typical with elections he is competing in, he won and made a prophetic statement shortly after. 
"I remember vividly saying once I got elected as the freshman rep, 'I'm going to be president someday,'" Jones said.
"Once he gets his head into something, it's hard to stop him," Schumacher said.
Jones, however, was not satisfied with his role as a freshman representative. He was grateful for the opportunity but felt as though he was only scratching the surface of what he could do in Student Senate. He was really attempting to put himself out there and make it known that he was invested in this organization Jones said. He was willing to snatch up any extra duties that could have been given to him.
"He definitely took Student Senate most seriously out of anything," Schumacher said. "That was his number one priority besides class."
For his sophomore year, Jones decided to take the step towards more responsibility and become a committee chair. This provided him with the opportunity to be more hands-on, which he craved.
Jones was the co-chair of Government Affairs. Through this, he got the opportunity to travel to Jefferson City and lobby on behalf of higher education, an opportunity which Jones described as "amazing." During the same year, in a rare election moment for Jones, he ran for secretary but his ticket was unsuccessful.
Going into his junior year, he knew he would need to move up the ladder in order to make his prophecy come true, so he ran for vice president under Asma Hassan. Hassan had been someone that Jones knew of but didn't know well. She was an SI for his government class and was a prominent member of Student Senate during Jones's first two years in the organization. Jones was the one who approached her about running as her vice president, and Hassan ultimately decided to add him to the ticket.
"She was like the captain. She knew how she wanted to steer the ship and she just would relay it to me and I would relay it to the cabinet," Jones said. "She was great at delegating. That's what you have to be good at as president."
Assan allowed Jones to work from his strengths, Jones said. 
"I loved talking," Jones said.
As Vice President, Jones described himself as a mouthpiece for Student Senate. He cherished getting to interact with organizations and others in Student Senate. Bailey Hendrickson, current Student Senate secretary, has seen that carry into his presidency.
"He is very intentional with each of his members," said Hendrickson. "He makes sure that even though he's super busy, he still has time to make sure every person feels comfortable and knows what they are doing."
The next step was obvious and one that was six semesters in the making. Jones ran for president unopposed. Competition would have been preferred, Jones said, and while the results of the election were expected, the swearing-in process was all but normal.
A Ballroom filled with emotions and senators was replaced with a virtual swearing-in process via Zoom, a platform that would become all too familiar to Jones and his fellow senators. Jones was concerned with whether in-person classes would resume at all let alone whether he would be able to see the faces of those he was leading. 
And so it began: daily meetings conducted through a laptop or phone screen with University officials and his executive board.
"It's really stressful, especially from the start when everything was on Zoom," Hendrickson said of running Student Senate during the COVID-19 pandemic.
At the same time the pandemic was first wreaking havoc throughout the U.S., the Black Lives Matter movement shifted to the forefront of America's consciousness. Jones is the first Black male president in Northwest Student Senate's history and wanted to speak out on not only Black Lives Matter but the Snapchat video that depicted a Northwest student appearing to mock the death of George Floyd.
"My platform is the greatest thing that I can use to promote Black Lives Matter and promote equality for all," Jones said.
Jones met with Dr. Justin Mallett, associate provost of diversity and inclusion, among others in administration many times throughout the summer to discuss issues of racial prejudice at Northwest as well as the infamous video.
While he said he hasn't felt the same severity of disenfranchisement that many other minorities have experienced at Northwest, he is determined to stand with them.
"If we are going to investigate this, we have to do it with the accelerator all the way down," Jones said. "We're not asking for outrageous things. We are just simply asking to be equal, to be seen equal, to have equal treatment."
Jones sensed some hesitancy from the administration but has been pleased with their response after they got the ball rolling. He continues to meet with Mallett regularly to continue to keep the foot on the accelerator.
The first few meetings of the semester for Student Senate were conducted through purely online means. Jones, who described himself as "not the best" with technology, was not satisfied with the meetings.
"I didn't want to have a Student Senate meeting where people left with a bad taste in their mouth," Jones said.
He was juggling logging minutes, admitting senators into the room from the waiting room and handling voting, and it was overwhelming. Jones began speaking with his executive board and advisers for Student Senate and decided that it was time to move in person.
"He really just didn't like that because it felt like it was like he wasn't actually in his position, like he was just leading the meeting for Senate," Schumacher said.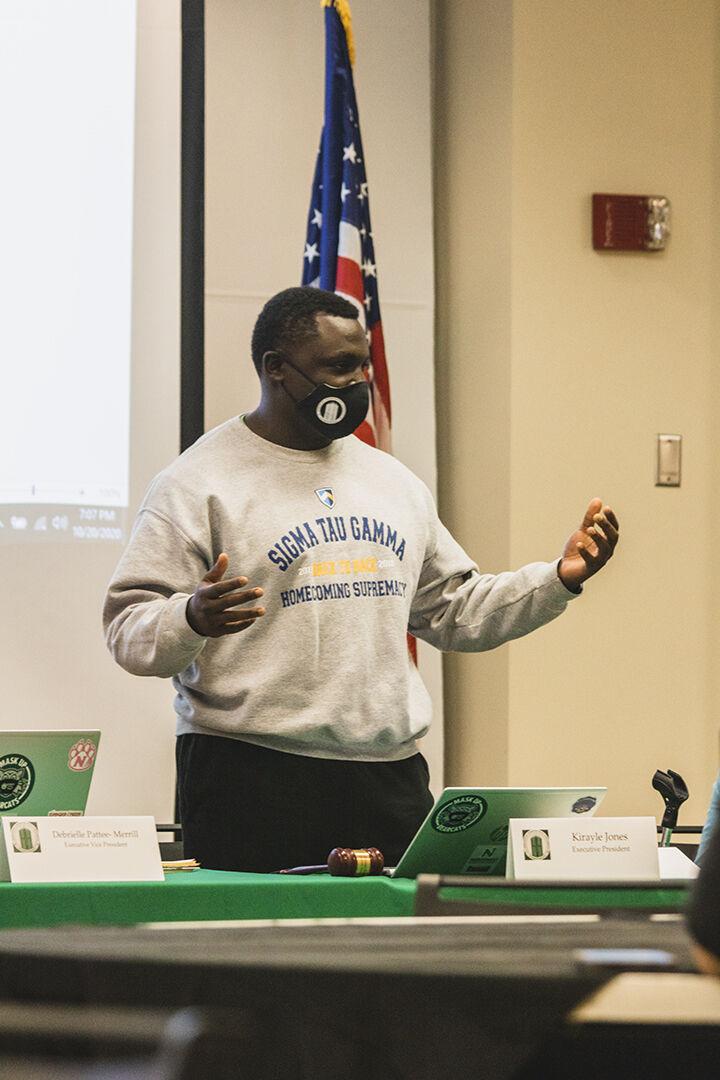 The Union Ballroom allowed the group plenty of room to spread out and socially distance while still meeting as a body. Senators in quarantine or who do not wish to attend in person still attend with Zoom. They speak to the body present in person through a microphone held over the laptop speaker.
Even throughout this tumultuous semester, Jones has been Student Senate's rock, Hendrickson said. No complaints, a wide smile and an enthusiastic voice are what Jones aims to bring to each meeting. 
It's evident in the small jokes he makes during the very formal proceedings of a Student Senate meeting. Jones tends to be fond of self-deprecation, coaxing laughter from behind the masks of those in attendance while he mocks himself.
"He walks into a room and everyone notices him, and he always has a massive smile on his face and is always cracking jokes," Hendrickson said.
Even though meeting in person has lifted the spirits of many of the senators, Jones and Hendrickson included, Student Senate is still not able to perform its primary function on campus.
Student Senate is focused on student organizations. They allocate funds to the organizations that need them, and a large portion of their involvement with the organizations is attending their meetings. The coronavirus has prevented Senate representatives from attending meetings and many organizations from having them altogether. Jones and Hendrickson as well as others on the executive board have suggested getting Zoom links to attend meetings for those organizations holding theirs virtually.
Though they are prevented from performing some of their main duties, there is still a sense of normalcy in Student Senate meetings. Reports are still given from committee chairs, new members are still sworn, and representatives from organizations still speak before those in attendance.
As is similar with many organizations, Student Senate and Jones will continue to reevaluate their responsibilities and shift them in response to the virus.
Senators will shift from the gray round tables to the screen of a laptop, and vice versa. Jones will be there with a wide smile behind a mask and quick joke. As uncertainty swirls around him, Jones will continue to try and remain positive and help his Senators do the same.
"He's just always super animated, super ready to go and super ready to get after it," Schumacher said.