Music and prayer drifted from the Pavillion just before sunset Sept. 6, signaling the beginning of the fourth annual Breaking Chains Music Festival.
The two-day Christian music festival invited friends and families from across the community to enjoy 16 acts of musicians and join together in worship.
Breaking Chains Event Coordinator John McBride hoped to use the music to reach out to any and all, especially those in a rough place in their faith or in their life.
"What we hope to do, through the music and the speakers, is to kind of reach people where they're at and maybe resonate with them ... and maybe help them in their walk," McBride said. "For me and for a lot of people, music is something that bridges the gap; no matter who you are or where you're at in life, music resonates with people."
In an effort to reach college students in addition to the community, this was the first time Breaking Chains hosted the event while school was in session.
"The last couple years, we've almost tried to schedule ourselves out of reaching people, in a sense. It sounds crazy, but it's like, 'Well, this is going on, this is going on; we'll just wait to do it while school isn't in session,'" McBride said. "And we really felt led, this year, to try and find a way to do it while college is actually in session."
While only a few students could be spotted in the crowd, the family-friendly event drew people of all ages. Young children livened the entire atmosphere, playing in the grass, helping hand out programs and participating in various activities run by emcee Whitnee Ice in between performances, such as sharing with the crowd why they loved Jesus.
The crowd sat perched on blankets and lawn chairs as Christian music of all types — rap, country, contemporary and metal — poured from the covered stage the evening of Sept. 6 and through the whole day Sept. 7.
The festival featured speakers and performers, both solo and group acts, that not only played music but also desired to connect with the crowd.
"I think it's a great tool to reach people," McBride said. "If you can provide an environment where something can really resonate with them from a musical standpoint, maybe they follow up with the artist afterwards ... we try to make it a little more intimate of an environment, that way. We try and bring artists in that want to do as much work offstage as they're doing on stage."
Bands included local acts such as Crimson Ruttenberg and Jonah Seeley as well as bigger names like Adelaide, Lydia Laird and War of Ages.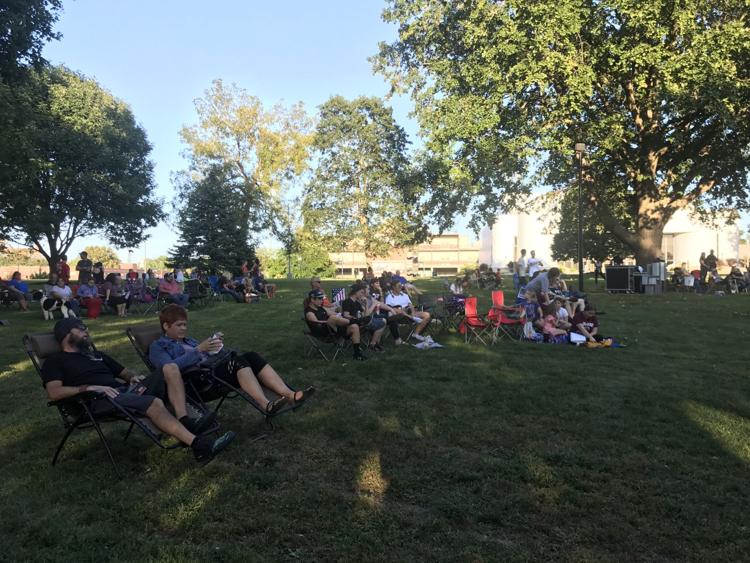 To demonstrate the meaning behind the music, many performers shared small sentiments and personal stories of experiencing God's grace in their lives.
Co-lead singer of G2G, or Glory to God, Megan Masilko thought their purpose for performing was quite simple.  
"We just want to go up there and worship Jesus, and that's what makes it so much better. We're just up there having fun, praising Jesus," Masilko said. "Our purpose here on earth is to worship Jesus, and so it's just a little practice for when we get to Heaven."
The festival's third act, Jayme Green, invited the crowd to join in as he sang a cover of Chris Tomlin's "Our God." With a little motivation, he got the whole crowd on their feet.
"If you're lifting your voice up to the Lord, he hears it," Green said.
It was just one demonstration of the connection with music, with God and with others that the festival aimed to facilitate.
McBride experienced a dramatic conversion at age 33 during a News Boys performance in Omaha, Nebraska. He hoped just one other person would experience something similar this weekend.
"If there's a need, and generally it seems like every year you run across somebody who's in that place, at that point in life, that something like this speaks into their life. And it's been that way every year," McBride said. "You could have 10,000 people here or you could have 10 people here ... but honestly, if one life is affected in a positive way, it makes every minute, every hour, everything we do to prepare for this, worth it.