Approximately 100 students shared their work with posters and presentations in the annual Celebration of Quality April 5 on the third floor of the J.W. Jones Student Union.
The Celebration of Quality is an academic symposium hosted by the Society of President's Scholars. It started in spring 1995 so students could share their work with their peers.
Students applied online after the open application was announced in an email, which was sent to all students and faculty. SPS members looked through the applications and decided who would participate.
Posters and presentations covered topics in many areas including art, music, literature, history, technology, education and science. Presentations took place in various meeting rooms with similar projects while posters were shown in the Union Ballroom.
Assistant professor of history Elyssa Ford has helped with the event for six years. She enjoys the event because the vast array of topics gives participants an opportunity to learn about things in different fields of study.
"It's really fun because you get to go and see the type of work that students are doing," Ford said. "It's really cool to see the type of knowledge you end up having (outside of your field of study)."
Throughout the event, faculty members from all departments attended all presentations and posters to judge students on their project and how well they presented it to both people in their field and people outside their field.
SPS president, senior Jadelyn Stewart, mainly helped with the background work so everything could run smoothly. Other SPS members helped by being moderators between presentations.
"I just thought it sounded like a really cool event," Stewart said. "It's interesting to me because I really like research. So I wanted to come and see everybody's research."
Stewart has helped with Celebration of Quality for three years, and the diverse range of projects stands out to her each year.
"It's just awesome to know that so many Bearcats are doing so many different things," Stewart said. "They're actually doing research that matters, that can make a difference, that can help them in their careers. Every year, I'm surprised by the variety and the quality of things that all of our peers are doing."
Junior Shelby Theis participated in the event by sharing four of the paintings she's been working on for her class with professor Armin Muhsam. She hadn't heard about the event until he recommended it to her.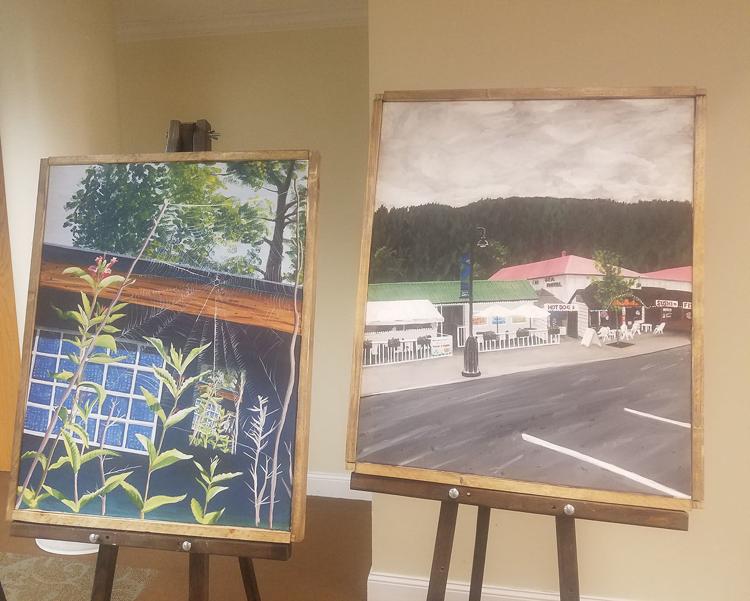 "I have never seen a group of people coming together like this," Theis said. "I've never seen anyone coming together with all their data and everyone showing their research. It's really cool to see."
Theis' paintings were of places of importance or interest to her. She called her project "Self Representation" because each painting had a painting of itself somewhere in the painting.
Being part of the Celebration of Quality helped her practice showing her work in the future. One painting was shown in a pop-up show in the art gallery in the Olive Deluce Fine Arts Building. Another will be featured in an exhibition April 12 in Kansas City, Missouri.
Theis wanted her project to make people aware of the art department.
"I feel like a lot of people don't know how much work goes into art," Theis said. "People don't really think of Northwest as a place for art people because everyone just kind of stays back in the art building and doesn't come out. I hope people see (my project) and think, 'Oh, there are artists here.'"
Judges gave awards to the top four poster projects and top four presentations. Theis received first place in the poster division.
Ford said the Celebration of Quality is a great way for students to gain experience with presenting and explaining their work.
"I see it as really good experience for going to a more formal academic conference," Ford said. "This is a celebration, really of Northwest, of the students and of the work they're presenting."