The total process took around 33 months. From the outline to endless hours spent typing away on a Google Docs to countless revisions and edits. In just under three years, redshirt sophomore Northwest football player Joe Barnes completed his novel.
Perhaps somewhat unusually, Barnes fell in love with writing before he fell in love with reading. Beginning with a simple short story assignment in second grade, Barnes continued to build on his craft throughout middle and high school.
"He was always writing something," Joe Barnes' father said, his name is also Joe Barnes.
It was in middle school where the younger Barnes would first set the goal for himself of writing a novel. He tried multiple times in his early teenage years to achieve this goal, but he had trouble sticking with it.
"Being younger, you don't have that perseverance that I kind of learned over time," the younger Barnes said.
He got serious in high school, however, and decided that this time he would see the process through till the end. "Lost Ones," the younger Barnes self-published in this summer, began with a simple plot outline. The younger Barnes didn't plan out the meticulous details for the journey of Ty Mitchell, the 21-year-old college student who is the protagonist of the story.
He didn't have a set process for writing the novel. Sometimes months would pass without him adding so much as another word on the page. Other times the younger Barnes would voraciously attack the process, writing long hours for weeks at a time.
As the novel about the hardships of being a college student began to take shape, the younger Barnes' football career was taking flight for the Liberty Blue Jays. He earned all-state honors at the safety position during his junior and senior years of high school. He described himself as undersized and admits he didn't have high expectations for himself.
"I underestimated my own abilities," the younger Barnes said. "When I started going through high school, I finally started realizing I was actually kind of good at this (football)."
The younger Barnes' final two years in high school cemented that his time at Liberty would not be his last on a football field. Northwest head football coach Rich Wright made the trip 95 miles south to invite him to walk on as a Bearcat.
"This was the only place I really wanted to go," the younger Barnes said.
The Barnes family is a Northwest family through and through. Parents the elder Barnes and Kristy Barnes met at Northwest. Jackson, Jacob, Mary and the younger Joe Barnes all followed in their parents' footsteps and chose to attend Northwest with Jackson Barnes also taking the field at Bearcat Stadium on Saturdays as a starting linebacker.
While transitioning from high school to college, the younger Barnes kept writing. He kept the novel and its idea to himself, however.
"No one had any clue until he was about done with it; that's when he broke the news to the family," the elder Barnes said.
The younger Barnes told family, teammates, coaches and friends when the book was nearly complete. Fellow Northwest defensive back Keilon Hunter was one of his most ardent supporters but was still pleasantly surprised when the book finally came out.
"I didn't think it was gonna be 300 something pages," Hunter said. "When I first read the first chapter, I was like 'This kid's special.'"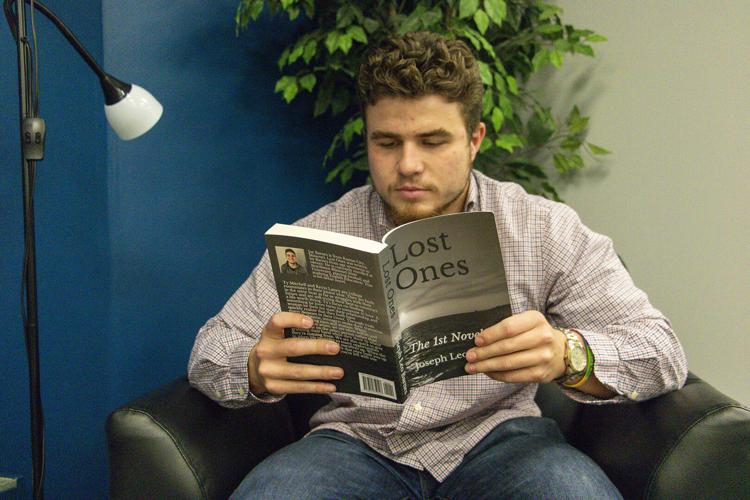 Hunter found out about the novel when it was midway through the publishing process. Hunter described himself as somewhat of a pest, constantly bugging his teammate for updates and asking when he was going to be able to read it.
Reactions like Hunter's were why the young author decided to keep his work under wraps. While he appreciated the attention and the care people had for him and his book, it only added to the pressure put on him to finish. The younger Barnes put much of that pressure on himself as he described himself as his own worst critic.
"I think you have to be. If you don't like it, why would anyone else?" the younger Barnes said.
He started telling others about the novel in January, when he believed it was close to being finished. The elder printed out multiple copies of the book for friends and family to read. The 300-page monstrosities of printer paper were held together with enormous paper clips. He read the book his son had written from start to finish in just two days.
While the younger Barnes had edited and re-edited much of the novel, it still needed fresh eyes, and family friend Jessica Lutz stepped in to help. Lutz would edit the books section by section, and Barnes would correct what was needed as he went. Lutz focused on everything from simple grammar and sentence structure to plot details.
"She asked me what specifically I wanted her to look for, and I said 'literally anything you can find,'" the younger Barnes said.
The book was finished with edits in July and ready to be published. The young author and his family entertained the idea of getting a publisher and an agent, but given the hassle and cost, they decided it would be best to self-publish.
"Lost Ones" was published through Amazon Kindle Direct Publishing July 31. The novel can be purchased through Amazon, and upon purchase, it will be built and then shipped to the customer. Barnes doesn't get immediate numbers on the sales of "Lost Ones." It takes upwards of two months after the purchase of the book for Barnes' family to be able to see how many copies had sold in a given month. Prior to publishing, the younger Barnes set a loose estimate/goal of 250 books sold. He sold 165 in August.
As others started to get copies of "Lost Ones," feedback started flooding in. Friends of friends and complete strangers would reach out to the younger Barnes to tell him they loved his work. He even took three copies of the novel to a community library, and they were gone the next day.
"There's people that I haven't talked to in probably 15 to 20 years that are texting me or calling me and saying 'I just read your son's book; it's awesome,'" the elder Barnes said.
Some of the younger Barnes' fans came from inside the locker room as well. Numerous coaches and players like Hunter have bought their own copies and have plans to read it over break.
"Anybody who reads it and has been to college will be able to relate to the book," Hunter said.
While it may seem to many that the young author's passions are very much opposite of one another, football is often characterized by its violent fast-paced nature that relies on peak athleticism and aggression. Writing is often characterized by a quiet determination and academic ambition, both Barnes and Hunter see them hand-in-hand.
"From football, I've learned a lot of resiliency and being persistent, and that definitely carries over with writing," the younger Barnes said.
The Bearcat safety prides himself on the mental side of the game, which he said is about 80% of football. The younger Barnes believes his ability to read the offense is his best attribute as a football, Hunter agrees. Dissecting what the opposing team is going to do and how logically each player on the field will react lends itself to story progression and character development in a novel.
"He's one of the smartest kids in our position group, so it's not really surprising," Hunter said of Barnes's writing prowess.
COVID-19 prevented the younger Barnes from suiting up to play on the gridiron for the first time since he was a kindergartner. The pandemic cost him playing time, but in a sense gave him more free time, which he used initially to help finish his last book and is now using to start his next one. He wouldn't reveal the subject matter and said only that it will be nonfiction.
The younger Barnes plans to graduate from Northwest with a degree in English education and become a high school English teacher. He, of course, also wants to coach football. He plans to continue to write steadily even after college.
"You could tell from day one the kid was going to be successful," the elder Barnes said. "He's very passionate about anything he's doing."