One, two, three, four.
Excited, anxious chatter filled the air as students crowded the third-floor hallway of Martindale Hall. 
Five, six, seven, eight.
Northwest Dance Company auditions were Sept. 11 and 12.
From students who have been dancing their entire lives to those who don't know first position from third, auditions are open to everyone willing to pay the $5 fee. 
Sophomore T.J. Sheehy has danced with the company for three seasons now.
"I'm hoping to do jazz and musical theater this year," Sheehy said.
This year the Northwest Dance Company gained a total of 127 members, an all-time record for the organization.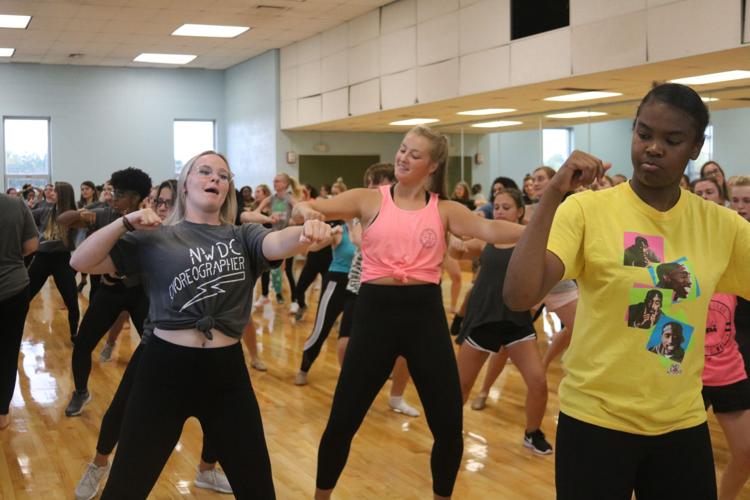 The audition is a two-day process. On day one, students chose which genres they wanted to audition for and learned the practice routines for the genre. The second day, groups of five were taken into the studio to audition and pay their $5.
Northwest Dance Company President senior Ashley Brennan, focuses on a strong group dynamic during the auditioning process.
"I rely heavily on my exec board to help me get prepared for the audition process since I have a lot to do as president," Brennan said. "But each exec position is critical to the audition process."
This year, students could audition for seven genres: clogging, contemporary, couples, hip-hop, jazz, musical theater and tap. 
For Northwest Dance Company's upcoming show, there are four hip-hop pieces, four contemporary, two jazz, one musical theater, one clogging, one couples and one tap routine.
In the past, Northwest Dance Company only had up to three hip-hop routines. This year the company decided to add the fourth hip-hop routine due to the popularity of the genre. 
Senior Talitha Santana Baez is a hip-hop choreographer and campus relations chair for the Northwest Dance Company. Her routine with junior Kylie Miller is a mashup of popular Beyoncé songs.
"It's different than other hip-hop routines," Baez said. "It's more feminine and flowy than traditional hip-hop dances."
Hip-hop is a relatively new genre of dance when compared to the other genres offered by the Northwest Dance Company. Hip-hop started in 1970s Bronx, New York, as a mix of popular street style dances.
Though there are multiple routines in the hip-hop category, the groups are still rather large.
"In the dance I'm choreographing, we have around 27 people," Baez said. "Since we have four hip-hop routines this year, each group has about 27 to 30 members."
To audition for the hip-hop routines, dancers piled into the dance studio where two choreographers, Baez and Miller, stood in front of the mirrored wall. 
Once everyone was organized in staggered rows, Baez and Miller broke down the steps to the song "Temporary Lover" by Chris Brown.
The routine was broken into roughly five sets of eight-counts, a way of mapping out dance moves to music. 
The two women went through each count set, at first with counts, or grouping of motions labeled one through eight, a demonstration with the music, then had everyone count as the music played. The sets continued to build off each other until the group learned the whole routine. 
Once everyone learned the steps, they were sent home to rest, practice and allow the movements to seep into their muscle memory. 
The next day, after they audition, students are placed in their routines. They wouldn't find out which dance they were placed in until Sept. 13. It would be up to them to find out, walking the metal stairways of Martindale to find the listing. After they find out it is up to each member to attend practice and look at the videos posted online about the story behind the dance.