A nameless town. An average party. An ordinary girl. All based on a real town, following a real party, involving a real girl and all-too-real events.
Theatre Northwest's last play of the semester Nov. 12-15 was Naomi Iizuka's "Good Kids." It recounts the events leading up to and immediately following the rape of a high school girl while she was incapacitated after a party. While the play itself is fiction, it was inspired by the true events of a 2012 high school rape case in Steubenville, Ohio.
With the 10-person audience no more than 10 feet away as these events unfolded in front of them, Theatre Northwest brought the audience face to face with the startling reality of this issue. That, director Katheryn Bilbo said, was exactly the intent.
"Theatre often reflects real life back to the audience, and sometimes what we see in the mirror is not pretty," Bilbo said in an email.
Chloe, the main character, attends a party with her cousin and good friend. She ends up leaving the party with a group of men she does not know and wakes up, undressed, in a basement she doesn't recognize. It's only after seeing a video and tweets relaying the events of the night before that she realizes what happened.
According to statistics presented in the director's note and provided by the Rape, Abuse & Incest National Network, 13% of college students will endure something similar and experience sexual assault or rape. 
Only five out of every 1,000 perpetrators will go to prison. Many sexual crimes go unreported due to the culture surrounding victims of rape.  
"The often judgmental societal attitude toward assault victims is a problem we have yet to resolve. Rape culture is very real," Bilbo said. "Sometimes it is simply a subconscious bias we pick up from our peers, our parents, the media, film, television, political leaders, etc. A charge against people we like, such as the kids with 'promising futures' in the play, inspires anger in many people, rather than sympathy for the victim."
Much of the town within the play comes to the defense of the boys, who happen to be stars of the high school football team, claiming "boys will be boys." Chloe, on the other hand, faces comments of victim shaming: "They said I wanted it. They said I asked for it. They said I had it coming."
"The forceful backlash Chloe receives is almost as traumatic as the incident itself," Bilbo said. "It can be uncomfortable to watch the cruelty and insensitivity with which other characters react, and for actors, portraying people engaged in ugly behavior can be just as difficult."
There were about as many characters in the play as there were allowed in the crowd due to COVID-19 mitigation measures. So when characters made these hurtful comments, it was if they were directly addressing the crowd. And at times, they were. 
The narrator regularly acknowledged the audience. Many times, the whole cast would pause, face the audience and have dialogue about a particular phrase, whether it was defining "hook-up," debating what constitutes "rape" or discussing the endless possibilities a party presents.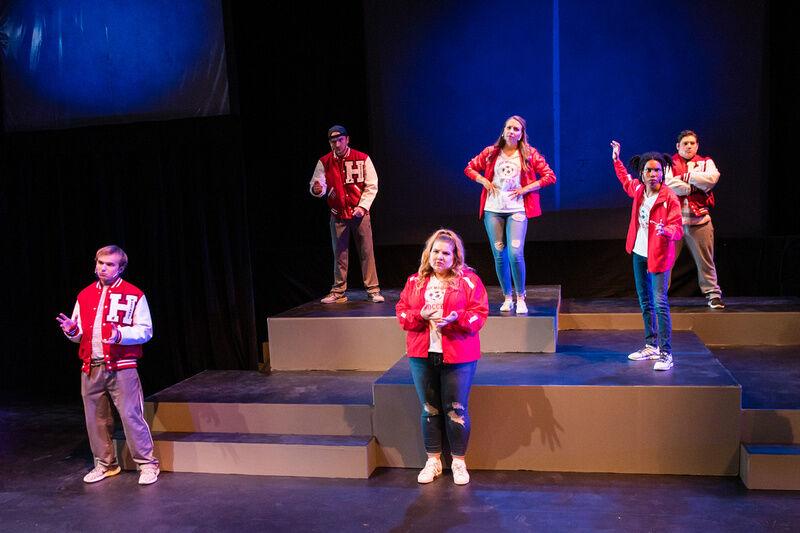 For the actors, it was an even more immersive experience.
"I knew that this was a topic that might upset not only audiences, but also my actors," Bilbo said. "Therefore, long before auditions, I encouraged our theatre students to read the play to be not only aware of the sensitive subject matter, but also how it is portrayed; as there is very strong language and brutal name-calling."
Bilbo worried the play might bring back trauma for any actors that may have experience sexual assault, predatory behavior or online bullying. Throughout the process, she would check in with actors one-on-one. A website was also created and made available to the cast that included various support resources and phone numbers in case they were uncomfortable talking to Bilbo directly.
Junior speech and theater education major Katie Waterman, who played Chloe's friend, Daphne, said having a cast of positive-minded actors helped make the emotionally taxing experience more bearable.
"Especially having a cast like this, that everyone's so friendly, having that kind of happy environment is such a good thing to have with such an intense show," Waterman said.
The cast was given 30 minutes before each show to mentally prepare and get into character.
The cast was also encouraged to understand their characters' motives and backstories. Actors constructed backstories based on anything that was said by or about their character in the script.
Junior theater performance major Drew Walker played Landon, a football player who witnessed and tweeted about the sexual assault. Walker shared how he established his character's backstory and how he was able to mentally separate himself from the things his character did and said.
"I try to build certain circumstances surrounding a character, like what their home life is like, how does that affect their behavior, their thought process, how does it affect the way they behave outside of the home," Walker said. "I have to get myself into a position where I can't think of myself as bad because Landon doesn't think of himself that way. I have to get myself into a hyper, ready-to-go mode because that's Landon."
All these preparations were done to ensure the story was told as authentically as possible, junior theater performance major Jenna DeLaRosa said. She played Kylie, Chloe's cousin who accompanied her to the party.
"When you're acting, you put yourself into the character. You're not yourself. You know you're not saying these things; you would never say these things," DeLaRosa said. "There's a lot of things in this show that none of us in this cast would ever say. It's just about telling the story as truthfully as we can, but while separating ourselves to protect ourselves."
The show was intended to raise awareness and act as a vehicle for discussion. The cast was grateful for the opportunity to help share this story, DeLaRosa, Walker and Waterman all said.
"This is a story we're telling to help contribute to a much needed conversation," DeLaRosa said. "I think this will be an eye-opener for a lot of people. I think it's a tough subject, and that's why a lot of times you don't see people doing shows like this, but I think it's really important."
A recording of the play will be available to the public for 24 hours from noon Nov. 17 until noon Nov. 18. Online access costs $10.
If you or someone you know is experiencing domestic violence or sexual assault, call the National Sexual Assault Telephone Hotline at 800.656.HOPE.