She's closed the Nodaway County Senior Center before in her 13 years as an administrator at the lunchtime refuge for elderly people across the county, usually shutting its doors for a day or two when the weather turns bad and the roads ice over. Amie Firavich knows how her daily patrons will respond, and that's why she's hesitant to close now, in the wake of COVID-19 and the cloud it's hung over the United States, one that's cast a shadow touching every corner of daily American life.
The continued spread of COVID-19, the disease caused by the coronavirus, which first appeared in Wuhan, China, in December 2019, has caused a few of the senior center's regular diners to stay home each day around noon, but not as many as Firavich would like.
"Does it concern me? Yes," Firavich said, sitting behind her cluttered desk at the center on First Street March 16, as she balanced the increased difficulty of her job in the wake of a pandemic with the needs of the 35 senior citizens gathered at tables just outside her office door. "I work with the most vulnerable crowd but also the most stubborn crowd."
---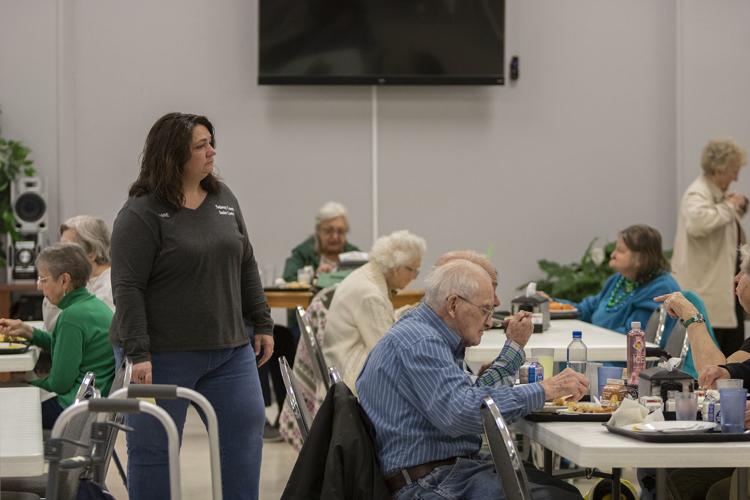 ---
Firavich is well aware of the statistics plastered on the nightly news and the warnings heeded from the Center for Disease Control and Prevention. She knows 2.3% of COVID-19 cases were deadly throughout the worst of the virus's run through China, but that the fatality rate was 14.8% in people 80 or older and 8% among people 70-79 years old, according to China's CDC. She knows what kind of effect the virus could have on the center's frequenters, most of whom are in their 70s and 80s, she said, if or when the outbreak reaches Nodaway County.
And perhaps worst of all, Firavich knows what will happen if she shuts down the senior center in the midst of the pandemic. Some of the seniors might stay home, she said, but the rest would congregate elsewhere — McDonald's or Kentucky Fried Chicken, she said — places more connected to the outside world and the health dangers amplified by the pandemic's spread and the age of her average clientele.
"They're not gonna stay home, so I might as well try to help them as much as I can," Firavich said, so she has sent out public pleas for hand sanitizer amid a national shortage and has tried to convince her daily customers to opt for home delivery. She has made and answered dozens of phone calls, trying to track the growth of the pandemic while running an under-funded facility. She's refused hugs from some regulars who have frequented the center as long as she's worked there, doing her best to help a crop of aging citizens who seem mostly disinterested in helping themselves.
---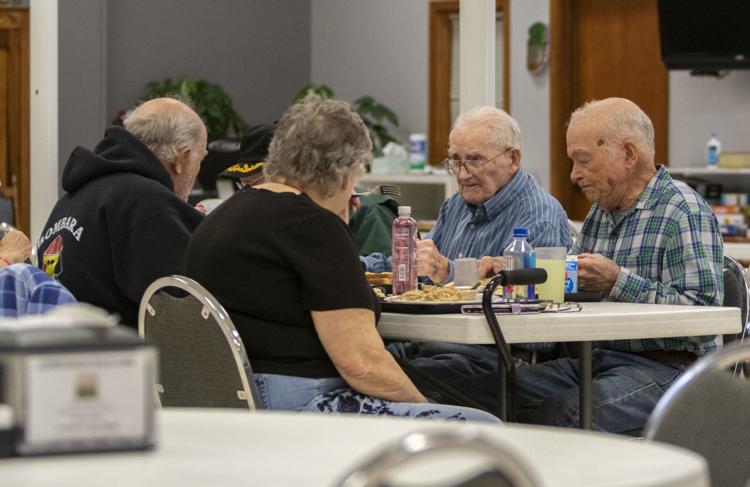 ---
Lavelle Rickabaugh is one of the longest-tenured regulars at the Nodaway County Senior Center and is certainly the oldest. He's been coming to the center almost every weekday for lunch for more than 13 years, a habit he picked up after the death of his wife. He said the virus outbreak is serious, though he said it may be overblown. He's seen and lived through a lot over the last century. He turns 102 in April. He drove himself to lunch.
Rickabaugh seems popular at the senior center, sitting at a crowded table near the middle of the facility's open-air cafeteria. He talks as much with his peers as his $2,500 hearing aid will allow, but it doesn't work like it did when he was 100, he said. He used to sit at a table closer to the center's pool tables when he first started frequenting 13 years ago with a group of different friends.
"I think I'm the only one from that bunch left," Rickabaugh said.
Across the white, plastic table from Rickabaugh sits Butch Saber. At 88, he's a year older now than Rickabaugh was when he first started eating lunch at the center. He talked about the spread of COVID-19 with a sense of urgency and humor. He, like many of the other 35 seniors who stopped by the facility for their choice of turkey and noodles or chicken nuggets March 16, isn't sure what to make of it.
The disease hasn't reached Nodaway County yet, where many of the senior center's frequenters have spent much of their lives. But its spread has been evident.
As of noon March 17, there were 190,535 worldwide cases of the coronavirus and more than 7,500 deaths, according to the Johns Hopkins Coronavirus Resource Center, which has mapped the active spread of reported cases of COVID-19 using data from the CDC and the World Health Organization, among other national and international health agencies and media reports.
The U.S., as of March 17, had seen more than 5,500 confirmed cases of the disease coupled with more than 100 deaths, according to Johns Hopkins. Nearly all of the virus-related deaths in the U.S. — close to 85% — were in patients older than 60, according to the Washington Post.
March 16 brought with it the highest uptick in coronavirus-related deaths the country had seen in one day since the start of the outbreak, with 22 reported nationwide, according to The Post, as the seniors went about their daily routine in the Nodaway County Senior Center.
With nine confirmed cases in Missouri March 17 but none nearing his corner of the state, Saber had felt the effects of the coronavirus the same way most of Nodaway County has: only cosmetically, in grocery store checkout lines and in empty toilet paper aisles, not yet making contact with the actual disease.
---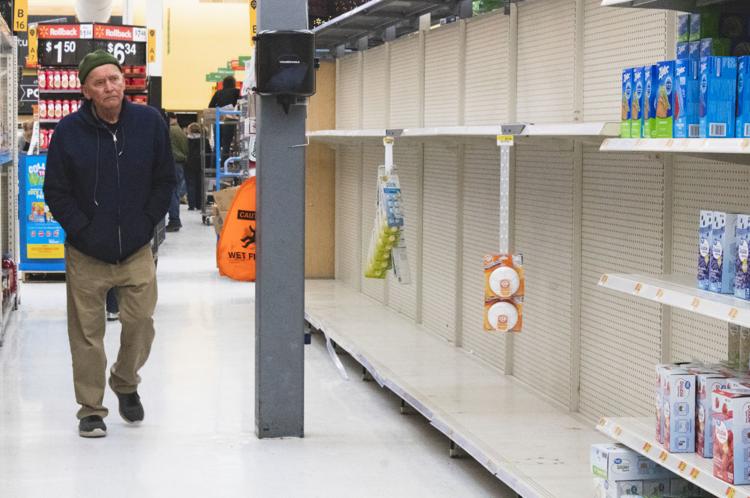 ---
Saber couldn't find his favorite flavor of Cheerios at the grocery store over the weekend, he said, settling for one he wasn't used to. He's not sure what those stockpiling toilet paper in the county and across the country are going to do with it. And he's not overly worried about the spreading disease, one that's more likely to affect people of his age severely than that of any other age group. He doesn't want to stay home for lunch, he said, and have to eat only meals he can cook on his George Foreman Grill.
"As long as they don't close the doors here," Saber said, "I'm fine."
Across the room, at a table near the senior center's handicap accessible door, Majorie Parker is grappling with the coronavirus in the same ways as Saber. She's taken some precautions, she said — she won't play cards at the center like some other patrons might — but she's determined to go about her daily life unchanged for as long as the virus will allow it.
---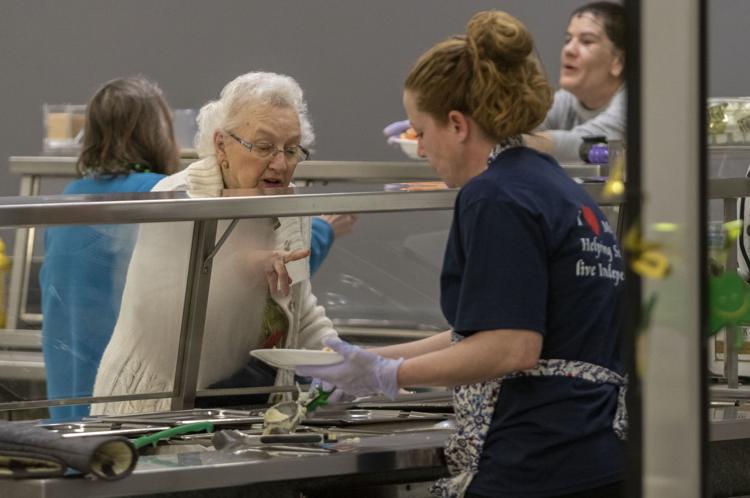 ---
Parker has spent all of her 92 years living in the northwest corner of Missouri. She lived in a house in Ravenwood for several decades before briefly moving to a nursing home with her husband in the late 2000s. They stayed only a few months before moving into a duplex, where she's stayed alone after her husband's death nearly a decade ago.
Parker doesn't like the sound of a self-quarantine. She just got her license renewed in January on her birthday, the renewal good until 2023. She wants to keep using it, to keep making her daily trips to the grocery store and to the cemetery where her husband is buried and to the senior center, where she said she's not sure how someone like her could self-quarantine.
"What do you do when you run out of groceries?" Parker said. "What about if you don't have your medicine? We have to be out."
Even after the CDC recommended organizers cancel gatherings of more than 50 people and President Donald Trump advised the public to avoid groups of more than 10 March 16, Parker remains unconvinced, or at least, unmoved. She still attends church in Ravenwood every Sunday, after first watching sermons from Joel Olsteen and David Jeremiah on TV, along with more than 100 other members of the church's congregation. She said she has no plans to stop.
"You'd bet I go as long as they don't close," Parker said.
Elsewhere in the facility, patrons surmised their own theories. Willard Dowden, 60, said the virus was probably a cause for concern, but that he was "sick and tired of hearing about it." In his 60 years in the region, Dowden said, he has lived through microbursts and ice storms. The media, he said, has overblown the scope of the coronavirus. He is ready for life to go back to normal. He doesn't want to wind up in quarantine. He wants to play pool.
"There's no other place to play," Dowden said.
Back at Rickabaugh's table, as the 101-year-old put on his jacket and prepared to drive home, 75-year-old Rolland Hayden said he wasn't worried about the virus — not because it's overblown, but because of his immune system. He's been consuming 30-80 drops of food-grade hydrogen peroxide in his sparkling water everyday for years, something he said has helped him fight off viruses with ease. Hayden said he couldn't remember the last time he'd gotten a cold before recalling the cold he fought off last fall, one he got over in a day and a half, he said.
Rickabaugh finished his chocolate milk, grabbed his walker and started making rounds to other tables, socializing with other patrons before heading to his car. He stopped by Firavich's office and to say bye, to say he'd be back tomorrow, as the administrator grappled with the decision to keep the facility's doors open.
---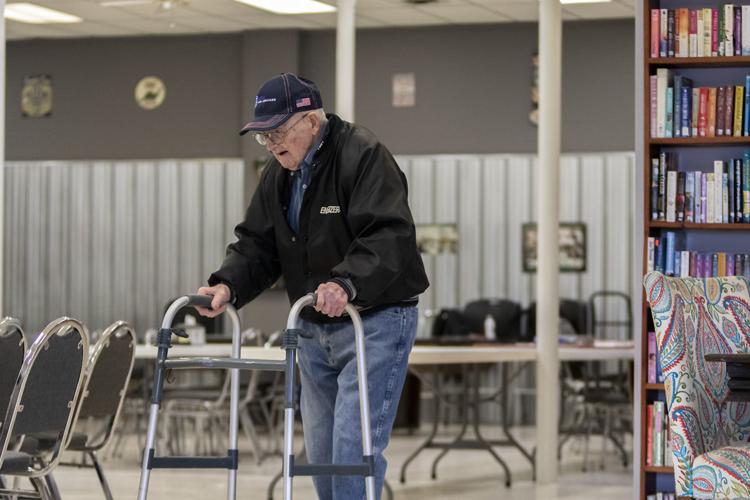 ---
Firavich has dedicated the last 13 years to the senior citizens of Nodaway County. She didn't want to turn them away, but she couldn't stand the thought of taking part in the spread of the virus to one of her patrons. She said she would close the center if and when the virus reached the county, while 35 seniors gathered for lunch on the other side of her office door.
"One thing about it when you push the panic button," Saber said, before leaving his tray at the table and making his way toward the door. "You either blow it too quick or too late. So I hope it works — whatever they do."