"Anyone heard of Bob Dylan?" asked Mike Mattock, a counselor from the Wellness Center, as he strummed his guitar in the J.W. Jones Student Union. "This is an old song of his."
Mattock's version of Bob Dylan marked the first Open Mic Night of the spring semester Jan. 15. Open Mic Night is open to students once a month from 7-9 p.m. in the Union by the fireplace. Sign-up is not required in order to participate.
Open Mic is a free event where students can come express themselves in a positive atmosphere. Aidan Calfee, a junior and a regular at Open Mic Night, said the experience and welcoming atmosphere during the event has helped him develop his skills as a performer.
"It's a nice, friendly environment," Calfee said. "It's a good place to show expression and a good chance to get confidence."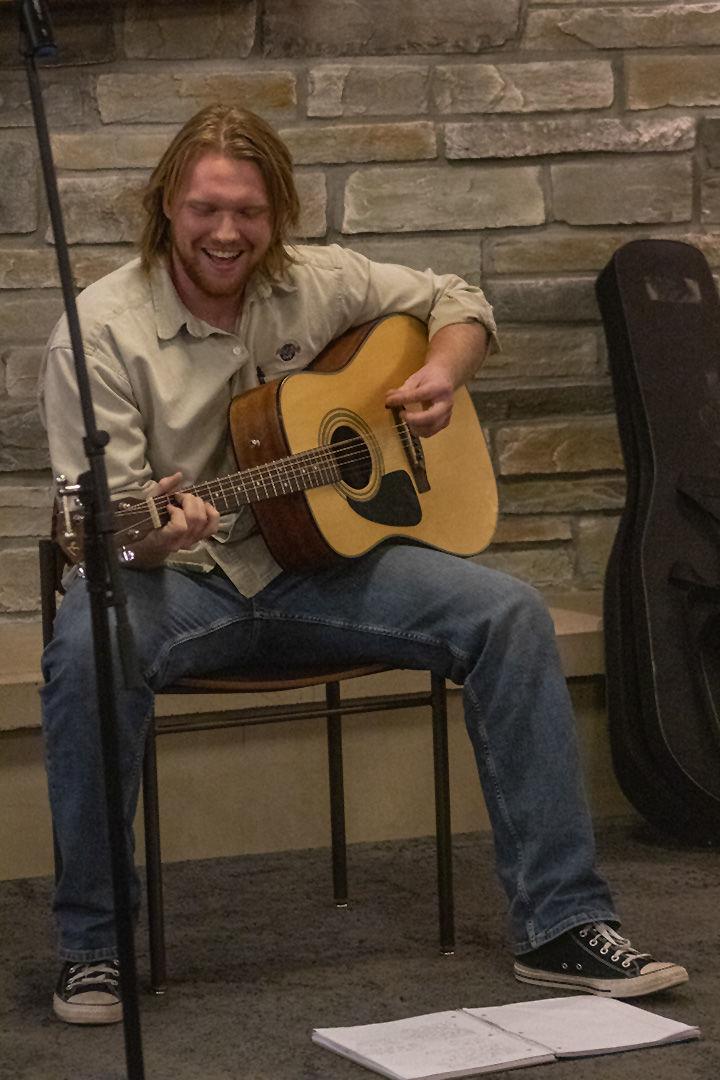 Calfee has been going to Open Mic since December 2018. Having friends who played and performed there, he was eventually encouraged to show his skills.
"The first time I got up there I was shaking," he said.
Since then, Calfee has been performing standup comedy, while dabbling in singing and playing guitar. Calfee said that he does comedy simply because he loves it.
"I do jokes - it's made me build confidence in speaking," Calfee said."I love laughing, and I've always joked around. It's a natural thing."
Even though Open Mic Night has helped build his confidence Calfee can become uneasy before and after a performance.
"I still get nervous, but it's not bad," he said. "The nervousness subsides after a while."
Mattock, who both sings and plays guitar, also organizes Open Mic Nights. He said that anybody can come, but it is mostly for college students.
"One time we had a professor come in and play on the piano," Mattock said.
In order to set up for Open Mic Night, Mattock calls Mark Hendrix, the University Events scheduling coordinator. Mattock tells Hendrix the supplies that are needed for Open Mic Night, and Hendrix sets it up.
After being set up, it doesn't take long for the room to fill.
"We have had up to 50 people watching open mic, and about 15 to 20 people perform," Mattock said.
Of those people who have performed was a woman who, at first, watched the performers during an Open Mic Night a couple of months ago.
"She sat in the back for an hour and a half while people went on to perform," Mattock said. "She wrote a poem in that span of time about the different acts and performers called 'Open Mic Night.'"
Mattock said that not everyone who performs needs to be involved with choir, or any other activities.
"It's their chance to express themselves," he said. "It allows them to say, 'this is me.'"
Both Mattock and Calfee agree that the people who watch and perform Open Mic Night not only create a community, but also form a good place for sharing and expressing creativity.
"Open Mic Night is a good avenue to showcase the things that you are passionate about," Calfee said. "People are friendly, energetic, enthusiastic, and it's a good time."
"You see people evolve in confidence," Mattock said. "It's one of the best things I've been associated with in all my years here."
The next Open Mic Night is scheduled for Feb. 12.