Deep within the depths of the Olive DeLuce Fine Arts Building lies an artistic hub few outside the Northwest Department of Fine and Performing Arts are familiar with.
The first thing people see upon entering the Fine Arts Building is the grand, turquoise-laced staircase that flanks a mosaic and leads upstairs. This aforementioned hub is in the opposite direction. To reach it, students hop down one of the more unassuming stairwells tucked into the corners of the building and leading down.
Upon first glance, this space seems more like a skate park than anything else. The large, concrete basin from which this area probably got its name is anything but awe-inspiring. But just as in "The Wizard of Oz," people must follow the yellow path to reach the true magic. The sunshine-yellow stripe runs to The Pit, a collection of 22 student art studios in the basement of the Fine Arts Building.
Art professor Armin Muhsam never questioned the name, The Pit, when he arrived at Northwest 20 years ago. He finds it fitting.
"A pit is something that is quite literally dug into the ground (i.e. the basement) but it is also something where humans labor, which is to say that they make art," Muhsam said in an email.
The cubicle-like studios are rewarded to art students of advanced standing, to be used as an area entirely dedicated to their art. Here, Muhsam said, students can develop "self-directed and mature work." He pointed out that very few universities offer undergraduate students their own studios, but he couldn't overstate their value.
"The benefits of such a space to make art on one's own time is self-evident: it is akin to a scientist's laboratory – a safe space where experiments are conducted and discoveries are made," Muhsam said.
Most students achieve advanced standing after their second year, once they've completed the bulk of their 100- and 200-level courses. These classes provide foundational introductions to various disciplines and media, like drawing, ceramics, print and sculpture. It's like a taste test. It exposes students to things they may have never tried before, like welding and woodworking.
After students become familiar with the fundamentals, they are able to specialize their coursework while selecting 300-level courses. Applying for advanced standing involves a lengthy essay and presenting 10 art pieces to a faculty panel. If they successfully achieve advanced standing, they can also apply for the privilege of a studio.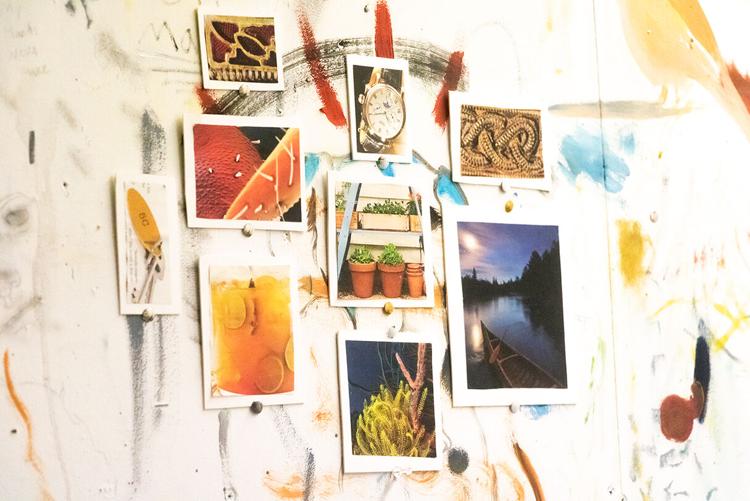 Senior art education major Katelyn Cadwell was awestruck by the space when she first visited as a freshman and had been dreaming of her own studio in The Pit ever since.
"I just remember this one person's artwork. It was literally like the size of this (8-by-10) wall, and I just thought it was the coolest thing ever because they just got to make art, and that's something that I've always wanted to do," Cadwell said. "This is my passion, and so seeing all of these spaces and one day calling it mine, I just really enjoyed that feeling of looking at it and being like 'OK, this is my goal.'"
Junior art education major Emily Thomas had never had so much space to do her art. She was especially appreciative of the space after spending the last few weeks of the spring semester working from home after the closure of campus.
"COVID and being an art student — COVID being any kind of student — kind of sucked," Thomas said.
Thomas couldn't really bring the massive print-making machine home with her from the classroom, but she said she didn't have it nearly as bad as the folks who were attempting to do even more equipment-dependent projects, like welding.
Thomas' roughly 10-by-10 studio is also quite the upgrade from the card table she had set up in the corner of her childhood bedroom over the summer. Most studios are about that size, with some variety.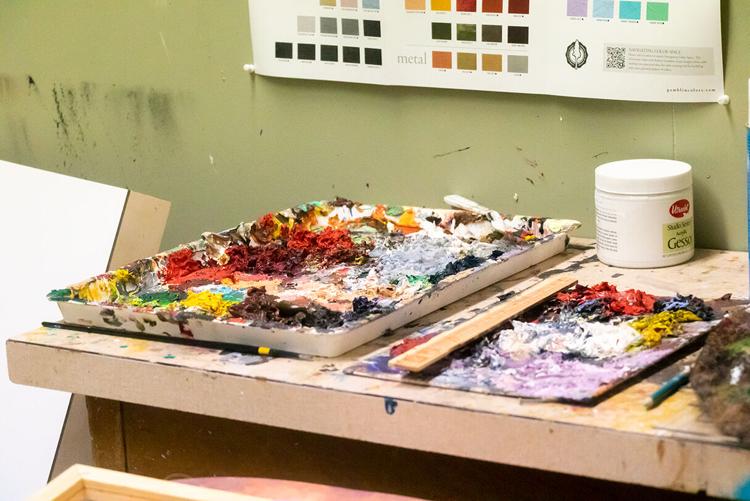 In the first couple years, when students are sharing spaces and supplies, they have to worry about cleaning up the area and putting their artwork away before the end of the class period. Both Thomas and Cadwell emphasized how nice it is to be able to just leave their artwork as is and come back to it later, no longer wasting valuable time putting supplies away if they don't wish to.
It's a space all to themselves but also a space for collaboration. Because the studios are set up in a neighborhood-like fashion, there's always another artist nearby to collaborate with or get some feedback from.
"Another benefit of these studios is the fact that the students can form their own support groups and rely on their peers for creative input, technical knowledge and skill sharing, as well as a camaraderie that often results in lifelong friendships," Armin said. "Throughout their lives, artists have to build networks of support in what are often unpredictable careers, and these studios are the first step toward that."
Students have the freedom to do whatever they want with the space, so it's a true hodgepodge. Some feature crisp, clean, white walls with vibrant paintings hung neatly and a desk sitting orderly in the corner. Others feature seemingly aggressive scribbles scrawled over the walls, scraps strewn over the floor and dark, abstract pieces laying throughout.
Thomas likes to keep it "relatively organized." She's working on a series of eight paintings right now. Two completed paintings hung side-by-side on the wall, and the outline for the third rested on an easel in what she determined as her designated painting area.
The middle was for other media, like Thomas' two unfinished, orange sculptures, and the paint-splattered desk on the far side of the room was for her other schoolwork. She often works on her education coursework down there because the basement's so quiet, and the work sometimes offers a necessary break from hours of art.
When Cadwell needs a break, she takes her frustrations out on the walls, and it shows. Her walls are a scrapbook of random colors, markings and shapes. It's not all from her though; some doodles were left by previous tenants. She left them as a bit of inspiration. She attributed the red cloud floating behind her and the tiny snake peering up at her to other artists, and she said there was even a mystery portrait hidden behind one of her own pieces on the wall.
Many folks leave their mark on the space or write their name, Cadwell said, in hopes of leaving a small legacy.
While The Pit's seclusion in the Fine Arts dungeon is much appreciated for their own productivity, these artists want their work to be seen. The art department hopes to host art shows or a gallery walk later in the semester, if the coronavirus circumstances allow.