Nestled on a beige shelf sits a worn-out book sophomore Levi Bradley read when he was in sixth grade. The book, "The Drowning Girl" by Caitlin R. Kiernan still stands a testament to his life.
"I'm not even sure whether it was a good book or not," Levi Bradley said. "It was one of my initial experiences learning about trans people existing, so I latched onto that, and then it talked about mental illness, so I latched onto that. It's this sort of nostalgic literature that I just fall back into."
Levi Bradley knew he was transgender when he was eight-years-old, but he just didn't have the proper vocabulary to identify who he was. It was through his avid book reading habits that he was able to properly come to terms with who he was and who he wanted to be.
Along with the help of this book, Levi Bradley said the biggest inspiration in his life is his mom for the amount of hard work she puts into everything. He said he aspires to be as passionate and generous as she is.
While many students face a multitude of problems when they come out to their family, such as homelessness and disownment, Levi Bradley said he was fortunate to have the support of his mom, Lorena Bradley.
Levi Bradley said even though his mom struggled sometimes, she has made an effort to understand and learn about her son. She was even there with him when he began his testosterone, which has been an important part of his transition.
"It's been a road and lots of things to try to adapt to," Lorena Bradley said. "Overall, I want the most happiness for him and his life, and so whatever that looks like and whatever that brings, I'm 1000% at his side and excited to see what the future brings."
Even though Levi Bradley had his mother on his side, his father and some extended family were another case. He came out to his father during Thanksgiving break last year and he said it's been an emotional ride.
"He's only known me as his little girl," Levi Bradley said. "He's trying to adjust himself, and it's his own growing process; there's going to be growing pains. … I understand that everyone is a human being and that he is doing his best in the way he knows how. He's not doing anything out of malicious intent."
Despite his father not understanding, Levi Bradley still loves him. He knows other transgender and LGBTQ people are valid in not wanting to forgive those who disown them for simply being themselves, but he wants to allow his father room to grow.
"He's loving me in the way that he thinks is right, even if it isn't particularly helpful, so I try to be forgiving in that sense," Levi Bradley said. "He loves me. He's trying, and I love him as another human being and I appreciate him and respect him for what he's done for me."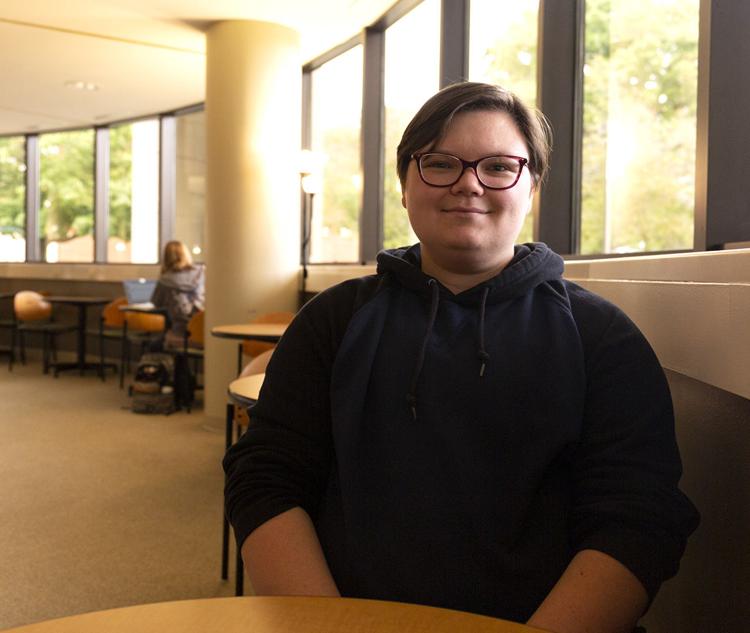 Levi Bradley said being transgender has affected his mental health in the sense that he felt like he needed to prove himself and justify his existence. College and the support he's received has made him more confident and has become happier with who he is.
"I love being me and there's not really anyone else that I'd rather be," Levi Bradley said. "I think that being trans has made me reevaluate everything about myself. I think it's opened me up to lots of self introspection. I think that it's not an easy journey and there are things about it that are hard, but it's something that is worthwhile and it's something that I'm proud of in the end, just like I'm proud of any other part of me."
Living in the Midwest as a transgender man, Levi Bradley said he chose Northwest for more than just the education program or the beautiful campus. He chose it because of the Diversity, Equity and Inclusion Office.
"I loved that there was this effort that the University was making to unify students to make sure that not only everyone was safe but that we have this education between us, this dialogue, where we get to learn more about diversity and each other and we get to celebrate those differences," Levi Bradley said.
When Levi Bradley was a freshman, Coordinator of Diversity and Inclusion Adam Gonzales said he remembers him coming to his office unprompted to simply introduce himself and who he was.
"What I noticed with Levi was that he very much knew who he was, who he is," Gonzales said. "He had no problem coming into a complete stranger's office and just saying, 'Hey, I'm Levi. This is who I am. I'm here.'"
As Levi Bradley eventually joined other organizations such as the LGBTQ organizations Helping Everyone Regardless of Orientation and Student Senate as the inclusion representative, he also ended up landing his dream job as one of the student inclusivity coordinators in the DEI Office.
Levi Bradley has a passion and love for the job that he said he would have done for free.
"Levi goes above and beyond to make sure we as an office are connecting with people across campus, especially with people whose voices aren't always heard," Gonzales said. "People who might be feeling like they're left out of conversations, dialogue, policy making and things like that. "
Along with scheduling podcast interviews for Gonzales, sending out thank you emails and other clerical tasks, Levi Bradley has  helped with Safe Zone training.
Gonzales described Safe Zone training as an educational opportunity for people to interact in candid dialogue surrounding LGBTQ populations.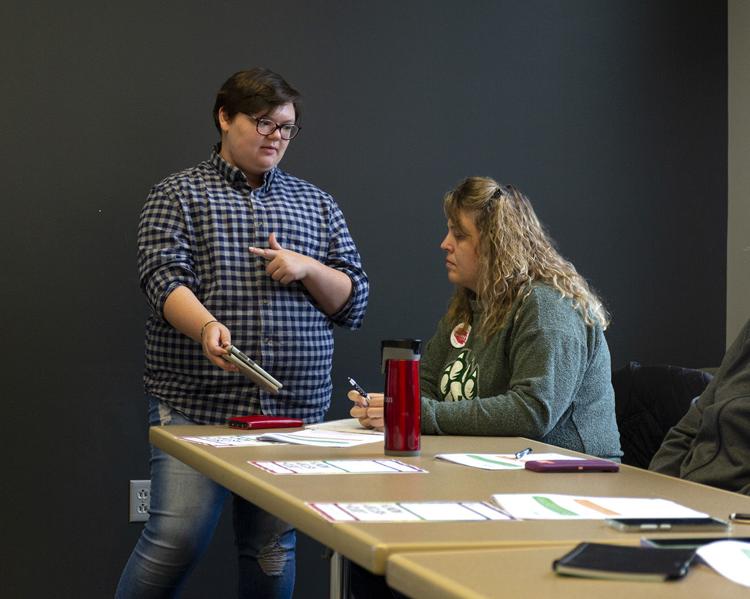 As an English education major, Levi Bradley also loves educating others whether it be about the English language or the various information in the LGBTQ communities. One of his goals is to teach through one of his greatest loves: literature.
"I hope in teaching I can make reading fun and passionate for students again and that I can build that relationship where students understand how powerful they are," Levi Bradley said. "I think everybody has a lot of potential and abilities, and I think that everyone has an incredible capacity for goodness, and I really want to empower other people as much as I can to utilize that."
Levi Bradley's love for teaching feeds into his work in Safe Zone training and wanting an open dialogue. He tries to attend as many trainings as his schedule can allow, especially with his 18-credit-hour schedule.
"(Levi) became sort of my sidekick at the trainings," Gonzales said. "He goes with me to some of the trainings and he gives his student perspective, and that's very powerful for him to be able to share his experience, his journey with many of the faculty and staff who are in some of the trainings."
Levi Bradley exemplifies the word caring through simple actions like stopping to greet an old lab partner he hasn't seen since last year and opening doors for students who are 10 feet away.
Gonzales recognized it especially at the coming out day table DEI hosted for LGBT history month Sept. 7-8.
"It was kind of awesome to see Levi be able to stop someone in their tracks just by saying, 'Hey, how are you today?' It's not what he says, it's more how he says it and the vibe he gives off," Gonzales said. "People just kind of stop. It's almost like people don't know how to deal with people as nice as Levi. It's like, are you talking to me?"
Even in simple, everyday interactions, Levi Bradley can't help but care for everybody, especially his closest friends.
"If I won the lottery, I would be poor so fast," Levi Bradley said with a chuckle. "Because I would spend it on my friends."
Isaiah Bourland has known Levi Bradley since they were in Papillion La Vista South High School creating the monthly magazine together, Bourland as a writer and Levi Bradley as the artist. It was through their motley team that they got to know each other better as friends, and it wasn't until last April that Bourland asked him on a date.
"He really goes out of his way to make somebody's day better," Bourland said with a wide grin. "He's literally the nicest person I've met. Levi out-niced Jesus."
With such a long history together, Bourland said he is still in awe at the capacity for kindness one person can hold.
Even with Levi Bradley's hectic schedule with work, school and other organizations, he always makes time to play with the cats and dogs at the New Nodaway Humane Society.
"I love getting to spend time with them. They're so sweet and cute. I mean part of it is a little bittersweet because I do want to take them home and I feel so bad. I love them," Levi Bradley said in a coddling voice as he rubbed the belly of Colt, a Boxer mix breed.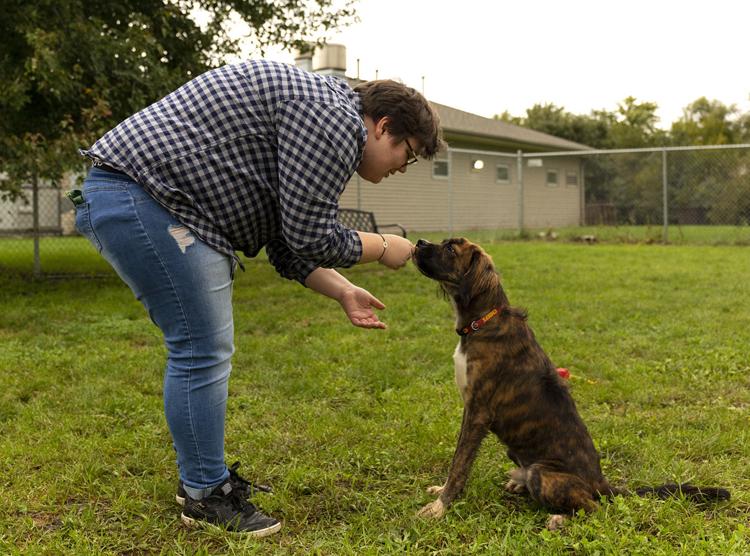 "They deserve the best," Levi Bradley said. "I wish I could just give them everything."
Through the undeniable kindness to the leadership and drive Levi Bradley has shown, he said his biggest hope is that people will find value in more open dialogue with those they don't understand.
"Levi's a great example at how Bearcats can be leaders and examples for others. Levi's doing things just by being himself. Levi's doing things that are paving the way for future students and even some of our present students," Gonzales said. "He's making himself visible and, he may not realize it, but he is making a difference in the lives of a lot of students."