International Flag Raising
Many international students were happy to represent their countries during Homecoming by carrying their flags in a parade from the B. D. Owens Library.
Students raised 54 flags during the 22nd annual International Flag-Raising Ceremony Oct. 25 at the Joyce and Harvey White International Flag Plaza.
Before students raised the flags, associate professor in the department of human and social Services Brett Chloupek explained why Homecoming is celebrated each year. He said it's an opportunity for alumni to return to Northwest and recall their fond memories of their time here. 
"As you raise your flags here today, know that you have a home here in Maryville," Chloupek said. "You have your homes where you came from, but I hope that this is becoming part of your definition to say you are at home."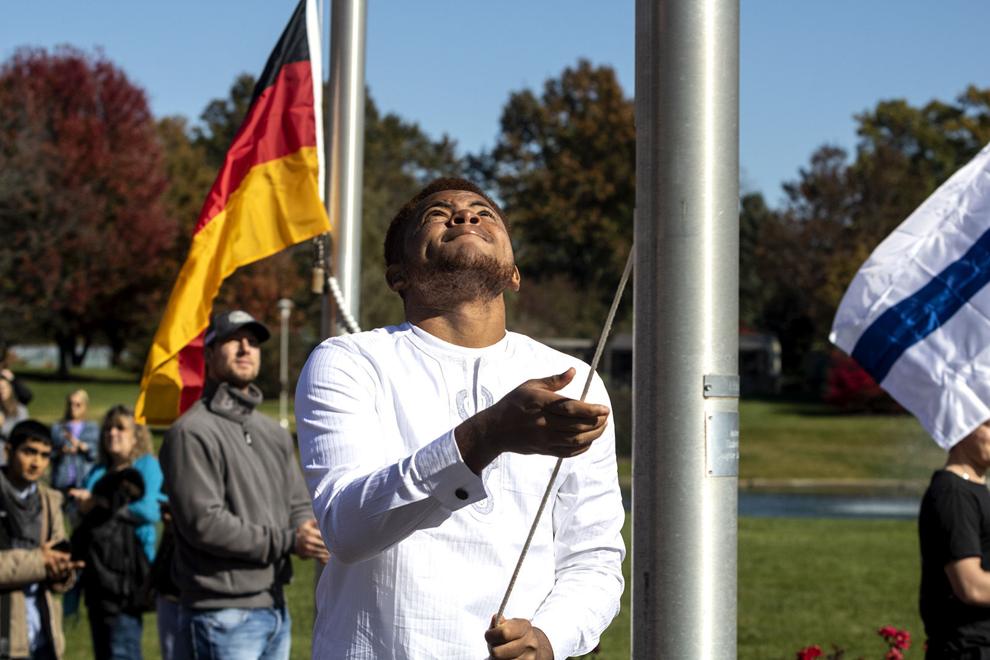 Junior C.J. Munnings raised the flag for his home in the Bahamas. He said being away from home has difficulties, but he had found friends that became family. 
"It's pretty remarkable to be among so many different countries and so many different nationalities," Munnings said. "I like that even in America, every country's voice and presence is known, that they're acknowledged and make us feel special. … I feel a great sense of pride, like I did my country justice."
Freshman Martina Pascuzzo said she was proud to carry her country's flag, Argentina,  during the parade because it reminded her of her home there. The relationships she made with other international students has helped Northwest slowly start to feel like her home. Having the flag plaza on campus has always made her feel welcome at Northwest.
"Homecoming is kind of weird, but having this international family has made it very pleasant. I love that we all gather together," Pascuzzo said. "I just find it as an opportunity to meet new people. … It was very rewarding. It just felt amazing to have an opportunity to represent my country."
Senior Nayeon Lee from South Korea said she wanted to raise her flag because it was her last chance to do so. She said Homecoming doesn't mean anything to her because it's not a custom in her home country.
"It's one of the only events we have just for international students, and in Northwest, we don't have that a lot," Lee said. "I'm glad that this event is during Homecoming so international students can be part of Homecoming instead of just feeling excluded."
Each student who raised the flag was given a miniature one to keep. Many students held them and posed for photos with each other after the ceremony. 
Lee ran around to take as many photos with other students as possible. She said she was excited to make memories with everyone.
"It's a special day for everybody and pictures are what (makes) it last. I love having it," Lee said.
---
 SAC Walk Out Day
Walkout Day is a long-held tradition of Northwest and Student Activities Council wasn't about to pass up an opportunity to host an event.
Held in the Centennial Gardens, students mingled as they snacked on s'mores and mocktails. SAC offered free blue and orange T-shirts along with the snacks and supervised the two small bonfires, one dedicated for roasting marshmellows and the other to provide warmth on the windy day.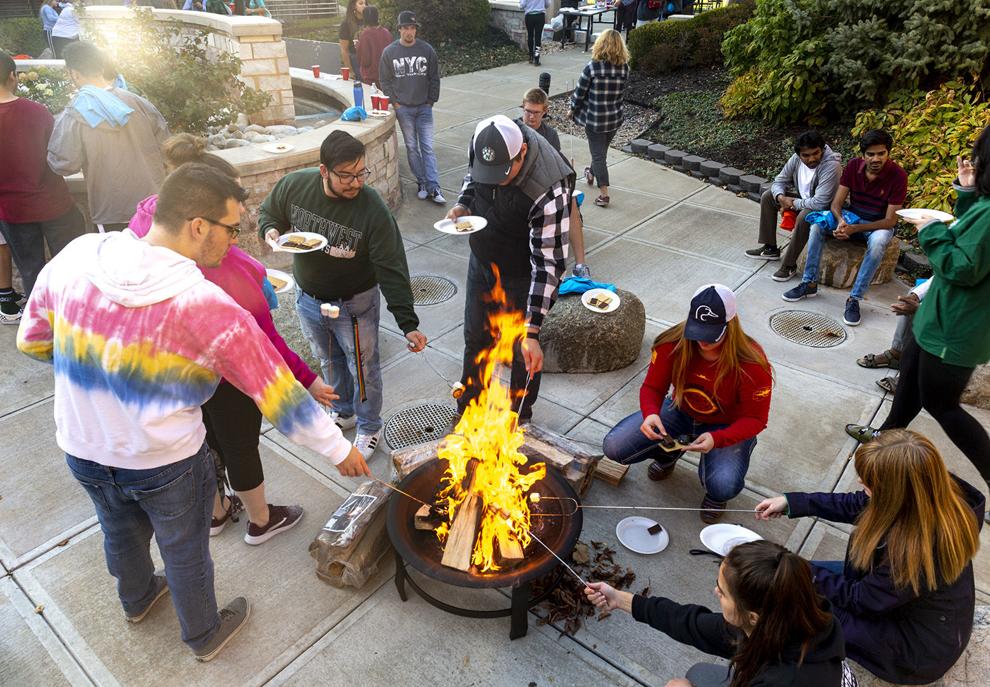 Director of Traditions Brady Netzel put the event together and had it planned out in advance.
"I talked to Drake Summers, my adviser, and he said I needed to talk to Mark Hendricks," Netzel said. "What Mark had to do was talk to some higher-ups and make sure we could bring our own fire pit. The last thing we had to do was go through some fire training."
Netzel said he was excited to host a bonfire with drinks. SAC had four types of mocktails to serve: mockmosas, cherry coketails, Shirley Temples and Hurricane Mocktails. 
The mocktails was part of Wellness Servce's "Know Your Limit" campaign to raise awareness about drinking in college. 
The drinks were spread over four tables, each one focusing on one mocktail. Students were instructed to visit the table with their drink of choice and try as many as they want.
The recipes for the drinks were displayed on flyers on the tables.
Senior Melinda Jarman said it was one of her favorite Walkout Days.
"I've been going to the Walkout Day stuff since freshman year," Jarman said. "I'd say this is my favorite one other than laser tag last year." 
Over 20 students showed up to the event, making it one of SAC's most successful Walkout Day events in Jarman's opinion.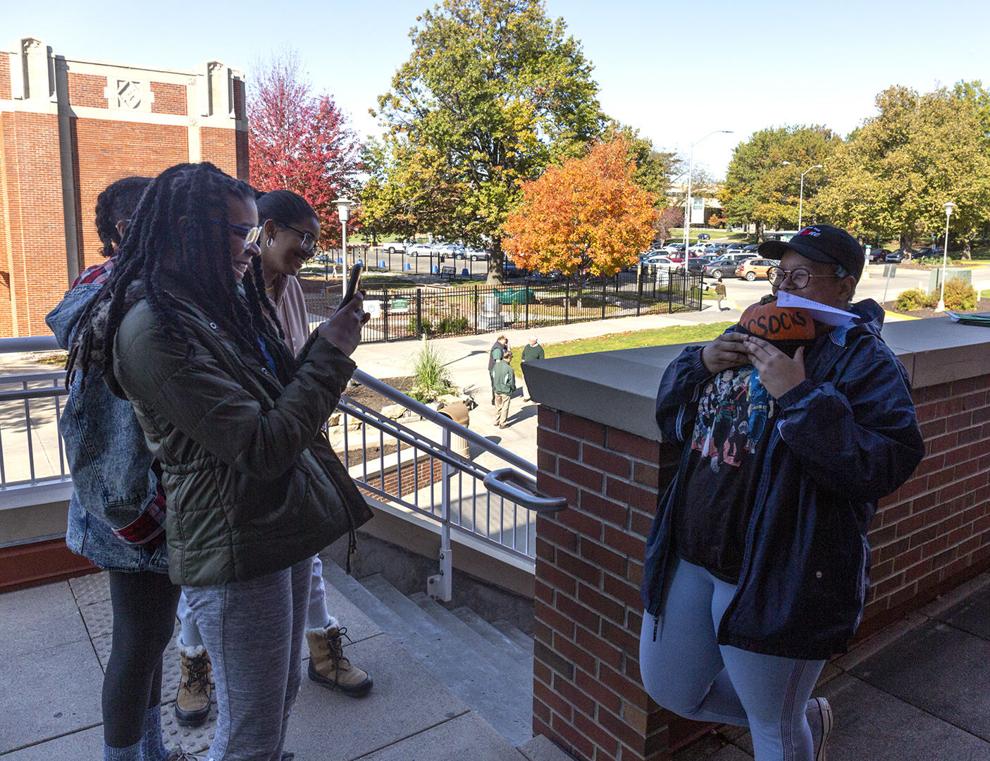 Jarman attended the event with her friend Casey Pierce who had also been attending Walkout Day festivities since her freshman year. 
"We heard there were mocktails and free shirts," Pierce said. "We've been so stressed and busy with senior year and figured, 'Why not?' We thought it'd be a nice break from studying chemistry or making lesson plans."
---
 Homecoming Awards
Greek Life and other organizations at Northwest filled the Charles Johnson Theater to the brim to award this year's winners of the Homecoming awards Oct. 28.
The winners are selected every year by a committee of judges including students, staff and community members of Maryville by using a point and rubric system.
There are two categories for every event, competitive and highly-competitive. But those who participate are less concerned about competitiveness and more with winning and giving back to the community. 
"A win is a win is a win," junior Myra Knapp said. "If we are able to bring joy to kids in the parade by having the coolest looking floats and costumes, that's a win too."
Knapp has participated in Homecoming festivities since her freshman year through Greek Life but chose to participate independently and help out where she could.
Although Knapp didn't win any awards, there were a lot of chances to do so. There are many awards, but only one organization can take the title of Homecoming supremacy.
Homecoming supremacy is given to the organization that garnered the most points through participating in different categories such as philanthropy and jalopy.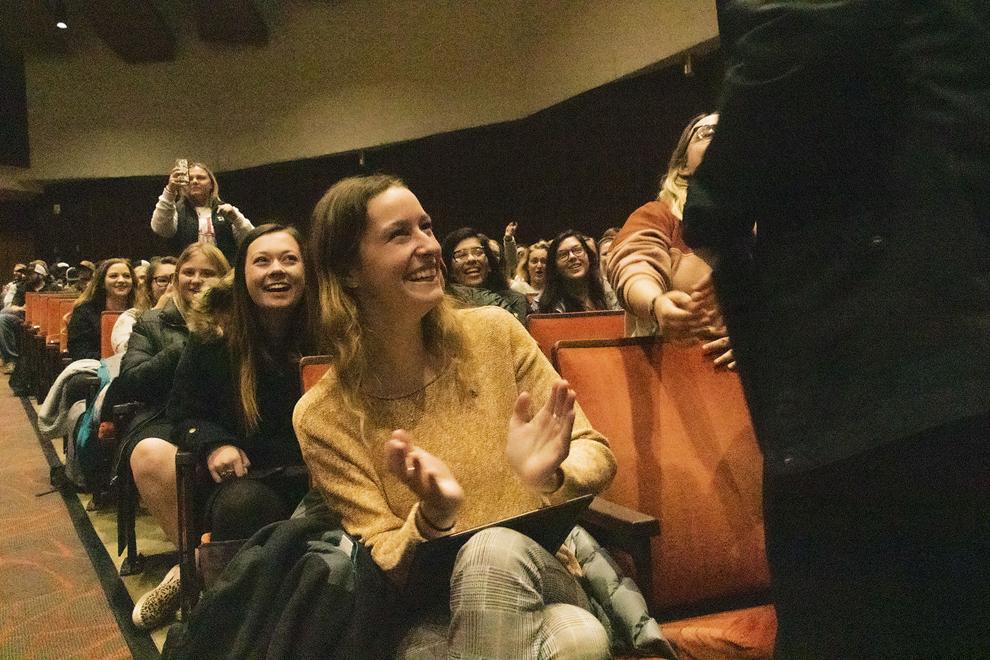 The category of "Best Actor" was introduced through rambunctious cheers and fist pumps as organizations rooted for the impending winner. 
As James Mallaney made his way to the stage to receive his award, the audience broke out in unison chanting his name. Mallaney won best actor for his performance in Sigma Tau Gamma's Variety Show performance, "Lord Farquad's Revenge." 
The performance would go on to get third place in the Variety Show category, losing to Sigma Kappa and Sigma Phi Epsilon and Sigma Sigma Sigma's dual performance. 
A lot of the categories presented received applause and chants after the winner was announced. But the recycling contest brought on a very indifferent reaction.
This contest was held to award the organization that recycled the most within a given time frame.
Delta Sigma Phi won the recycling contest by recycling 1,270 pounds of materials all from the tailgate for the Homecoming game. Those in attendance reacted with gasps and "boo's" after hearing about the method of collecting trash.
After going through various categories and awards being handed out, the Homecoming supremacy award was the last to be announced.
As the audience fell silent and the laughter died off, the competitive Homecoming supremacy was awarded to Alpha Kappa Lambda and highly competitive Homecoming supremacy was awarded to Sigma Tau Gamma. 
Sigma Tau Gamma erupted in celebration and cheers as others gave a solemn applause. Sigma Tau Gamma has received Homecoming supremacy for the past three years.
"Three peat and more to come," freshman Tayton Stagner said. "We love Homecoming, and it means a lot to all of us here at Sig Tau."
Sigma Tau Gamma is now looking to protect its streak next year with new, innovative ideas as well as taking it to a different level.
Homecoming is the time to reward the hard work of Northwest organizations and students through awards and bragging rights until next year's Homecoming.
---
 Homecoming Committee
Homecoming is not just a pretty parade, extra décor at the J.W. Jones Union or competitions within Greek Life. It is also a lot of hard work, planning and organization.
While most students are simply enjoying the Homecoming events, those on the Homecoming Committee are working around the clock to ensure everything runs smoothly. A lot happens behind the scenes of Homecoming, whether that be with Homecoming royalty, canned art or parade, that is unbeknownst to many students.
This year's Homecoming efforts amounted to what Homecoming adviser and Assistant Director of Student Involvement Amy Nally called "probably the smoothest we've ever had."
Planning begins way back in January of the previous year. At that time, Homecoming executive chairs are chosen through applications and interviews with the previous executive chairs and the Homecoming advisers. If chosen, they assist in interviewing the rest of the Homecoming committee.
The committee totals around 100 members, led by the four executive chairs. This year's executive chairs were senior Katie Imhoff, the executive secretary; junior Josh Paulus, the banner, canned art and philanthropy executive chair; junior Riley Schumacher, the parade executive chair; and senior Megan Bua, royalty and variety show executive chair. Each respective section also has co-chairs to help supervise subcommittees of about 15 students. 
The Homecoming advisers, Nally and Student Involvement Coordinator Drake Summers, and the Homecoming graduate assistant Arpana Pokhrel oversee the entire committee.
Thirty-two pages of bylaws and a detailed workflow outline of what tasks need to be completed by each position each week, guide the committees' preparation. In January, it predominantly consists of learning the ropes, but by September, things really ramp up.
The executive chairs have about five hours of scheduled office hours each week. They meet at additional times to plan for the weekly Homecoming meeting, where the entirety of the board, in addition to two representatives from each organization participating in Homecoming, meet to discuss what everyone needs to know. Colden Hall 3500 fills up pretty quick, Imhoff said.
Imhoff said the committee worked remarkably well together, reflecting on a comical conversation the executive board had during Homecoming Week.
"We were chatting the other day, in the heat of the middle of Homecoming Week, and Megan (Bua) said something about like 'This would be way worse if I hated you guys' jokingly," Imhoff said. "We sat there and talked about really how lucky we were to have people that we really, really loved to work with and that were good to work with."
When it comes down to "the heat" of Homecoming Week, the committee has to be ready for anything, because despite their proactive planning, they can't account for everything that may go wrong, like Sunday's unexpected wind and storms.
"We came in Monday, and I had a plan for what I was going to do for my two office hours for the day, and then I ended up on a ladder rehanging banners all morning, " Imhoff said, laughing at the memory.
Homecoming Court is another aspect of Homecoming that remains predominantly a mystery for much of the student body, despite its publicity. 
Many deem the competition for Homecoming court a popularity contest. In reality, it is more of an involvement contest, one that pays tribute to students making an impact on the University and the community, Homecoming king candidate Jack Hill explained.
"To be in royalty, all ten of those people have done things on campus and deserve to be there," Hill said. "These people have made huge changes and strides for the University."
The candidates undergo a rigorous application process that begins the spring of the previous year. In the spring, an inquiry is sent to all the organizations across campus, inviting them to nominate a male and female candidate. Many hold votes within their organization to determine whom they want to represent their organization, evaluating who has gone above and beyond within that group.
"Over the last few years on campus, we've had the opportunity to make ourselves known in our departments or in our organizations ... but I don't think any of us have been recognized, the way royalty does, campus-wide," Hill said.
From there, the nominees submit an application, and chosen applicants undergo an interview process with Northwest faculty, staff and community members. Questions revolve around subjects such as what they've changed at the University, how they embrace diversity, how they help the community, and what being a Bearcat means to them.
South Complex Hall Director and 2016 Homecoming King Jacob Wood helped conduct the interviews for this year's royalty and emphasized the worthiness of the candidates. 
"We really dig deep," Wood said. "We're taking a student out of the classroom and really looking at their personality. .... What are they doing as those co-curriculars, what are they doing as that profession-based learning, what are they doing to give back to the community?"
Following the interviews, the judges score the individuals and choose the top five women and top five men. They know who has made the court as early as April or May. In the fall, they announce the court for the student body to vote on and choose who they wish to be Homecoming king and queen.
Homecoming royalty act as the "poster children" or "figure heads" of the event, Wood and Hill said, but the Homecoming Committee holds all the responsibility for organizing the events. 
"Homecoming committee has done a great job," Hill said. "The amount of effort they put into this one week, people don't really realize. It really makes you appreciate it."