Cindy and Phil Kenkel had invited Northwest students to live in their Maryville home, which sits about a mile north of the University's campus, before they did so again in July 2019. But this time, they both acknowledged, felt different.
There was one student who only stayed for a summer and another who stayed for less than a year. They had off-campus jobs and boyfriends and nearby families to attend to. They were never as embedded into the Kenkels' lives as Taina Dias, a Northwest senior and Brazil native, is now.
Cindy Kenkel, an assistant professor of management at Northwest, didn't plan on inviting Dias, a student in her managerial communication class, to move in when she first started hanging around the Kenkel household. It was, at first, a welcomed distraction for both parties.
The Kenkels were empty nesters, and Cindy Kenkel, in particular, enjoyed the company. Dias was an international student, working through a bout of mental health issues while dealing with the suspect landlord of a mold-filled house, one Dias couldn't afford to air condition in the midst of a Maryville summer.
Cindy Kenkel recognized Dias' mental health struggles and invited her over. Phil Kenkel, a retired Northwest staffer and former landlord himself, recognized the dangers of Dias' leasing situation. Dias was a fan of the Kenkel's two dogs, Lady and Carter. The move made perfect sense.
"I'm like, 'OK, we have air conditioning on. One more person isn't gonna add anything to it,'" Cindy Kenkel said, recalling the mid-summer conversation she had with Dias. "So I thought this would be — and we did need help with these dogs. … It really was a win-win."
Back then, the Kenkels did not know the full scope of Dias' financial struggles. They did not know if she would stay with them once summer turned to fall and classes resumed. They did not know then the effect they would have on her. But as they retold their unlikely family story Jan. 24, sitting on the blue sofa in their Maryville living room with the thermostat set at 67 degrees — as hot as it gets in the Kenkel household — it is clear the Kenkels have a firmer grasp now on what they've meant to Dias, and perhaps more importantly, what she has meant to them.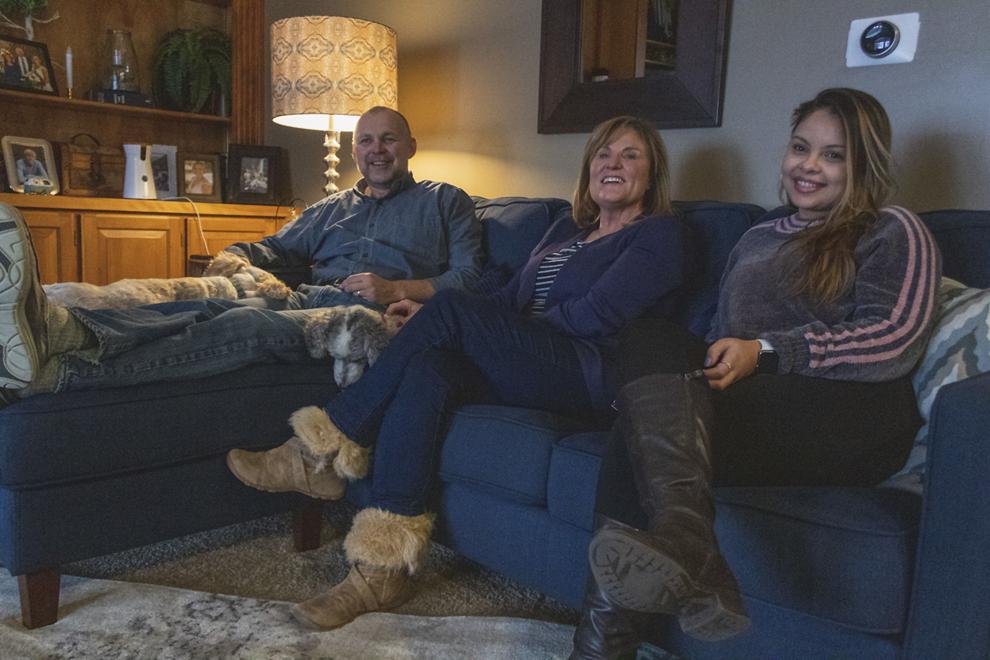 "I've been retired for four years now, going on five," Phil Kenkel, who spent his 28 years at Northwest serving in TRIO Program, working with troubled youth. "Not that I was ever disconnected from that experience at all, but (Dias) just kind of brought me back to that. Just to kind of remind me of what my purpose was for all those years."
"It makes me just look at things differently," Cindy Kenkel said. "I've always been kind of the pushover teacher that lets people turn things in late, but sometimes I would take it personally if somebody didn't do a good job on something for me. And now I kind of look at it like, 'I have no idea what they're going through now.'"
Before Dias inserted herself into the lives and hearts of the Kenkels, before she arrived in Maryville at all, she had to get here. She followed a path that took her from Brazil to Australia to various stops around the Midwest. A decade ago, she was mentally planning out a life she intended to live entirely in Brazil. Six years before she sat in the Kenkel's living room and described parts of her journey, she had never heard of the Midwest. Four years ago, she barely spoke English.
Now, of course, she is here.
"I know," Dias said. "My life is all over the place."
---
Origins 
---
She knows it sounds cliché, and perhaps borders on artificial, but Dias didn't plan on coming to the United States until she stumbled upon an American cultural icon of the late-2000s.
She was enamored with it and driven by it. When she first came across "High School Musical," she was determined to come to the U.S. Dias credits the Disney movie series as an accelerator in her arrival, if not the chief reason she is here.
"That's kind of cheesy to say, but it became a very big thing when I started watching 'High School Musical,'" Dias said. "I'm not gonna lie. I loved 'High School Musical.'"
Living in North America was an easy dream for a teenager in Brazil to have at the time, and for most, it might have stayed a dream. That's all it started out as for Dias too. It never seemed all that realistic, at least at first. No one in Dias' family had ever graduated from college, much less from a university in a foreign land.
But for Dias, the film series resonated with her. She bought tickets to a "High School Musical" concert without realizing the concert would be in English. Dias, whose first language is Portuguese, didn't understand a word of it.
"It was very painful that day," Dias said.
She decided that day to learn English, she said. She watched videos on YouTube and learned formal greetings, simple sentences and not much else. For Dias, though, the film series set her on a path with the U.S. serving as an end goal, the only place she saw herself going.
---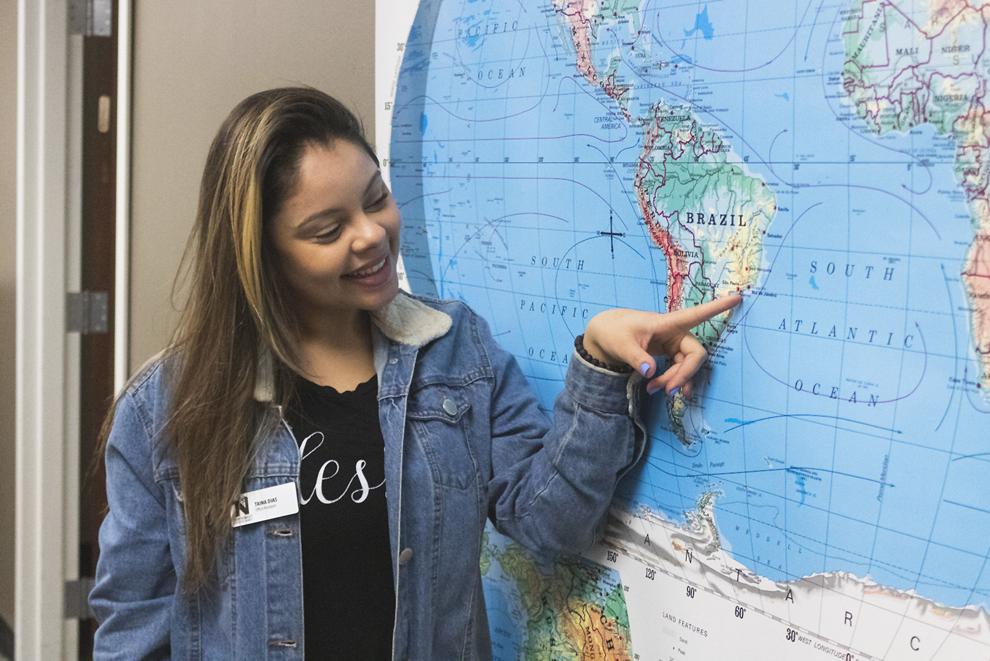 ---
After starting college as a 19-year-old in Brazil, the path first took Dias to Australia, where she intended to learn English but where English is different than the kind they spoke on "High School Musical," different than the kind she speaks now. She didn't learn English in Australia.
She doesn't regret her time in Australia, she said, but Dias acknowledged that it was perhaps a waste, bringing her nowhere closer to California, where she fully intended to live like the movie stars, like the ones she'd seen in films like "High School Musical."
Instead, Dias' time in Australia led to a stint at a Christian college in Kentucky, where they spoke English and where Dias still couldn't at first. She spent a lot of time crying in her first year in Kentucky. She cut off most communication with her Brazilian family members in an effort to learn the language faster, immersing herself in an unfamiliar culture in an unfamiliar place, shutting herself off from her support system, her only sense of familiarity.
She experienced snow for the first time while in Kentucky — another painful day, she called it. Dias' body wasn't used to cold weather, by any stretch. It rarely drops below 55 degrees in any part of Brazil. Dias was a long way from California, where she thought she wanted to be. She was a longer way from home.
"I had no idea what Kentucky was," Dias said. "What the weather, the place I was going (was). Midwest? I had no idea what the Midwest was. Like, what?"
Things are different now. Dias has fully embraced the Midwest and all it has to offer. She is a fan of all four seasons. She said she can't imagine living elsewhere. But she might have to.
Dias' mom and stepdad did their best to hide their financial problems from their daughter studying abroad. After staying in Kentucky for a year or so, Dias officially started college at Cloud County Community College in Concordia, Kansas. It was in Kansas where Dias had finally begun to master the English language. It was in Kansas where she took the first official steps to attain a degree. And it was in Kansas where her American dream first began to unravel.
---
"My dream is to stay here" 
Dias doesn't remember exactly where she was when her mom called from Brazil and broke the news to her daughter, news she had hid from Dias for as long as she could. Brazil's economy had stumbled since Dias first left five years ago, and her step-father's dentistry practice fell into bankruptcy, leaving Dias' parents unable to financially support her American education, one that Dias has always paid for herself to the extent that she could.
"She told me, 'Come back. You have to come back. There's no way you're gonna stay there without paying,'" Dias said of the phone conversation with her mother, who she's only seen once since she first left Brazil five years ago. "But I told her that, I was like, "Mom, I believe in God, and my dream is to stay here. And just trust me. I will work; I'll do whatever I can to be here.'"
Instead of retreating to Brazil in the wake of her family's fiscal hardship and her own financial uncertainty, Dias moved forward, joining the dance team at Cloud County on a scholarship and taking up a job in the school's cafeteria while looking for a 4-year university to attend after her time at Cloud County ran its course. After research and a positive interaction with the International Involvement Office over the phone, Dias put Northwest at the top of her list.
The uncertainty, though, remained. Before being admitted to Northwest, Dias had to provide bank statements and financial records proving she could afford the school's in-state tuition rate, the only form of a break offered to international students who already run a gantlet of interviews and jump through a series of hoops to be considered for admission, Dias said.
The proof of financial stability should have sunk Dias' chances of being admitted to the University, a reality that weighed on Dias throughout the admissions process. But thanks to some deft accounting and the help of extended family in Brazil, Dias was admitted.
As things in the U.S. seemed to briefly stabilize for Dias, the situation back home further deteriorated, causing Dias' own mental health to follow suit.
Reeling with the loss of the family business, the family's primary source of income, Dias' step-father's diabetes worsened, and her mother developed a tumor. Dias' parents still had another daughter, Dias' younger sister, to care for in Brazil.
Dias felt the weight of her family's mounting issues in Brazil close to 4,500 miles away in Maryville. She spiraled and ended up hospitalized after her mental health worsened, an event that most of her close friends still don't know about, she said.
Facing financial insecurity, a form of mental instability and an overarching uncertainty, Dias seemed to be at her worst. Her prospects in the U.S. seemed bleak. That was until her managerial communication professor took notice.
"That's literally when Cindy reached out to me and I got a better job and things started working out better right when I needed, so it was kind of crazy," Dias said as her voice quieted to a near-whisper. "Well, not crazy."
---
"I don't want to give up"
Dias, at first, was hesitant to move into the Kenkels' house last summer, despite growing financial pressures and an unclear path forward. Most students don't live with their teachers.
The move, of course, came with a learning curve for both parties. For Dias, there was an original sense of awkwardness, coupled with the nerves of living in a mildly-familiar house in a still-foreign land. There were and still are communication issues at times. But at the heart of the Kenkels' invitation to Dias was a sort of generosity that still seems unreal to the Brazil native.
Dias isn't sure how many Midwesterners would open their household to a near-stranger in need. She remains in awe of Cindy Kenkel's genuine care for her. She called Cindy Kenkel the best person she has ever met. Cases of extreme generosity, ones that come with no expectation of repayment and no unspoken debt, don't happen back home, Dias said. She is sure the Kenkels' act of kindness is a blessing.
"Just the fact that people open up their house for a stranger," Dias said. "It's a big thing for me. It's just — I'm very religious, so I believe that it's God. Some people are not, but I am, so I know it's God. There's not another explanation."
Over the last six months, Dias has become increasingly involved in the Kenkels' daily lives. She loves her mom and step-father, Dias said, but she considers Cindy Kenkel to be her second mom, a role that the management professor has been quick to embrace.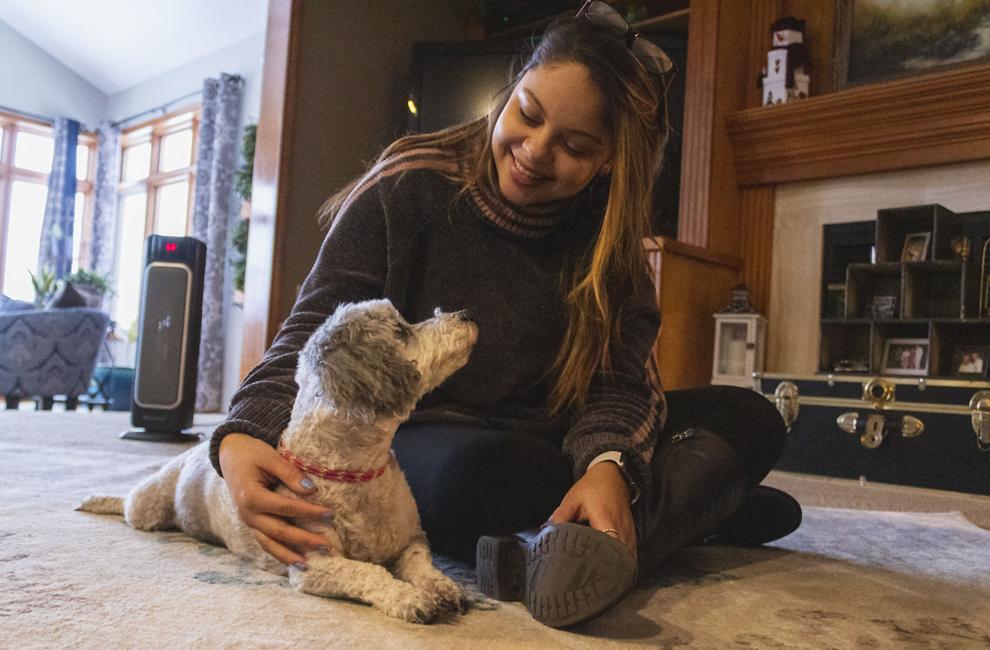 Cindy Kenkel has spent much of the last six months trying to act like less of a parent, applying tips she's picked up from podcasts in her third go-around as a mother of a college-aged student. Cindy Kenkel was always that mom who would do science projects for her son, Tyler, she said, doing so well his teachers knew he hadn't done the projects himself. She is a self-described helicopter parent.
Dias has noticed, though she won't complain. Cindy Kenkel makes sure she's up in the morning and makes sure her homework is done at night. She lets Dias know she's mispronouncing a word or complaining too much. And Cindy Kenkel is working on doing less of it, though things are different this time around.
"I probably do plenty of mothering," Cindy Kenkel said. "But (with) a kid that actually listens to me."
Still, Cindy and Phil Kenkel have done what they can to turn their house into a home for Dias, offering everything they can by means of support. Dias called the Kenkels her "dream parents."
They drive her to campus when the weather prohibits walking. They borrowed a bike from friends to make her commute easier. It sat in the garage for a week before Dias finally confessed that she didn't know how to ride one. So, at 25 years old, they taught her how, which didn't take all that long, the Kenkels said.
"Didn't have to get training wheels out," Phil Kenkel said.
The bike incident, and more particularly, Dias' hesitance to tell the Kenkels of her inability to ride one helps depict a pillar of her own personality. Dias has no interest in being a burden to other people. She is fine with worrying about her own problems and her family's problems overseas, but she cannot stand the thought of herself being worried about.
And that is perhaps why Dias first hid the range of her financial problems from her loved ones in the same way that her mother tried to cache their money shortage back home. The Kenkels knew Dias didn't have a lot of money — it's partly why they opened up their home and kitchen to her rent-free. But they didn't know that Dias, who as an international student is only permitted to work 20 hours a week in an on-campus position and barred from working off-campus, could not afford to pay for her last 30 credit hours.
"It's just like, 'What's gonna happen next?' It's kind of scary," Dias said. "I'm very positive — I really am. But, the thing is, what if in May I haven't been able to pay my tuition? How am I gonna — what am I gonna do? I still have one more semester to go."
"I came so far," she added. "I don't want to give up."
Determined not to let the perils of being an international student end her collegiate career before it's really over, the answer, for Dias, has been two-fold. She has leaned on both her faith and, again, the kindness of strangers.
It was first Cindy Kenkel's idea for Dias to start a GoFundMe page in an effort to extend her college education, but she didn't know how to approach the subject. Vulnerability is difficult, Cindy Kenkel said. A friend of the Kenkels told Dias to start the page before Cindy Kenkel could find the words for it.
And so that's what Dias did, raising $2,460 over the last month and a half toward her goal of $14,250, the amount of money it'll take for Dias to finish her degree. She paid her first installment of the spring semester — a $1,734 sum — in January. She may have enough for the second. Her future at Northwest, though, remains in jeopardy.
For Dias, the crowdfunding page portrays both the best and worst of her experience in the U.S. She is beyond grateful for the support she has received from total strangers, acts of kindness that have brought both her and her mother to tears. She still can't believe the generosity of strangers here, she said.
But Dias is not fond of asking for hand-outs. She would work an off-campus job and pay for her own school if she was allowed to, she said. She said she still believes the U.S. is the land of opportunity — she just wishes she had more of it.
What's next for Dias remains unclear. It's possible that she'll raise enough money to finish her education and enter into the professional world. It's possible that she could wind up back in Brazil, a year's worth of college shy of a degree. She's been back to Brazil once in the last five years, and Dias is hoping to keep it that way. She wants to be here, she said, but she knows the steps ahead of her are not hers to chart alone.
"Everything's gonna work, in the end, the way it's supposed to work," Dias said. "A miracle will happen, but I need to work for it."